White supremacist arrested for threatening Pittsburgh synagogue jury, witnesses: Feds
Robert Bowers was sentenced to death for killing 11 people in the attack.
A West Virginia man was arrested Thursday on charges he threatened the jury and witnesses involved in the trial of Pittsburgh synagogue shooter Robert Bowers.
Hardy Carroll Lloyd, 45, called himself the "reverend" of a white supremacy movement and began commenting online about the Bowers trial, making threatening posts, website comments and emails toward the jury and witnesses, federal prosecutors said.
Among the posts Lloyd is accused of making was the threat, "Remember, jurors, we WILL be watching and we WILL be taking pictures of ALL cars and people who leave the courthouse," according to an affidavit. His posts continued to grow more violent throughout the trial and death penalty phase, calling for attacks on Jewish people and the city of Pittsburgh, according to the affidavit.
Lloyd also placed or had others place stickers in predominantly Jewish areas of Pittsburgh, directing people to the website containing his threats and antisemitic messages.
"Jury trials are a hallmark of the American justice system and attempts to intimidate witnesses or jurors will be met with a strong response," U.S. Attorney William Ihlenfeld said in a statement. "The use of hateful threats in an effort to undermine a trial is especially troubling."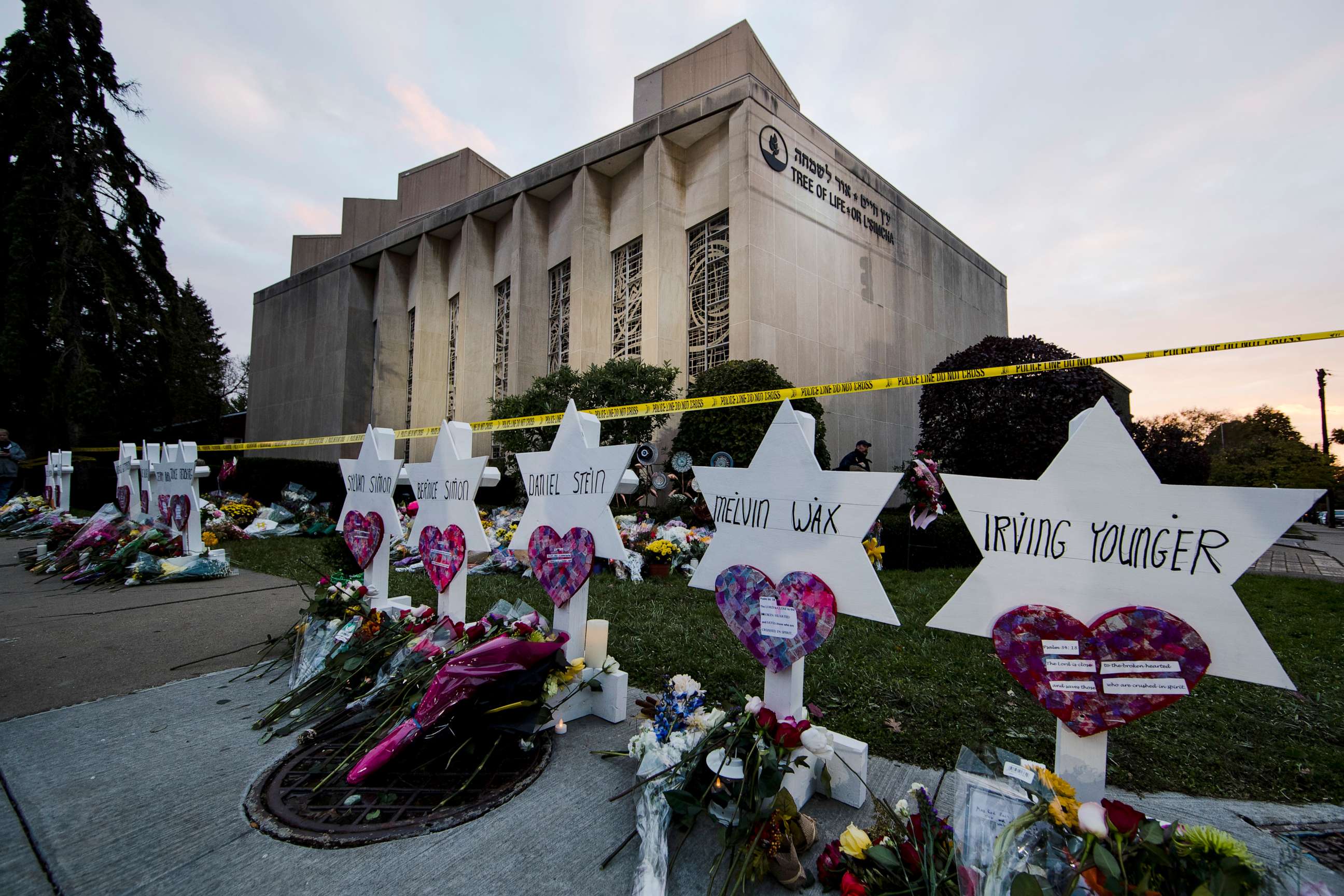 Lloyd is charged with obstruction of the due administration of justice, transmitting threats in interstate and foreign commerce and witness tampering. He faces up to 10 years in prison for the obstruction charge, up to five years for the threats charge, and up to 20 in prison for the tampering charge.
Bowers was convicted in June of killing 11 people at the Tree of Life synagogue in a 2018 shooting that was the deadliest antisemitic attack in U.S. history. On Aug. 3, he was formally sentenced to the death penalty by the federal jury that decided his guilt.
"Threats of violence used to intimidate or influence a community or jury cannot and will not be tolerated. The FBI makes it a priority to investigate crimes based on religious bias. In this case, the Jewish community was specifically targeted by these threats," FBI Pittsburgh Special Agent in Charge Mike Nordwall said.
Victims' family members gave emotional testimony before Bowers was sentenced to death.
Peg Durachko, whose husband, 65-year-old Richard Gottfried, was killed, said to Bowers in court Thursday, "Your callous disregard for the person he was repulses me."
"Your hateful act took my soulmate," she said, according to Pittsburgh ABC affiliate WTAE.
The Jewish Federation of Greater Pittsburgh said in a statement that it worked together with law enforcement to assist in Lloyd's arrest.
"We are made stronger when we work together on our collective security," Jeff Finkelstein, president and CEO of the Jewish Federation of Greater Pittsburgh, said in a statement. "Today's outcome is the result of longstanding, close cooperation between law enforcement and our community over many years; the work of SCN and the Federation, and our work together, shows the strength of a coordinated, community-based approach. We appreciate the FBI's ongoing commitment to our community, and the dedication shown each day by the members of law enforcement in their service to our country."
ABC News' Emily Shapiro contributed to this report.