Brooklyn cafe sues Starbucks over 'unicorn' drink
Starbucks is facing a $10 million trademark infringement lawsuit.
— -- A New York City cafe has filed a $10 million trademark infringement lawsuit against Starbucks, claiming the coffee chain trotted off with its idea for the popular "Unicorn Frappuccino." But java giant says it believes the claim is nothing more than a myth.
Starbucks' unicorn-themed blended beverage hit stores in the United States, Canada and Mexico for a limited run last month, instantly becoming a social media sensation and igniting a food craze among customers. The elusive drink featured bright colors and changing flavors, topped with whipped cream and a dusting of pink and blue powder.
But The End Brooklyn and its owner, Montauk Juice Factory, claim in a federal suit filed in the U.S. States District Court for the Eastern District of New York on Wednesday that Starbucks' treat infringed on its "Unicorn Latte" creation, according to court documents obtained by ABC News.
Starbucks says it believes the claims have no merit.
The End Brooklyn, a cafe located in Brooklyn's Williamsburg neighborhood, says it began selling its Unicorn Latte last December, according to court documents. Records show the owners applied to trademark the name on Jan. 20. That application is still pending and it's publicly searchable on the U.S. Patent and Trademark Office's website.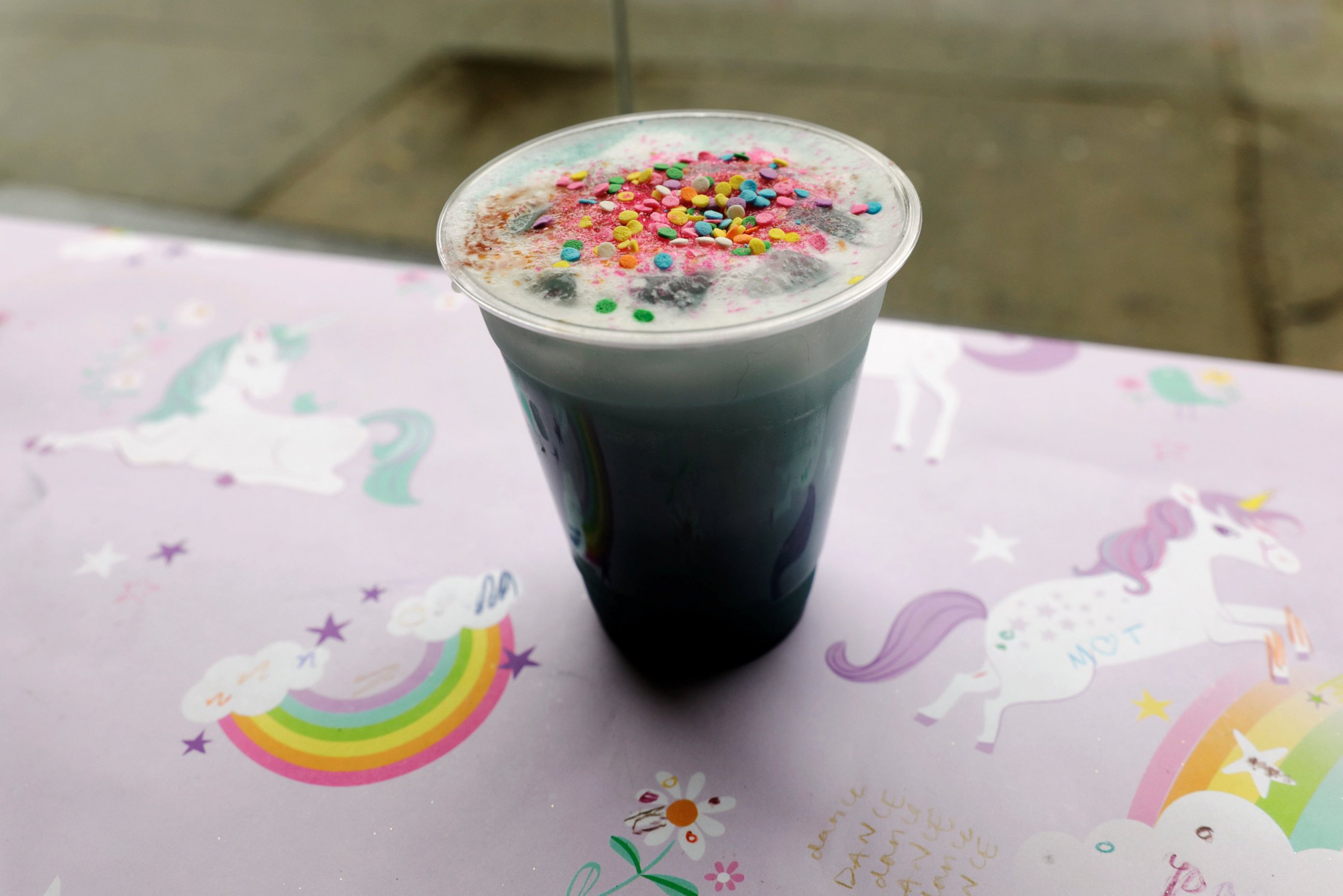 Starbucks launched its unicorn-themed beverage with a "name deceptively similar to Unicorn Latte" on April 17 and began "aggressively marketing" the new product, according to court documents.
Owners of The End Brooklyn claim Starbucks "drowned out the fame that any coffee shop in Brooklyn could obtain."
"The size and scope of Starbucks' product launch was designed so that the Unicorn Frappuccino would eclipse the Unicorn Latte in the market, thereby harming [The End Brooklyn] and confusing their customers," the lawsuit states. "Nobody from Starbucks reached out to the owners or management of Montauk Juice, The End, or any of their representatives to inquire about the use of the mark."
Owners of The End Brooklyn also claim that customers began assuming the cafe was serving a "copy-cat or knockoff" of Starbucks' unicorn-themed drink.
A Starbucks spokesperson responded to ABC News' request for comment regarding the lawsuit, saying: "We are aware of the claims and believe they are without merit. The Starbucks Unicorn Frappuccino blended beverage was inspired by the fun, spirited and colorful unicorn-themed food and drinks that have been trending in social media. The beverage was offered for a limited time in April and is no longer available in our stores."
Unlike Starbucks' sugary Unicorn Frappuccino, The End Brooklyn's Unicorn Latte is billed as a healthy blended beverage. It doesn't contain cow's milk, processed sugar or food dye, but rather it's made with "superfoods," including blue-green algae.
Still, the lawsuit cites a number of similarities between the two drinks.
"Aside from the similar name, the new drink, like the Unicorn Latte, was brightly colored -- featuring pink and blue prominently -- and included the addition of powdered topping which was reminiscent of the Unicorn Latte's decoration. As a result, Starbucks' Unicorn Frappuccino presented itself as a deceptively similar beverage to the Unicorn Latte in both name and appearance," the lawsuit states.
Bret Caretsky, co-owner of The End Brooklyn, said he was "shocked and disappointed" when Starbucks announced its Unicorn Frappuccino.
"We developed the Unicorn Latte as a healthy and delicious product. The Unicorn Latte has been the most popular product we've created to date, so we were shocked and disappointed when Starbucks came out with the Unicorn Frappuccino, which is similar to our product in name and appearance, but has none of its healthy ingredients," Caretsky said in a statement obtained by ABC News.
Although Starbucks' Unicorn Frappuccino is no longer available, the lawsuit claims that "Starbucks' conduct has caused and is causing irreparable injury" to The End Brooklyn, and will continue to "damage" and "deceive the public" unless enjoined by the court.
Attorney Josh Schiller of Boies Schiller Flexner LLP in New York City said he filed the lawsuit on behalf of his clients "to protect a local business from having its valuable intellectual property taken by a global corporation." Schiller argued that Starbucks' marketing campaign "eclipsed" The End Brooklyn in the same channels where the cafe's unicorn-themed drink became famous and was continuing to gain recognition.
"We were particularly harmed by the fact that the scale that Starbucks can market is so great that it caused this idea of irreparable harm to the value of our product. There was really no choice but having to correct that by filing a lawsuit," he told ABC News in a telephone interview Friday.
The owners of The End Brooklyn, among other things, want a public apology for "the unlawful use of the mark and the origination of the Unicorn Latte" as well as unspecified compensation from Starbucks for allegedly "infringing, diluting and otherwise diminishing the value of [The End Brooklyn's] intellectual property."