Do Facebook ads discriminate against women? ACLU files complaint saying 'yes'
The ACLU filed a complaint on Tuesday claiming Facebook ads discriminate.
Facebook allows employers to discriminate against women by targeting job listings toward men only — specifically in traditionally male-dominated fields, according to the American Civil Liberties Union.
The ACLU, along with employment law firm Outten & Golden and the Communications Workers of America, filed charges on Tuesday with the Equal Employment Opportunity Commission against Facebook and 10 companies, claiming that they discriminated based gender.
But how does that work?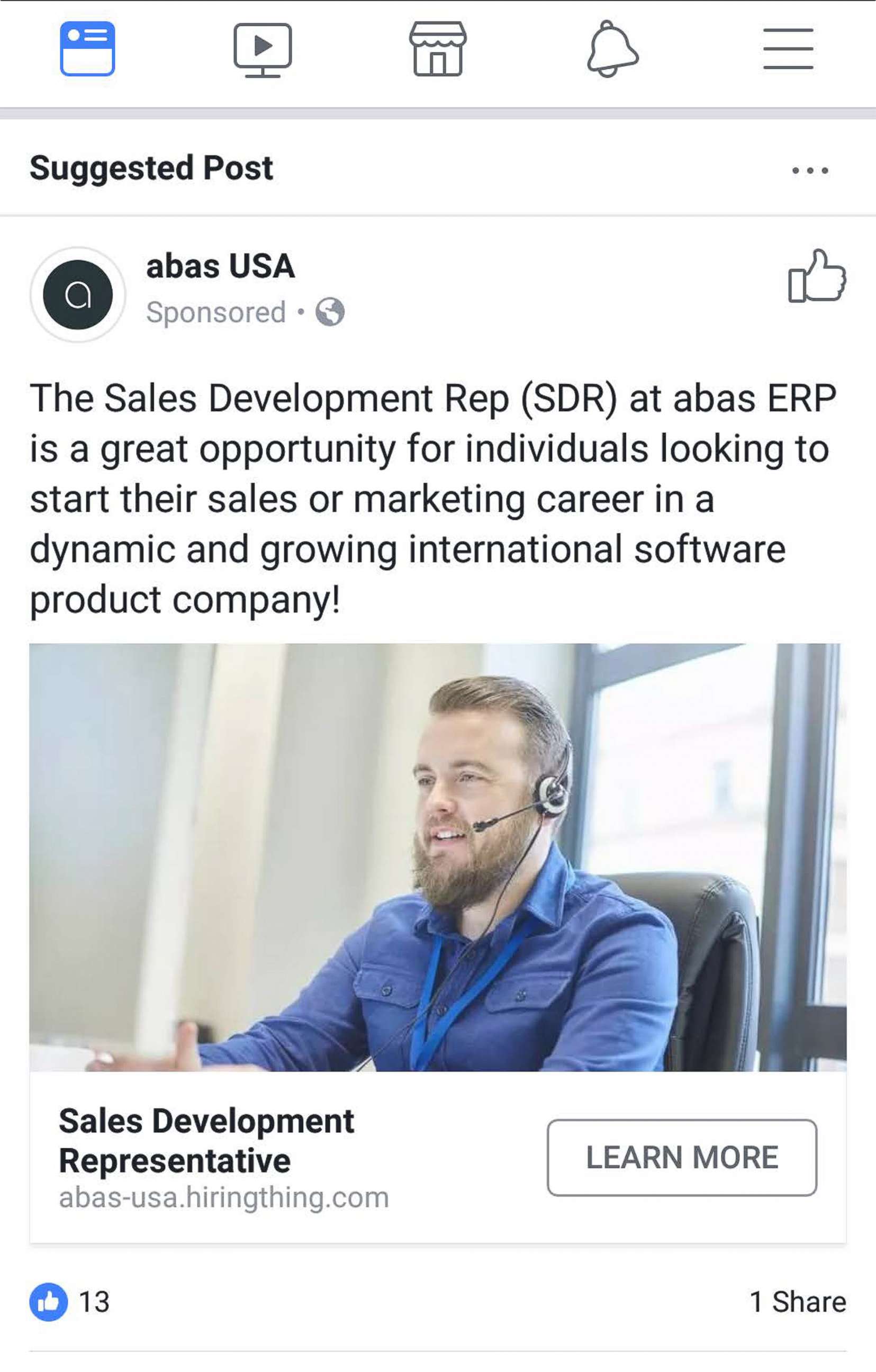 "We discovered Facebook was allowing advertisers to select the gender of the user it wants to reach and that violates federal law," ACLU lawyer Galen Sherwin told ABC News on Wednesday. "When you make an ad on Facebook, it allows you to choose whether to target 'All,' 'Men' or 'Women.' Two out of three of those are illegal choices in the context of an employment ad."
Sherwin noted that the ads referenced in the EEOC complaint are for professions usually dominated by men, such as construction, security, installation and truck driving.
"It's insidious because it perpetuates the exclusion of women from those jobs," she said. "If you click on the ad, it takes you to the company's Facebook page, which lists all of their other jobs. But women don't get the chance to click through and see all of the ads."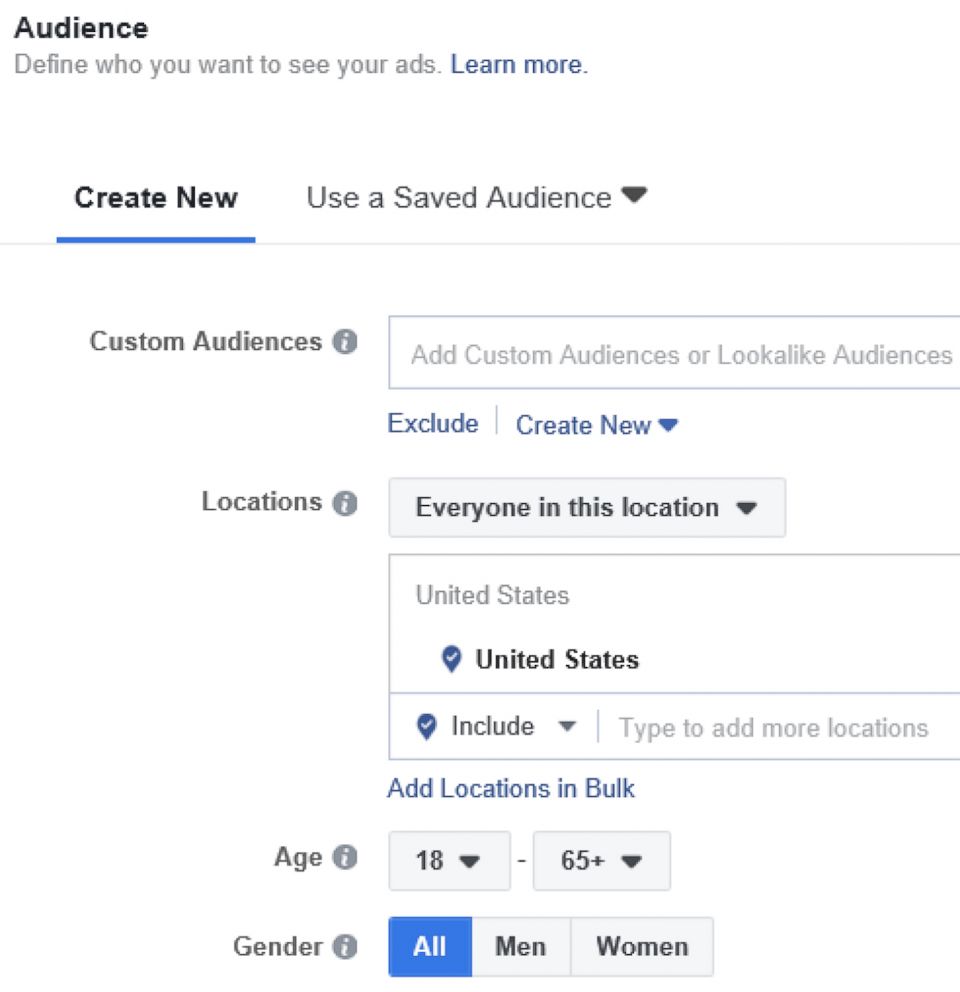 Facebook has had to defend its targeted ads on several fronts recently. Earlier this year, it disclosed that data mining firm Cambridge Analytica misused data from up to 87 million of the company's users.
Then in August, the U.S. Department of Housing and Urban Development lodged a complaint that the company allowed ads on the platform to discriminate based on "race, color, religion, sex, familial status, national origin and disability." The complaint follows years of reporting by Propublica and other media groups.
"There is no place for discrimination on Facebook; it's strictly prohibited in our policies, and over the past year, we've strengthened our systems to further protect against misuse. We are reviewing the complaint and look forward to defending our practices," Joe Osborne, a Facebook spokesperson wrote in an emailed statement.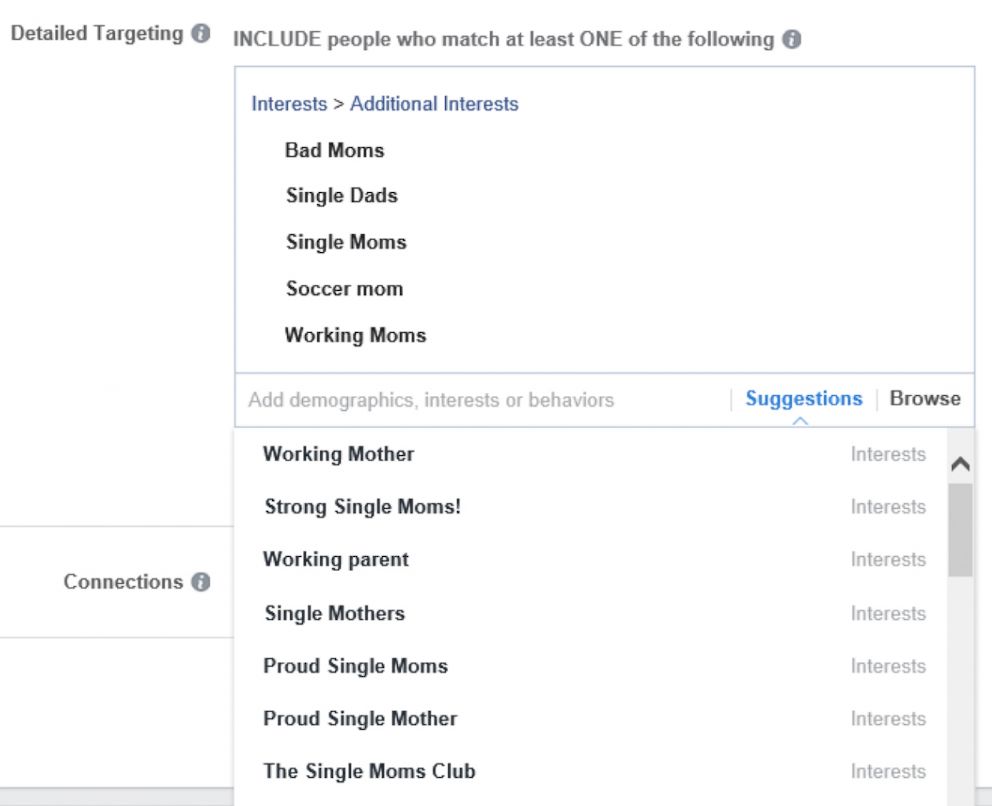 The company recently removed over 5,000 options to exclude audiences based on ethnicity or religion, Osborne said. The platform is moving toward requiring advertisers to comply with its anti-discrimination policies and the law, he added.
The ACLU complaint documents how specifically tailored the ads can be. In one screenshot, possible categories were: "Bad Moms, Single Dads, Single Moms, Soccer mom and Working Moms."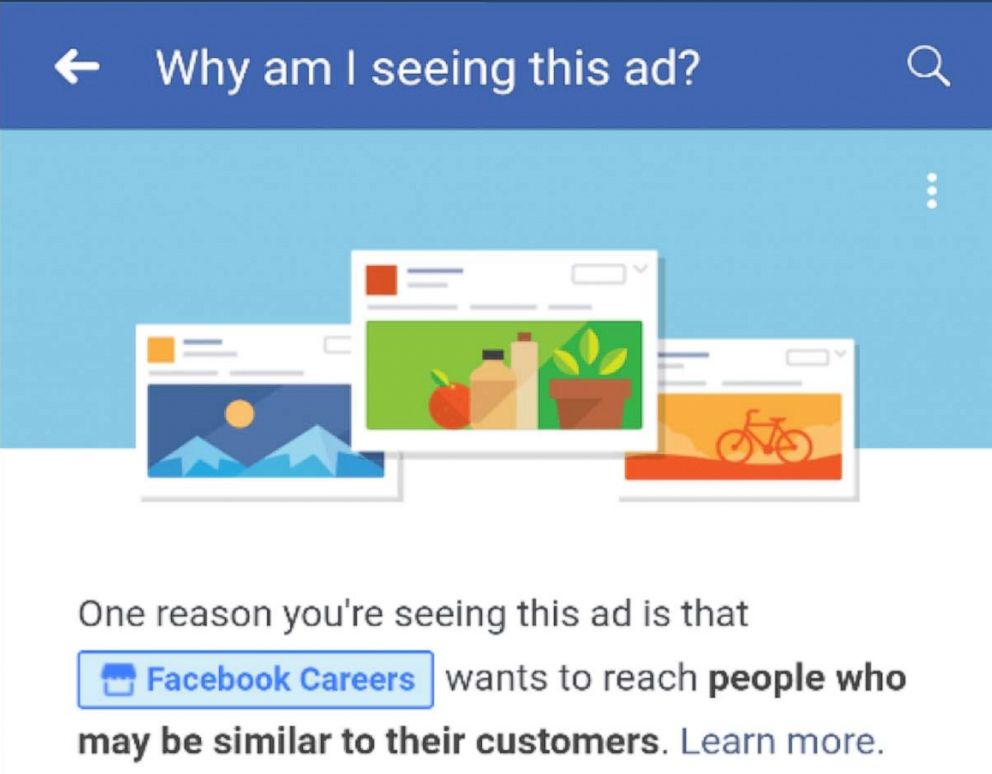 Facebook itself was also charged with gender discrimination in its own hiring practices. The ACLU criticized job ads for Instagram, which is owned by Facebook, for using the company's "Lookalike Audience" feature, calling it "legally indistinguishable from word-of-mouth hiring, which has long been considered a discriminatory and unlawful employment practice," according to the EEOC complaint.
Other employers who had charges filed against them denied gender discrimination.
Software company Abas USA called the claims "false and reckless" in a statement.
"We did not use targeted Facebook ads to exclude women. Just the opposite. We used a targeted ad in Facebook to specifically include women," the statement said. The company included the ad, which pictured a woman. "Simultaneously, with the ad targeted toward women, because Abas USA is an equal opportunity employer, we ran the following ad targeted toward men with identical text and link but with a picture of a man."
The Greensboro Police Department, which was also charged with gender discrimination, issued a statement saying, "Facebook is one channel of an extensive recruiting strategy for the Greensboro Police Department. We are committed to seeking and hiring an inclusive and diverse workforce. We adhere to our city's policy of diversity and inclusion."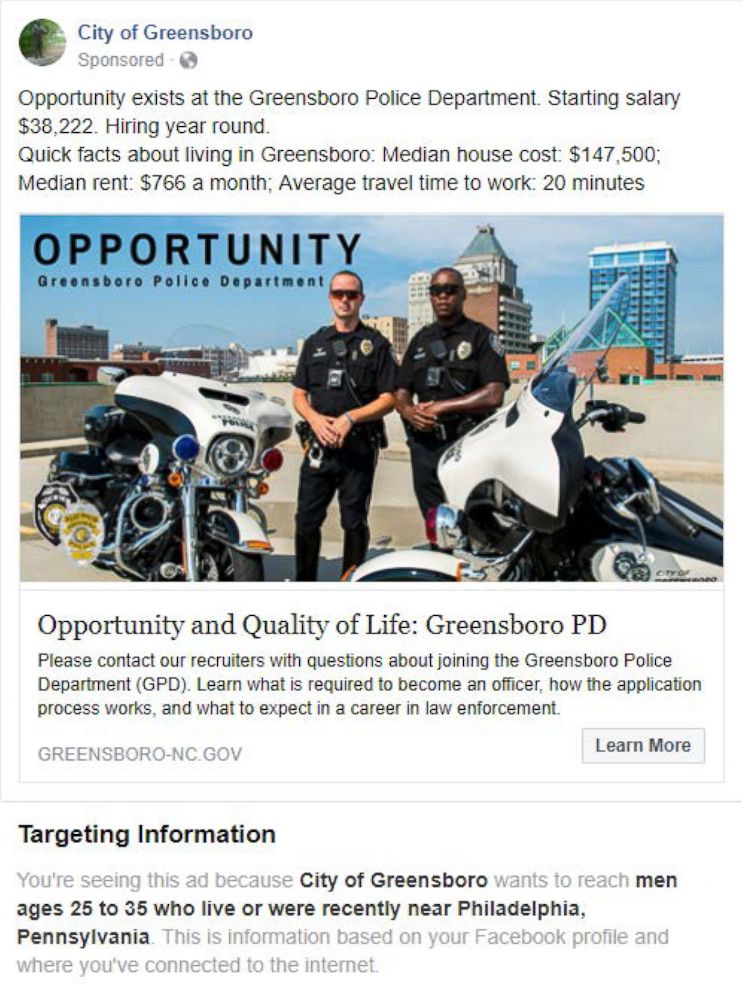 The City of Greensboro also issued a statement in response. "The City of Greensboro is an equal opportunity employer that seeks to have a diverse workforce, reflective of the community it serves. This organization uses multiple techniques to broaden opportunities for applying and encourages diversity within our workforce. We will not accept generalized accusations that represent anything less than that."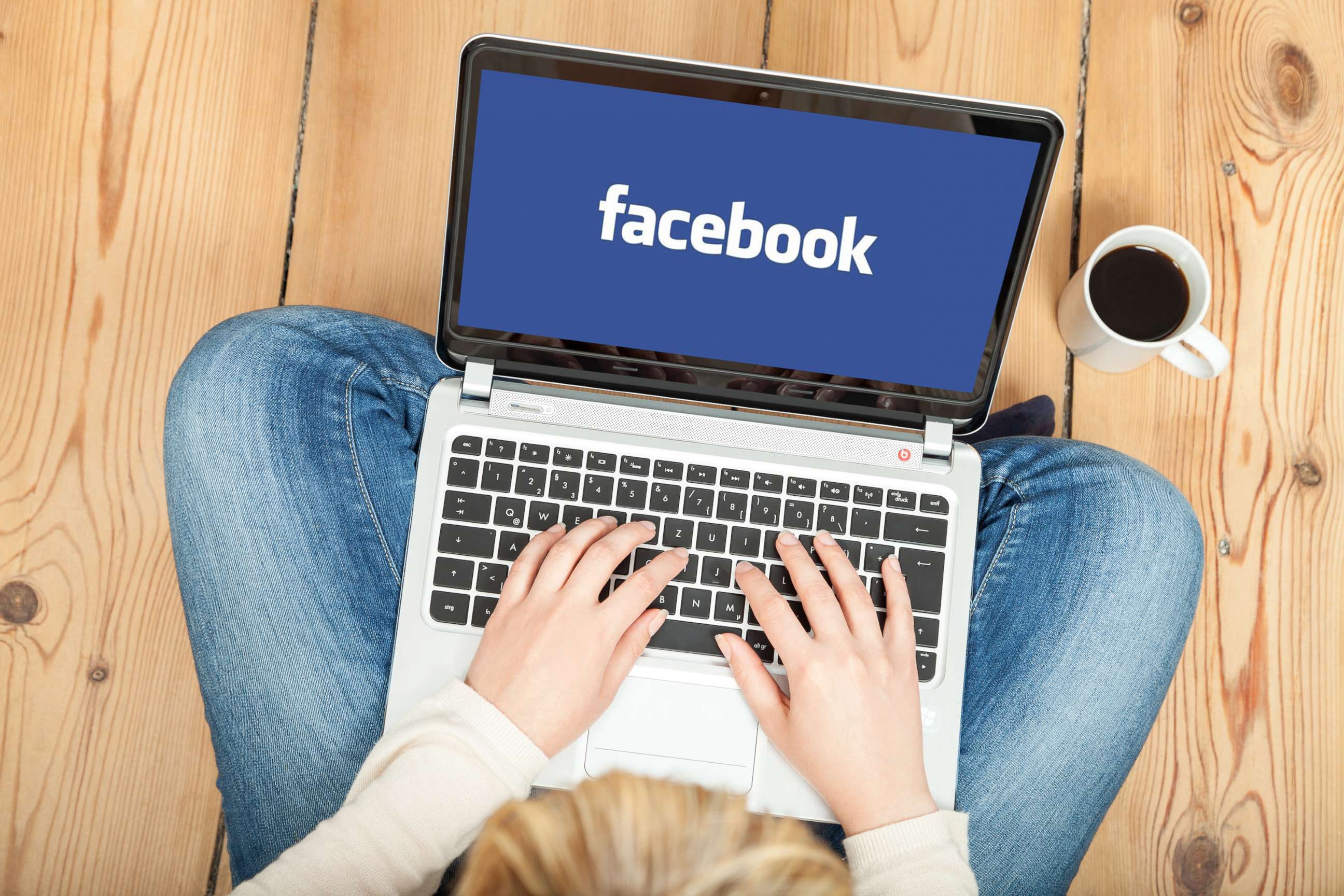 Another company brought before the EEOC, window replacement company Andersen Corporation, issued a statement saying, "Our primary focus is to build the most talented and most dedicated team in the industry, regardless of who those folks might be, so that we can best serve our customers. In regards to the filing with the United States Equal Employment Opportunity Commission, we are an equal opportunity employer, and we are proud of the diversity of our workforce. We will not be commenting on specifics of this case."
Messaging in ads can work both ways in fields long considered a province for men.
Elizabeth Skidmore, a carpenter and spokeswoman for the New England Regional Council of Carpenters, which isn't involved in the case, said the union had targeted women in job postings by showing images of women working in construction sites on social media posts and job sites. As a result, she said, the number of female construction apprentices has tripled in Massachusetts since 2012.
"It does matter what the ads look like, what the images are, and the words that they use," Skidmore said.