'Dancing' stars Maksim Chmerkovskiy and Peta Murgatroyd debut baby son, Shai
Murgatroyd gave birth to the couple's first child on Jan. 4.
February 17, 2017, 8:12 AM
— -- "Dancing with the Stars" pros Maksim Chmerkovskiy and Peta Murgatroyd are adjusting to life as parents of their newborn son, Shai -- including the challenges of exposing their child to the world.
Murgatroyd, 30, sitting with Chmerkovskiy, 37, called it "nerve-wracking" to show their son on TV in their first interview since Shai's Jan. 4 birth.
"I specifically wanted to keep him very private from the beginning because we wanted him to ourselves," Murgatroyd told "Good Morning America" weekend anchor Paula Faris. "I think he's just so special that we wanted those moments, those first moments, to be for ourselves.
"And you know, there's going to come a time where he's going to be with us walking hand-in-hand down the street and everyone's going to be able to see him," she said. "And there's so many moments and opportunities that are gonna come up very soon where you just, you can't hide him any longer."
"This is our child," Chmerkovskiy said of Shai, whose name means "gift" in Hebrew. "Every time somebody comes over, you kind of share him with somebody else."
'Not Worry About the Little Things'
Murgatroyd has been public about one thing -- recognizing the challenges of parenting. She made headlines for posting a photo of herself eight days after giving birth and speaking honestly about being "disappointed."
"I left the hospital literally looking five months pregnant and at first I was like, 'Oh, wow,' like, I was a little disappointed," Murgatroyd told "GMA." "And I just realized that I just did the most beautiful thing that a woman can produce and do in life and I need to just suck it up, move on, and you know not worry about the little things."
Not worrying about the little things for Murgatroyd includes not yet worrying about whether she will return to "DWTS" for season 24.
"It's not about me anymore," she said. "It's got nothing to do with me and how I look and if I've got mascara on to go outside."
She continued, "It is all about Shai and it's amazing. I'm okay with it."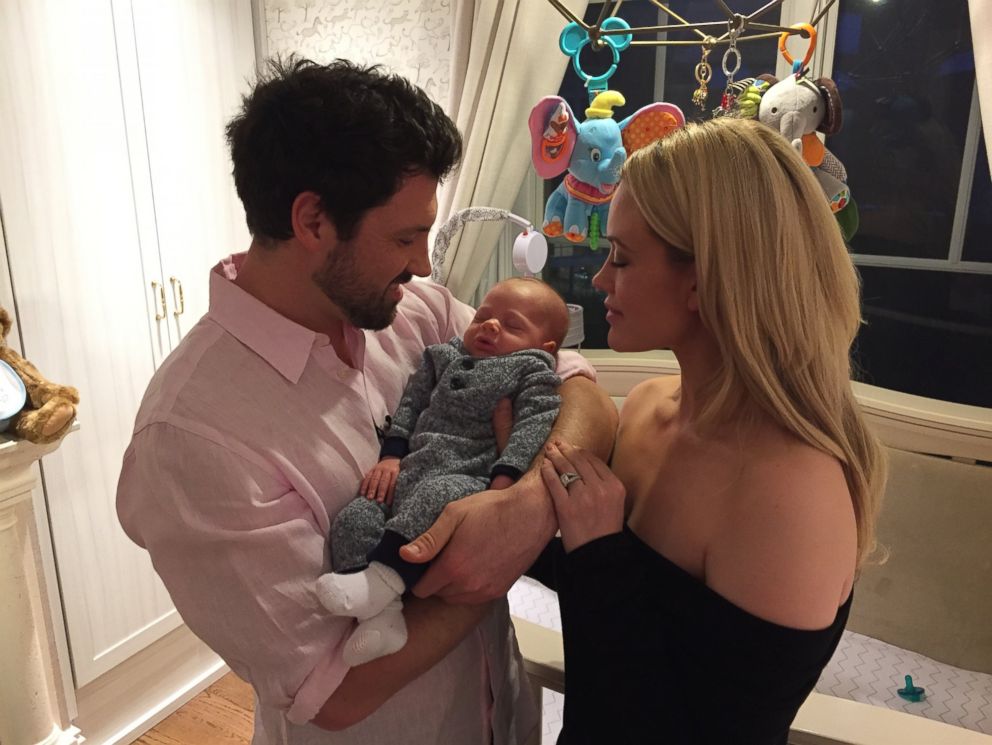 Murgatroyd admitted she was surprised by how long it has taken her to resume her fitness routine post-pregnancy.
"I could hardly move, like, I'm a professional dancer and it was difficult to get back because I haven't done it since I won with Nyle," she said, referring to her Season 22 "DWTS" victory with partner Nyle DiMarco. "I didn't think it was going to take this long, honestly. I was, like, 'Oh, I'll be back running in three days.'"
Murgatroyd has started a lifestyle blog, "All Things Fam & Glam," to reach out to other moms who may be going through a similar experience.
"I wanted other women to know that it's okay and that this is all normal and you don't have to feel bad about your post-baby body," she said. "I mean, it was such a beautiful thing and you just have to be patient and you have to love yourself and love yourself through this whole process, because it's a lot."
'Life-altering' Change
Chmerkovskiy is also still undecided about a return to the dancing competition. The past champion revealed he changed Shai's very first diaper, but hasn't changed one since.
"I've come to realize fathers are like a giant plus-one in this entire thing until there's a communication," he said.
"It's very, as they say, life-altering," said Chmerkovskiy, who added he cried "men tears" at his son's birth. "But now I understand why because you just start realizing things that you never even thought of before."
Chmerkovskiy also played a large role in the decoration of Shai's nursery, choosing an elephant theme for a special reason.
"A while ago somebody said elephant with [its] trunk up means good luck for the household," he explained. "I don't know why, but at that time I still competed and I traveled all over the world, and I would just start collecting elephants and bring them home."
Murgatroyd described the change she has seen in Chmerkovskiy since becoming a dad.
"I think he's just more serene, more calm. He's a dad now," she said. "I mean, we have these massive responsibilities now hanging over our heads and I think it's just, it really sinks in when you see your child for the first time."
Chmerkovskiy said he presents more confidence than what he feels inside as a first-time parent.
"It's very scary," he said, calling Murgatroyd "amazing" at being a mom. "I find myself sort of portraying like, 'I got this,' and then on the inside I'm like, 'I don't got this. I don't got this.'"
Surprisingly, the new parents said they don't mind if their son doesn't grow up to be a dancer, but Murgatroyd added, "I think he's going to have a natural rhythm."
Wedding Planning
As they raise Shai, Chmerkovskiy and Murgatroyd are also preparing for another huge milestone in their lives together -- their wedding.
The couple said they are in the middle of planning a three-day, 300-guest wedding extravaganza.
"I said to him the other day, it was a little stressful," Murgatroyd said. "I had a moment of, 'Should we put [the wedding] on hold for a little bit?'"
But she said Chmerkovskiy wants to get married now, telling her, "No way, baby, we're getting married."
When the wedding happens, Shai will play a central role, they both said.
"We can just roll him out," Chmerkovskiy joked of his son.
Murgatroyd added, "I think one of the moms will probably carry him down and he'll be all suited up and looking good."