Prince William, Princess Kate and Prince Harry met with survivors and the families of the victims of last month's London terror attack at a special service held at Westminster Abbey.
Interested in
London Attack?
Add London Attack as an interest to stay up to date on the latest London Attack news, video, and analysis from ABC News.
Utah resident Melissa Payne Cochran, whose husband, Kurt Cochran, was one of the four people killed in the attack, attended today's service and was part of a group of victims who met privately with William, Kate and Harry.
"They were very gracious," Melissa Cochran told BBC News after the meeting. " They came and shook my hand and gave me condolences. It was an honor to be in their presence to speak with them."
The Cochrans were celebrating their 25th anniversary in London when they were struck by the attacker's car on Westminster Bridge. Melissa Cochran suffered a head wound and a broken leg and rib and has been recovering in a London hospital since the March 22 attack.
Today marked the first day Cochran has appeared in public since the attack. Her family shared photos documenting her recovery on a GoFundMe page that was set up to raise money for Cochran and her children.
Cochran attended today's service in a wheelchair and was joined by her parents and sister.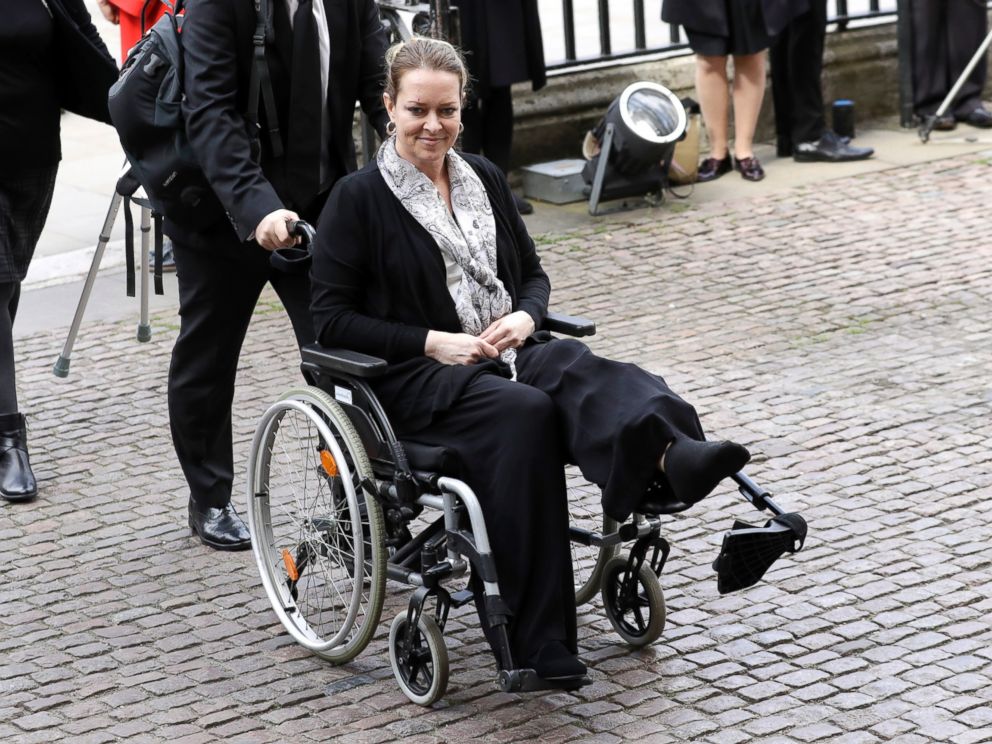 More than 1,800 people joined William, Kate and Harry at the "Service of Hope" to remember the victims, including U.K. police officer Keith Palmer.
William, 34, laid a wreath of red and white roses at Westminster Abbey's Innocent Victims Memorial as he, Kate and Harry arrived at the service. The inscription in the card accompanying the flowers read, "In memory of the innocent lives lost to us all on 22 March 2017."
William also read a passage during the service from Luke, Chapter 10, the parable of the good Samaritan.
The service was led by Dr. John Hall, the dean of Westminster.
Hall encouraged the multi-faith participants gathered at the service, saying, "who are tempted to despair, may we find hope."
He later referred to the many floral tributes, lighted candles and the "messages of love and support, messages too of determination and defiance in the face of evil and terror, messages from younger and older people, friends and former colleagues of those who were killed and simple statements of courage, 'We are not afraid and we stand together.'"
Members of the emergency services and first responders also participated in the service and met with the royal trio after the Abbey service concluded.
Police believe Khalid Masood, 52, acted alone in the attack near England's Houses of Parliament that killed four and injured others. No evidence has come forward connecting Masood with ISIS or al-Qaida, but Masood had expressed an "interest in Jihad," according to police.
Kate, 35, spoke publicly about the Westminster attack in its immediate aftermath.
"Before I begin, I know you would all want to join me in sending our thoughts and prayers to all those sadly affected by yesterday's terrible attack in Westminster," Kate said at the March 23 event. "We will be thinking of all the families as we discuss the important issues we're here to talk about."