"Roseanne" spinoff "The Conners" premiered last night with a storyline that the matriarch and title character of the original show died from an opioid overdose.
Interested in
Roseanne?
Add Roseanne as an interest to stay up to date on the latest Roseanne news, video, and analysis from ABC News.
As the fictional Conners confronted life without Roseanne, they were laughing to keep from crying.
Later, Roseanne Barr released a public statement on her friend Rabbi Shmuley Boteach's Facebook page saying the choice to kill her character off with an opioid overdose, "lent an unnecessary grim and morbid dimension to an otherwise happy family show."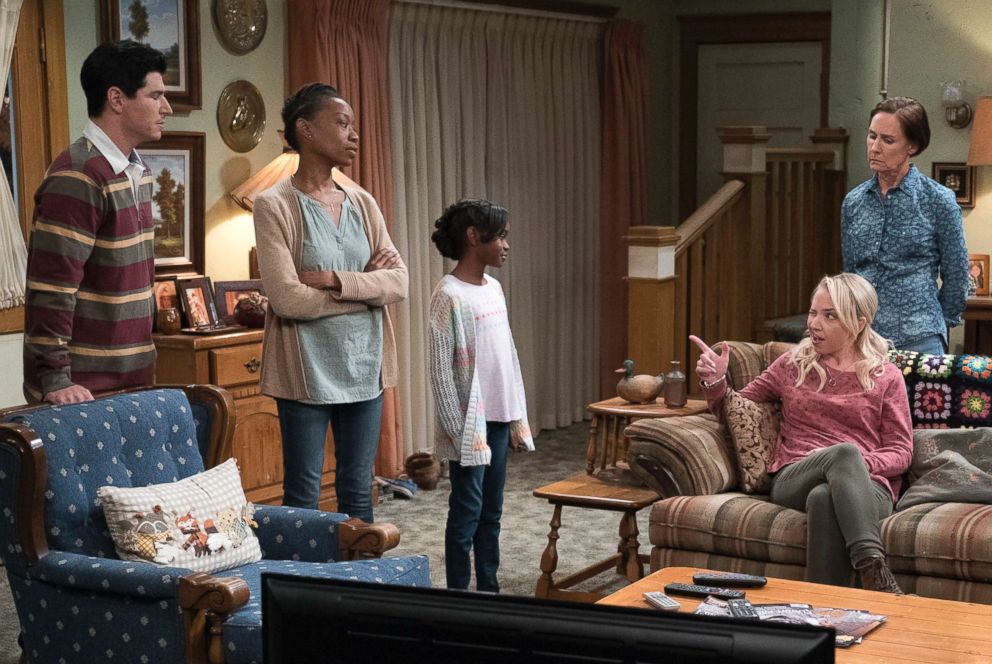 Lecy Goranson (Becky Conner), Michael Fishman (D.J. Conner) and Maya Lynne Robinson (Geena Willimas-Conner) of "The Conners" appeared on "Good Morning America" Wednesday, and opened up about the show's debut.
"The tone of the way she passed away was related to last season," Fishman said. "When you listen to our producers, they really wanted to take a real crisis that's happening in our country and find a way to give voice to that. I know that the reaction to that is going to be different for different people, but what we've always tried to do is tackle big topics and be very honest about them."
Goranson, who also appeared later on "The View," said executive producers debated the storyline and that "it wasn't an overnight decision."
"It wasn't out of vengeance. It wasn't out of anger. It was very, very considered," she said. "Of course we also all felt the consequences of that. I mean, it has felt like a death to us as well in real life."
Drug overdose deaths continue to increase in the U.S., with an average of 115 Americans a day dying from an opioid overdose, according to the Centers for Disease Control and Prevention. Of the 63,600 overdose deaths in 2016, about two-thirds involved an opioid, the CDC says on its site.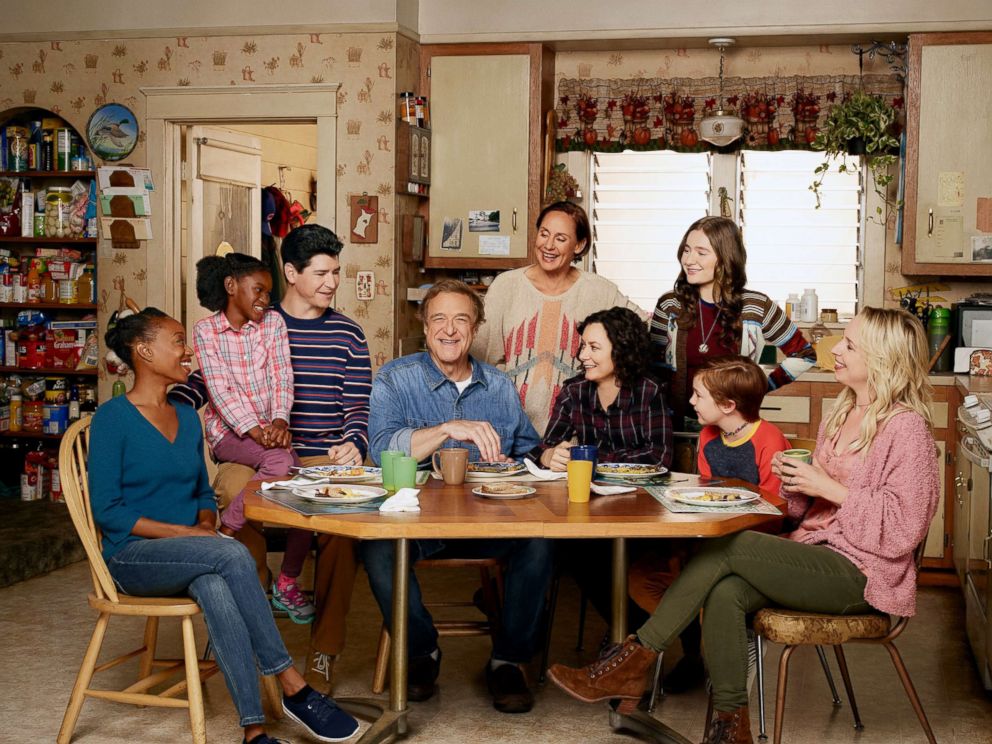 "The Conners" was officially green-lit weeks after Barr posted a racist tweet directed at Valerie Jarrett, a former senior adviser to President Barack Obama, which resulted in the immediate cancellation of "Roseanne" before filming began on the second season.
The season finale of the rebooted show had about 20 million viewers.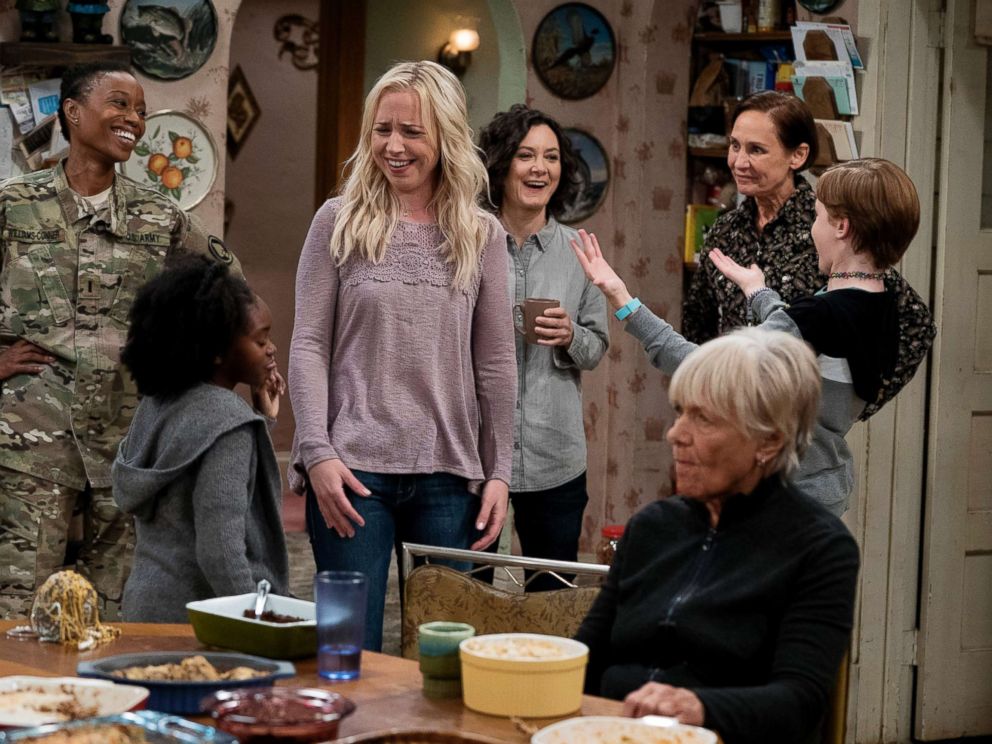 Goranson said on "GMA" today that she and the cast miss Barr on the set and "love her very much."
"We understand that she's hurting right now and she's in pain and she's always with us," Goranson added. "Hopefully we can see her and remedy some of this at some point in time, I hope."
Fishman said that the show will "go beyond politics" this season and focus on socioeconomic issues with "new characters who have that voice," including his wife, played by Maya Lynne Robinson.
"I'm a veteran and she's active duty in the show, and it gives us a chance to voice things that you don't see enough," he said on "The View." "Not just middle America but all of America. We don't talk enough about veterans' issues and the things that go on in families, and being in an interracial couple and having a biracial child, and I think it's an excellent time to represent this country well."
On Tuesday, actors Sara Gilbert (Darlene) and John Goodman (Dan) appeared on "GMA" where they revealed that it was "emotional moving forward" without Barr, with Goodman saying it felt like "a death in the family."
Fishman agreed that it felt "strange at first" filming without Barr.
"It definitely had a different feel, but what we really have tried to do as a group is collectively lean on each other and come together because we really felt that the legacy of this show deserved to be continued and that there were a lot more stories to tell," Fishman said.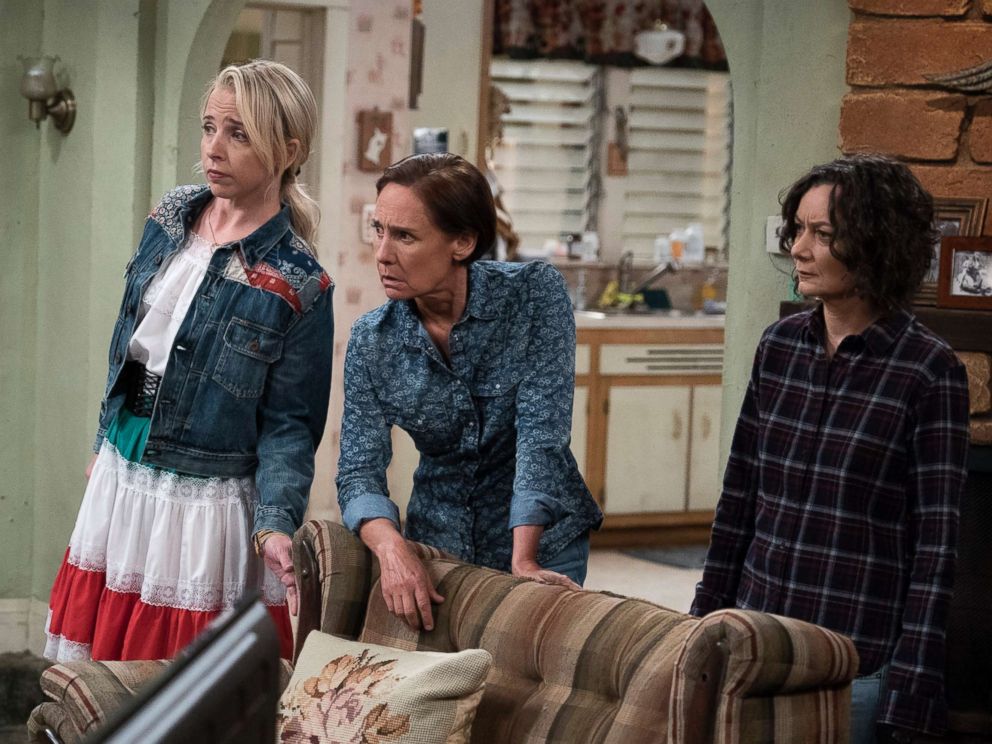 Robinson, who plays D.J.'s wife, said she wants to promote values of unity and diversity through the story around her character on the show.
"I think having the opportunity to play an interracial couple with a biracial child and both being military active-duty and retired, I think we'll have some opportunities to do that," she said.
Catch "The Conners" Tuesday nights at 8 p.m. EST on ABC.