Happy Thanksgiving!
Three chefs joined "Good Morning America" Thursday morning ready to kick off the feast, each tackling a different part of the menu with their own last-minute holiday recipes.
Sides from Chef Lorena Garcia
The Venezuelan chef, CHICA Miami and Las Vegas restaurant owner and food TV personality tackled all the side dishes a Thanksgiving table may need.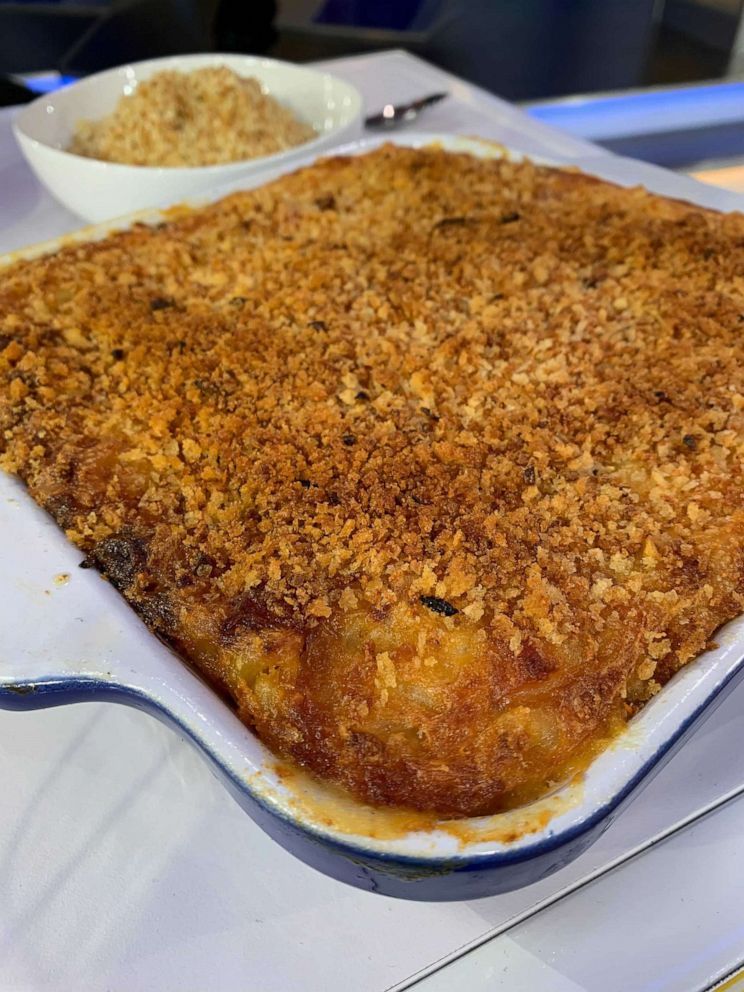 Crispy Mac and Cheese
Ingredients
2 tablespoons unsalted butter, plus more for baking dish
2 tablespoons extra-virgin olive oil
2 cups panko
2 large garlic cloves, minced
2 ounces finely grated Parmesan (about 1/2 cup)
1/2 teaspoon kosher salt
2 teaspoons kosher salt, plus more
1-pound dried elbow macaroni
1/2 cup (1 stick) unsalted butter
6 tablespoons all-purpose flour
4 cups whole milk
3/4 cup heavy cream
1/2 teaspoon ground white pepper
16 ounces cheddar cheese
8 ounces cotija cheese (optional)
2 ounces grated Parmesan Reggiano
2 cups diced ham
Instructions
In a pan, combine the oil, garlic butter and the breadcrumbs, after one minute add Parmesan cheese and let brown.
In a pot, make the roux (flour and butter) and cook for one minute. Add the milk, cream, salt and pepper, cheddar cheese and Parmesan cheese and allow to thicken.
Preheat oven to 400 degrees with rack in the middle of oven. Butter the baking dish.
For the topping: In a large skillet over medium heat, heat butter and oil until butter foam subsides. Add panko and garlic; cook, stirring, until crumbs are golden brown, 4 to 6 minutes. Transfer crumbs to a medium bowl, stir in Parmesan and salt, and set aside.
Prepare the macaroni and sauce: Set a large, covered pot of salted water over high heat to boil. Add macaroni and cook until just al dente (avoid overcooking). Drain macaroni and set aside.
In a large, wide pot over medium-low heat, melt the butter. Sprinkle flour over butter, whisking to incorporate and make a roux. Cook, stirring constantly with a wooden spoon, until roux is light golden, about 4 minutes. Gradually pour in milk and cream, whisking constantly to incorporate and make a béchamel sauce. Raise heat to medium-high and bring sauce to a low boil, whisking constantly. Reduce to a simmer, whisking occasionally, and cook until béchamel sauce is thick and coats the back of a spoon, about 3 minutes more.
Add 2 teaspoons of salt, pepper, and mustard powder. Add the cheeses in three batches, whisking until each addition is completely melted before adding more. Remove from heat.
Add the drained macaroni to the pot with the cheese sauce and stir well to coat. Transfer macaroni mixture to the buttered baking dish and place on a rimmed baking sheet. Sprinkle topping evenly over macaroni and bake until golden and bubbling, 18 to 22 minutes. Let cool 15 minutes before serving.
Crispy Brussel Sprouts with Fried Pork Belly, Ají Dulce Honey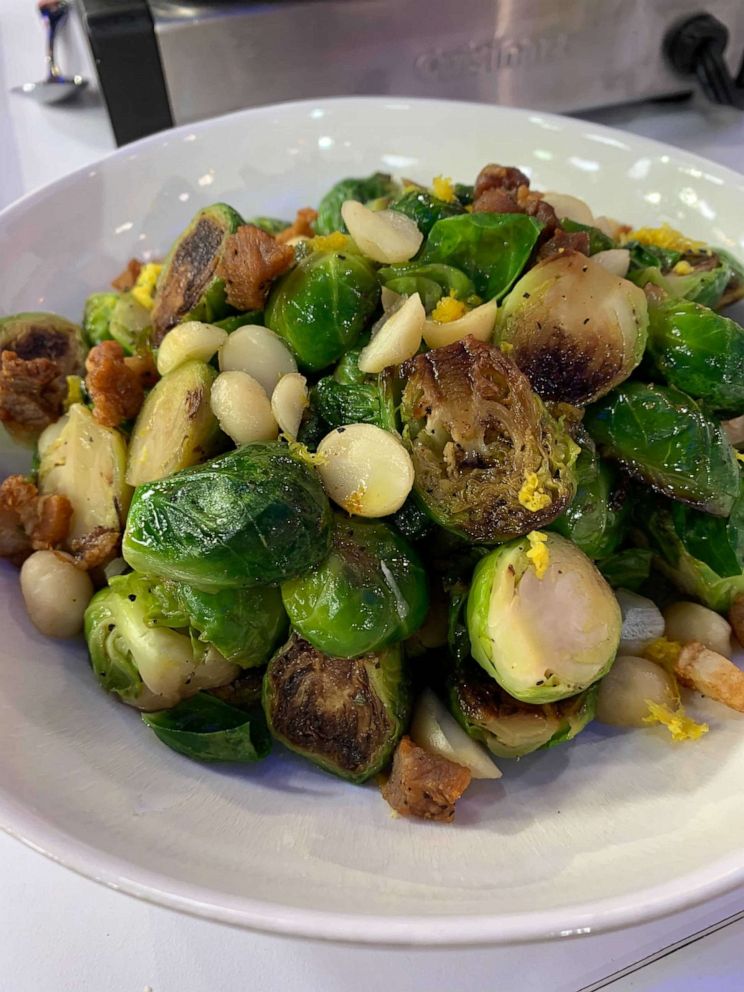 Ingredients
1 1/2 pound Brussels sprouts, trimmed, halved
1/4 cup extra-virgin olive oil
1/2 teaspoon kosher salt, plus more
Freshly ground black pepper
1/4 cup honey
1 teaspoon aji amarillo paste or Tajin
3 tablespoons unsalted butter
1/4 cup macadamia nuts cut in half
8 ounces small diced cooked pork belly
1 teaspoon finely grated lemon zest
Chefs Melba Wilson, Lorena Garcia and Ryan Scott join "GMA" to answer last-minute questions and share simple Thanksgiving recipes.
Instructions
Place a cast iron skillet at high heat. Toss Brussels sprouts and oil in a large bowl with salt and paper.
Arrange Brussels sprouts cut side down on skillet. Cook them until softened and deeply browned.
Add the diced, cooked fried pork belly to the skillet.
Meanwhile, bring honey to a simmer in a small saucepan over medium-high heat. Reduce heat to medium-low and cook, stirring often, until honey is a deep amber color but not burned (it will be foamy, that's okay) 3–4 minutes. Add the ahi amarillo or tajin. Turn skillet off, add the butter and stir.
Transfer the Brussels sprouts in a bowl. Top with spicy honey, nuts and lemon zest.
Creamy Spinach and Artichoke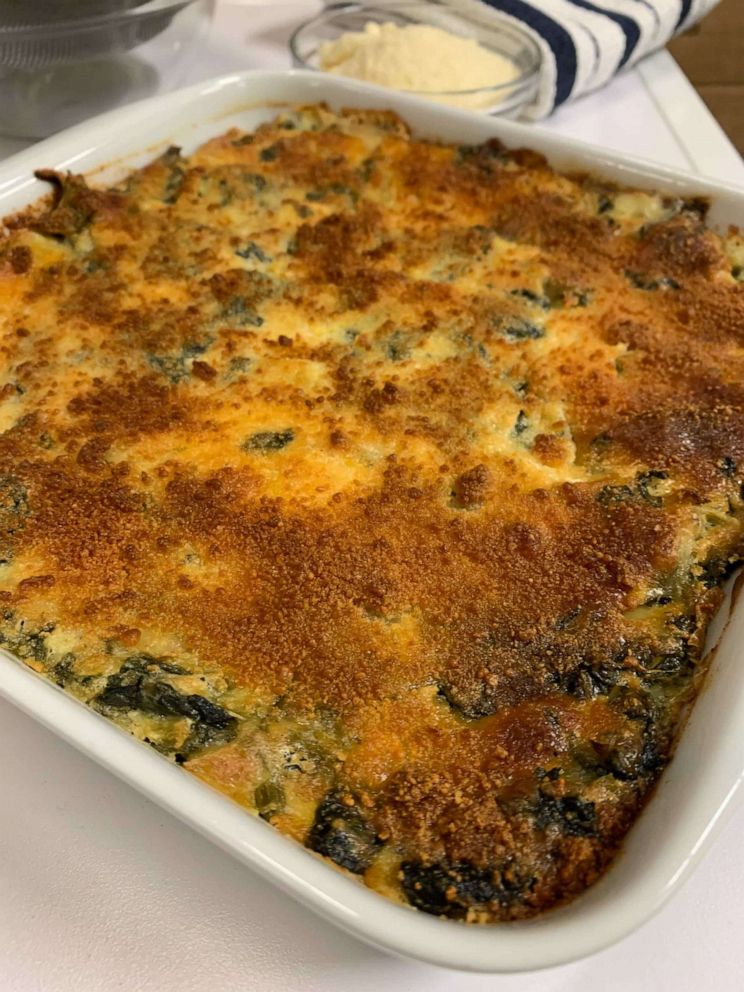 Ingredients
4 tablespoons butter
6 garlic cloves
15 ounces artichoke hearts
10 ounces baby spinach
1 1/2 teaspoon salt
8 ounces cream cheese
1 cup Parmesan, plus more to broil
8 ounces mozzarella
1/2 cup heavy cream
1 teaspoon black pepper
Instructions
Blanch baby spinach. Remove excess moisture by squeezing out water with hands then placing on paper towel. Chop spinach.
In a hot skillet add butter, chopped shallots and chopped garlic. Cook until soft.
Add artichoke hearts to skillet and cook for a few minutes then add chopped spinach. Season with salt and pepper.
Incorporate cream cheese and heavy cream. Then add in mozzarella and Parmesan cheeses. Cook until melted and well combined.
In the skillet, evenly spread mixture, top with extra Parmesan, and broil on high for 3-5 minutes or until golden brown.
Asparagus Burrata Salad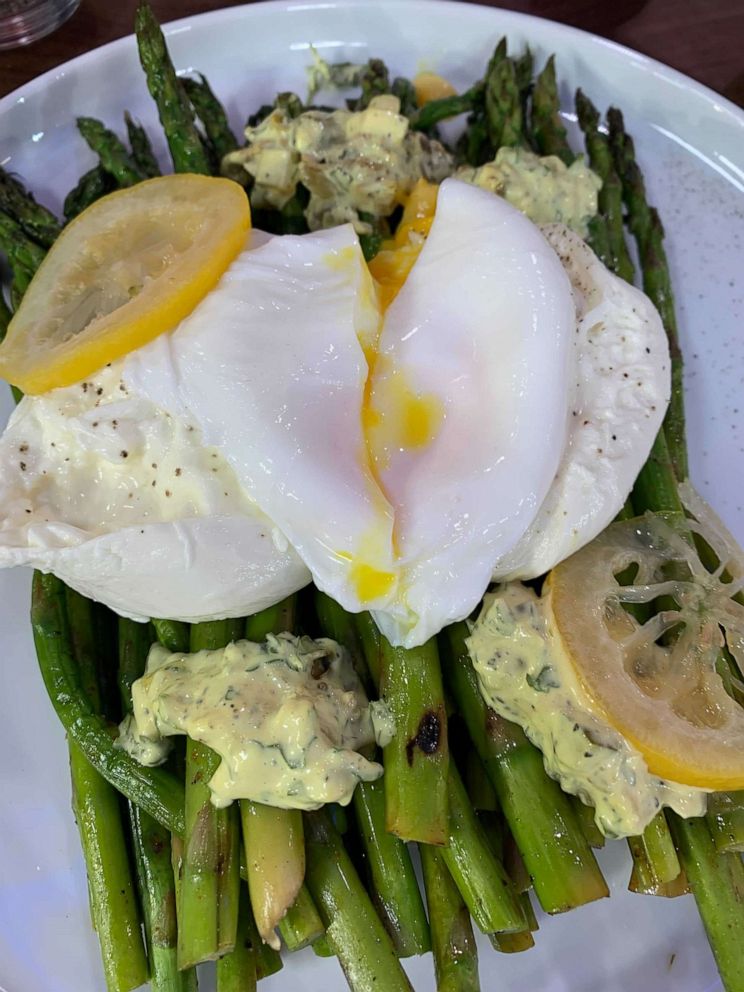 Ingredients
burrata
1 poached egg
100 grams asparagus
Tajin
Salt and pepper
Olive oil
For the tartar sauce1 tablespoon chopped pickle
1 tablespoon chopped parsley
1 teaspoon mustard
4 tablespoons mayonnaise
Salt and pepper
2 tablespoons fried capers
Instructions
Peel and grill the asparagus over high heat. Season with salt, pepper and tajin.
Mix all the ingredients and at the last moment add the fried capers.
Place the asparagus on a plate at the base, on top of the burrata, cut in the middle and season with salt and pepper. Place the poached egg on top of the burrata and sauce with the tartar. Garnish with pickled lemon.
Turkey, gravy and cranberries from Melba Wilson
The Harlem-based chef and restaurant owner offered up her dry brined turkey legs, orange-infused cranberry sauce and easy pan-drippings gravy for the main event.
Cajun Roasted Turkey Legs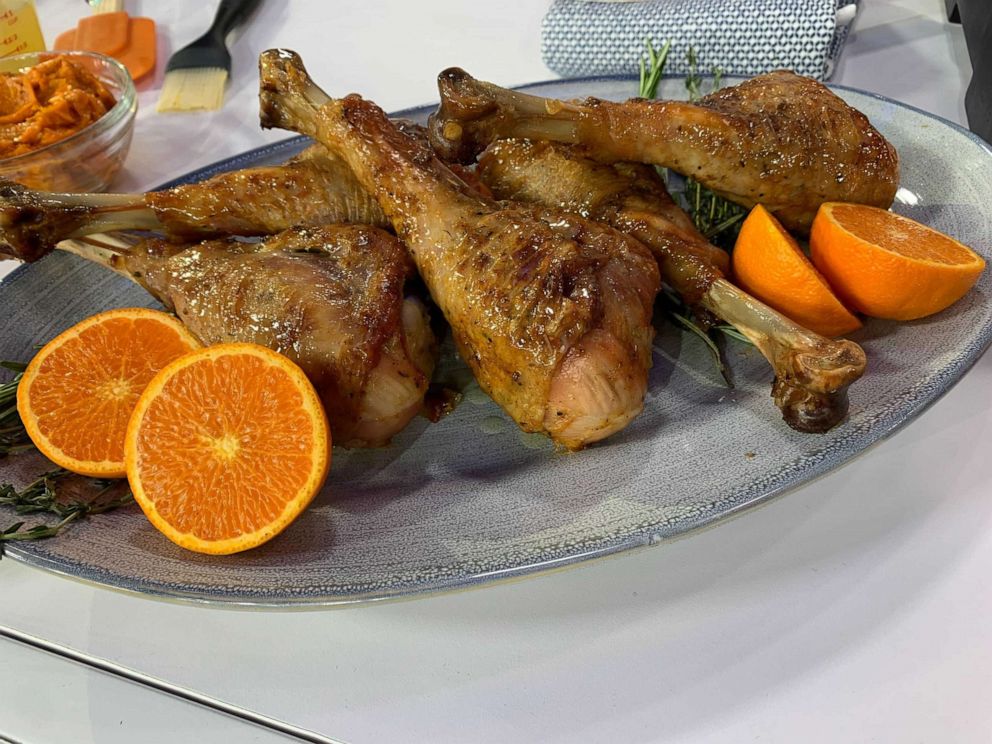 Ingredients
4 to 6 turkey legs or drumsticks (bone-in, skin-on)
1 stick of butter, softened
1 teaspoon Cajun seasoning
1/2 cup chicken broth (or turkey broth)
Instructions
Gather the ingredients. Preheat the oven to 375 degrees.
Pat the turkey legs dry with paper towels and place them in a large roasting pan.
Create a compound butter by mixing the softened butter, Cajun seasoning in a small bowl.
-Pour the chicken broth into the pan around the turkey legs. This will help keep the legs moist.
Roast the turkey legs for 40-45mins or until a meat thermometer registers 165 F. Remove the roasting pan from the oven, cover it with foil, and let stand for 10 minutes.
Melba's Quick & Easy Orange Cranberry Sauce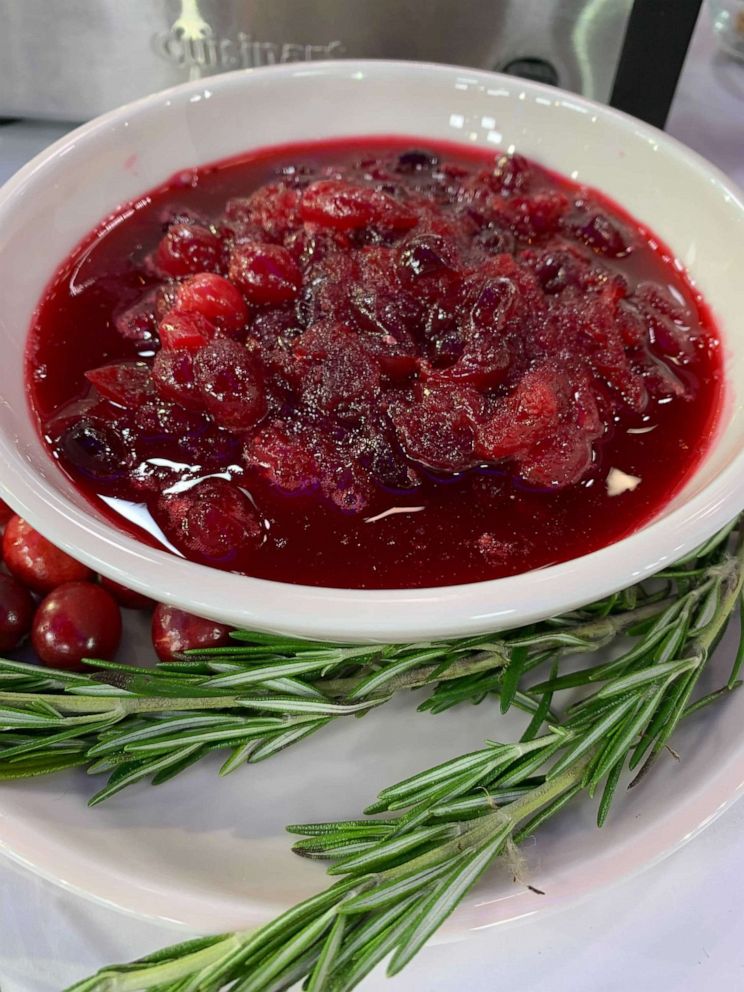 Servings: 2 1/4 cups
Total Time: 15 Minutes
Ingredients
1/2 cup fresh orange juice, from two oranges
1/2 cup water
3/4 cup plus 2 tablespoons sugar
1 (12 oz) bag fresh or frozen cranberries (do not use dried)
Zest of one orange, about 2 teaspoons
Pinch salt
Instructions
In a medium saucepan over high heat, bring the orange juice, water and sugar to a boil. Add the cranberries, orange zest, and salt and return to a boil. Reduce the heat to medium and boil gently for 10 to 12 minutes, until most of cranberries have burst open. (You may need to mash them a bit with a spoon.)
Transfer sauce to a serving bowl. Cover and chill until ready to serve.
Make-Ahead/Freezing Instructions: Cranberry sauce will keep for 10 days in a covered container in the refrigerator. It can also be frozen for up to two months. Thaw overnight in the refrigerator before using.
Melba's Turkey Gravy
Ingredients
Pan drippings from Turkey
1/4 cup unsalted butter
1/4 cup all-purpose flour
2 teaspoons chopped fresh thyme
1 tablespoon chopped fresh parsley leaves
Kosher salt and freshly ground black pepper, to taste
Instructions
Strain pan drippings through a fine-mesh sieve; discard solids and reserve 2 1/2 cups pan drippings; set aside.
Melt butter in a medium saucepan over medium heat. Whisk in flour and thyme until lightly browned, about 1 minute.
Gradually whisk in reserved pan drippings. Bring to a boil; reduce heat and simmer, whisking constantly, until thickened, about 5-10 minutes. Stir in parsley; season with salt and pepper, to taste. Serve warm.
Desserts from Chef Ryan Scott
The celebrity chef and cookbook author saved the best for last with these easy and doable dessert recipes.
Chocolate Chai Air Fryer Donuts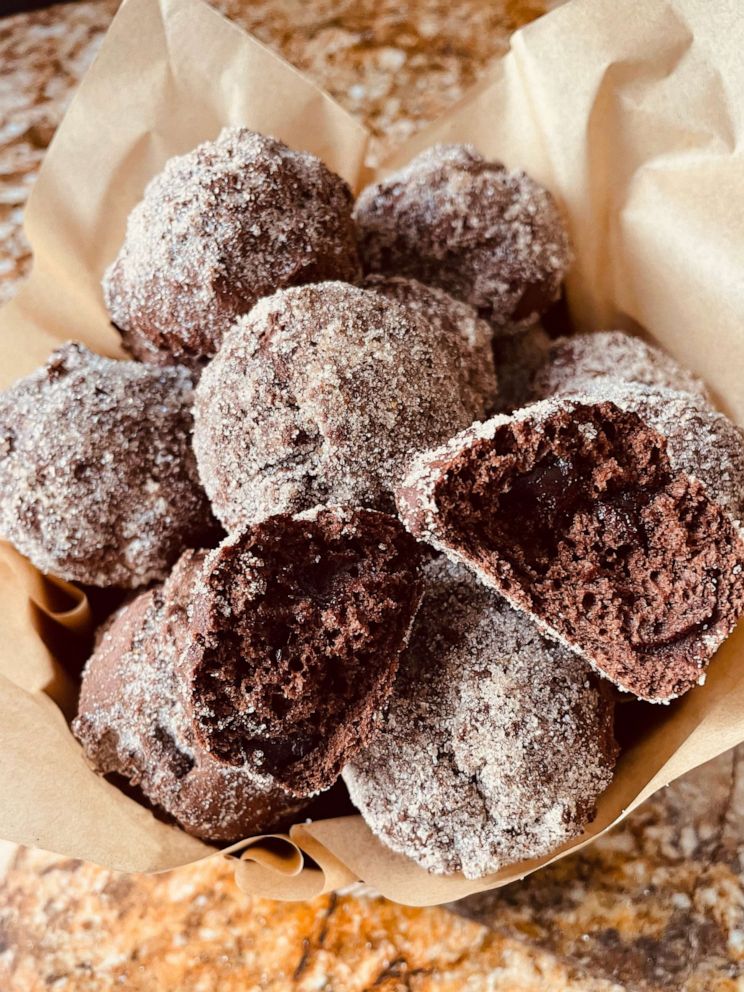 Servings: 24 donut "holes"
Cooking Time: 10 minutes per batch
Ingredients
1 1/2 cups all-purpose flour
3/4 cup unsweetened cocoa powder
3/4 teaspoon salt
2 teaspoons baking powder1 1/2 cups sugar
1 egg
3/4 cup milk
6 tablespoons melted butter
3/4 cup chocolate chips
1 tablespoon chai spice (can substitute 1 teaspoon cinnamon, 1 teaspoon ginger, 1/4 teaspoon allspice, 1/4 teaspoon cardamom, 1/4 teaspoon cloves, 1/4 teaspoon nutmeg)
Instructions
In a medium bowl, combine the flour, cocoa powder, salt, baking powder and half-cup of sugar. Add the egg and milk, and stir to lightly combine into a shaggy mass. Add 4 tablespoons of the melted butter and the chocolate chips and continue mixing (a sturdy wooden spoon works great for this) until you have a homogenous chocolate dough. It will be sticky, but it should be like a stiff cookie dough.
Spray the tray of your air fryer with pan spray and scoop the dough by rounded tablespoons onto the tray, keeping the scoops 2 inches apart. Place in the air fryer at 350 F for 10 minutes. They should puff up and a toothpick inserted in one should come out clean.
Toss the air-fried donut holes in the remaining melted butter, or use a pastry brush to coat them completely. Combine the remaining 1 cup of sugar with the chai spice in a small bowl. Toss the buttered donut holes in the sugar to coat. These are best served warm (with ice cream!) but are also great at room temp with your favorite hot winter beverage.
Technique Tip: When adding melted butter to a recipe with cold liquids, always add the liquids first and mix lightly before adding the butter. Adding melted butter with the cold liquids will seize the fats, making your mixture uneven and poorly mixed.
Swap Option: You can make these vanilla donuts by omitting the cocoa powder and increasing the flour to 2 cups plus 2 tablespoons. You can also glaze them instead of tossing on sugar by mixing 1 cup of powdered sugar with 2 tablespoons of milk, a pinch of salt and your chai spice. Toss the donuts in the glaze and let them drip-dry on a wire rack.
Pumpkin Spice Pancakes with Apple Bourbon Compote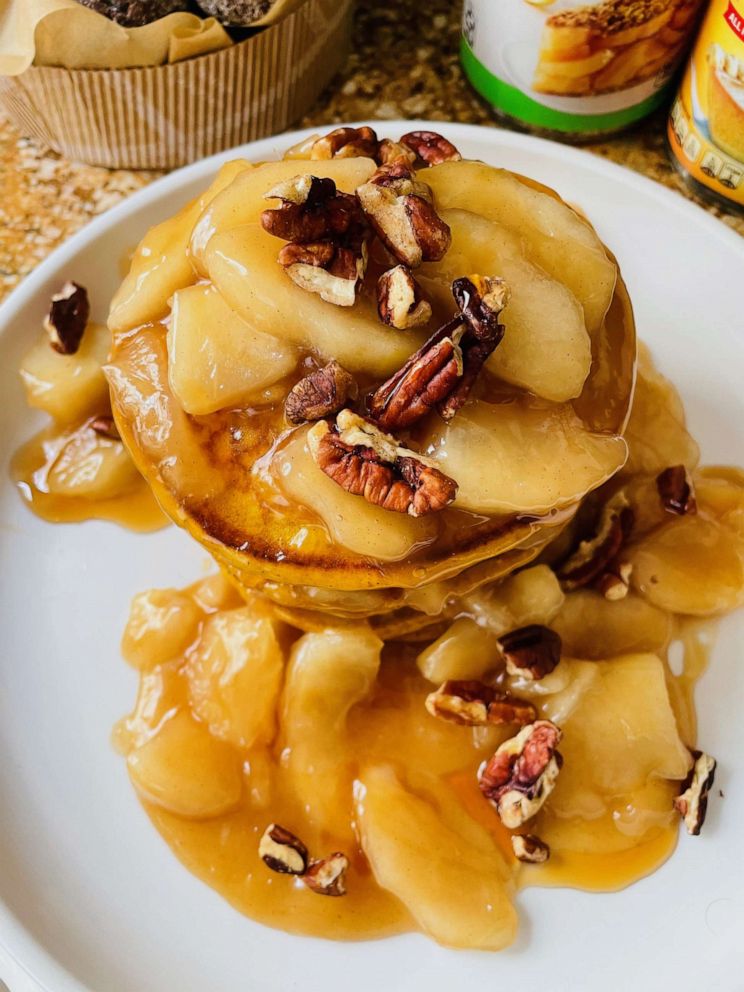 Servings: 7 to 8 pancakes (4 inches)
Cooking Time: 10 to 15 minutes
Ingredients
3/4 cup milk
1/2 cup canned pumpkin puree
1 egg
3 tablespoons orange juice
1 1/4 cup all-purpose flour
1 teaspoon cinnamon
1 teaspoon ground ginger
1/4 teaspoon ground cloves
1/4 teaspoon kosher salt
2 teaspoons baking powder
2 tablespoons brown sugar
3 tablespoons melted butter
For the topping:
1 cup canned apple pie filling
2 tablespoons unsalted butter
2 tablespoons bourbon
1/2 cup chopped pecans
1/2 cup maple syrup
1/2 cup chopped pecans
Instructions
Combine all of the ingredients for the pancake batter in a blender and pulse on medium speed until fully mixed and homogenous. (Alternatively, you can mix by hand in a medium bowl with a stiff whisk.)
Preheat a griddle or large non-stick frying pan over medium heat. Spray lightly with pan spray and pour about 3/4 cup of batter per pancake, being careful not to pour them too close together. Cook for 3 to 4 minutes, until golden brown and bubbles form on top. Flip gently and cook for an additional 2 to 3 minutes until golden and cooked through. Repeat until all the batter is used up.
In a small saucepan, melt the butter over high heat and add the apple pie filling. Cook, stirring constantly until bubbly. Add the bourbon and toss the mixture, letting it catch on fire to burn the alcohol off. Turn the heat off, and mix in the maple syrup.
To serve the pancakes, top a tall stack with the apple bourbon compote and sprinkle with chopped pecans.
Instant Pot Butterscotch Banana Pudding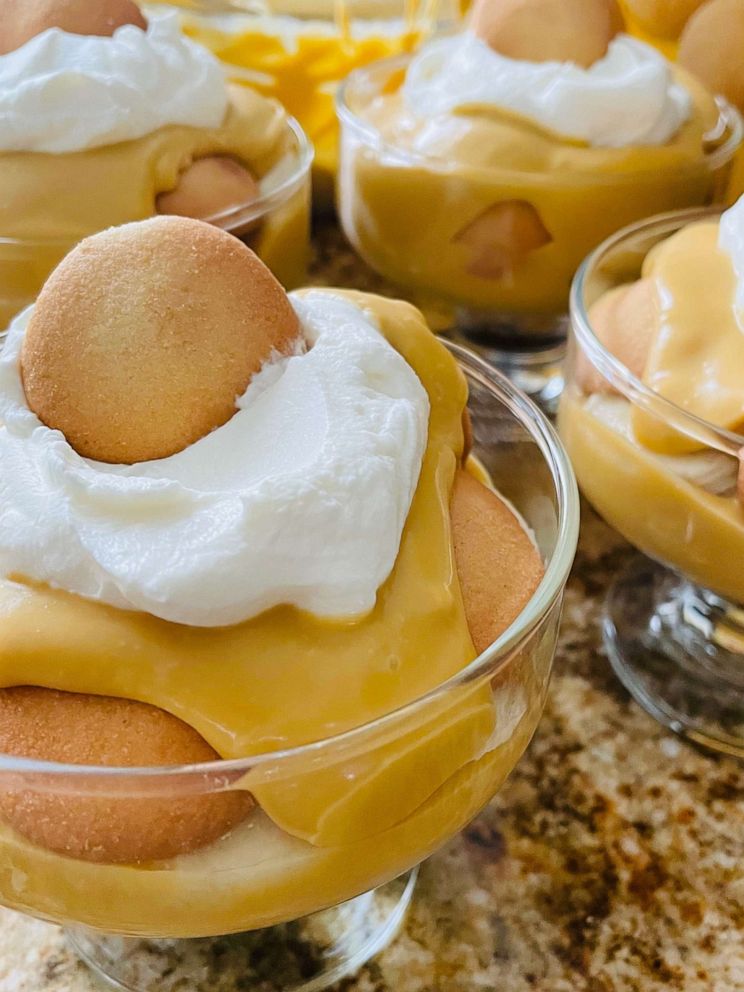 Servings: 6 people
Cooking Time: 25 minutes, plus 2 to 4 hours of cooling time
Ingredients
3 cups heavy cream
1/2 cup milk
1 cup butterscotch chips
2 teaspoons vanilla extract
1/8 teaspoon kosher salt
5 egg yolks
3 - 4 medium bananas, sliced
1 box Vanilla Wafer cookies
1/4 cup powdered sugar
Instructions
In a small pot, bring one and a half cups of cream and the milk to a boil. Pour over the butterscotch chips in a small-medium bowl with the salt and 1 teaspoon of vanilla. *This bowl needs to be able to fit into your Instant Pot with the steamer rack. Whisk until all the butterscotch is melted. In a separate smaller bowl, have your egg yolks ready. Pour about half-cup of the hot butterscotch milk into the egg yolks, whisking constantly to prevent scrambling. Pour this warmed egg yolk mixture back into the medium bowl and whisk it all together until smooth. Scrape the sides down, cover tightly with plastic wrap and then cover the plastic with a piece of foil. Pour one and a half cups of water into your Instant Pot with the steamer rack insert. Place the bowl into the Instant Pot and set for low pressure/high heat for 20 minutes. After the 20 minutes have elapsed, let the pudding rest in the pot without releasing the steam for an additional 5 minutes, then release the pressure manually and then carefully remove the hot bowl. Uncover the pudding, place a piece of plastic wrap directly on the surface to prevent a skin from forming, and refrigerate until set, about 2 to 4 hours.
In a medium bowl, whisk the remaining one and a half cups of cream, 1 teaspoon vanilla, and the powdered sugar to medium-soft peaks. (I like to use a hand mixer or immersion blender for this to save my arm muscles.) Set aside in the fridge until the pudding has chilled to at least room temperature. You can build this dessert before the pudding has completely set up, but if it's any warmer than room temp, it will deflate the whipped cream.
Once the pudding is chilled and set, layer it in your dessert cups (or a small/medium trifle dish) with the sliced bananas, vanilla wafers, and whipped cream. Make sure that there are no pieces of banana showing because they will turn black and slimy (yuck). Top the parfait with a dollop of whipped cream and garnish with a vanilla wafer. This dessert is best when it's had a few hours to chill so the cookies absorb some of the moisture from the banana and pudding, becoming soft and cake-like. I like to make it a day or two ahead to really get the most out of my time and to make this dessert as good as it should be.
Technique Tip: When mixing raw eggs or egg yolks with hot liquid, always temper the mixture by adding a half cup of the hot liquid to the eggs while whisking constantly before transferring it back into the hot liquid. This prevents scrambling the eggs and getting little hard chunks of egg in your custard.
Swap Option: Not a fan of butterscotch? Make this vanilla pudding by omitting the butterscotch chips, increasing the yolks to 8, the sugar to ½ cup and double the vanilla extract. Also, you can make this a chocolate pudding by subbing chocolate chips for the butterscotch and adding a tablespoon of sugar.
If you don't have an Instant Pot, you can make the butterscotch pudding on the stove by simmering the yolks mixed with the cream and milk until thickened (whisking constantly), then pouring over the butterscotch chips. Whisk until the mixture is smooth, strain it into a bowl, then chill and continue with the recipe.
Above dessert recipes reprinted courtesy of chef Ryan Scott.