Food is a form of art, but one Seattle-based chef has shown that when it comes to the colors, shapes and sizes, there's endless pasta-bilities.
Linda Miller Nicholson has perfected how to make plant-dyed pastas and her culinary creations are a true work of art.
Her infamous Instagram account @saltyseattle has 265,000 followers who likely drool over her vibrant feed of edible art.
Recently she shared a photo of a handmade ravioli that looks exactly like a classic cheeseburger, complete with a sesame bun.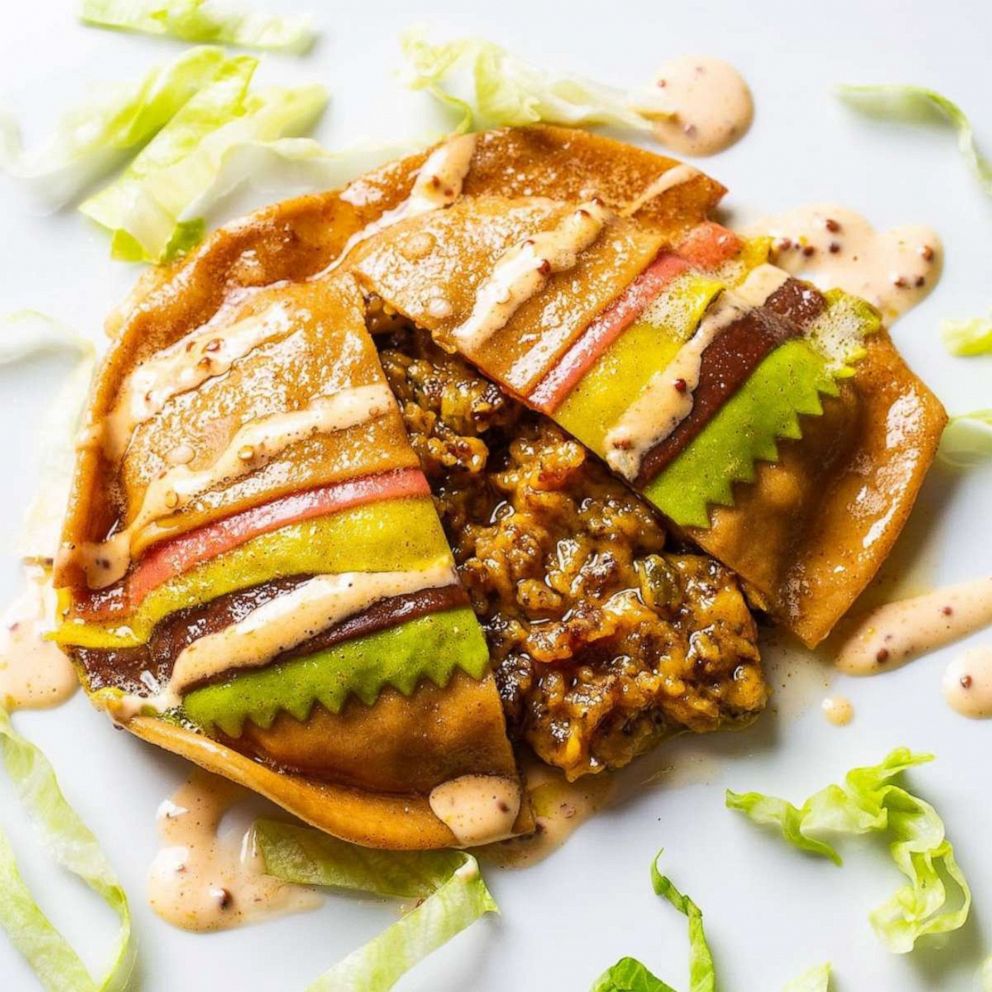 "I knew if I did a burger it needed to be the whole [ravioli]," she told "GMA" of the size and shape. "Shake Shack is by far my favorite for the way they source all their ingredients and focus on sustainability and I love their secret sauce. So when I thought I finally figured it out I thought, 'you know what I'm gonna put it on the recreation of a Shake Shack burger, pasta style.'"
Nicholson created the incr-edible cheeseburger ravioli a couple days after the first Monday in May where Katy Perry, who she has cooked for in the past, was dressed as a giant cheeseburger for the fashion event of the year.
She said that although it was her first time working with Velveeta cheese for the filling it was "the only way to get that oozy, melty center."
"I have to admit it was goddamn delicious," Nicholson added with a laugh.
The aptly nicknamed "pasta ninja" told "GMA" she has been making pasta since she first learned from her grandparents when she was a kid.
Nicholson has shared her recipes and techniques in her cookbook "Pasta, Pretty Please."
Check out some more of her beautiful handmade pasta creations!
Pasta-cos
Pasta sombreros for Cinco de Mayo
Floral print cannelloni
Mermaid pasta
Lady bug ravioli with spinach veloute
Yellow polka dot bikini
Nicholson said each pasta creation generally takes a few hours to make.
She first got the idea to incorporate vegetables into her flour and egg dough mixture to appease her son when he was going through a "picky eater phase."
The beautiful and vibrant noodles, she said, hold color better when the pasta is cooked for a shorter period of time since the natural pigment comes from vegetables.
Nicholson is a one-woman band, but the work she creates in her kitchen looks like food you could see at a five star restaurant. Or in this case, maybe an art museum!inf