A pandemic of the novel coronavirus has now killed more than 388,000 people worldwide.
Over 6.5 million people across the globe have been diagnosed with COVID-19, the disease caused by the new respiratory virus, according to data compiled by the Center for Systems Science and Engineering at Johns Hopkins University. The actual numbers are believed to be much higher due to testing shortages, many unreported cases and suspicions that some governments are hiding the scope of their nations' outbreaks.
Since the first cases were detected in China in December, the United States has become the worst-affected country, with more than 1.8 million diagnosed cases and at least 107,915 deaths.
Today's biggest developments:
Global cases top 6.5 million
Autopsy shows George Floyd tested positive for COVID-19
Some may be delaying emergency care amid pandemic, CDC warns
Brazil, Mexico, Pakistan report record 1-day spikes in coronavirus deaths
US records nearly 20,000 new coronavirus cases
Over 42 million Americans have filed for unemployment during pandemic
Here's how the news is developing today. All times Eastern. Please refresh this page for updates
5:55 p.m.: 32,000 COVID-19 deaths in nursing homes nationwide
New data from the Centers for Medicare and Medicaid Services released Thursday show that nearly 32,000 people have died from COVID-19 in U.S. nursing homes.
The first federal count of coronavirus deaths in the facilities was released on Monday. More nursing homes are included in this latest number, which reflects responses from nearly 14,000 facilities.
The federal total is lower than what ABC News gathered through a state-by-state analysis conducted in mid-May. That survey found more than 37,600 deaths attributed to the coronavirus in nursing homes and long-term care facilities from 40 states and the District of Columbia.
4:45 p.m.: NBA scheduled to restart season on July 31 in Orlando
The NBA will tentatively resume its season on July 31 entirely in Orlando, the league announced Thursday.
In a competitive format approved by the NBA Board of Governors, there will be 22 teams (out of 30) playing eight regular season games. The NBA Finals would end no later than Oct. 12, the league said.
The board's approval is the first step in resuming the season, the league said. The NBA is also working to finalize a plan with the National Basketball Players Association, as well as an agreement with The Walt Disney Company to use Walt Disney World Resort near Orlando, Florida, as a single site for all games, practices and housing for the rest of the season.
The NBA said it is developing a program with public health and infectious disease experts to prevent the spread of COVID-19 among players, including testing and safety protocols. According to ESPN, that includes daily testing for the coronavirus. The league is preparing to play without fans in attendance, ESPN reported.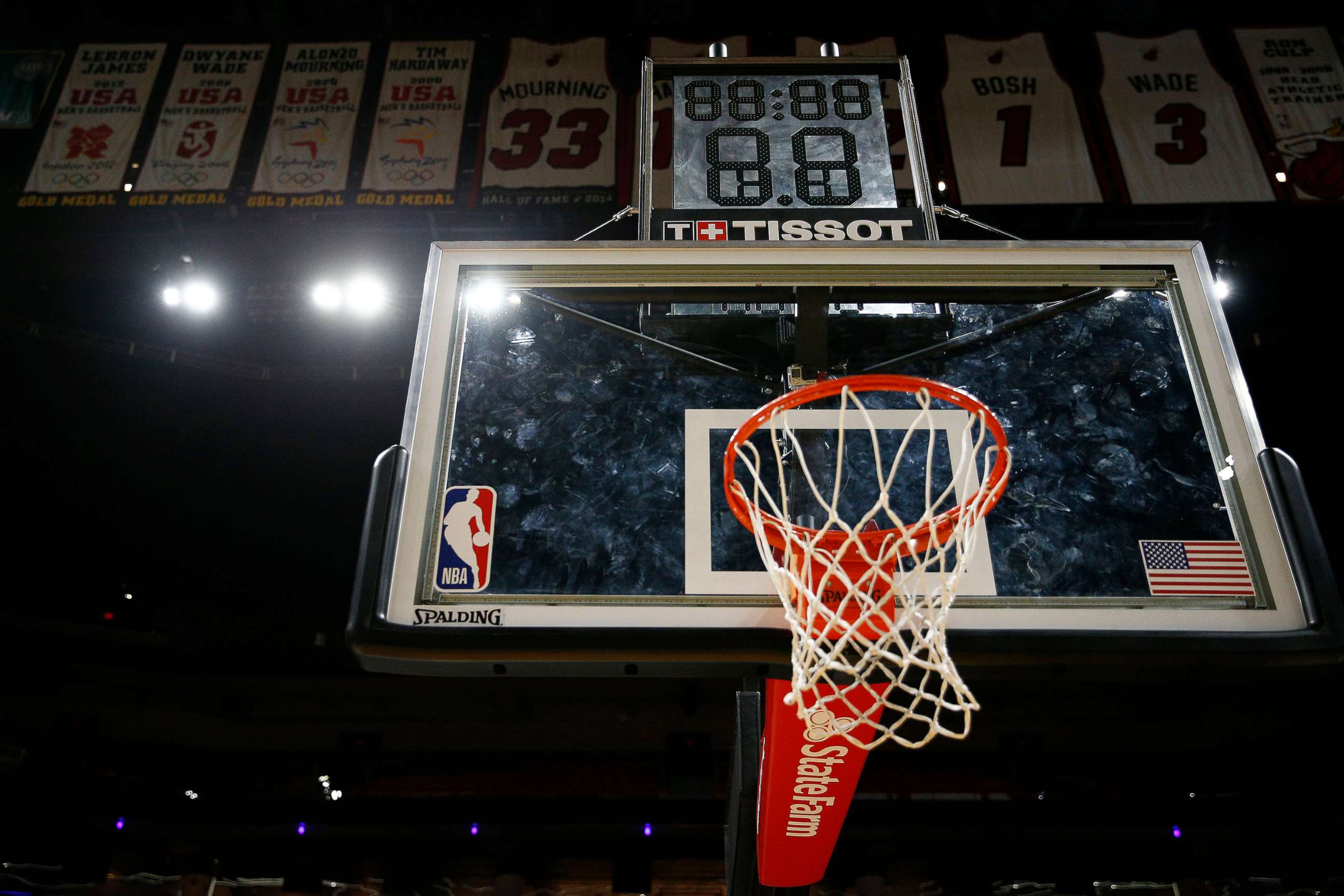 Select teams were able to open their practice facilities for workouts on May 8 at the earliest following strict safety protocols. Since then, a majority of teams have done so, according to NBA.com.
The NBA suspended its season in March after a player on the Utah Jazz preliminarily tested positive for COVID-19.
The Walt Disney Company is the parent company of ABC News.
3:50 p.m.: CDC forecast predicts up to 143,000 COVID-19 deaths in US by end of June
The U.S. could see upwards of 143,000 deaths from COVID-19 by the end of June, the Centers for Disease Control and Prevention said Thursday.
The number comes from the CDC's weekly "ensemble forecast," a compilation of 20 individual national forecasts.
This week's ensemble forecast predicts between 118,000 and 143,000 COVID-19 deaths by June 27. It also suggests that the number of new COVID-19 deaths per week will continue to go down, the CDC said.
1:40 p.m.: CDC to start requiring race, ethnicity data in COVID-19 cases
Any COVID-19 lab results sent to the Centers for Disease Control and Prevention will have to include the person's race and ethnicity, CDC Director Robert Redfield announced Thursday.
"Data is the roadmap. It's fundamentally the key first step we need to address the disparities" among communities, Redfield told lawmakers.
The CDC has faced pressure to report more national data on racial disparities in novel coronavirus deaths.
Data collection varies by state and doesn't always include race. As a result, the CDC has released little hard data on how the virus has disproportionately affected communities of color.
A recent ABC News review of state and local public health data found that the rates of coronavirus infection and death have been higher in communities of color in places like New York City, Chicago, Washington, D.C., and Atlanta.
In addition to race and ethnicity, the CDC will also start requiring COVID-19 lab results to include the person's ZIP code, age and sex.
Redfield said he expects states to begin offering fuller details on COVID-19 patients after June 14.
"I have every intent to get that data," he said.
Tune into ABC at 1 p.m. ET and ABC News Live at 4 p.m. ET every weekday for special coverage of the novel coronavirus with the full ABC News team, including the latest news, context and analysis.
11:27 a.m.: Mexico hits highest daily rise in coronavirus deaths
Mexico recorded its highest single-day increase in coronavirus-related deaths on Thursday.
The Mexican Ministry of Health registered a record 1,092 deaths from COVID-19 in the past 24 hours, more than double the previous single-day record. The nation's official death toll now stands at 11,729.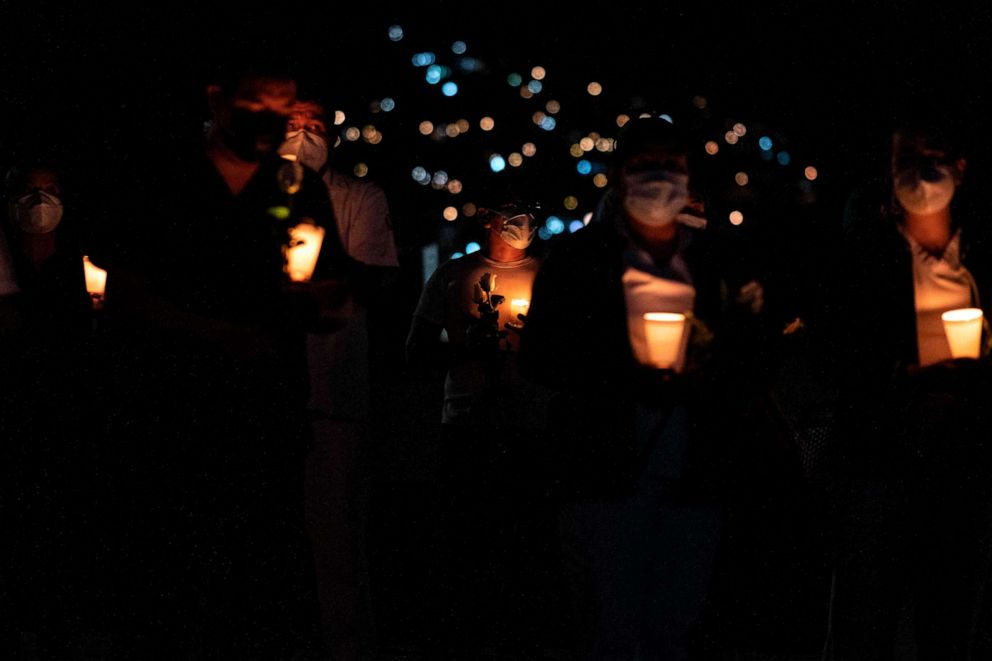 Mexico's deputy health minister, Hugo Lopez-Gatell, attributed the sharp rise in deaths to delays in processing tests, claiming that many of the newly confirmed deaths had actually occurred days or even weeks ago.
The daily number of new infections also hit an all-time high of just under 4,000. Mexico, the second-largest economy in Latin America, now has more than 101,000 diagnosed cases of COVID-19.
10:44 a.m.: Brazil sees largest single-day coronavirus death toll
Brazil reported a record single-day spike in coronavirus-related deaths on Thursday.
The Brazilian Ministry of Health registered 1,349 deaths from COVID-19 in the last 24 hours, surpassing the previous single-day record set on Tuesday. That brings the national toll to over 32,500, the fourth highest of any country in the world.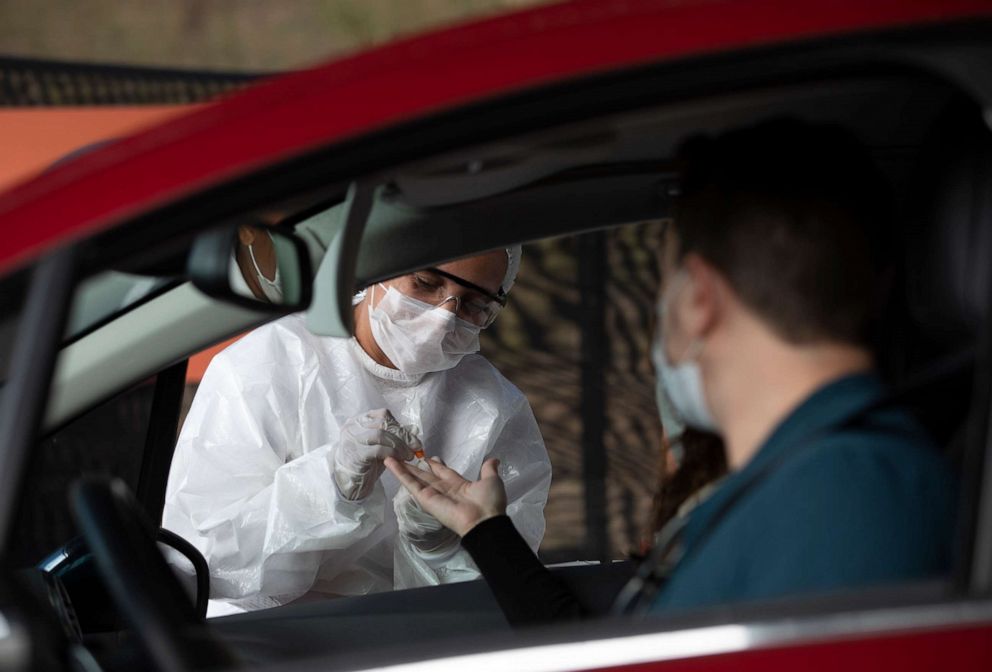 The actual death toll is believed to be much higher due to insufficient testing.
Brazil also has one of the highest tallies of COVID-19 cases in the world, second only to the United States. More than 584,000 people in the South American nation have been diagnosed with the disease so far, according to a count kept by Johns Hopkins University.
9:09 a.m.: Hong Kongers defy police ban for 31st anniversary of Tiananmen Square protests
Thousands of people defied a police ban in Hong Kong on Thursday to hold a massive candlelight vigil in memory of those who were killed during the 1989 Tiananmen Square protests in Beijing.
Hong Kong police had banned the annual vigil this year, citing the need for social distancing and other coronavirus-related measures. It's the first time the vigil has been denied approval since 1990, stoking fears of mainland China's growing control over dissidents in the semiautonomous city.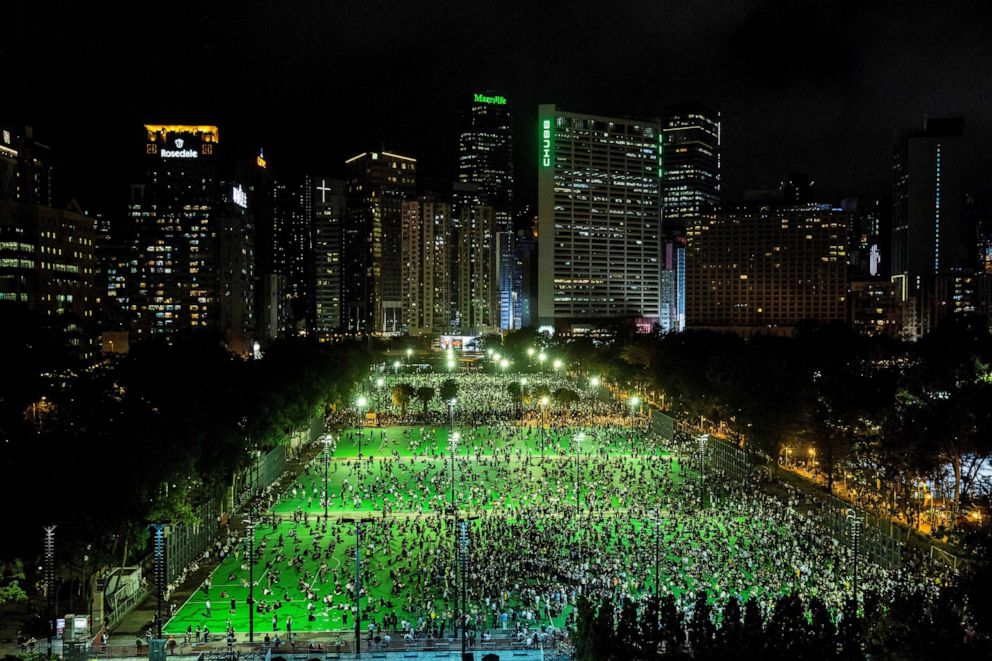 Although attendance was smaller than the 180,000 estimated to have taken part in last year's vigil, sizeable crowds of people peacefully filled up the soccer pitches of Victoria Park on Thursday evening. They began gathering in small groups of no more than 8 to maintain social distancing rules but eventually were shoulder-to-shoulder as they observed a moment of silence.
So far, police have made no effort to prevent the vigil from taking place, apart from using loud speakers to say the event was banned.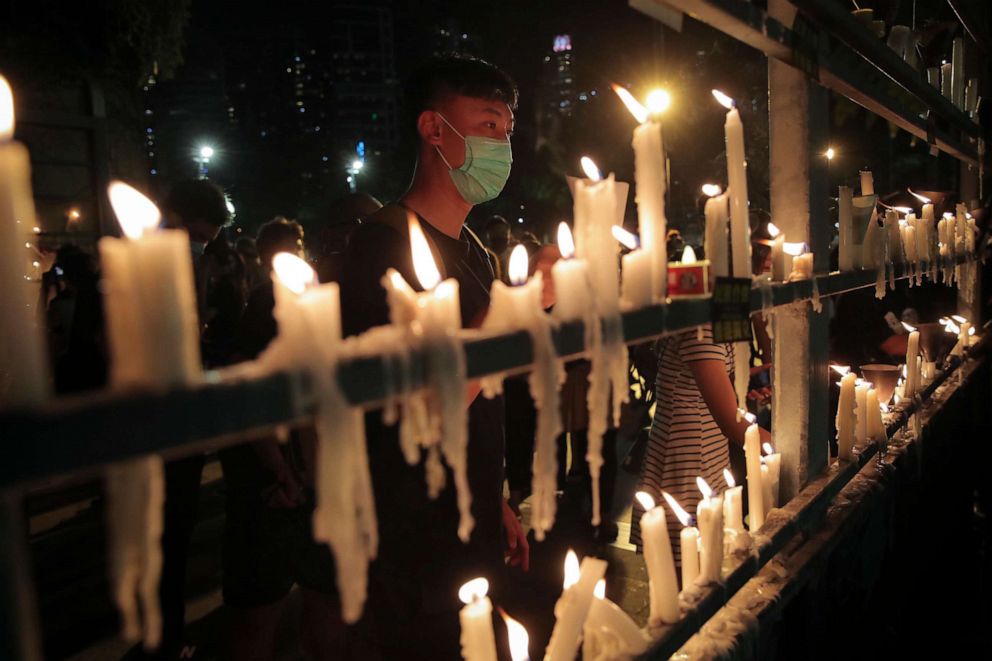 On June 4, 1989, the Chinese military opened fire on pro-democracy protesters in and around Tiananmen Square, in the heart of the capital. There has never been a definitive death toll from the violent clampdown, with estimates ranging from a few hundred to over 10,000. All numbers are politically charged and disputed.
For the 31st year in a row, Hong Kong remains the only place on Chinese soil with a mass commemoration of the lives lost. The city is also home to the only museum in the world dedicated to the massacre.
On the mainland, it remains one of the most taboo and tightly censored subjects in China, one the ruling Communist Party wishes could be scrubbed from the pages of history.
8:36 a.m.: Over 42 million Americans have filed for unemployment during pandemic
An additional 1.9 million Americans filed for unemployment insurance last week, the U.S. Department of Labor said Thursday.
The coronavirus pandemic has pushed unemployment in the United States to its highest rate since the Great Depression. Nearly 42 million American workers have filed jobless claims since mid-March, when U.S. states began imposing stay-at-home orders and other coronavirus-related restrictions.
7:49 a.m.: Russia reports just under 9,000 new cases as US delivers more aid
Russia's coronavirus headquarters said Thursday it had registered 8,831 new cases of COVID-19 and 169 deaths in the past 24 hours.
The country's tally now stands at 441,108 diagnosed cases with 5,384 deaths.
Moscow is the hardest-hit city in the country, accounting for about half of all infections. The capital reported 1,998 new cases and 64 deaths in the last 24 hours, according to Russia's coronavirus headquarters.
The latest daily caseload is down from a peak of 11,656 new infections reported on May 11, during which Russia registered over 10,000 new cases per day over a 12-day period. Since then, the daily number of new infections has hovered around 9,000.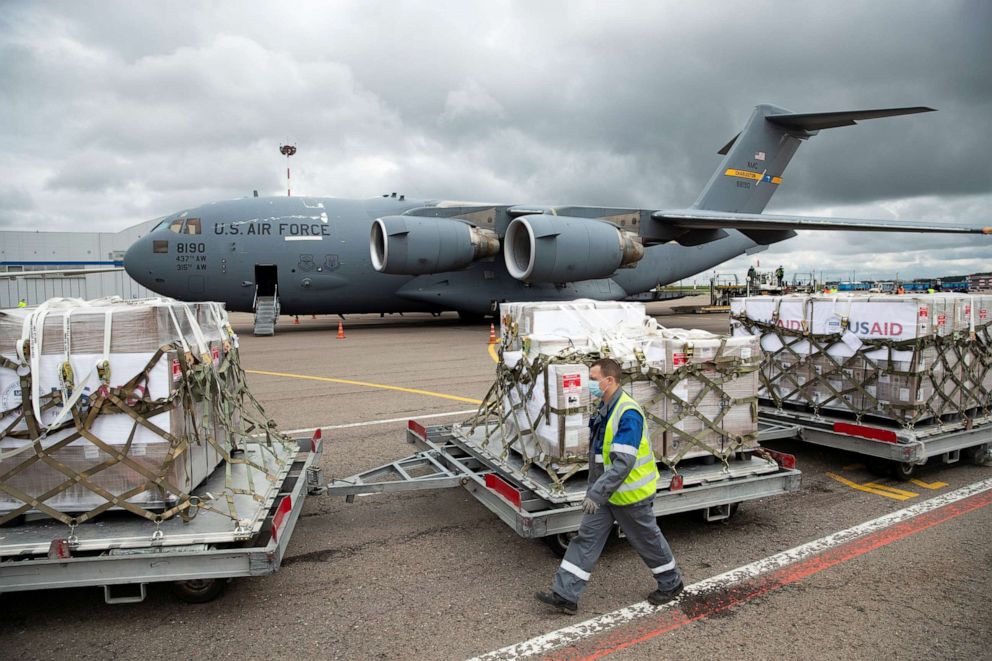 Russia has the third-highest number of cases in the world, behind Brazil and the United States, according to a count kept by Johns Hopkins University.
An American military plane touched down at Vnukovo International Airport outside Moscow on Thursday, delivering another portion of humanitarian aid for the Russian people from the United States.
The delivery is part of a $5.6 million donation that includes 200 American-made ventilators and other much-needed medical aid to help Russia combat its coronavirus outbreak, according to the U.S. Embassy in Moscow.
7:03 a.m.: US records nearly 20,000 new coronavirus cases
Some 19,700 new cases of COVID-19 were identified in the United States on Wednesday, according to a count kept by Johns Hopkins University.
The national total now stands at 1,851,520 diagnosed cases with at least 107,175 deaths.
The new cases include people from all 50 U.S. states, Washington, D.C., and other U.S. territories as well as repatriated citizens.
By May 20, all states had begun lifting stay-at-home orders and other restrictions put in place to curb the spread of the novel coronavirus.
The daily increase in cases has been hovering around 20,000 since May 31, which is down from a peak of more than 36,000 new cases identified on April 24.
What to know about coronavirus:
6:08 a.m.: Pakistan reports record 1-day spike in coronavirus deaths
Pakistan reported a record single-day spike in coronavirus-related deaths on Thursday.
The Pakistani government registered 4,688 new cases of COVID-19 and 82 new fatalities across the country in the past 24 hours, bringing the total to 85,264 confirmed cases and 1,770 deaths.
The spike comes after Pakistan Prime Minister Imran Khan relaxed lockdown restrictions that were put in place to prevent the spread of the novel coronavirus.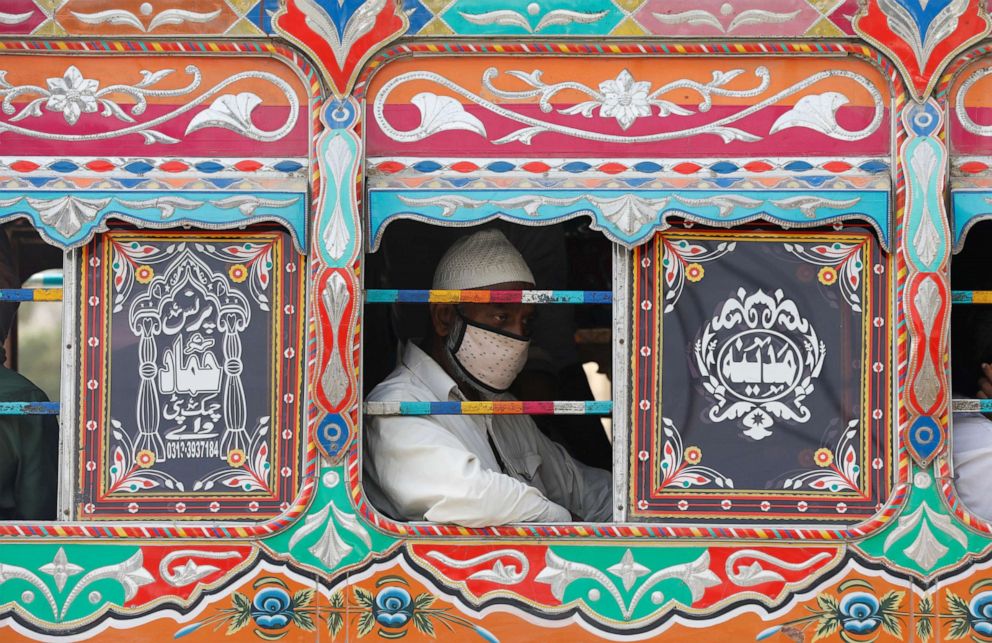 Pakistan's tally of cases has now surpassed that of China, where the virus emerged late last year. The Chinese mainland has counted 84,160 confirmed cases of COVID-19.
Pakistan also, for the first time, conducted over 20,000 test for COVID-19 in the last 24 hours. The country, which recently ramped up its testing capacity, has now completed more than 615,000 tests for COVID-19.
5:21 a.m.: Some people may be delaying emergency care amid pandemic, CDC warns
Data collected by the U.S. Centers for Disease Control and Prevention indicates some people may be delaying emergency care for serious health conditions during the coronavirus pandemic.
The total number of visits to hospital emergency departments across the country for reasons other than COVID-19 fell from a mean of 2.1 million visits per week between March 31 and April 27 of last year to 1.2 million between March 29 and April 25 of this year -- a 42% decrease, according to the findings published Wednesday in the CDC's Morbidity and Mortality Weekly Report.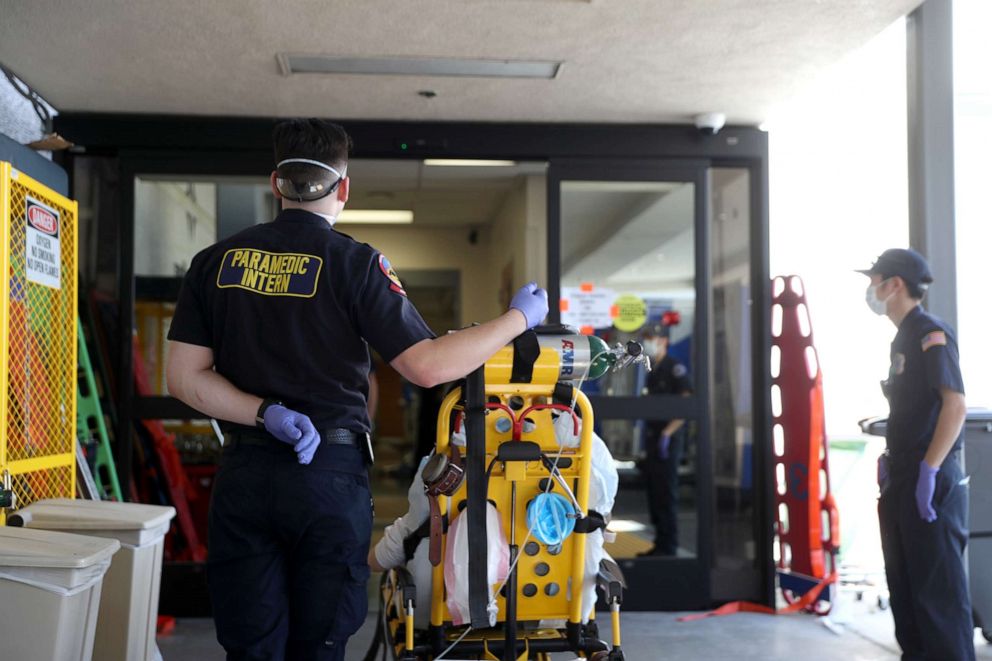 The research found the "steepest decreases" in emergency department visits were among children aged 14 and younger, women and girls, and residents of the northeastern part of the country.
However, the report noted that the "proportion of infectious disease–related visits was four times higher during the early pandemic period."
The CDC warned that fewer visits for critical conditions might result in complications or death.
3:49 a.m.: Autopsy shows George Floyd tested positive for COVID-19
George Floyd, whose death in Minnesota police custody has stirred widespread anger across the United States and abroad, tested positive for the novel coronavirus, according to a full-length autopsy report released by Wednesday night.
A postmortem nasal swab collected on May 26 was found to be "positive for 2019-nCoV RNA," the report said, using another term for the type of coronavirus that causes COVID-19 and is responsible for the global pandemic that has disproportionately impacted minority communities.
Floyd was known to be positive for the virus on April 3, and the type of viral testing performed for the autopsy, polymerase chain reaction (PCR), can show a positive result "for weeks after the onset and resolution of clinical disease," according to Hennepin County Chief Medical Examiner Dr. Andrew Baker, who conducted the autopsy.
"The autopsy result most likely reflects asymptomatic but persistent PCR positivity from previous infection," Baker said in the 20-page report. In other words, Floyd was unlikely to have been contagious at the time of his death, in which the virus had no known role.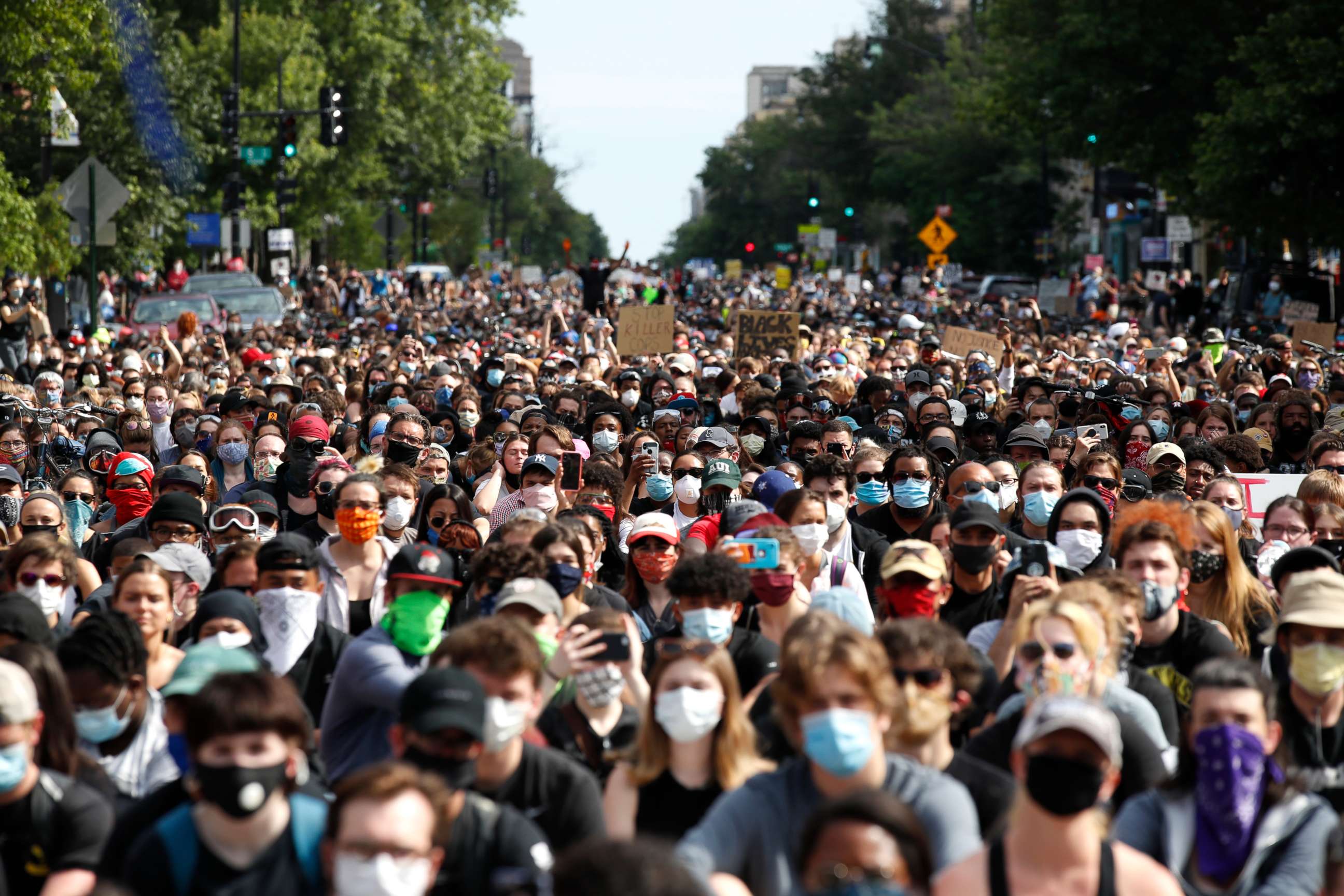 Earlier this week, the Hennepin County Medical Examiner's Office released preliminary findings in a one-page "press release report," which did not include the coronavirus test. The cause of death -- "cardiopulmonary arrest complicating law enforcement subdual restraint and neck compression" -- remains the same.
However, early findings from an independent autopsy ordered by Floyd's family show his death was a "homicide caused by asphyxia due to neck and back compression that led to a lack of blood flow to the brain."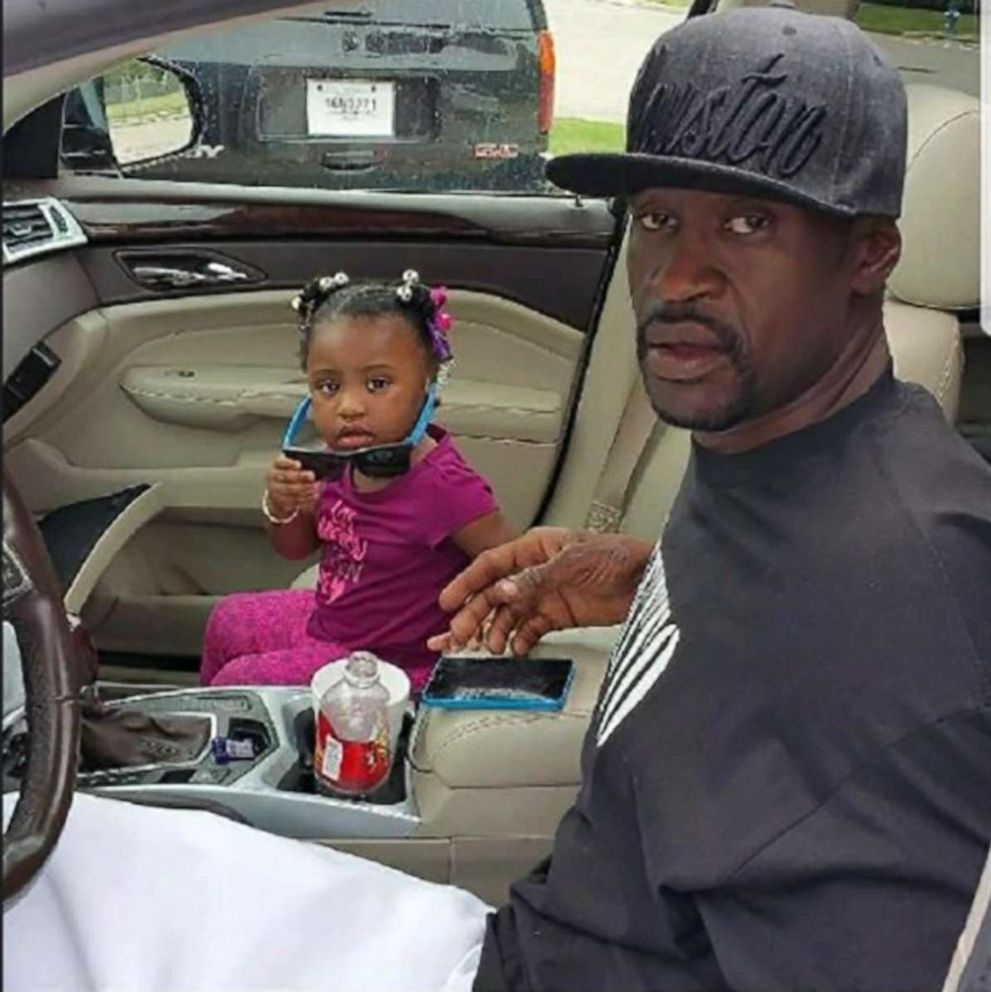 Mass protests have taken place in every U.S. state as well as a number of cities overseas following the death of Floyd, a 46-year-old unarmed Black man who died on May 25 in Minneapolis shortly after a white police officer was filmed kneeling on his neck for nearly nine minutes as three other officers stood by. The protesters are demanding justice for Floyd and decrying the overall treatment of Black Americans by police.
The Minneapolis Police Department has since fired all four officers, and the one seen pinning Floyd down, Derek Chauvin, has been charged with second-degree murder and manslaughter. The three other officers, Thomas Lane, J.A. Kueng and Tou Thao, each have been charged with second-degree aiding and abetting felony murder as well as second-degree aiding and abetting manslaughter, according to court documents.
ABC News' Anne Flaherty, Whitney Lloyd, Alina Lobzina, Allison Pecorin,Tanya Stukalova, Catherine Thorbecke, Karson Yiu and Zunaira Zaki contributed to this report.