4 charged after fully functional solid gold toilet called 'America' stolen from Winston Churchill's birthplace
The toilet was valued at nearly $6 million.
LONDON -- Four people have been charged after a fully functional solid gold toilet worth nearly $6 million was stolen from Blenheim Palace, the birthplace of former Prime Minister Winston Churchill, police said.
The theft happened in September 2019, when the solid gold toilet named "America," an art piece by Maurizio Cattalan, had been installed as part of an exhibition where people were invited to use the fully functioning toilet at Blenheim Palace, approximately 65 miles northwest of London.
The toilet had only been installed for two days before the theft occurred and the Thames Valley police received a report of the burglary at the palace at 4:57 a.m. on Sept. 14, 2019, saying that the offenders broke in overnight and left the scene of the crime at 4:50 a.m.
"The piece of art that has been stolen is a high value toilet made out of gold that was on display at the palace," said Detective Inspector Jess Milne of Thames Valley Police at the time of the theft. "Due to the toilet being plumbed in to the building, this has caused significant damage and flooding. We believe a group offenders used at least two vehicles during the offense."
Now, more than four years after the heist, the Crown Prosecution Service has formally charged four men in relation to the theft of the solid gold toilet.
"James Sheen, 39, has been charged with one count of burglary, one count of conspiracy to transfer criminal property and one count of transferring criminal property," the CPS said on Monday. "Michael Jones, 38, has been charged with one count of burglary. Fred Doe, 35, and Bora Guccuk, 39, have both been charged with one count of conspiracy to transfer criminal property."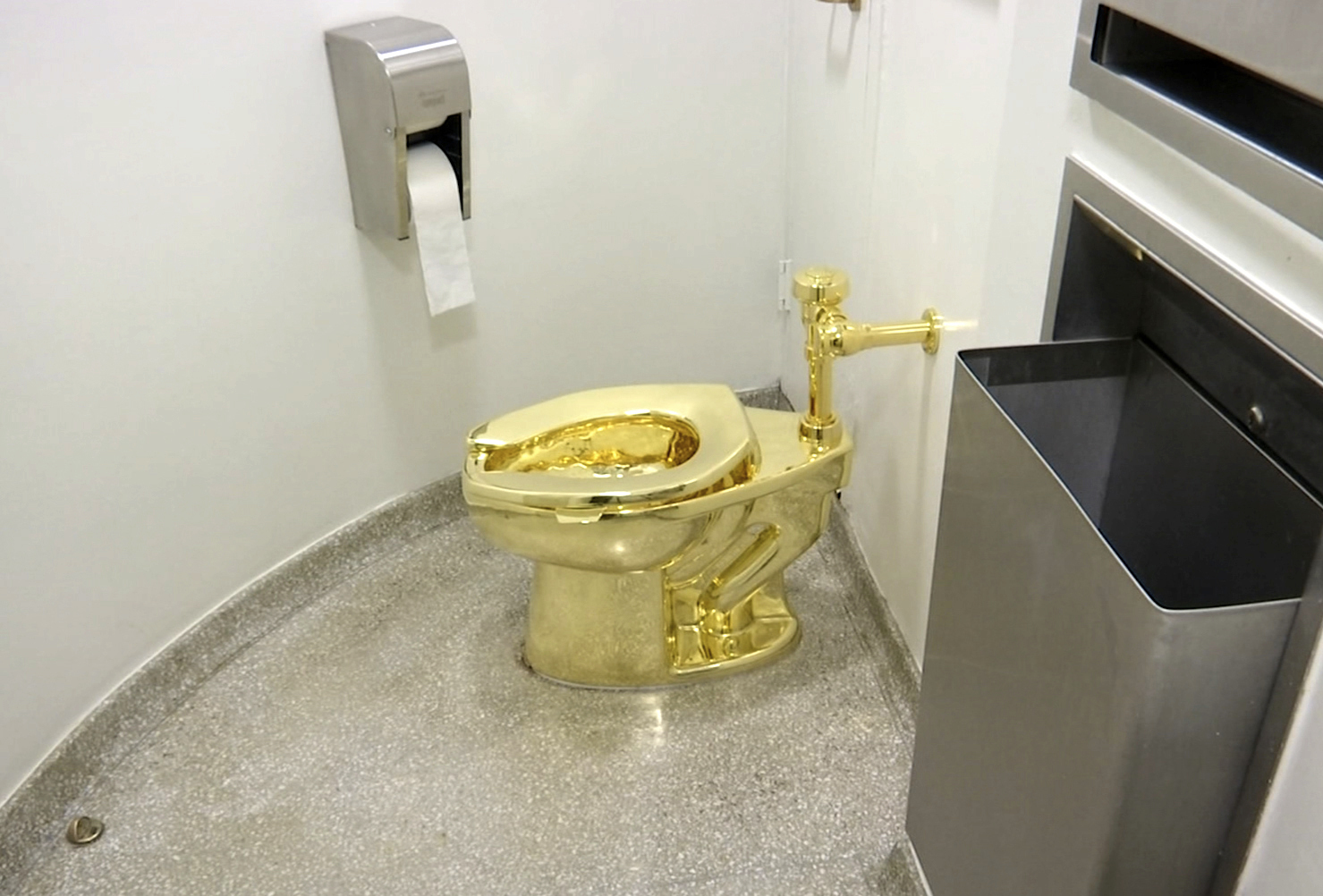 "Criminal proceedings against James Sheen, Michael Jones, Fred Doe and Bora Guccuk are now active and they each have the right to a fair trial," the CPS advised. "It is extremely important that there should be no reporting, commentary or sharing of information online which could in any way prejudice these proceedings. The function of the CPS is not to decide whether a person is guilty of a criminal offence, but to make fair, independent and objective assessments about whether it is appropriate to present charges for a criminal court to consider."
Before the theft, visitors could book a three-minute appointment to use the toilet, which had been a popular feature of the exhibition when it was displayed at the Guggenheim in New York City.
Shortly after the art installation was stolen, Thames Valley police arrested a 66-year-old man in connection with the incident. That individual has not been charged.
"The CPS assessment of any case is not in any sense a finding of, or implication of, any guilt or criminal conduct," the CPS said of the standing proceedings. "It is not a finding of fact, which can only be made by a court, but rather an assessment of what it might be possible to prove to a court, in accordance with the Code for Crown Prosecutors."
Before the theft, in August 2019, Edward Spencer-Churchill, the brother of the Duke of Marlborough who resides at Blenheim Palace, spoke to The Times, saying, "It's not going to be the easiest thing to [steal]. Firstly, it's plumbed in and secondly a potential thief will have no idea who last used the toilet or what they ate. So no, I don't plan on guarding it."
The four men are scheduled to appear at Oxford Magistrates' Court on Nov. 28.
To this day, the toilet has not been found.