Sad desk lunches may be a little less sad for the environment, at least in Europe.
The European Union has proposed new laws to ban some everyday single-use plastic products including straws, cutlery and plates.
Some of the other familiar items that would be banned, should the law be adopted, are plastic drink stirrers, plastic cotton swabs and plastic sticks used on certain types of balloons.
Beyond that, it sets targets to reduce usage of plastic food and drink containers.
It also would force plastic producers to cover the cost of the clean-up of other products, like lightweight plastic bags, food containers and balloons.
The European Commission, which created the proposal, cited plastic litter in oceans as the concern prompting the action.
"Plastic waste is undeniably a big issue and Europeans need to act together to tackle this problem, because plastic waste ends up in our air, our soil, our oceans, and in our food," first vice president Frans Timmermans said in a news release announcing the proposal. "Today's proposals will reduce single-use plastics on our supermarket shelves through a range of measures. We will ban some of these items, and substitute them with cleaner alternatives so people can still use their favorite products."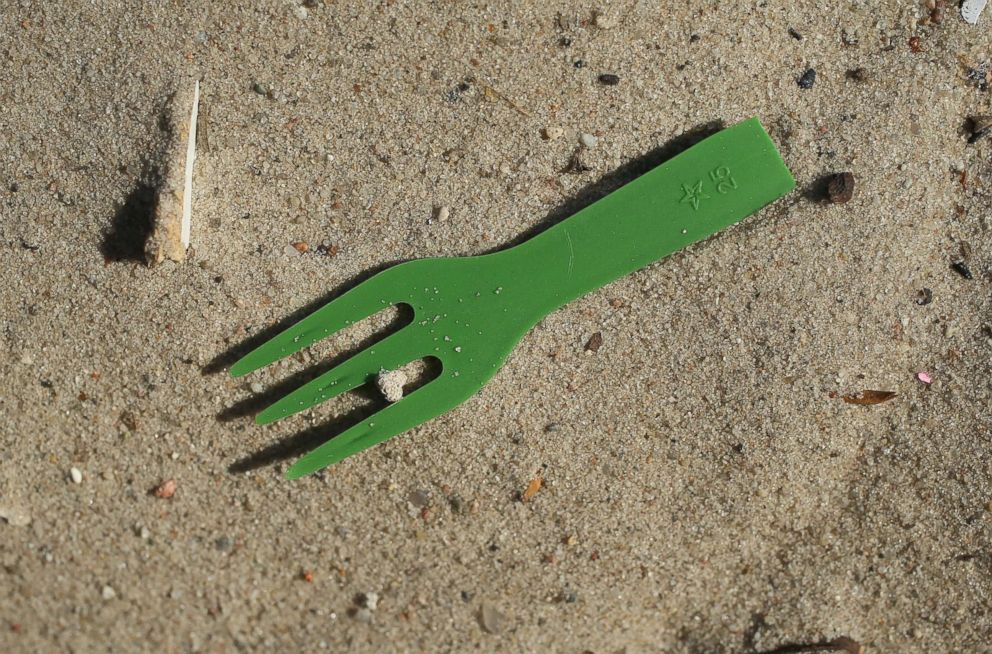 The European Parliament and Council will review the proposal and can either amend or approve it before it goes into effect.
Environmental activists, like Kevin Stairs, a policy adviser in the European office for Greenpeace, applaud the proposal.
"We think it's a step in the right direction," Stairs told ABC News.
"Of course, it's not a comprehensive solution for plastic pollution, but it does set in motion the necessary measures," to address plastic pollution and sustainable material policies, he said.
"It is only a handful of items that are being banned, but the message is very loud," Stairs added.
Plastic bans and restrictions in the U.S.
While certain cities and states have taken steps to reduce plastic consumption and waste on the local level in the U.S., a country-wide ban is far off.
One of the most common approaches has been in banning or regulating the use of plastic bags.
According to the National Conference of State Legislatures, at least 73 bills relating to the use of plastic bags in retail settings were introduced in state legislatures across the country during the 2017-2018 session.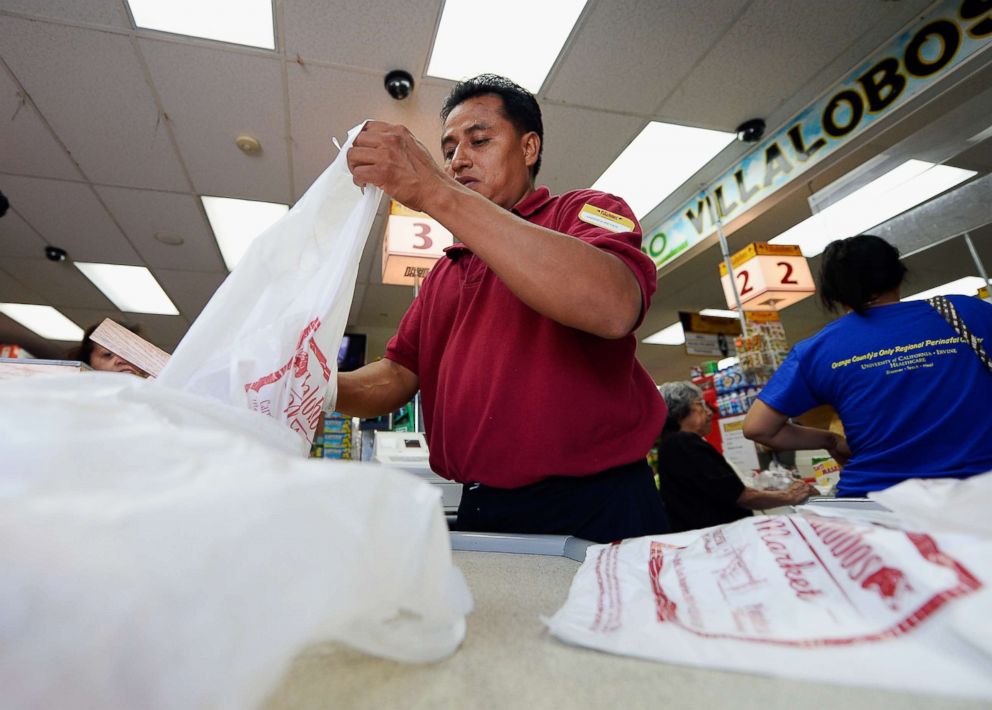 Several major cities including Chicago and Los Angeles have conditional bans on single-use plastic bags and others, including New York and Washington, D.C., impose fees for using plastic bags.
Another new goal for environmental advocates has been a ban on plastic straws, which are now banned in cities like Seattle, Malibu, Miami Beach, and Fort Myers, according to the NCSL.
There have been 31 bills in nine states targeting straws, plastic containers and other single-use packaging during this past year, and a spokesperson for the NCSL said that "a number have failed, and many are still pending."
California Assemblyman Ian Calderon proposed a state-wide law to make it a crime for dine-in restaurants to offer customers straws without being asked first, and the bill is still working its way through the state legislative process.
He called it "a small step in the right direction."
"Most people reacted as expected, brushing off the issue as unimportant," Calderon told ABC News today about his proposal. "Members have at times treated it as though it wouldn't have the intended impact. But overall, after speaking in length to members about my proposal, they have been supportive along partisan lines."
As for the EU proposal, Calderon said it shows "the issue of single-use plastics is finally and rightfully taking center stage worldwide. This is a global issue and each country needs to take responsibility to reduce plastic pollution. And here in the U.S., California is taking the lead."
The possibilities of more extensive single-use plastic bans in the U.S.
The restaurant industry in the U.S. would be greatly affected by any changes in line with the EU proposals, an industry expert says.
Laura Abshire, the director of sustainability policy and government affairs at the National Restaurant Association, said that it could hurt restaurants who are already dealing with labor shortages and give owners another issue to address.
"In the United States, employee recruitment is the number one issue facing the restaurant industry today," Abshire told ABC News. "A ban on single-use plastic items could harm restaurants that are already trying to address labor shortages, and a ban could limit the options restaurants have to serve guests."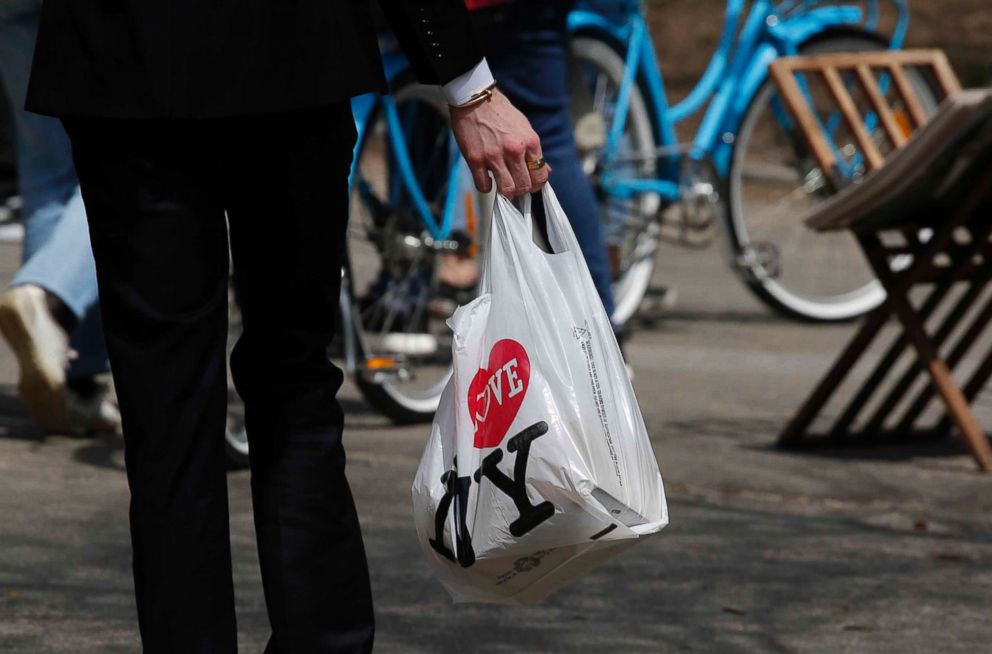 She said about half of food service packaging in the U.S. is paper and about half is plastic, citing the Foodservice Packaging Institute.
"If all plastic packaging is banned, this could cause massive market disruptions, in addition to potential cost implications for America's restaurants," Abshire told ABC News.
Many others share the fears of restaurant owners and neither Calderon nor Stairs said they expected the political climate in the U.S. right now to lend itself to sweeping action on the issue anytime soon.
"I'm not holding my breath for the U.S. to pass any policy limiting the presence of plastic in America," Calderon said.
He said because national legislation doesn't look likely, the states should show leadership on legislating single-use plastics.
"It's important for California to take the lead," he continued. "We're the 5th largest economy in the world. What we do here has the potential to have a global impact."
"The EU is definitely providing leadership here," Stairs said, but he hopes that more countries from across the globe, including the U.S., follow that lead.
"It would be pretty hard for governments to be considered respectable and to ignore the accumulating plastic pollution, which must be addressed at least the EU is starting to address that issue," Stairs said.