SEOUL, South Korea -- Shinil Group, which claimed to have found a Russian Navy warship that sank more than a century ago containing $13 billion in gold bars, backed off on Thursday, saying they cannot say for certain that the infamous 'steel boxes containing gold' exist.
Confusing press conference
The company gave mixed messages at a press conference on Thursday causing confusion and raising doubts over why the firm, which registered for a business license only last month, appears to be releasing misleading or false information.
In a printed press release handed out to reporters at the beginning of the conference on Thursday, the company claimed that there are several boxes tied up with strong ropes inside Donskoii that seemed to contain 'very meaningful things.' Shinil group did not show any photo or video to support that claim.
But when asked by reporters if they actually spotted those boxes underwater, one of the two submersible pilots, Jefferey L. Heaton, answered "I did not see any steel boxes (that may contain gold)." Heaton's Canadian company Nuuytco has been hired by Shinil to identify the Donskoii.
The conflicting comments stirred confusion, forcing reporters to demand clarification.
The exploration manager in charge of equipment, Ha Deuk-bok, replied that it must have been "misinterpretation in the process of relaying messages" and acknowledged that "to be accurate since we were not able to film (the steel boxes), the conclusion is that we cannot say they are there."
Then Shinil Group's chief executive Choe Yong-seok also took a step back from an earlier press release which dubiously hinted at gold boxes. "We apologize for citing unverified news reports regarding the expression 'treasure ship," Choe told reporters.
Questions over validity
A series of local media reports emerged in the past week rebutting the validity and credibility of Shinil Group's claims.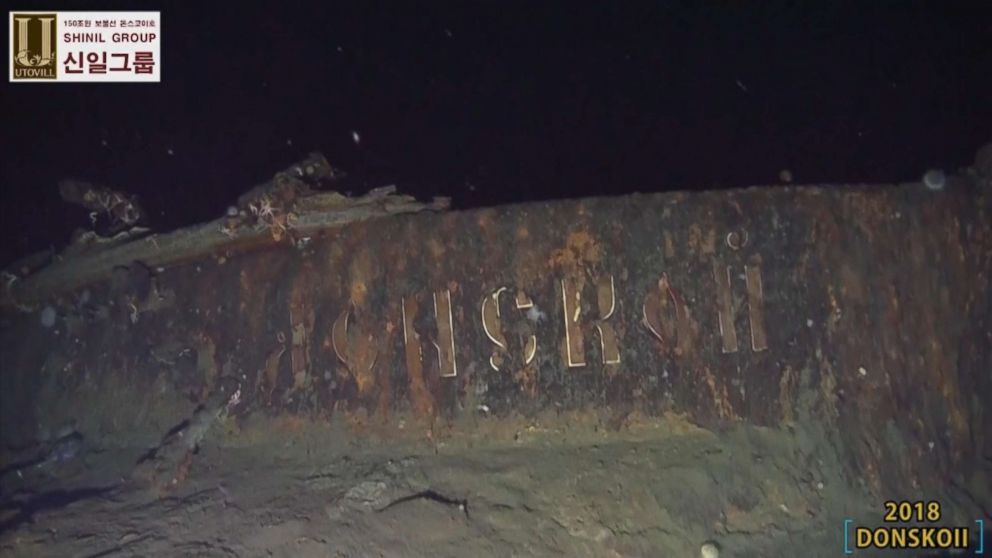 Shortly after Shinil Group announced last week that it had spotted the downed Navy cruiser and said it has plans to salvage tens of billions of dollars-worth of gold, another company, Dong-Ah Construction, surfaced -- claiming their own rights to excavate and claiming ownership of the rumored treasures, saying they had reported discovery of the wreckage in 2003.
But suspicion of Shinil Group extends beyond which company has the right to salvage the century-old Russian Navy cruiser.
Korean Broadcasting System, KBS, pointed out Monday that some of Shinil Group's photo uploads were nearly identical to screen grabs from the film "Titanic." And another picture of the Donskoii was same as that provided by the Korean government's ocean science institute in 2003, except the institute logo was removed.
Suspicious Trading
Adding to rising suspicions, South Korea's financial watchdog said on Thursday it was probing possible unlawful stock trading by Shinil executives.
The Financial Supervisory Service (FSS) noted that shares of Jeil Steel, in which both current and former heads of Shinil bought stakes earlier this month, had seen increased trading and rising prices since May, an FSS official said.
The value of the shares jumped 139 percent after the "treasure ship" claim.
The circumstances raise possible suspicions of stock price manipulation or unfair trade using undisclosed information," said the official, who declined to be identified.
The share price fell on Wednesday to a near two-month low.
Jeil Steel said a week earlier it had "nothing to do with the treasure ship business," but its stock rose as much as 19.2 percent on Thursday on investor speculation.
Choe said Shinil held no shares in Jeil Steel and that the current and former heads had bought the shares as private individuals who had begun talks on their stakes in June.
FSS Governor Yoon Suk-heun said on Wednesday the watchdog was also investigating related "cryptocurrency issues".
A website under Shinil Group's name links the find to a "Donskoi International" cryptocurrency exchange that says it will hand out its virtual currency to anyone who signed up with the exchange.
Shinil Marine denied any connection with the cryptocurrency. It said the exchange was run by a different company with the same name, and said it had changed its own name. A phone number on the cryptocurrency exchange's website led to the company until last week.
Background
The Russian Imperial Navy Cruiser Dmitri Donskoii went down in a naval battle 113 years ago. During the Russia-Japan war, the cruiser was abandoned as Japan won the battle of Tsushima in 1905.
The ship may have remained forever in its watery grave were it not for a tantalizing tale that emerged in 1981.
That year, South Korea's daily newspaper, The Chosun Ilbo, quoted a 100-year old woman who lived in the area near where the ship went down.
The woman told a reporter from the newspaper that Russian soldiers had explained to her using body language that a great amount of gold went down with the ship.
The ship supposedly went down with 5,500 boxes of gold bars and coins to keep it from being seized by the Japanese.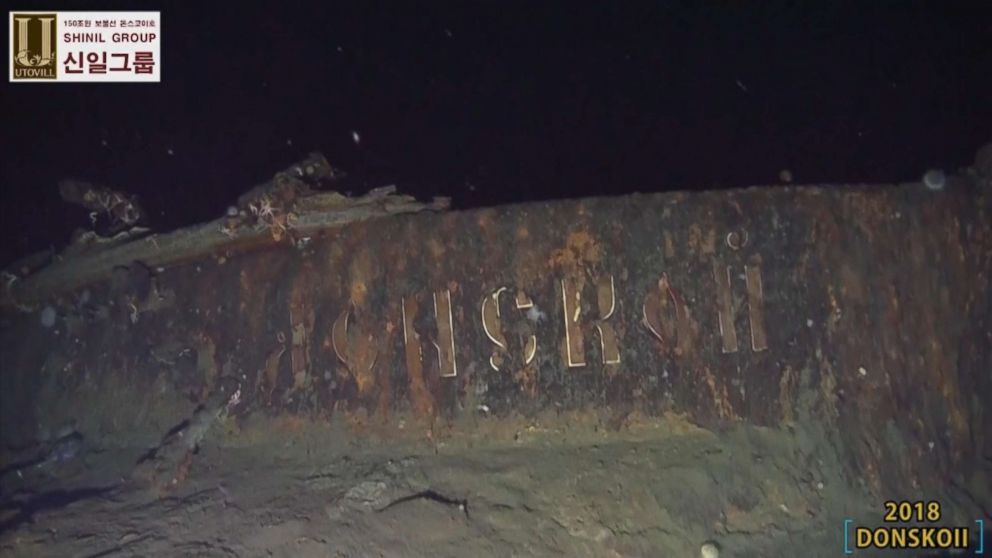 First Sighting/b>
The Donskoii was first spotted in 2003, by the government-run Korea Institute of Ocean Science & Technology (KIOST). According to their report in 2015, they located the Donskoii near Ulleungdo in 2003.
A construction company Dong-Ah supported the 'Millennium 2000 project' since 1999 to find the Donskoii. The pictures taken at the time proved the discovered ship was identical to Donskoii's blueprint.
Dong-Ah Construction, went out of business in 2001, and the aim to excavate the Donskoii ended up a failure.
Second Sighting
Shinil Group, which registered as a business entity only last month, announced last Tuesday that their dispatch team spotted the carious wreckage scene of a Russian warship near Ulleungdo, an island East of Korean peninsula.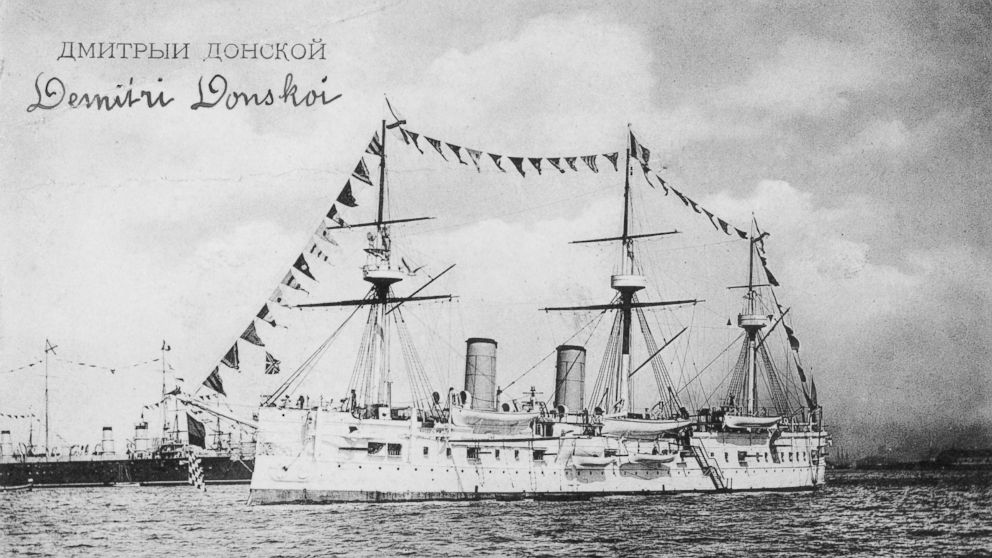 The company released a statement last Tuesday along with a YouTube video explaining that they identified the lost vessel. It was discovered at depth of over 1,400 feet, one mile away from Ulleungdo.
Shinil Group requested salvage rights to Pohang Regional Office of Oceans and Fisheries last Friday, but the office turned it down because the documents were not properly filled out in accordance to regulations. Authorities demanded additional supplement documents, according to Ministry of Oceans and Fisheries. The company plans to try again this week.
The company is required to pay a 10 percent deposit for the anticipated finding which they initially had claimed to value at 100 billion dollars.
But Shinil Group pledged to pay only a hundred thousand dollars, underestimating the value of Donskoii to be around one million dollars, and excluding the gold bullion they claimed exists inside the sunken ship.
As Shinil Group announced their finding of Donskoii, Dong-Ah Construction is again claiming its rights to pull out the remains, as the first to have located the ship.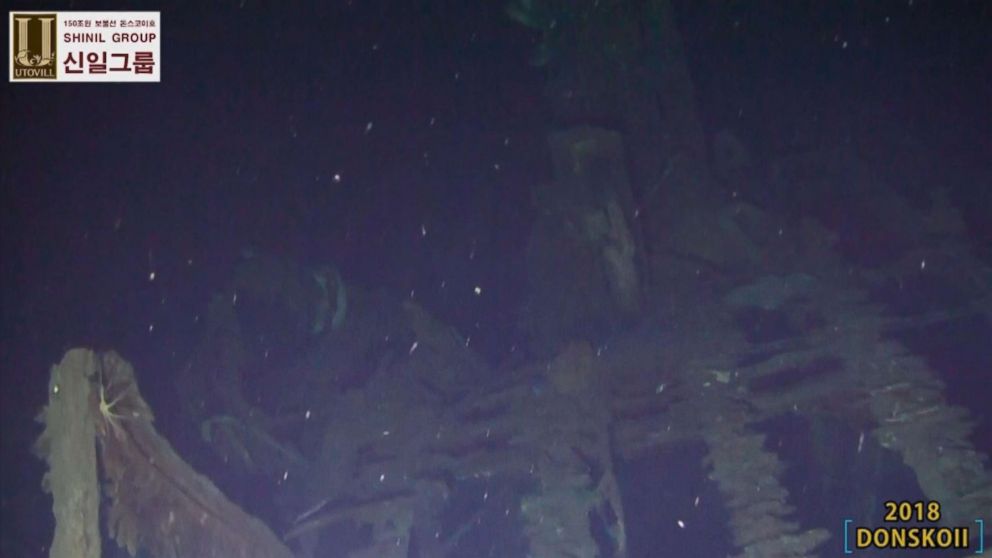 Questions arise about 'discovery'
In the video, two manned submersibles were used to investigate the wrecked ship. The group said their team consists of experts from Canada, Britain and South Korea. A voice in the video points at alphabets engraved on the vessel that reads 'DONSKOII.'
ABC News' Jaesang Lee and Jiweon Park, and Reuters contributed to this report.