The second round of Democratic candidates will debate on Thursday in Miami. Here are some quick facts about them.
There will be over 153 years of political experience on the debate stage.
The candidates include:
1 Vice President: Biden
4 Senators: Harris, Sanders, Bennet, Gillibrand
1 Congressman: Swalwell
1 Mayor: Buttigieg
1 entrepreneur: Yang
1 author & activist: Williamson
The candidates range in age from 37 to 77 years old.
Oldest candidate: Sen. Bernie Sanders, 77 years old
Second oldest candidate: Former Vice President Joe Biden, 76 years old
Youngest candidate: Mayor Pete Buttigieg, 37 years old
Second youngest candidate: Rep. Eric Swalwell, 38 years old
They also differ in terms of experience.
Most political experience: Former VP Joe Biden, 46 years
Neither best-selling author and activist Marianne Williamson nor entrepreneur Andrew Yang have ever held elected office.
Mayor Pete Buttigieg will be the lone candidate on the stage tonight who has served in the United States military.
Some candidates share a common background.
7 candidates attended law school: Biden, Bennet, Buttigieg, Harris, Gillibrand, Swalwell and Yang.
Sen. Sanders, Biden, Gillibrand and Bennet have all served over 10 years in the United States Senate.
Sen. Sanders and Sen. Harris serve together on the U.S. Senate Budget Committee.
Sen. Harris and Sen. Bennet serve together on the U.S. Senate Intelligence Committee.
Sen. Gillibrand and Sen. Bennet serve together on the U.S. Senate Agriculture Committee.
One notable friendship:
Hickenlooper and Bennet have been friends for more than 15 years. They worked together when Hickenlooper served as Denver mayor, and Bennet eventually became the city's superintendent of public schools.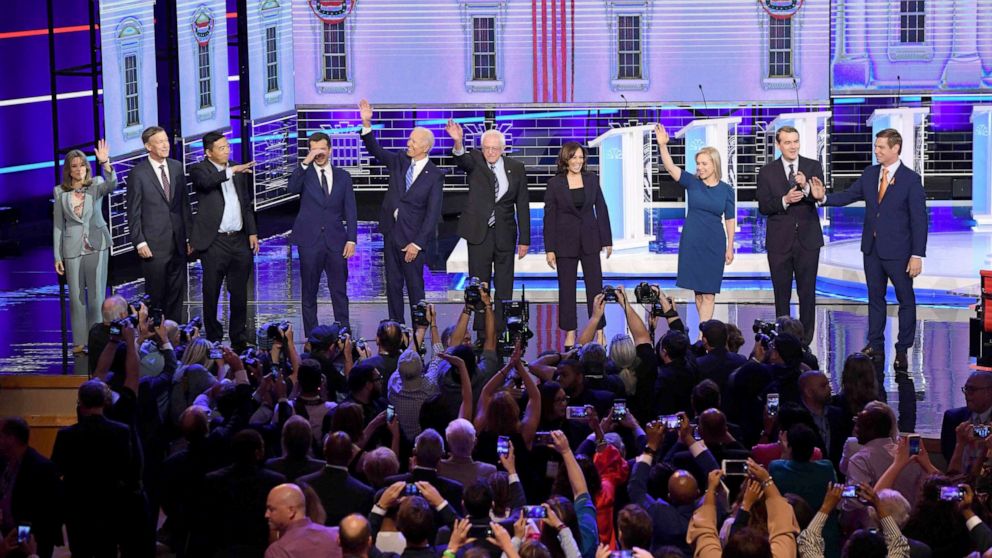 The candidates debating on Thursday are:
Former VP Joe Biden
Political Experience:
Vice President of the United States: 8 years
United States Senator, Delaware: 36 years
New Castle County Council: 2 years
Personal quick facts:
76 years old
Born in Scranton, Pennsylvania
University of Delaware graduate
Syracuse University law school
Gold Medal of Freedom (2009)
Presidential Medal of Freedom (2017)
Spouse: Jill Biden, an English teacher
4 children
Biden's first wife, Neilia, and their daughter, Naomi, died in a car accident in 1972, and his son, Beau, died in 2015
Sen. Michael Bennet
Political Experience:
United States Senate, Colorado: 10 years
Former chair of the Democratic Senatorial Campaign Committee
Served as Superintendent of Denver Public Schools