Federal authorities are continuing to charge rioters who allegedly took part in the siege on Capitol Hill on Jan. 6.
Here is the latest:
2 alleged Proud Boys indicted
Two alleged Proud Boys members were indicted by a federal grand jury Jan. 29 on charges of conspiracy in connection with the Capitol attack, the Department of Justice said. It marks the first such conspiracy charges brought against alleged members of the alt-right group.
Dominic Pezzola, 43, of Rochester, New York, and William Pepe, 31, of Beacon, New York, face multiple charges in the indictment. They originally were charged by criminal complaint and arrested on Jan. 12 and Jan. 15, respectively.
Pezzola was in the Marines for seven years as an infantry assault man, the Marine Corps told ABC News.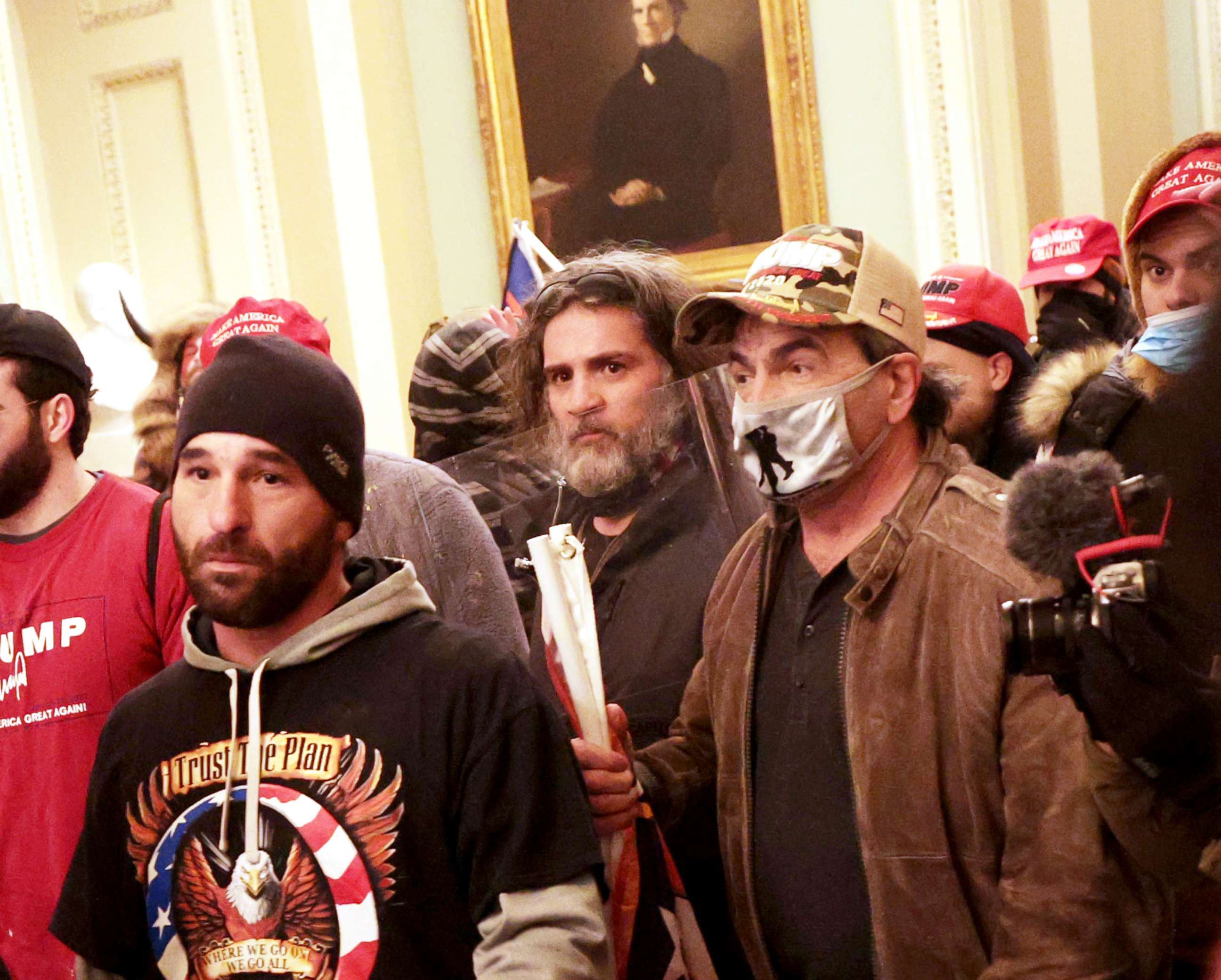 The indictment alleged that Pezzola and Pepe engaged in a conspiracy to "obstruct, influence, impede and interfere with law enforcement officers engaged in official duties incident to and during the commission of a civil disorder." This includes allegedly removing a police barricade at the entrance to the west plaza of the Capitol "so that other Proud Boys and persons could infiltrate that plaza."
The indictment also alleges Pezzola "ripped away" an officer's riot shield and used it to smash a Capitol building window.
Both men allegedly own tactical vests branded with the Proud Boys logo and have previously attended Proud Boys protests, according to the charging documents.
A lawyer for Pezzola told ABC News he hopes to speak to his client on Sunday and is reviewing the indictment, while a lawyer for Pepe said she hasn't seen the indictment yet.
2 Montana brothers who allegedly chased officer Eugene Goodman charged
The Justice Department recently unsealed charges against two Montana brothers who allegedly were part of the mob seen chasing Capitol Police officer Eugene Goodman through the Capitol halls.
Joshua Hughes and Jerod Hughes reported themselves to the Helena Police Department on Jan. 11 after seeing themselves in FBI bulletins seeking the identities of Capitol rioters, according to an FBI affidavit.
They both face nine charges, including destruction of property.
Through surveillance and social media videos, the FBI says it tracked both men's alleged movements throughout the Capitol.
They allegedly were among the first rioters to breach the building. According to the FBI affidavit, videos show them joining with a group that was trying to break windows and doors to let more people inside.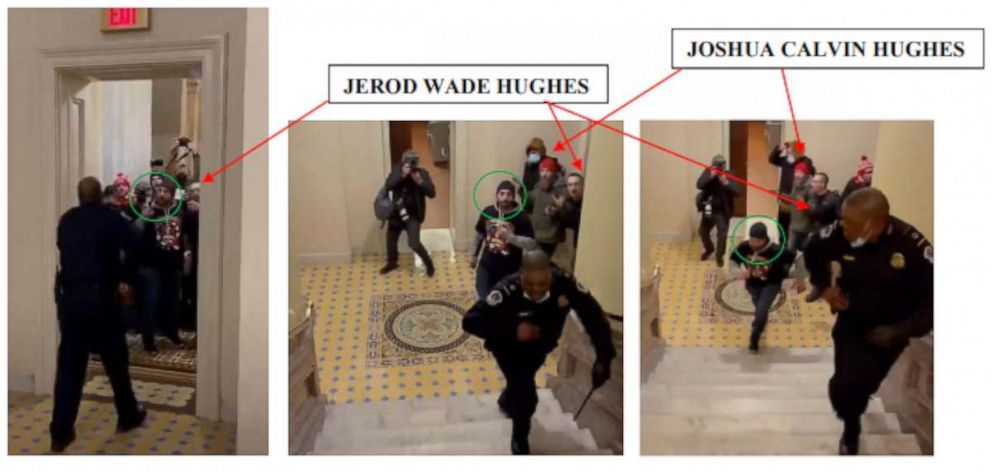 The FBI also alleged the two were the primary aggressors seen in a viral video of a mob chasing Goodman up the stairs.
Afterward, both men allegedly went to the Senate floor, where they were seen in videos sitting in senators' chairs, opening their desks and reviewing "sensitive material stored" in them, according to the affidavit.
Court records did not include information on an attorney for the defendants.
2 alleged associates of Josiah Colt charged
Two alleged associates of Josiah Colt, whom authorities identified as the man seen rappelling into the Senate chamber, now face charges themselves for their alleged participation in the riot.
Ronald "Ronnie" Sandlin and Nathaniel "Nathan" DeGrave have been charged after the FBI investigated their social media posts and reviewed surveillance videos that detail their alleged movements during the insurrection.
Sandlin and DeGrave even solicited donations for their trip to Washington with Colt, according to an FBI affidavit.
"Every dollar you contribute to us is a smack in the face to Antifa. Every penny is a boot in the ass against tyranny," Sandlin allegedly wrote in a Facebook post that named DeGrave and Colt.
According to the FBI affidavit, Sandlin could be seen in a bright orange sweatshirt carrying camera equipment during the riot. At one point, he and DeGrave allegedly got into a shoving match with Capitol Police officers.
Both men were arrested Jan. 28 in Las Vegas and face multiple charges.
Court records did not include information on an attorney.
Illinois pair who allegedly posted photos from Capitol arrested
A man and woman from Illinois were arrested Jan. 28 after both allegedly posted about joining in the Capitol building insurrection on their social media feeds.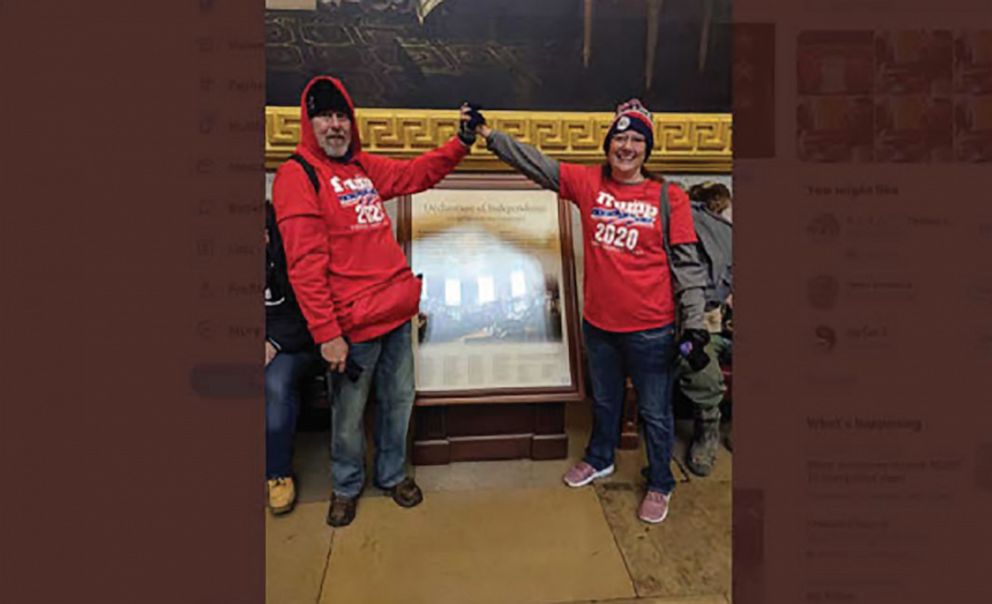 "Here's two people from Quincy, Illinois who took part in the Capital [sic] Hill insurgance [sic] !!!" Christina Gerding allegedly posted to her Twitter profile, which featured multiple references to the QAnon conspiracy theory, according to an FBI affidavit.
Jason Gerding allegedly posted a photo from inside the Capitol that showed a Trump hat and mask on a bust of George Washington.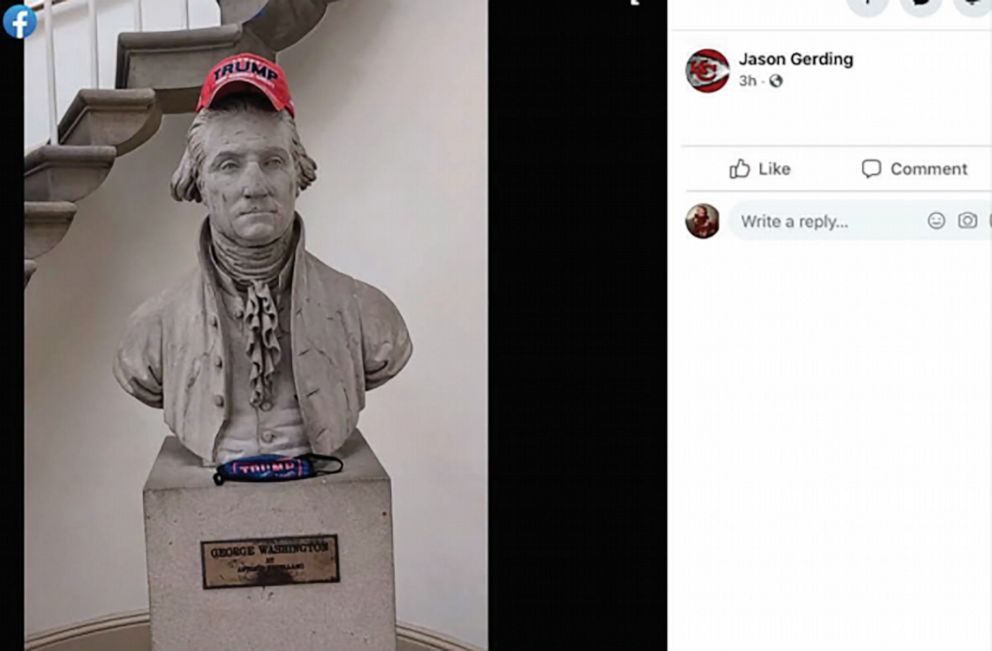 The affidavit did not explain their relationship. Both face three charges in connection with the Capitol attack. They were released on conditions and are next due in federal court via video on Feb. 2.
Attorney information was not immediately available.
Man allegedly took selfie showing him smoking marijuana in the Capitol
The Justice Department filed charges Jan. 25 against a New York man who allegedly posted a selfie video to his Facebook showing him smoking what appeared to be a marijuana cigarette in the Capitol, according to the FBI affidavit.
The FBI said James Bonet of Glen Falls, New York, can be heard in the video saying, "Capitol building smoking with all my people!"
According to the affidavit, Bonet shot video in the crypt of the Capitol, in which he was heard saying, "We made it in the building ... We're taking it back!"
Bonet was identified by a co-worker who shared the video with the FBI.
According to the documents, the co-worker told the FBI that Bonet "openly talks about conspiracy theories at work" and tries to get his other co-workers to subscribe to such theories. The coworker remarked that they were more concerned about Bonet's attendance at former President Donald Trump's rally due to the possibility he might contract COVID-19 and spread it, because videos showed him not wearing a mask.
A lawyer for Bonet was not listed.
Rioter who allegedly stole documents from Mitch McConnell's desk
A California man who allegedly stole documents, including a letter signed by Trump, from the desk of then-Senate Majority Leader Mitch McConnell, R-Ky., has been charged for participating in the Capitol riot.
In federal court documents filed Jan. 20, prosecutors cite a video where Tommy Allan can allegedly be heard saying he stole the documents from McConnell's desk in the Senate chamber.
The court documents also cite a video recently posted by the New Yorker from inside the Senate chamber, which FBI investigators say shows Allan taking a document and placing it in his back left pocket.
Allan is also reportedly seen in a separate Facebook post standing outside the Capitol after the riot with "multiple documents in his hand," including one that was the Senate's official calendar of business, according to the affidavit. He then shows a separate document to an individual and says it was "a letter from Trump" and was "signed by Trump."
In the video, when asked why he removed the documents from McConnell's desk, Allan replied because he is a "taxpayer," according to the court documents. The FBI believes Allan also attempted to take a flag from the Capitol but that it was taken from him before leaving the chamber.
The FBI began investigating Allan after receiving a tip that he made several posts on social media showing people breaking windows at the Capitol that was followed by a "disturbing post that said the next step of the Insurrection was to get rid of Justice [John] Roberts," according to his charging documents.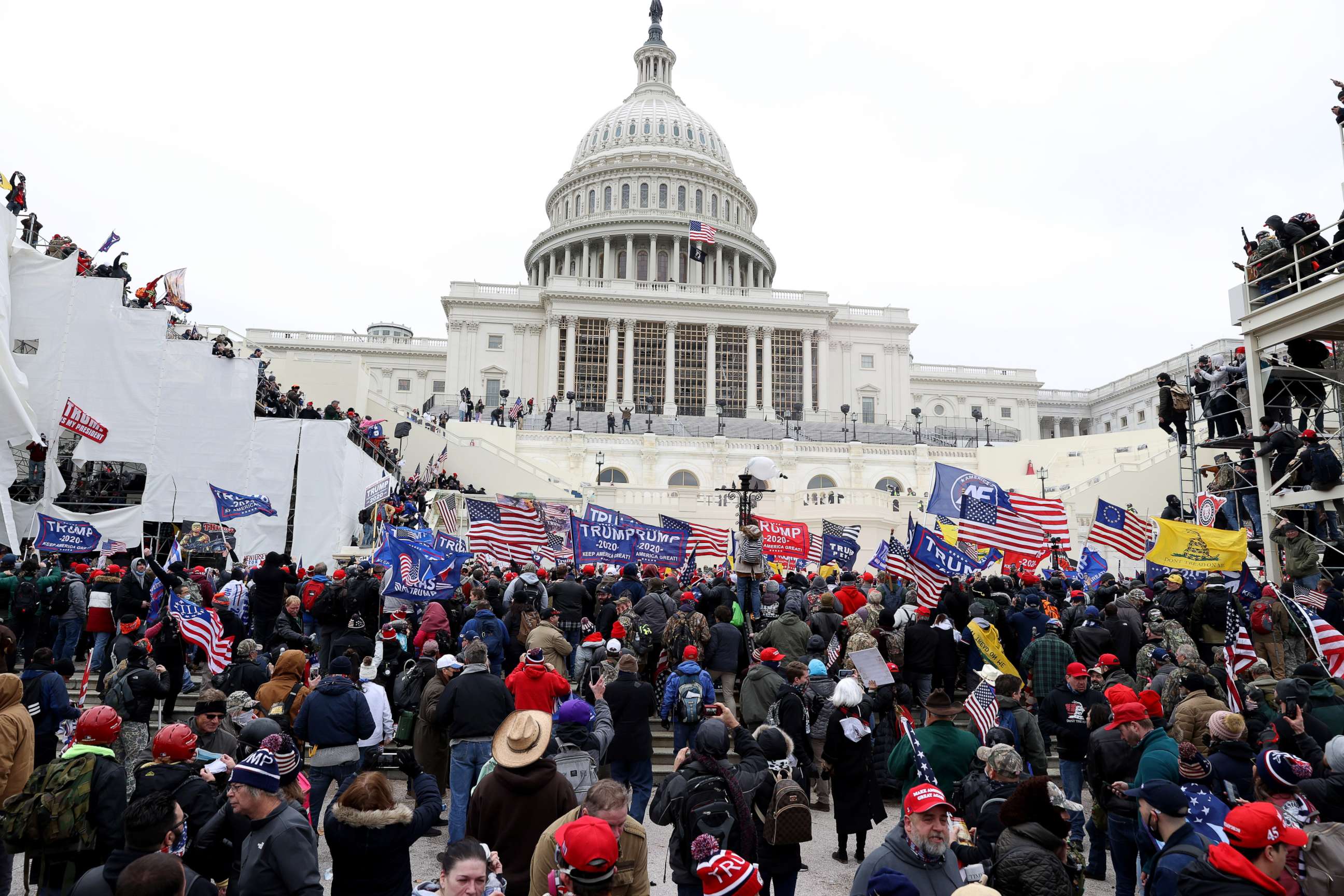 Founder of the #WalkAway social media campaign
Brandon Straka, the founder of "#WalkAway," a social media campaign created prior to the 2018 mid-term elections to encourage liberals to leave the Democratic party, was charged Jan. 20 for participating in the Capitol riot.
Straka, a 44-year-old hair stylist from New York City, was allegedly seen in several social media posts and other videos in the crowd at the riot, according to federal court documents.
In one post, he is allegedly heard calling for individuals to take a Capitol police officer's riot shield away from him.
Straka also spoke at the "Stop the Steal" rally on Freedom Plaza in Washington, D.C., the day before the riot, according to the charging documents.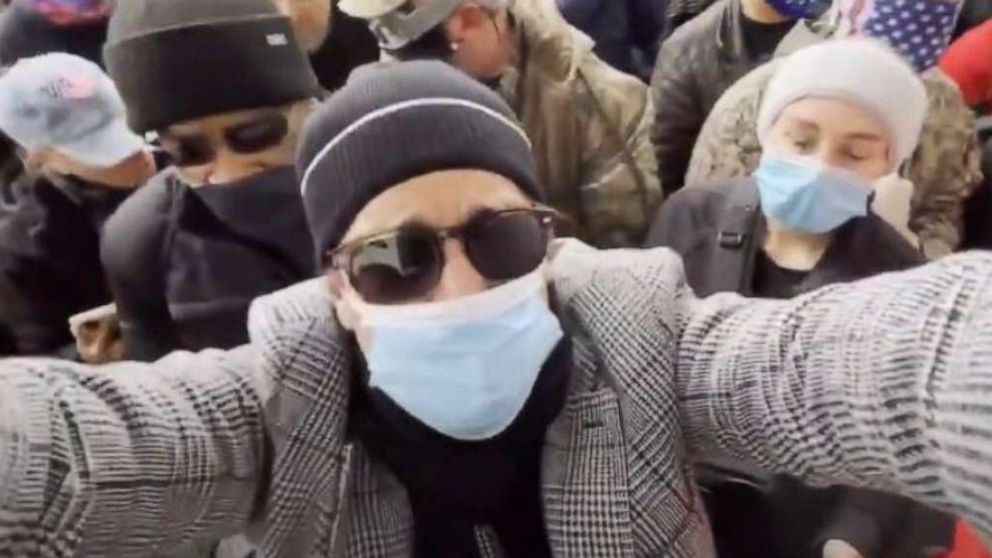 A tweet by Straka that disparaged White House press secretary Jen Psaki, comparing her appearance with a picture of former White House press secretary Kayleigh McEnany, went viral last week. Straka, who has more than 500,000 followers, has since made his tweets protected.
In the affidavit, investigators cited one comment Straka made on Twitter disputing that Antifa were a part of the mob that stormed the Capitol.
"... it was not Antifa, it was patriots desperate to be heard," Straka allegedly said.
Rioter who attacked police officer with hockey stick ordered detained
Michigan resident Michael Joseph Foy, who was arrested Jan. 21 after he allegedly assaulted a police officer with a hockey stick at the Capitol riot, was ordered detained by a federal judge in Michigan until he appears before a judge in Washington, D.C.
During Foy's detention hearing on Jan. 25, prosecutors showed Magistrate Judge Patricia Morris body camera footage of Foy hitting an officer repeatedly.
Foy attacked the officer for 16 seconds before he was knocked down by another rioter, according to the FBI's analysis of the video. The FBI identified Foy as the man seen in a video published by the New York Times swinging a hockey stick repeatedly at a Metropolitan Police officer who had been pulled from the entryway to the Capitol by the mob, according to federal court documents.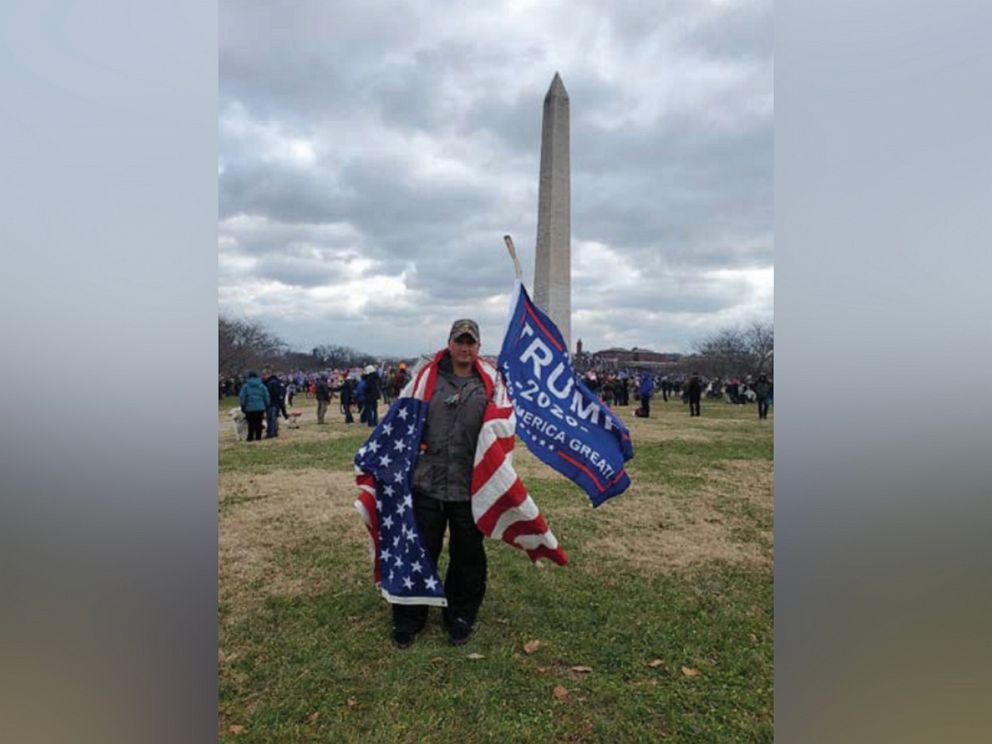 Morris said she believed Foy should remain in the government's custody given the potential danger to the community he could pose.
Prosecutors described Foy as "among the most violent rioters" on the day of the insurrection, noting he is a "combat trained Marine" and "assumed a leadership role in the violence."
Dozens of rioters who participated in the siege have already been taken into custody.
Notable alleged participants include the man seen wearing a "Camp Auschwitz" hoodie, Olympic gold medalist swimmer Klete Keller, the woman who allegedly stole Nancy Pelosi's laptop to sell to Russian intelligence and several people who allegedly assaulted law enforcement at the Capitol.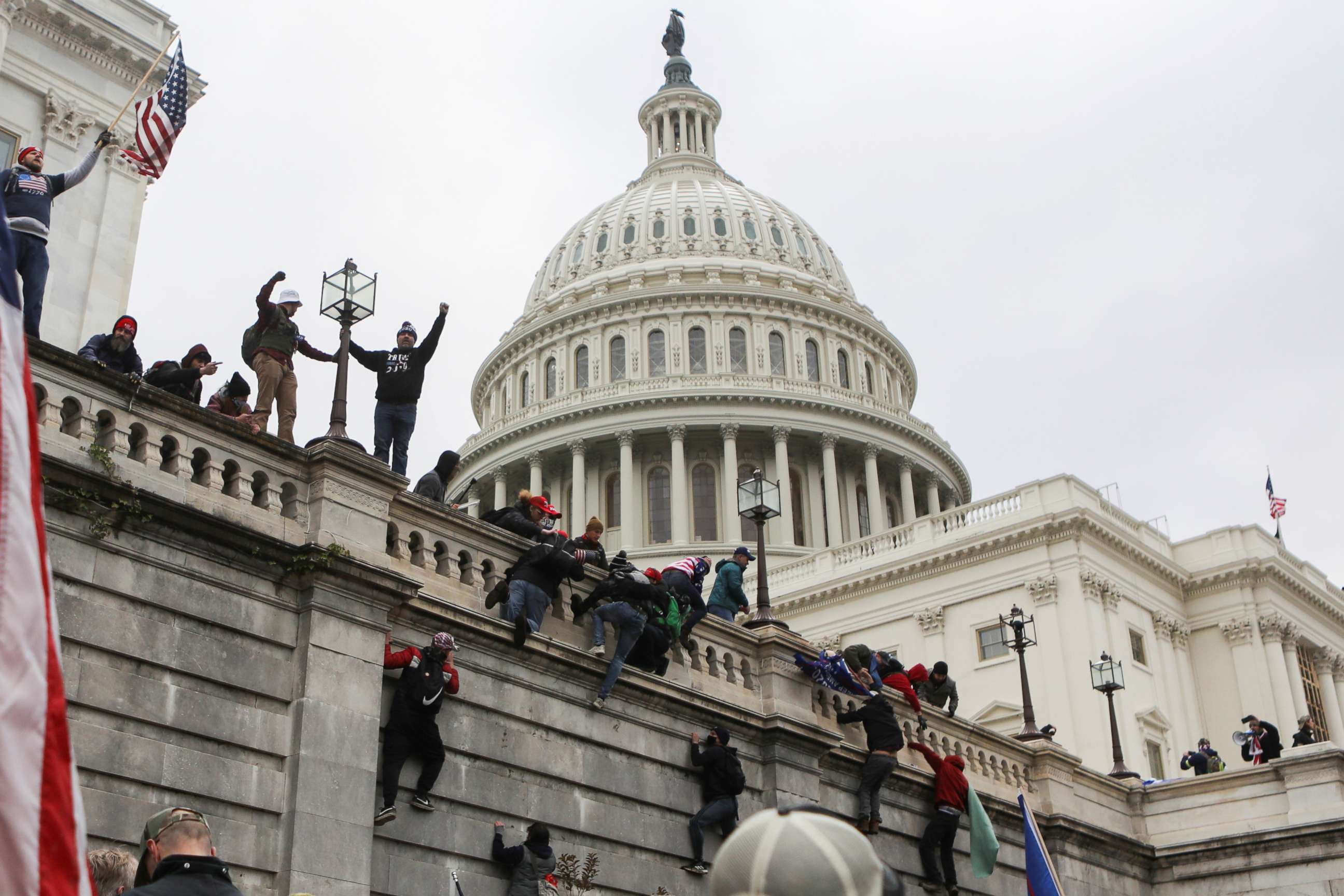 ABC News' Desiree Adib and Emily Shapiro contributed to this report.