The federal government has been rolling out its response to the novel coronavirus crisis, trying to slow the spread and prop up the economy, amid a volatile stock market and record unemployment numbers.
After suggesting over the past week that he would relax social distancing guidelines and reopen the country for business by Easter, President Donald Trump abruptly changed his messaging Sunday and announced an extension to the White House coronavirus guidelines through the month of April, adding that Americans can expect "great things" by June 1.
The extension came as the nation's top health official, Dr. Anthony Fauci, warned that the COVID-19 outbreak is still on track to overwhelm hospitals and kill tens of thousands of Americans, even with action to slow the spread. He and the the White House task force coordinator, Dr. Deborah Birx, had told Trump that, even with mitigation efforts, models showed the death roll could reach 200,000.
Trump also said over the weekend that he will expand on his overall strategy moving forward on Tuesday, suggesting it could still include the county-by-county approach that he advocated for last week.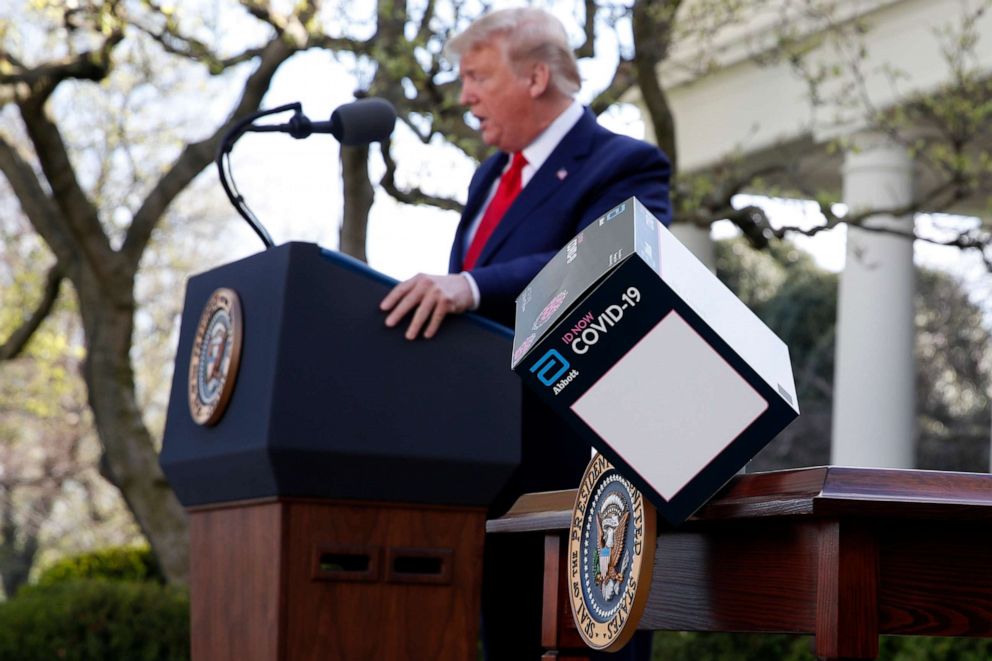 Tune into ABC at 1 p.m. ET and ABC News Live at 4 p.m. ET every weekday for special coverage of the novel coronavirus with the full ABC News team, including the latest news, context and analysis.
Here are Monday's most significant developments in Washington:
Trump extends nationwide guidelines on social distancing through April 30, sharp reversal from his hope for "packed churches" on Easter
Fauci warns: "We will lose more people"
Mnuchin says it will take three weeks for relief checks to hit Americans' pockets
Trump says Ford commits to making 50,000 ventilators
The FDA issues a limited emergency-use authorization for two antimalarial drugs to treat those infected with COVID-19
Here are the latest developments in the government response: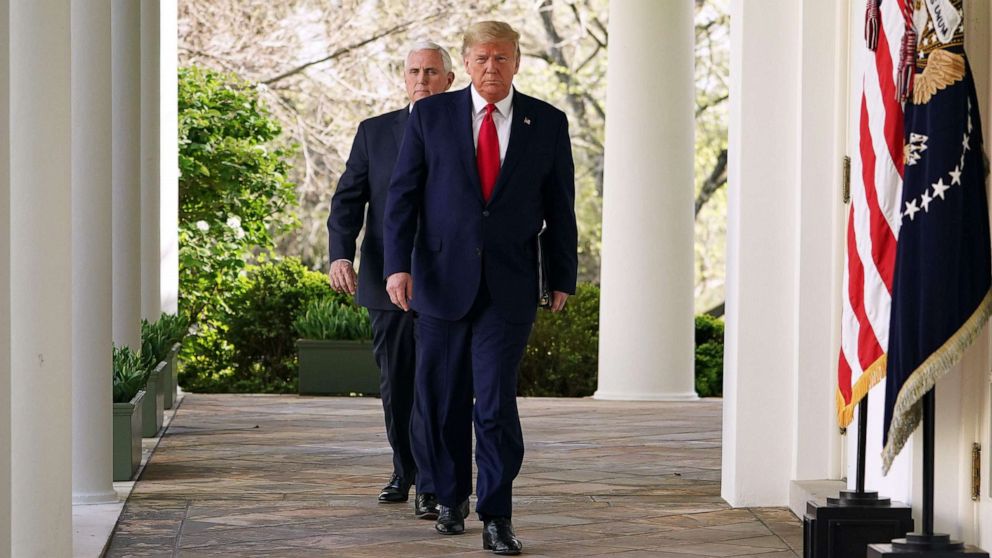 Trump acknowledges 'challenging times' ahead, highlights private help
One day after President Trump announced he was extending the White House guidelines to slow the spread of COVID-19, he opened Monday's briefing in the Rose Garden by acknowledging "challenging times" are ahead for the next 30 days.
"Challenging times are ahead for the next 30 days, and this is a very vital 30 days. We are sort of putting it all on the line this 30 days," he said. "The more we commit ourselves now, the sooner we can win the fight and return to our lives, and they will be great lives. Maybe better than ever."
Health and Human Services Secretary Alex Azar then announced that one million American have now been tested, adding that the number is "more than any other country by far, not even close, and tested accurately."
Although the U.S. has performed more tests than any other country, it has not performed more tests per capita than countries including Italy and South Korea.
The question prompted Trump to incorrectly state the population of Seoul, South Korea, as 38 million, adding that he knows South Korea "better than anybody." However, the population of Seoul is roughly 10 million.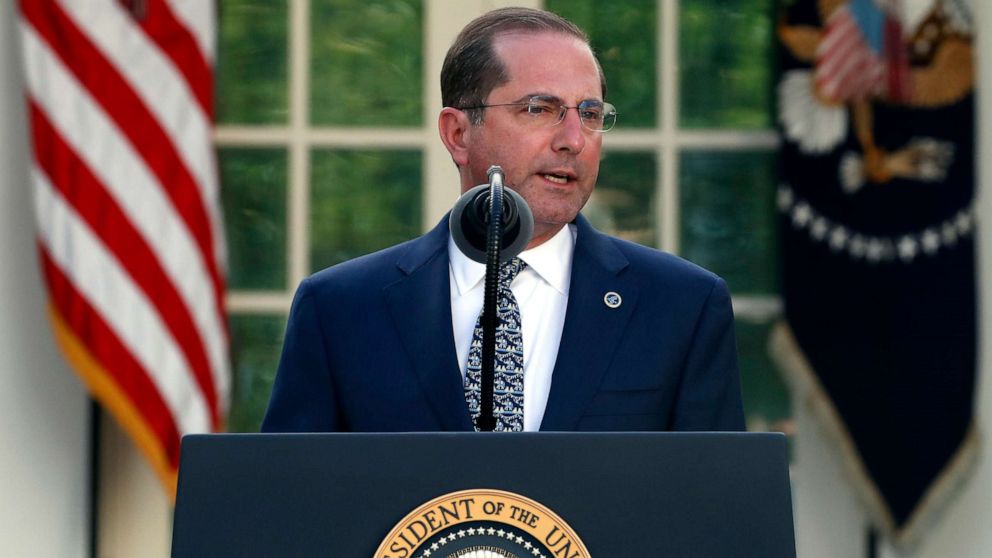 President Trump then called up FDA Commissioner Stephen Hahn to comment on the FDA's approval for Abbott Laboratories to start using COVID-19 diagnostic testing devices that can show a positive test in 5 minutes and a negative result in 13 minutes.
"Just like tests for flu or strep, where you go to the doctors, you get the test done, you can get an answer within minutes having this test done," Hahn said.
As Hahn explained how his agency was working with Abbott to get the machines out quickly, Trump walked over to a nearby test kit and fiddled with the machine. Moments later, as the president spoke, the cardboard box which housed the test blew away.
Trump was joined in the Rose Garden by CEOs of American companies that are producing or donating medical equipment to help the federal government combat COVID-19 or as the president called it, "fulfilling their patriotic duty."
The list included executives from Honeywell, Jockey International, My Pillow, Procter and Gamble, and United Technologies Corporation.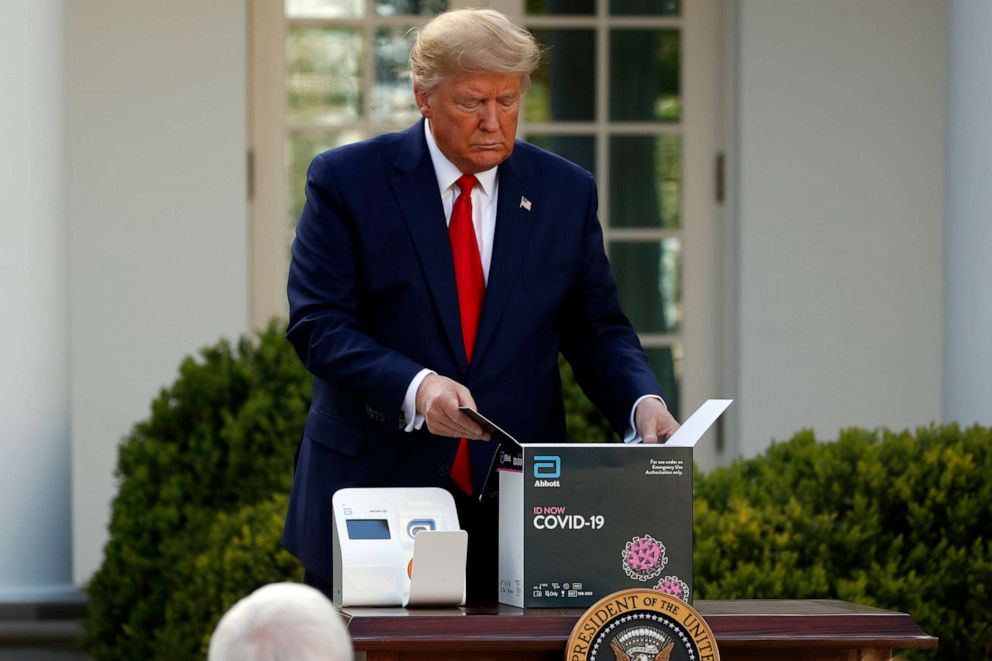 The president also announced that Ford Motor Company will be producing 50,000 ventilators in less than 100 days, after several governors have complained of difficulty in obtaining them.
Over the next 48 hours, Trump said more than 1000 ventilators should be delivered: 400 to Michigan, 300 to New Jersey, 150 to Illinois, 150 to Louisiana, and 50 to Connecticut.
As the president touted the promise of ramped up ventilator production -- even as the country remains far behind the estimated number of ventilators anticipated -- he said the U.S. will be sending some to Italy, France, Spain and other countries, as able.
Asked about the potential for all Americans to start wearing masks, Trump said it's something he and his task force could discuss for the short-term.
"We haven't discussed it to that extent, but it's certainly something we could discuss," Trump said. "We're not going to be wearing masks forever, but it could be for a short period of time after we get back into gear."
Trump also said it is "unlikely" that he will issue a national stay-at-home order, stressing that he will keep allowing governors to decide how to deal with their states.
Trump again expressed skepticism that a New York hospital could go from needing 10,000 to 20,000 masks a week to now needing as many as 300,000, after insinuating Sunday that some could be "going out the back door."
"When you go from 10,000 masks to 300,000 masks over the same period of time, there's something going on," he said. "This is serious stuff. I could see from ten to 20 or from ten to 40 or 50 or something, but how do you go from ten to 300,000 masks?"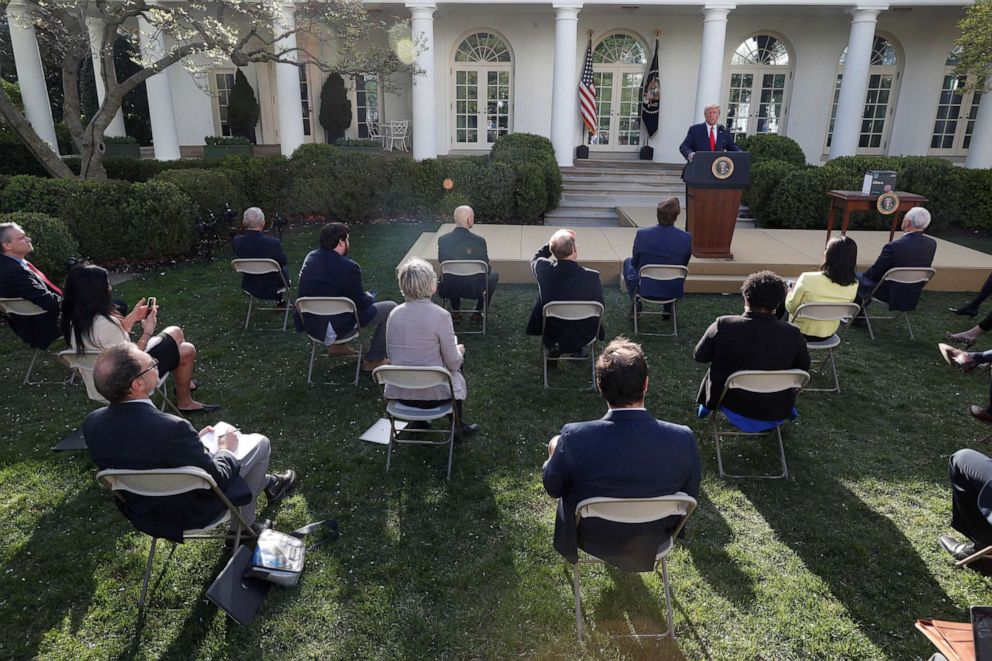 ABC News Investigative Correspondent Kyra Phillips asked President Trump about about the cyclical nature of the virus and whether the U.S. is prepared for it to strike again in the fall.
"We are prepared. I hope it doesn't happen," Trump said, before tossing to Fauci, who said the virus likely to return in the fall but that the U.S. will be more prepared.
"In fact, I would anticipate that would actually happen because of the degree of transmissibility," Fauci said. "However, if you come back in the fall, it will be a totally different ball game of what happened when we first got hit with it in the beginning of this year."
Fauci said the ability to test, identify, isolate and trace contact will be "orders of magnitude" better in the fall. He also mentioned clinical trials for treatments that are ongoing now could be available then, or perhaps a vaccine.
"What we are going through now is going to be more than just lessons learned. It's going to be things that we have available to us that we did not have before," Fauci added.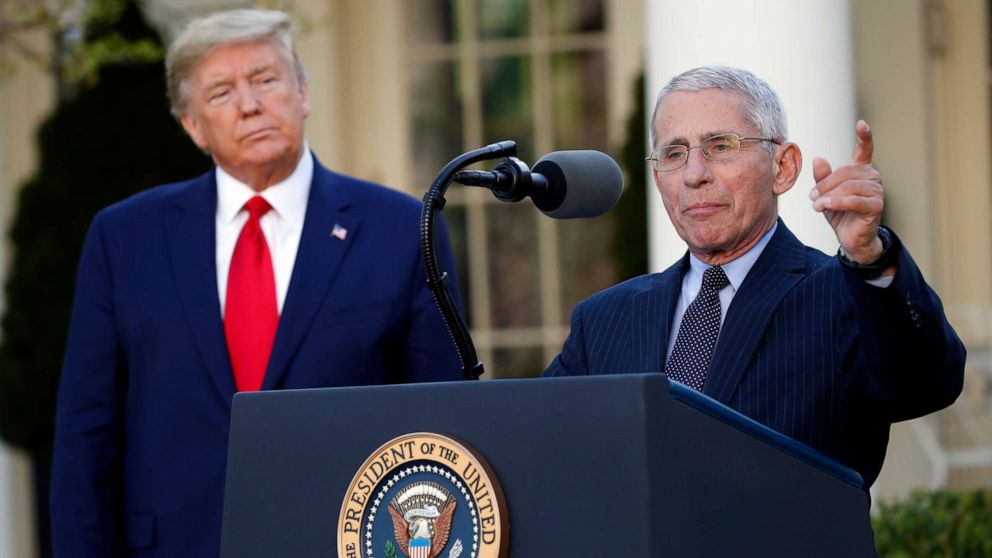 Federal government looking at hazard pay for frontline workers
As health care workers around the country treat COVID-19 patients, some without proper personal protective equipment, President Trump was asked this morning about hazard pay, an additional pay for employees who remain at work despite dangerous conditions, in the next phase of economic measures.
The president told Fox News Channel's "Fox and Friends" that the government is "looking" at the possibility of providing hazard pay to healthcare workers on the front lines of the crisis.
"We are looking at different ways of doing it, primarily through the hospitals because we're funding hospitals, and these are generally hospitals that she's talking about," Trump said, responding to an email question from an emergency room nurse. "We are asking the hospitals to do it and consider something including bonuses, and I think they are entitled to it. If anybody is entitled to it they are."
After Trump said hazard pay was being actively considered through hospitals, Treasury Secretary Steve Mnuchin said in a phone interview on Fox Business that it would be "put in the next bill."
"I think I agree with the president, I think that makes a lot of sense. When we get to the next bill in congress, that's definitely something we will put in the next bill," Mnuchin said.
With both bodies of Congress in recess, there is no "next bill" currently under consideration, but House Speaker Nancy Pelosi indicated Sunday she's already looking to a fourth package.
"We have to pass another bill that goes to meeting the need more substantially than we have," Pelosi said on CNN's "State of the Union," listing off Democratic priorities including more protections for front line workers.
Meanwhile, House GOP leader Kevin McCarthy signaled last week he's not ready to begin talks on the next phase of coronavirus relief.
"I wouldn't be so quick to say you have to write something else," he said. "Let's let this bill work."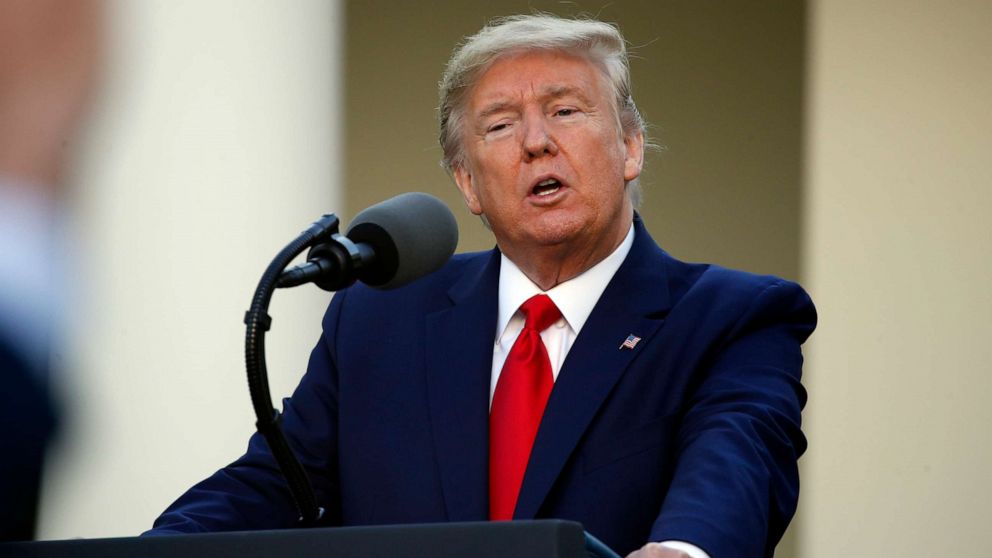 Trump looks to 'month of achievement' as US death toll soars
As the nation prepares for another month of social distancing, economic hardship and the sobering reality that the U.S. death toll will climb by tens of thousands, President Trump told FOX News Channel's "Fox & Friends" in a phone interview this morning that "it's going to be a month of achievement."
First asked about potentially extending the federal recommendations past the end of April, as Fauci has signaled, Trump said, "I'll use my head, and I'll make a decision, but I rely on experts."
Trump doubled down on his belief that the federal government should only step in as a "backup," even as governors around the country complain of the difficulty in obtaining medical supplies.
"The states should be getting it. We should be a backup, and we've become not a backup, the opposite," the president said of providing ventilators and other essential protective gear to states.
When questioned about China, Russia and other nations engaging in disinformation campaigns to blame the virus on the U.S., Trump said, "They do it, we do it."
"We call them different things and I make statements that are very strong against China, including the Chinese Virus," Trump said, after vowing last week to stop using the term denounced by the World Health Organization. "Every country does it, but they build it up, and we handle that, and they probably handle it but countries do that."
Trump also lashed out at House Speaker Nancy Pelosi in the almost hour-long phone interview, calling her a "sick puppy" and taking offense to her saying Sunday that Trump's delay in responding to COVID-19 was "deadly."
"She's a sick puppy. She's got a lot of problems," he said. "I think it's a disgrace to her country, her family."
He said the federal government may "take over" her district in San Francisco, which he called a "slum."
When the Fox News' hosts noted that New York Governor Andrew Cuomo, a Democrat, had a very high approval rating in a new poll for how he's handled the crisis, Trump appeared to take credit, saying, "one of the reasons his numbers are high on handling it is because of the federal government."
Trump again expressed opposition to actually using the Defense Production Act's powers. Instead, he repeated that he prefers to use it as a negotiating tool -- a threat he holds over companies as leverage.
"I've been using it a lot to talk to people," he said. "We don't want to be nationalizing our country. We don't want to be taking over. It's a terrible symbol."
Trump also said his "next call" Monday morning was going to be with Russian President Vladimir Putin and that they'd be discussing energy and the coronavirus.
Fauci says it's possible guidelines will have to extend beyond April
As the nationwide social distancing guidelines are extended, the U.S. can still expect to see more fatalities from the novel coronavirus pandemic, Dr. Anthony Fauci told ABC News Chief Anchor George Stephanopoulos in an interview on "Good Morning America."
"Even if these guidelines are extended, we will lose more people. Exactly how many more we would lose is uncertain, depending upon the efficiency of the mitigation methods," he said.
Echoing a comment he made on Sunday, Fauci added that, "April might do it" but it's possible the guidelines will have to be extended even further.
"To pull back the mitigation methods before you reach the peak and turned the corner I think really would have been imprudent because that would have merely regenerated the spike to go up," Fauci said. "If we prematurely did it, it would likely rebound and that's one thing you do not want to happen."
When asked about the clinical trials on potential therapeutics to treat COVID-19, Fauci said he hopes by late spring or early summer they'll "get a signal in one of those drugs to see whether it works or not."
"And if it does, we'll widely distribute it," he added. "And if it doesn't, we'll just get it off the shelf, get it off the table, because it won't be useable."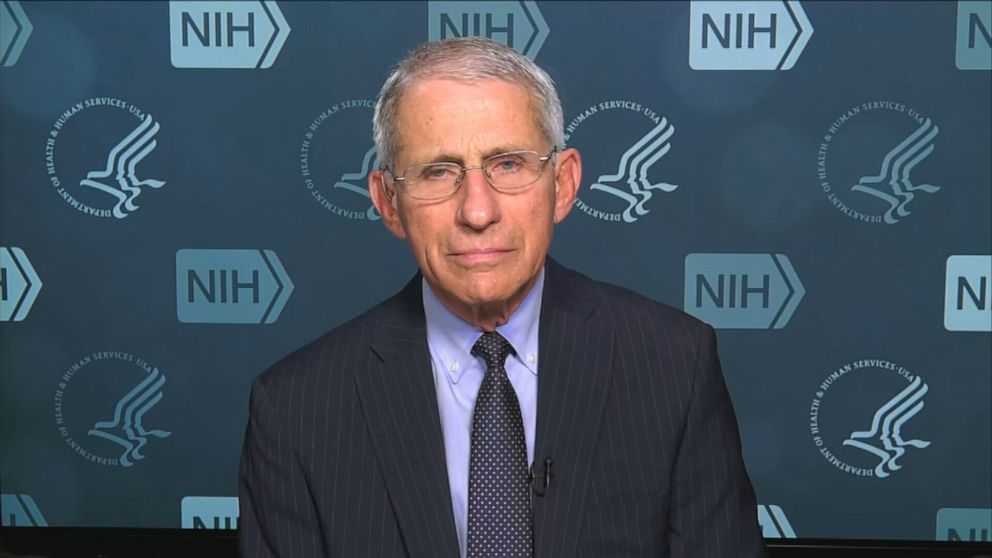 FDA gives anti-malaria drugs emergency approval to treat COVID-19
The Food and Drug Administration has issued a limited emergency-use authorization for two antimalarial drugs to treat those infected with the novel coronavirus.
In a statement released late Sunday, the U.S. Department of Health and Human Services announced it had received 30 million doses of hydroxychloroquine sulfate and one million doses of chloroquine phosphate donated to a national stockpile of potentially life-saving pharmaceuticals and medical supplies.
The two oral prescription drugs are used primarily to prevent and treat malaria, but both are now being investigated as potential therapeutics for COVID-19.
The statement noted that the FDA had issued an emergency-use authorization to allow both donated drugs "to be distributed and prescribed by doctors to hospitalized teen and adult patients with COVID-19, as appropriate, when a clinical trial is not available or feasible."
What to know about coronavirus:
ABC News' Ben Gittleson, Jordyn Phelps and Elizabeth Thomas contributed to this report.
This report was featured in the Monday, March 30, 2020, episode of "Start Here," ABC News' daily news podcast.
"Start Here" offers a straightforward look at the day's top stories in 20 minutes. Listen for free every weekday on Apple Podcasts, Google Podcasts, Spotify, the ABC News app or wherever you get your podcasts.