House Democrats don't plan to save Kevin McCarthy speakership
At least five Republicans have signaled they want McCarthy out.
House Speaker Kevin McCarthy said he will bring Rep. Matt Gaetz's motion to oust him as speaker up for a vote Tuesday. And House Democrats are signaling they won't save him.
"I am going to bring up the motion to vacate today during the first series and move through this," McCarthy told reporters after meeting behind closed doors with the Republican conference.
The House has first votes at approximately 1:30 p.m. ET.
"If I counted how many times someone wanted to knock me out, I would've been gone a long time ago," McCarthy added.
During a more than two-hour caucus meeting, Democrats were strongly encouraged to vote to not support Speaker McCarthy as he fights for his job, sources tell ABC News.
Gaetz, a Republican hard-liner, has criticized how McCarthy handled spending and budget fights, especially the short-term funding deal reached over the weekend to avert a government shutdown.
McCarthy, who received a standing ovation during the GOP conference meeting, defended working with Democrats to keep government funded, sources said.
McCarthy also told members he's disappointed he didn't have another option, and insisted they can continue to work to bring up individual spending bills to keep the government funded past Nov. 17.
"At the end of the day, if you throw a speaker out that has 99% of their conference that kept government open and paid the troops, I think we're in a really bad place for how we're going to run Congress," McCarthy told reporters.
At least five Republicans have signaled they want McCarthy out, and if they did vote against him, McCarthy would need Democrats to step in to save him. McCarthy said Tuesday he wasn't expecting Democrats to back him up.
"If five Republicans go with Democrats, then I'm out," McCarthy said.
ABC News Senior Congressional Correspondent Rachel Scott told McCarthy: "That looks likely."
"Probably so," he responded.
Sources told ABC News McCarthy called House Minority Leader Hakeem Jeffries on Monday night as he fights to remain in leadership.
During a more than two-hour caucus meeting on Tuesday morning, Democrats were strongly encouraged to vote to not support Speaker McCarthy as he fights for his job, sources told ABC News.
Jeffries told reporters as he left the meeting: "House Democrats are going to continue to put people over politics and to fight to make life better for everyday Americans ... We encourage our Republican colleagues who claim to be more traditional to break from the extremists, end the chaos, end the dysfunction, end the extremism."
"We are ready, willing and able to work together with our Republican colleagues, but it is on them to join us to move the Congress and the country forward," he added.
Rep. Adam Schiff, D-Calif., said his view is that "Kevin McCarthy is not trustworthy."
"We don't trust him. Their own conference doesn't trust him. We've just lurched from crisis to crisis with him as speaker and they need to choose someone that has the ability to govern because it's not him," Schiff said.
Several House Democrats told ABC News they do not plan to bail out McCarthy.
"We're not voting in any way that would help save speaker McCarthy," said Rep. Pramila Jayapal.
The Republicans who say they want McCarthy removed are Gaetz, Rep. Bob Good of Virginia, Rep. Andy Biggs of Arizona, Rep. Eli Crane of Arizona and Rep. Tim Burchett of Tennessee.
Others have indicated they're on the fence, including South Carolina Rep. Nancy Mace.
"I understand the frustration," Mace said. "I'm equally frustrated about it. Kevin's got my number, and I hope he'll call before the vote."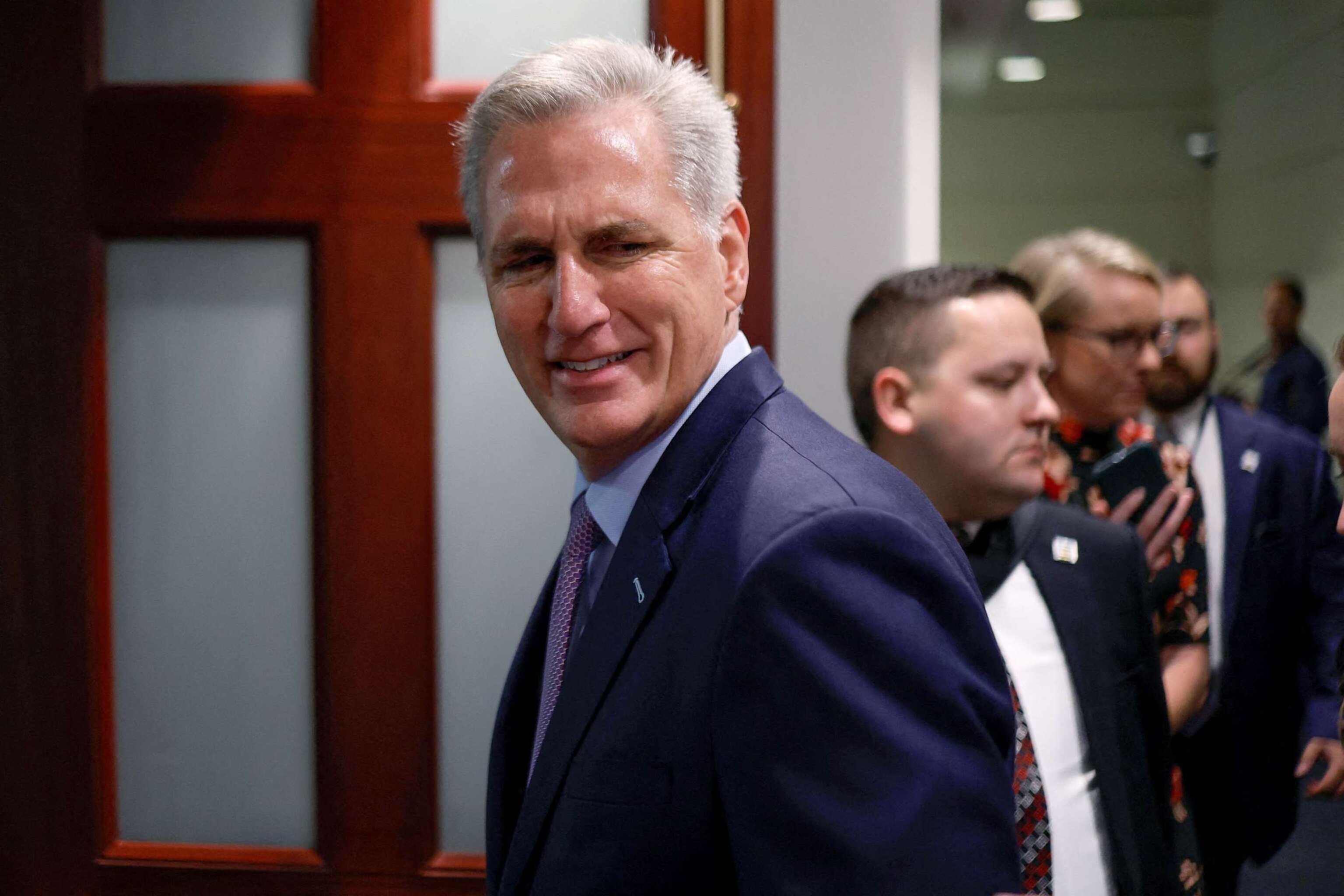 Still, a majority of the conference backs McCarthy.
Sources tell ABC News that a tense moment occurred in the GOP meeting when Florida Rep. Carlos Gimenez asked for a show of hands of who would support McCarthy. Most of the room raised their hands.
Gimenez responded: "That's your answer, Matt," sources said.
ABC News previously pressed Gaetz on why he was pushing forward if he didn't have the support of most of the conference.
"Well, he doesn't have my support anymore, and he doesn't have the support of a requisite number of Republicans to continue as the Republican speaker," Gaetz replied. "Now, he may continue as the House speaker, and he may continue as the speaker of the Democrats and some sort of uni-party coalition, but he is not going to be a speaker in power as a consequence of Republican votes."
-ABC's Lauren Peller, Lalee Ibssa and Alexandra Hutzler contributed to this report.