The three Arizona Republicans battling to become their party's nominee for the Senate seat being left open by Sen. Jeff Flake are all painting themselves as the most conservative one in the ring.
More specifically, they're trying to out-Trump one another, each stressing how closely aligned they are with the president in hopes of winning over more of his base supporters in the state's primary on Tuesday, Aug. 28.
The one who is arguably best known nationally is Sheriff Joe Arpaio, whose ties to Trump extend back to the birther conspiracy days. Most recently, Trump showed his respect for Arpaio by granting him a pardon in August 2017 for criminal contempt charges stemming from his refusal to stop imprisoning suspected illegal immigrants.
Rep. Martha McSally is widely viewed as the establishment candidate in the race, receiving money and endorsements from key national Republican figures. She's also tried to position herself as the presumptive Republican nominee in the race, already releasing ads targeting the likely Democratic candidate Rep. Kyrsten Sinema.
Rounding out the field is Dr. Kelli Ward, a former Arizona state senator and doctor, who has aligned herself with more conservative and sometimes right-wing figures like Sen. Rand Paul and former presidential advisor Sebastian Gorka respectively.
With few polls of the race having been conducted this year, an overwhelming favorite is unknown and the final outcome will be determined by however many Republicans turn out on Tuesday to cast their votes.
Joe Arpaio
The former sheriff of Maricopa County, Arpaio is perhaps best-known for being the recipient of a recent pardon by the president for a 2017 criminal contempt conviction related to continued discriminatory practices during his tenure as sheriff.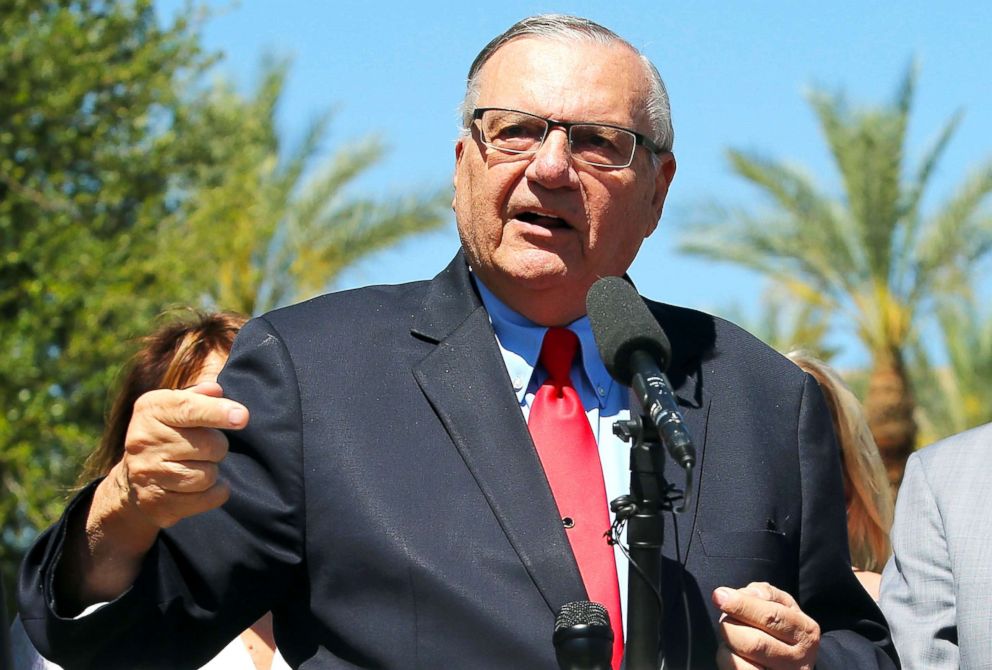 Arpaio, 86, was already a familiar figure in the Trump orbit, having appeared with the then-Republican candidate on the campaign trail in 2016. An outspoken critic of undocumented aliens, Arpaio was a vocal supporter of Trump's hardline stance on immigration and promise of a southern border wall.
The sheriff's tenure lasted 24 years, during which he regularly courted controversy over the deteriorating conditions of his county's prisons, allegedly insufficient criminal investigations and racial profiling, among a myriad of other issues.
The negative attention did not prevent Arpaio from being elected with comfortable margins until his defeat in 2016. He further survived multiple attempts to recall him from his position.
Ahead of his pardon last August, Trump regularly referred to Arpaio during campaign events and the White House called his service as sheriff "admirable" and "selfless." Despite the president's backing, the move to pardon him received outspoken backlash, including from some Republicans.
Should Arpaio be elected and sworn into office, he would be the oldest member of the Senate.
Rep. Martha McSally
Given the controversial pasts of her opponents, the second-term congresswoman McSally is considered to be the favorite among establishment Republicans.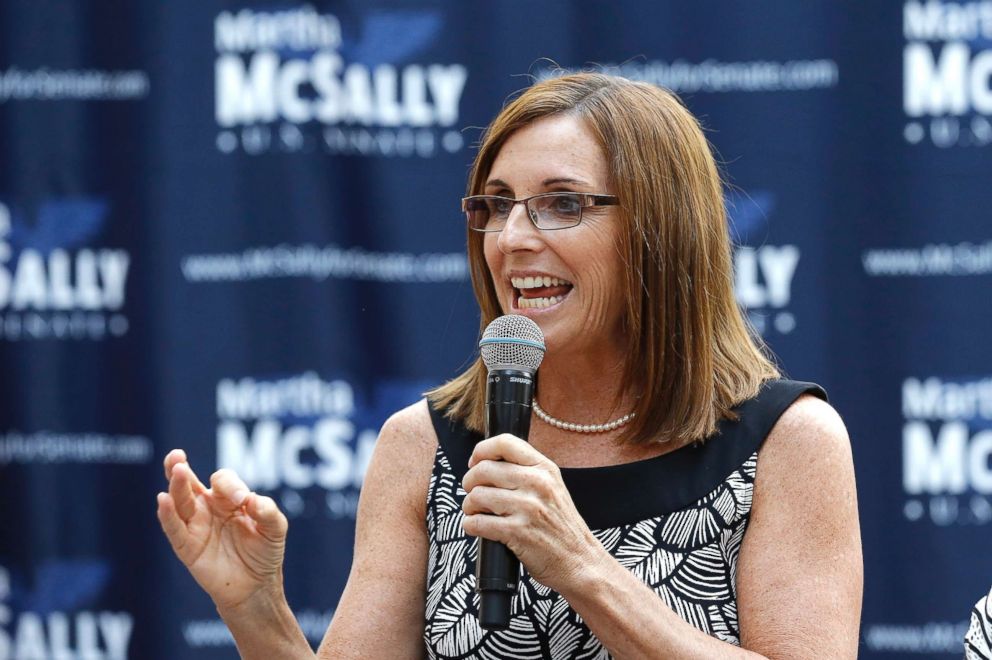 McSally, 52, is a retired Air Force colonel after serving for over two decades and was one of the branch's first female fighter pilots. After retiring in 2010, she unsuccessfully ran for the House in 2012, before being elected to represent Arizona's 2nd district in 2014.
In Washington, McSally is a member of the moderate Republican Main Street Partnership and was somewhat tentative in her embrace of President Trump, whose influence has cast a shadow over the 2018 midterms as a whole.
McSally did not endorse Trump during the 2016 presidential campaign and after the release of the infamous "Access Hollywood" tape called his remarks "unacceptable" and "disgusting." She further expressed disagreement with his long-promised southern border wall.
But since declaring her candidacy, McSally has spoken frequently of her interactions with the president and touted the pair's shared affinity for the armed forces and her military bonafides.
Despite the fact that Trump has not made an endorsement in the race, McSally was recently name-checked by the president at an event where he signed the Defense Authorization Act -- the full title of which is the John S. McCain National Defense Authorization Act for Fiscal Year 2019 -- but neither Trump nor McSally mentioned the current Arizona senator at the event.
Kelli Ward
Ward is a known quantity in Arizona politics, having previously served as a state senator and unsuccessfully challenging Sen. John McCain in his 2016 re-election.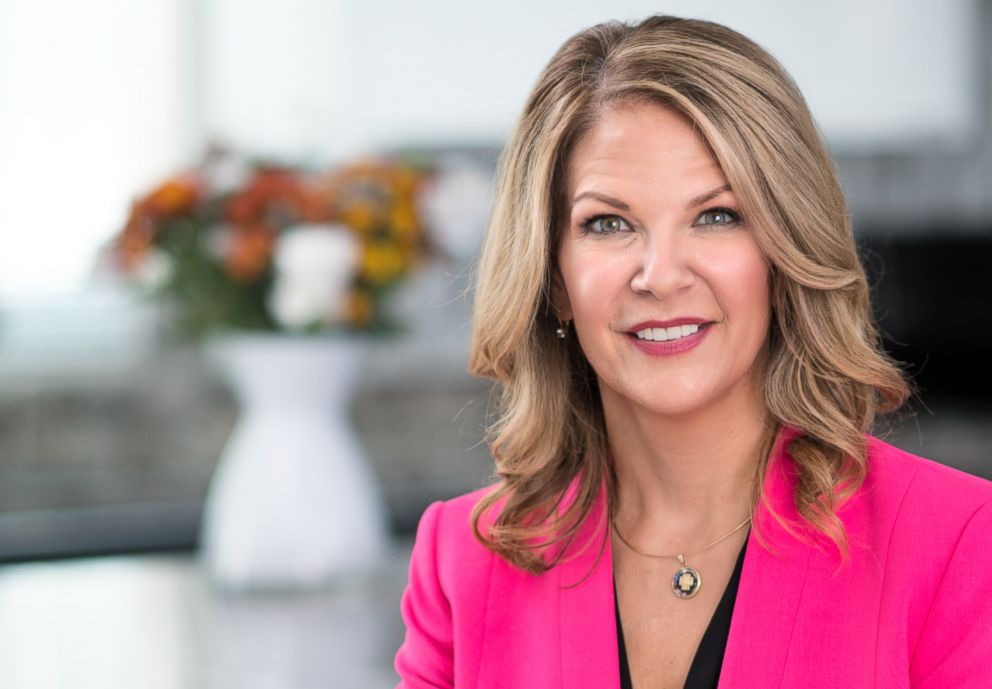 She's been critical of McCain throughout this campaign as well, calling his brain cancer diagnosis "grim" and saying that the six-term Senator should step aside if he's not able to perform his duties.
Most recently, she appeared to suggest that policies supported by McCain and Flake were to blame for the death of Iowa college student Mollie Tibbetts, who was murdered by a man whose immigration status has been questioned since his arrest.
Ward is a firm supporter of building a wall, defunding sanctuary cities, ending so-called "chain migration" and repealing Obamacare.
She received early recognition from Trump in the form of a supportive tweet in August 2017, when she was the only one of the three candidates running.
Since then, she's been focusing on touting her conservative credentials, saying in a recent interview that she has been "staunchly for faith, family, and freedom." She's also earned the interest and support of some far-right firebrands, including Gorka and, more recently, conservative and alt-right characters like Tomi Lahren and Mike Cernovich, who both joined her on her campaign bus tour Friday.