The TAKE with Rick Klein
If it's all over but the voting now, the damage is already severe.
This week displayed a broken process and a deeply flawed Senate, where partisan anger couldn't even stay on the sidelines for a few hours.
The divisions exposed by the full day featuring Christine Blasey Ford and Brett Kavanaugh won't be healed if or when the Senate Judiciary Committee votes Friday morning, or if and when the full Senate votes early next week.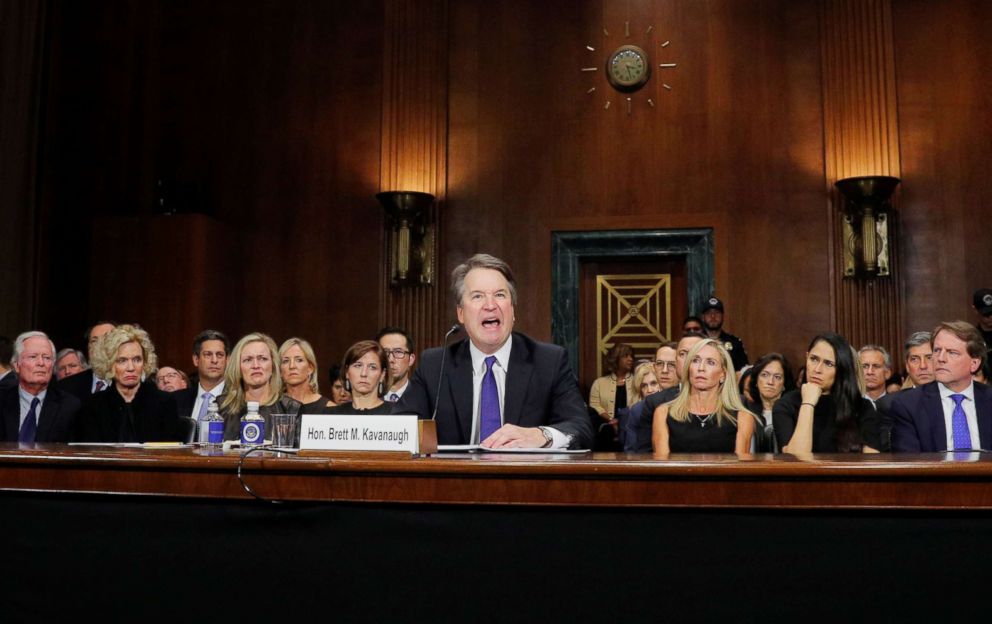 Kavanaugh has President Donald Trump's confidence again, and the partisan turn at Thursday's hearing seemed to put the GOP back in a comfort zone.
Republicans hold the majority, and would seem to be able to secure the votes to make Kavanaugh a Supreme Court justice. But confirmation may be just one consequence of the day the Senate ripped itself apart.
The RUNDOWN with MaryAlice Parks
At every turn this week, Republicans seemed uninterested in simply finding the facts.
First, they wrote off re-opening Judge Brett Kavanaugh's FBI background check investigation and having neutral professionals work the case. Then, there was their refusal to subpoena other witnesses. And then, halfway through the hearing, they dismissed the prosecutor they had hired to drill down on the testimony.
Basically, as soon as Kavanaugh took the witness table, any Republican pretense of asking probing questions, as the prosecutor had done with professor Christine Blasey Ford, went away.
Democrats didn't seem all that focused on grilling anyone either, but their calls for an FBI investigation were, in a way, a move to make the whole process less of a he-said-she-said mess, not more.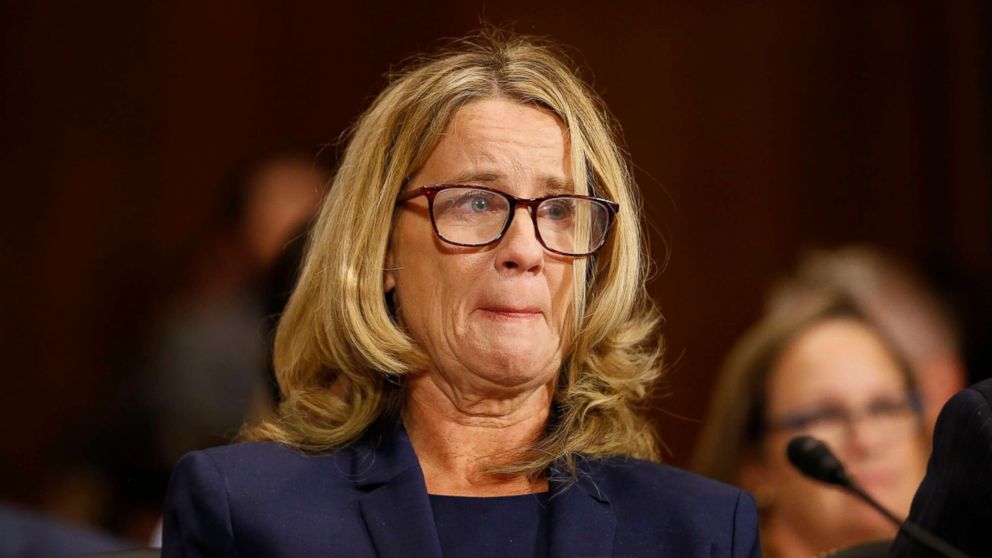 The question now: While Republicans in the room and on the Hill might be sticking together, will they do so across the country, too?
Washington State's senior Democratic senator, Patty Murray, wrote this week: "I decided to run for the U.S. Senate after I saw senators get those questions wrong in the Anita Hill hearings in 1991. I ran for right here, in this moment, in the United States Senate, to make sure we'd never allow that to happen again."
It's hard to imagine that some others on the sidelines weren't also inspired to get involved in politics after what they saw Thursday.
The TIP with Ali Rogin
Leaving the Capitol Thursday night, after the historic Ford-Kavanaugh hearing, Senate Majority Leader Mitch McConnell said confidently that the Judiciary Committee was going to vote Friday and that Brett Kavanaugh's nomination was "going to move forward."
Reporters on the Hill asked: Did he have the votes?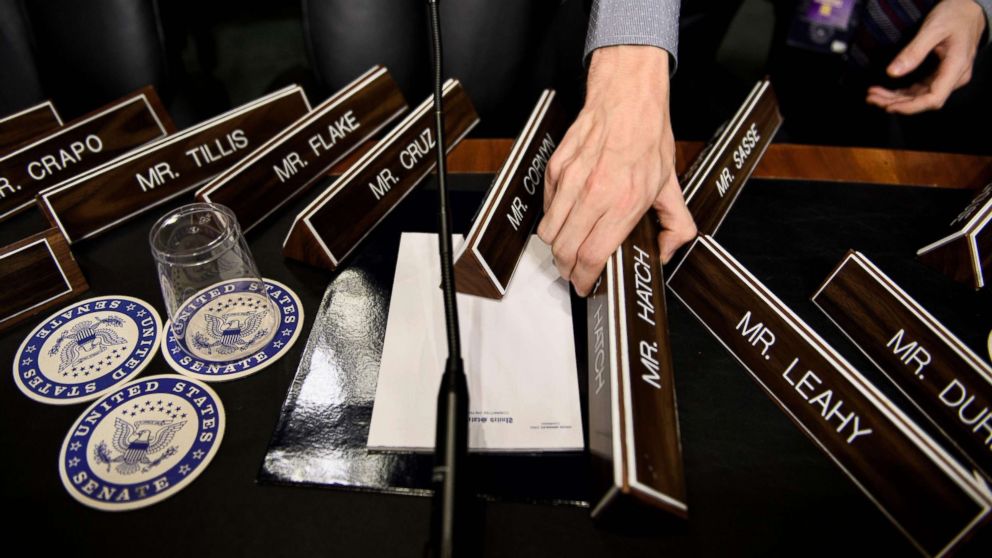 He took a long pause before deciding not to answer.
Instead, he said, "You guys don't need to follow me. That's all I'm going to say."
WHAT YOU NEED TO KNOW TODAY
The Senate Judiciary Committee meets to consider the nomination of Brett Kavanaugh at 9:30 a.m.
The president welcomes President Sebastián Piñera of Chile at 1:45 p.m. and then holds a bilateral meeting.
House Speaker Paul Ryan delivers a speech about how Americans are "Better Off Now" at the National Press Club in Washington at 9:30 a.m.
Michelle Obama visits the University of Miami for an event as part of her voter registration initiative "When We All Vote."
Virginia 5th Congressional District candidates Leslie Cockburn and Denver Riggleman debate in Charlottesville at 6:00 p.m.
Texas Gov. Greg Abbott debates Democratic challenger Lupe Valdez in Austin at 8:00 p.m. ET.
This Week on "This Week": Senate Judiciary Committee Member Sen. Lindsey Graham, R-S.C., comes exclusively to "This Week" Sunday. Plus, the Powerhouse Roundtable debates the week in politics, with Republican Strategist and ABC News Contributor Alex Castellanos, former Communications Director for Sen. Ted Cruz and CNN Contributor Amanda Carpenter, Democratic Strategist and former Clinton Campaign Spokesperson Karen Finney, Associated Press Washington Bureau Chief Julie Pace, and Fox News Political Analyst Juan Williams, author of "What the Hell Do You Have to Lose?"
QUOTE OF THE DAY
"Indelible in the hippocampus is the laughter — the uproarious laughter between the two. And their having fun at my expense … I was, you know, underneath one of them while the two laughed. Two friends having a really good time with one another." — Christine Blasey Ford, after Sen. Patrick Leahy's asked her to describe her strongest memory from the night of the alleged assault.
THE PLAYLIST
ABC News' "Start Here" Podcast. Friday morning's episode features a full slate of ABC News reporters and analysts to walk you through the unprecedented hearing Thursday as Christine Blasey Ford and Brett Kavanaugh delivered dramatic and emotional testimonies on Capitol Hill. https://bit.ly/2Ohkpz8
NEED TO READ
Christine Blasey Ford sparks Democratic fire, but who carries the torch?: ANALYSIS. Her humility, clarity, understandable nervousness, but remarkable steadfastness as she testified was inspiring to many. She looked courageous and cemented her place in a long line of brave women who have come forward this year during the #MeToo movement. Still, if Ford is a fire for Democrats in 2018, who will catch that spark going into 2020? (MaryAlice Parks) https://abcn.ws/2xJbTCd
Raw divisions exposed, as emotional hearing devolves into partisan anger: ANALYSIS. Their words spoke alternative truths – utterly incompatible versions of events from 36 years ago. It is now left to a damaged political system to make sense of it all, with a lifetime appointment on the Supreme Court among the stakes that have only grown as days have passed. (Rick Klein) https://abcn.ws/2OhpQko
5 key takeaways from the Ford-Kavanaugh hearing. "My name is Christine Blasey Ford," she began, putting an uncertain face and quavering voice to go with the name Americans knew only from explosive news stories. But her credibility seemed to grow as she told her story with confidence and little hesitation. (Cheyenne Haslett) https://abcn.ws/2xK0DFF
Brett Kavanaugh emphatically and repeatedly defends drinking in pushing back against sex assault allegations. Brett Kavanaugh emphatically and at times angrily defended his high school drinking before the Senate Judiciary Committee on Thursday afternoon – referring to beer or his enjoyment of beer more than two dozen times in the first hours of his testimony. (Chris Francescani) https://abcn.ws/2NIwdO9
Kavanaugh hearing: 'This has destroyed my family.' ABC News' live blog followed the hearing Thursday as Judge Brett Kavanaugh and professor Christine Blasey Ford faced questions from the Senate Judiciary Committee, with high stakes: a lifetime appointment to the swing seat on the Supreme Court. And with just 40 days until the midterm elections, Americans were watching closely. (Cheyenne Haslett and Kendall Karson) https://abcn.ws/2xI8W4W
Mixed reactions to Kavanaugh and Ford's differing testimony. Emotions are high both in and out of the Senate hearing room where first Christine Blasey Ford and later Brett Kavanaugh testified before the Senate Judiciary Committee about an allegation of sexual assault involving the Supreme Court nominee. (Meghan Keneally) https://abcn.ws/2OVGQK7
Christine Blasey Ford, Brett Kavanaugh: Most memorable moments from their testimonies. Ford broke her silence after 36 years, telling senators she originally wished to remain anonymous but once her story became public, she believed it was her "civic duty" to come forward. Here are some of the moments that mattered from the hearings. (Adam Kelsey) https://abcn.ws/2N6B0ns
Why more women don't report sexual assaults: A survivor speaks out. Alison Turkos was 16 when she said she was raped at a friend's graduation party. A 19-year-old man entered the room where she was sleeping, got on top of her and put his hand over her mouth. When she came downstairs the next morning, "everyone in the kitchen clapped." When her dad came to pick her up from the party, she said nothing. (Kaelyn Forde) https://abcn.ws/2QdS4d3
Ruth Bader Ginsburg says she is 'really turned on' by #MeToo movement. The #MeToo movement has a supporter in the nation's highest ranking court. Supreme Court Justice Ruth Bader Ginsburg said she is "really turned on by the #MeToo" movement. The comments came Wednesday when Ginsburg spoke at an event hosted by Georgetown Law school on the eve of Christine Blasey Ford's testimony. (Meghan Keneally) https://abcn.ws/2xU0n6o
Mueller witness who testified against Russians fears for his life: Court filing. A cooperating witness working with special counsel Robert Mueller as part of the probe into Russian meddling in the 2016 election says he "lives in a constant state of fear" after providing testimony that led to the indictment of Russian nationals, court records filed late Wednesday night show. (Lucien Bruggeman) https://abcn.ws/2Oj7lvU
Senior enlisted adviser to Joint Chiefs chairman suspended pending investigation. The senior enlisted adviser to Joint Chiefs Chairman Gen. Joseph Dunford has been temporarily suspended from his current duties pending the outcome of an Army inspector general investigation into a complaint of alleged misconduct, according to the Joint Staff. Army Command Sgt. Maj. John W. Troxell has served in his position since December 2015. (Elizabeth McLaughlin and Luis Martinez) https://abcn.ws/2R3Xk4f
A group of financial tech companies want to lobby lawmakers on cryptocurrency regulations -- and they plan to pay the lobbyists they hire with digital coins, reports Bloomberg. https://bloom.bg/2R3Aslj
The Environmental Protection Agency will eliminate an office that supports its administrator by promoting the latest scientific research as the body considers new rules, the New York Times reports. https://nyti.ms/2OkTpRZ
Big changes are coming to The Note next week! Download the ABC News app and select "The Note" as an item of interest to receive the day's sharpest political analysis.
The Note is a daily ABC News feature that highlights the key political moments of the day ahead. Please check back Monday for the latest.