Obama unleashes fiery rebuke of the Trump administration at Florida rally
Before voters head to the polls, Obama is set to deliver his closing argument.
MIAMI, Fla. -- In a final sprint to the finish line, former President Barack Obama delivered a fiery rebuke of the Trump administration, bringing the fight to South Florida to energize an already animated democratic base and present a different vision for the country.
Democratic candidates are on the ballot in two of the most consequential races this cycle in purple Florida -- a state pivotal to his party's hopes of securing control of the Senate and making inroads at the state level, after President Donald Trump carried the state by a slim margin in the 2016 presidential election.
In recent weeks, the former president has ramped up his campaign presence, stumping for a slate of candidates across the country, and Friday, he joined rising Democratic gubernatorial candidate Andrew Gillum, Senate incumbent Bill Nelson and several statewide candidates on the trail in Miami.
Miami-Dade County, a Democratic stronghold, preferred Hillary Clinton in 2016 over Donald Trump by more than 30 points.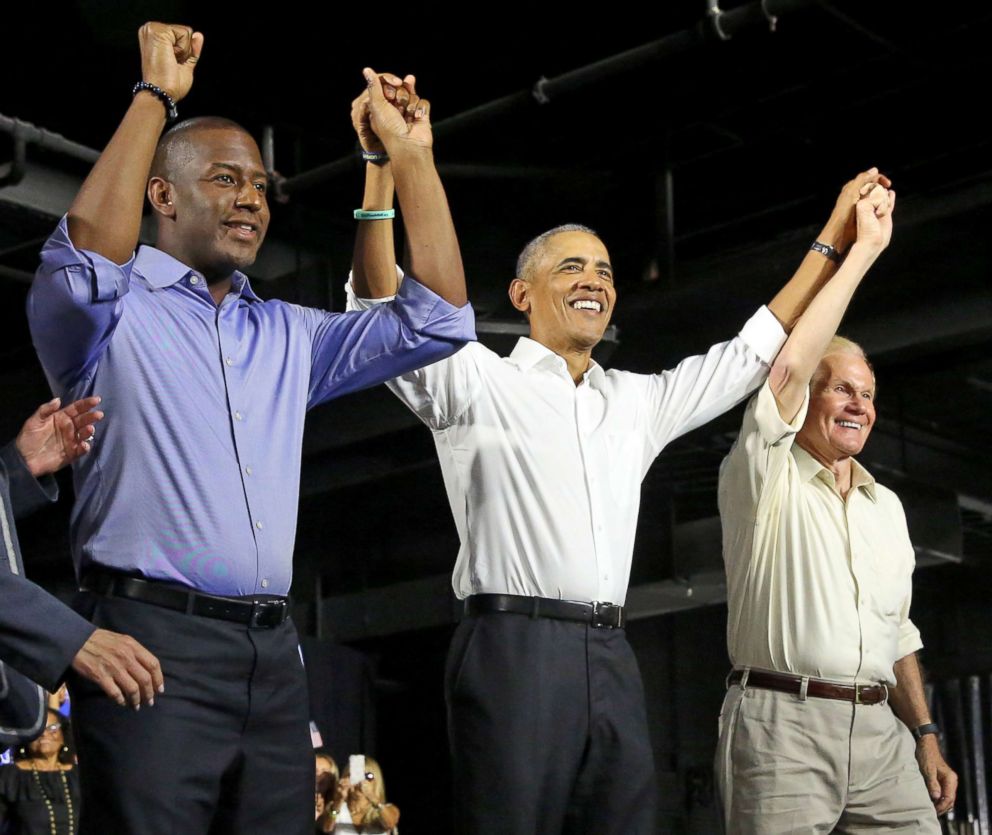 In a stark contrast to his successor, the former president's message to voters has been one of hope as the party seeks to win back control of Congress.
When words stop meaning something, when truth doesn't matter, when people can just lie with abandon, democracy can't work.
Without calling out the current president by name, Obama admonished the Trump administration's crackdown on asylum seekers, particularly for Trump's rhetoric on the caravan of migrants heading for the U.S. border.
"Now in 2018 they're telling you the existential threat to America is a bunch of poor refugees a thousand miles away," Obama said at a Miami rally for Gillum and Nelson.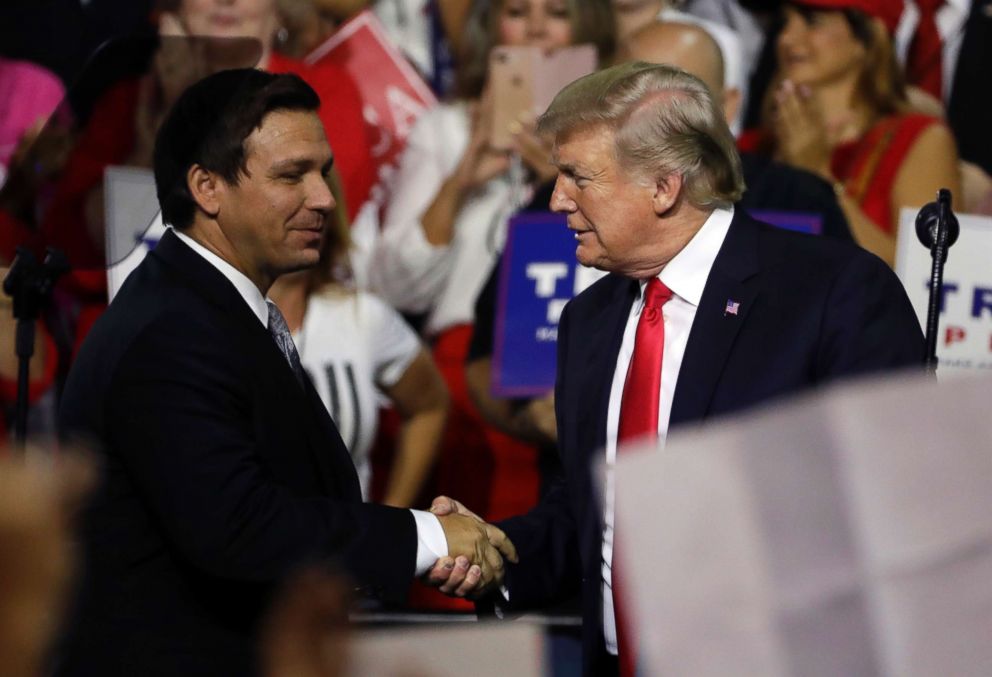 "They're even taking our brave troops away from their families for a political stunt at the border. And the men and women of our military deserve better than that. So there's just constant fear mongering to distract from the record."
"I know there are conservatives who are compassionate and must think there's nothing compassionate about ripping immigrant children from the arms of their mothers at the border," Obama said.
The former president also criticized his successor for undermining the democratic process after Trump announced a plan to end birthright citizenship for children born to non-citizens.
"I'm assuming that they recognize that a president doesn't get to decide on who's an American citizen and who's not. That's not how the Constitution of the United States works. That's not how the Bill of Rights works. That's not how our democracy works."
Just four days before Americans head to the polls, and with many concerned over health care, Obama went after Republicans who he said have spent zero time campaigning on the GOP tax cuts that they passed earlier this year, instead telling voters they will protect pre-existing conditions, despite their countless efforts to repeal the Affordable Care Act.
"I do have to make this point because right now, Republicans are all, look, the economy is so good. Where do you think that started," he posed. "When did that start?"
"If Republicans thought their tax cut for billionaires was popular, they would be campaigning on it. You don't hear a peep out of them," he said. "This was their main act in Congress. They have not mentioned it in a single ad."
"In fact, right at election time, suddenly Republicans are saying they're going protect your pre-existing conditions when they literally have been doing the opposite," Obama asserted. "That's some kind of chutzpah."
"Florida, we can't let Rick Scott become the deciding vote for your pre-existing conditions protections," he added.
At the onset of his remarks, one heckler began shouting at the former president, but was quickly overwhelmed by attendees who began chanting "Obama."
"This is what I look forward to is having a few hecklers to get me back in the mood," Obama jokingly said in response to the shouting. "I enjoy that."
Obama sought to portray a different America to the Miami crowd, telling the audience that Tuesday's midterm elections "might be the most important election of our lifetime."
"America's at a crossroads," he said. "The health care of millions is on the ballot. Making sure working families get a fair shake is on the ballot. But maybe most of all the character of our country is on the ballot."
That vision is one that, he argues, Democrats must "stand up for with clarity and patriotism and purpose."
"The values that bind us to your fellow citizens, no matter who we are, no matter what we look like, that's what Americans do," he said. "That's what America is. That's what Andrew Gillum believes. That's what Bill Nelson believes. That's what you believe. A better vision of America."
"That's where I'm hopeful, Florida. I'm hopeful that we will cut through the lies, block out the noise, and remember who we are and who we are called to be."
Underscoring the stakes of the election, Obama called out the lies spilling from, as he said, "the highest levels of government."
"When words stop meaning something, when truth doesn't matter, when people can just lie with abandon, democracy can't work."
"And that's what's happening at the highest levels," he continued. "The only check on that behavior is you. The only check on that behavior is you and your vote. And on Tuesday you can vote for a politics that's decent."
Obama has been on the trail casting this election as more important than any other contest in recent history, including in years that featured his own name on the ballot, sending a clear message to Democrats: get out the vote. He did that again on Friday.
In a year with unprecedented turnout and enthusiasm in a midterm election, Democrats are hoping to capitalize on key opportunities in the South.
"You get some souls to the polls," he urged. "Let's make history happen right here in Florida. Let's get to work. Let's go vote."
Gillum, the mayor of Tallahassee, is running in one of this year's most closely watched races against former GOP Rep. Ron DeSantis, a Trump-endorsed and occasionally controversial opponent. He would be the first African-American governor of Florida if elected in November.
Gillum, who scored Obama's endorsement last month and who was joined by former Vice President Joe Biden last week, is part of a progressive class of candidates who are dominating the Democratic ticket this cycle.
More aligned with Vermont Independent Sen. Bernie Sanders and liberal insurgent Alexandria Ocasio-Cortez, the Tallahassee mayor surged onto the scene in the final weeks leading into his primary victory.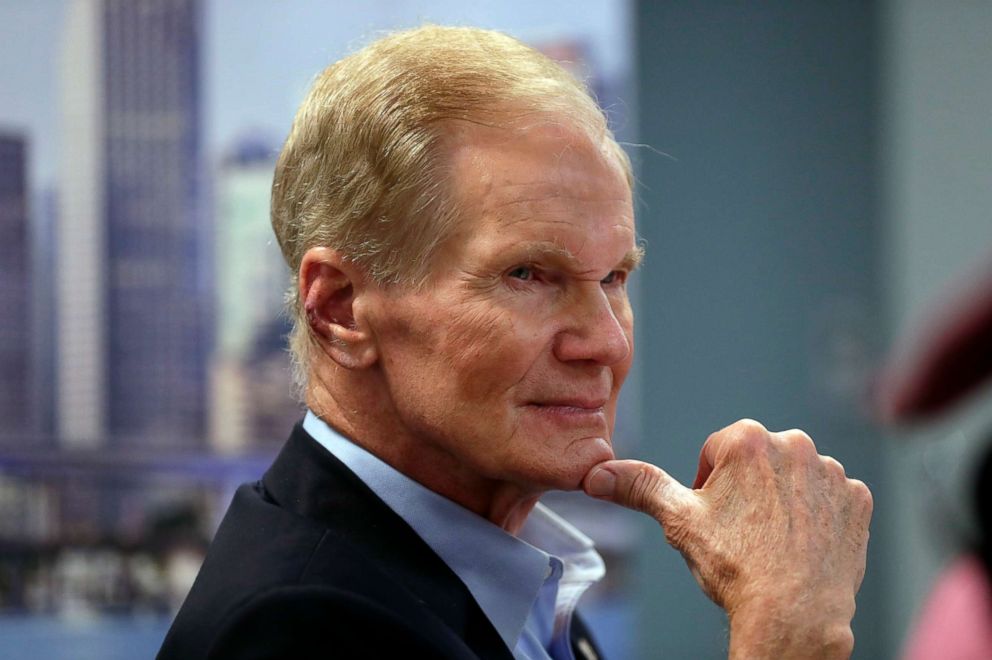 Florida voters delivered a major upset in August after sending Gillum onto the general ballot over establishment candidate Gwen Graham, a member of a Florida political dynasty. Her father, Bob Graham, was once the state's governor and a U.S. senator.
Gillum captured 75 percent of the youth vote in the primary, according to NextGen America, although that coalition of voters historically doesn't participate in midterm elections.
The contentious governor's race has cast a spotlight on a range of cultural issues, including gun control and race. Gillum and DeSantis are vying for the governor's mansion in the wake of the shooting in Parkland -- where 17 students and teachers were gunned down -- that incited a national movement among young people, led by survivors from Marjory Stoneman Douglas High School.
This tight battle between Gillum and DeSantis has at-times become heated, particularly over race. The day after Gillum won the party's nomination in the August primary, DeSantis came under fire for telling voters during a Fox News interview that they should not "monkey this up" by voting for Gillum.
This week, Trump entered into the fray to defend his staunch ally by relentlessly criticizing the Democratic hopeful over Twitter and at a Wednesday rally for DeSantis in Fort Myers.
Branding Gillum as a "stone-cold thief" and a "radical socialist," Trump has ignited tensions in the contest's final days.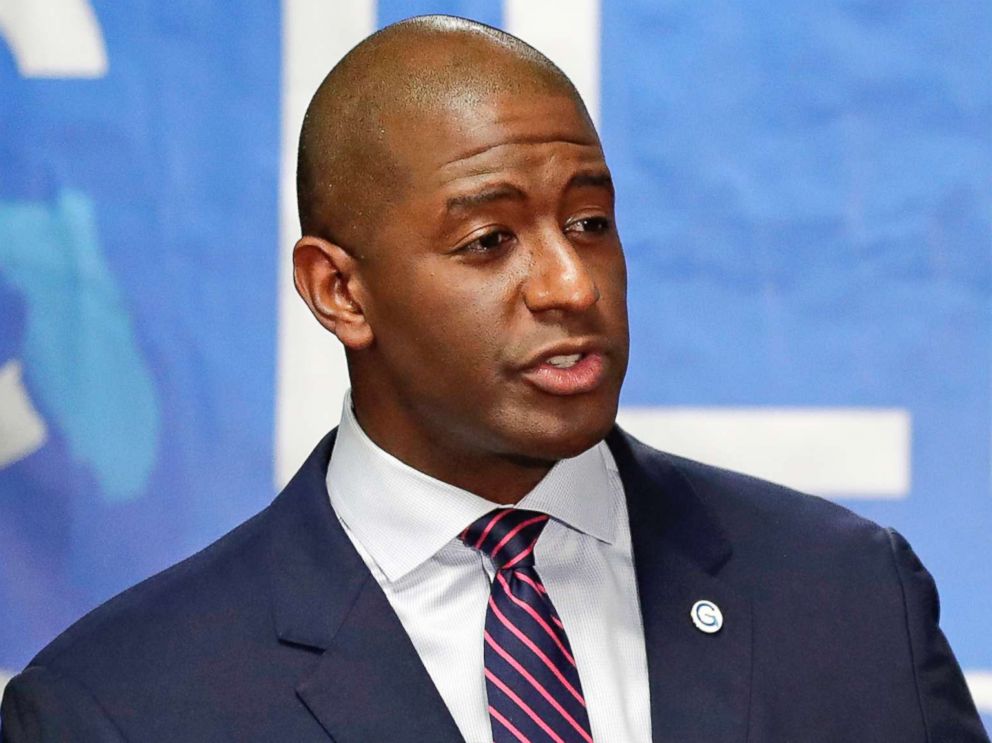 Gillum responded to Trump's remarks on Thursday, telling CNN: "The President again is attempting to use scare tactics, fear mongering -- this is a race to the bottom, the kind of politics they are used to. I just happen to believe they are sorely underestimating the people of my state."
For his part, Gillum faced controversy earlier this year over an FBI probe into government corruption in Tallahassee and accepting a ticket to the Broadway musical "Hamilton" from an undercover FBI agent. Gillum said during a gubernatorial debate that he's not the direct subject of the investigation.
Despite that, ABC News partner FiveThirtyEight forecasts Gillum with a three in four chance of winning. Recent polls showed a razor-thin advantage for Gillum, who holds a 49 to 48 percent lead over DeSantis among likely voters, in a CNN poll from Oct. 21. The race is rated as a toss-up.
Nelson, locked in a tight race with Republican Florida Gov. Rick Scott, must hang onto his seat to keep the Democrats' path to a Senate majority alive. The three-term incumbent is among 10 Democratic senators defending seats this cycle in a state Trump won two years ago. Nelson has a 49 to 47 percent lead over Scott among likely voters, according to the CNN poll.
ABC News' Lissette Rodriguez contributed reporting.