Secretary of State Mike Pompeo and Treasury Secretary Steve Mnuchin detailed new sanctions on Iran at the White House Friday -- the response President Donald Trump chose after backing away from further military strikes after Iran fired missiles at U.S. forces in retaliation to his order to kill Iran's top commander, Qassem Soleimani.
The new sanctions will hit Iran's steel and iron industries that generate billions each year, according to the Treasury Department, as well as eight Iranian security officials. Trump also signed a new executive order that authorizes further sanctions against any sector of Iran's economy, including construction, manufacturing, textiles, and mining, Mnuchin said, threatening to essentially shut down all of Iran's major industries and, importantly, to target foreign companies and banks that do business with any of these Iranian sectors.
"This order will have a major impact on the Iranian economy ... These punishing economic sanctions will remain until the Iranian regime changes its behavior," Trump said in a statement released by the White House.
Iran's leaders, including Foreign Minister Mohammad Javad Zarif, have accused the U.S. of conducting economic war against Tehran.
In particular, the Treasury Department is designating 13 Iranian steel and iron manufacturers that "collectively generate billions in sales annually," it said in a statement. Sanctions also hit four Iranian aluminum and copper companies and one Oman-based trading company.
But importantly, it's not just Iranian businesses. Three Chinese companies, based in the small island nation Seychelles, are also being sanctioned for trading Iranian steel and other metals, including one vessel that will now be flagged.
Iran is already under heavy U.S. sanctions. Since Trump withdrew the U.S. from the Iran nuclear deal, he has steadily increased the economic pressure -- most importantly, by ending waivers last April for countries to import Iranian oil, the country's economic lifeblood.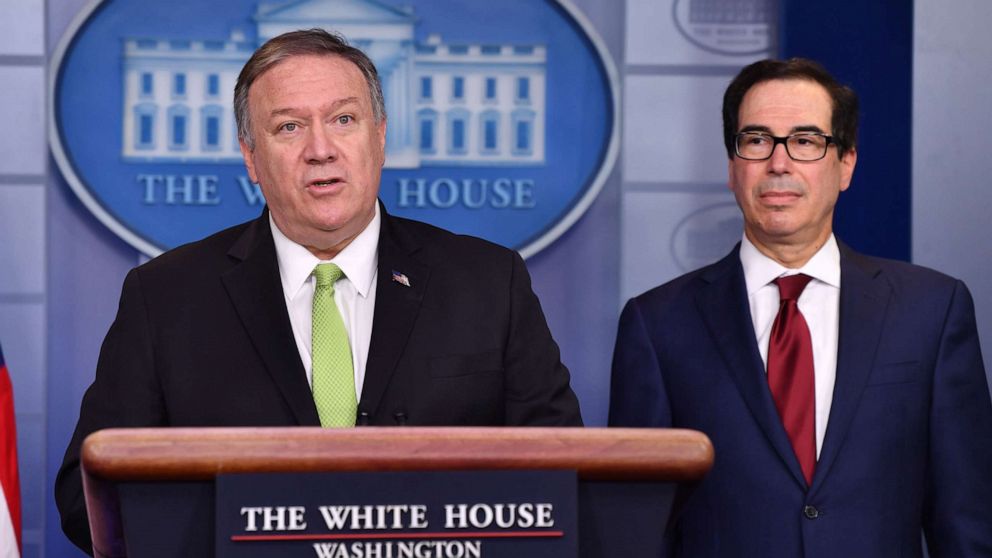 It's unclear how much further effect these sanctions will have on Iran's economy, despite Trump's statement. The metals industry accounts for approximately 10 percent of Iran's economy, according to Treasury, but those businesses that work with Iran, particularly from Russia, China, or Turkey, continue to do so already despite U.S. sanctions; it's unclear if Beijing will scale back now.
"Sanctions now touch every part of the Iranian economy and are unlikely to have any further impact," Ryan Fayhee, a former senior Justice Department prosecutor who handled sanctions cases, told ABC News, suggesting instead that only once those secondary sanctions are implemented would there be any additional impact.
Pressed on that, Mnuchin said the administration had "100% confidence" that "economic sanctions are working... If we didn't have these sanctions in place, literally Iran would have tens of billions of dollars. They would be using that for terrorist activities throughout the region and to enable them to do more bad things."
Like how Trump often claims Iran is a "different country" than when he took office, Pompeo added, "This country has never been in the place that it's in today." He pointed to budget fall shortfalls, saying the government will have to choose between supporting its people and its proxy forces, like Hezbollah in Lebanon and Syria and the Shiite militias known as the Popular Mobilization Forces, in Iraq.
In addition to the businesses, the Treasury Department sanctioned eight top security officials, including the Secretary of Iran's Supreme National Security Council -- the equivalent of the U.S. president's national security adviser.
These sanctions are less likely to have an impact beyond naming and shaming as few Iranian officials have assets in U.S. jurisdiction.
Pompeo said these officials, including some who are considered "reformist," were selected "to strike at the heart of Iran's internal security apparatus."