In a moment of bipartisanship, Democratic Rep. Jamie Raskin received words of encouragement from a Republican colleague as he undergoes cancer treatment.
House Oversight Committee Chairman James Comer, R-Ky., told Raskin "we're all rooting for you" as he kicked off the panel's meeting Tuesday to adopt its official rules for this Congress.
"We know that you're gonna win this battle," Comer said. "You're in our thoughts and prayers, and it's good to see you here today."
Raskin, who was elected by his Democratic colleagues to serve as the committee's ranking member, said the words meant a lot to him.
"I've been gratified to receive so many kind words of encouragement and sympathy from colleagues on both sides of the aisle," he said. "I hope that these expressions of concern and solidarity will become seeds of friendship over the year."
"I certainly plan on getting through this thing and beating it, and I thank you for your patience and indulgence," he added, prompting a round of applause from committee members on both sides of the aisle.
Raskin announced in late December he'd been diagnosed with diffuse large B-cell lymphoma, which he described as a "serious but curable form of cancer," and said he was about to begin chemo-immunotherapy.
Raskin joked at the time he was advised the regimen will cause hair loss and weight gain, but that he was "still holding out hope for the kind that causes hair gain and weight loss."
The Maryland Democrat wore a black-and-white bandana during Wednesday's oversight meeting, and has been seen wearing other caps as he endures treatment.
House rules have generally long prohibited the wearing of hats on the floor, though Democrats amended the century-old rule in 2019 to allow for religious headwear.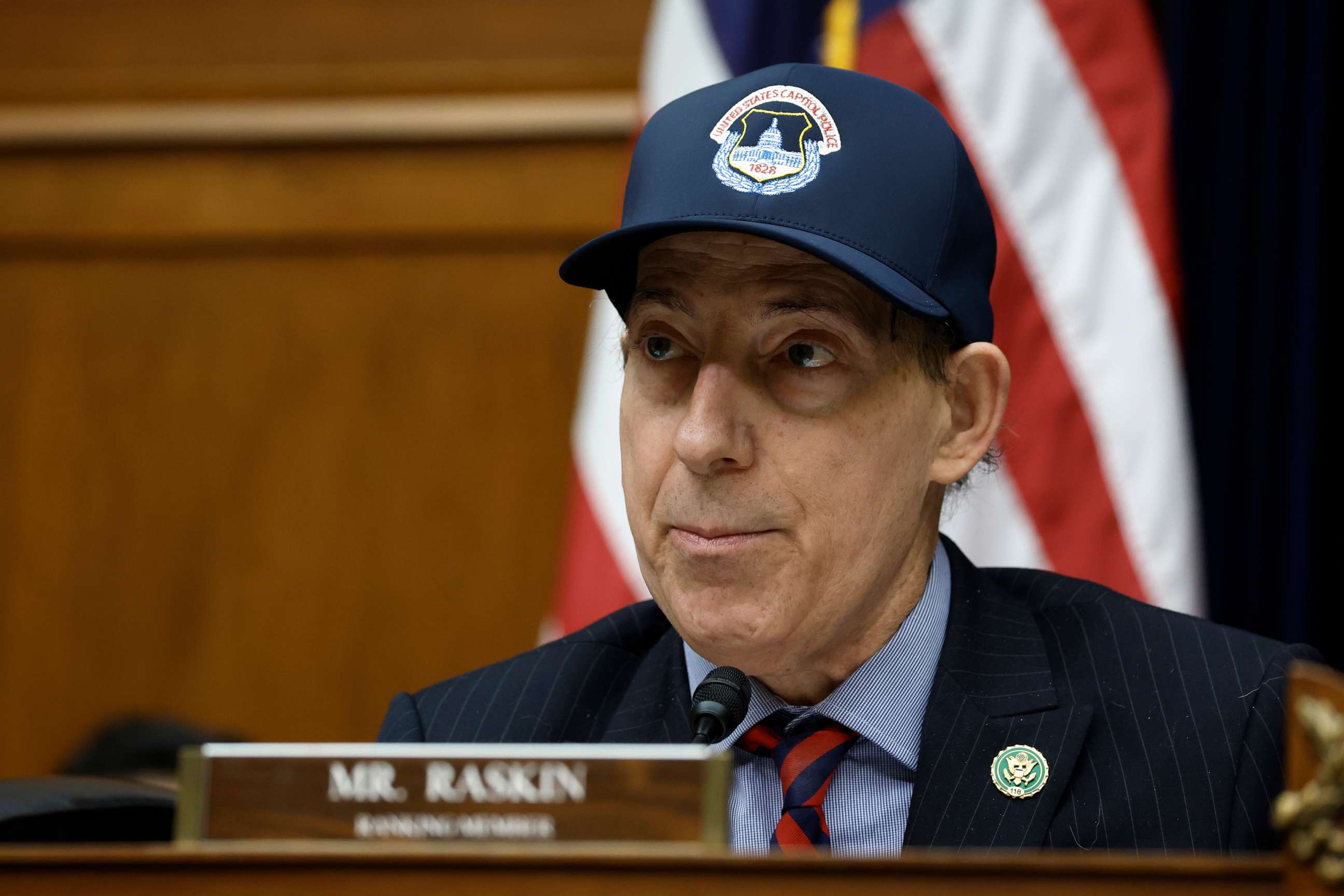 Raskin rose to national prominence as he led two impeachments against former President Donald Trump, and was a leading member of the House Jan. 6 Select Committee tasked with investigating the U.S. Capitol attack.
He's said he expects to continue working as he battles the disease, but was advised by his medical team to "to reduce unnecessary exposure" to COVID-19 or other viruses.
Raskin on Wednesday offered an amendment to allow members of the influential House Oversight Committee to participate remotely for certain situations, including medical circumstances.
"No one should be prevented from performing their duties on behalf of their constituents due to unavoidable and uncontrollable health conditions, whether it's being immunocompromised or having COVID-19 or being injured in some way that prevents him or her from coming to work," Raskin said.
The measure was rejected along party lines as House Republicans make good on their vow to end remote participation and proxy voting measures enacted by the Democrat-controlled chamber during the COVID-19 pandemic.
Comer and other Republicans on the panel voted against the amendment, calling it unnecessary as the chairman's already pledged to work to with Raskin.
"I will do everything in my ability to work with you to make sure we can accommodate anything with respect to committee work while you're undergoing treatment. I'm very sympathetic to what you're going through," Comer said.
Democrats on the panel, pushed back and described the amendment as a failsafe for both sides.
"Protecting individuals based on health outcome should be part of our workplace protections," Rep. Alexandria Ocasio-Cortez, D-N.Y., said during the hearing.