A rising Democratic star's political hopes to capture the governor's mansion in Florida were halted Tuesday night after Andrew Gillum conceded to former Rep. Ron DeSantis in the state's contentious gubernatorial race.
Gillum conceded just before 11 p.m. ET, setting up a victory for President Donald Trump-backed DeSantis.
"Earlier this evening I called Mr. Ron Desantis and congratulated him on what we expect will be him as the next governor as the great state of Florida," Gillum said. "I want you to know that in spite of our congratulating him on his victory this evening, nothing that we believe in is compromised."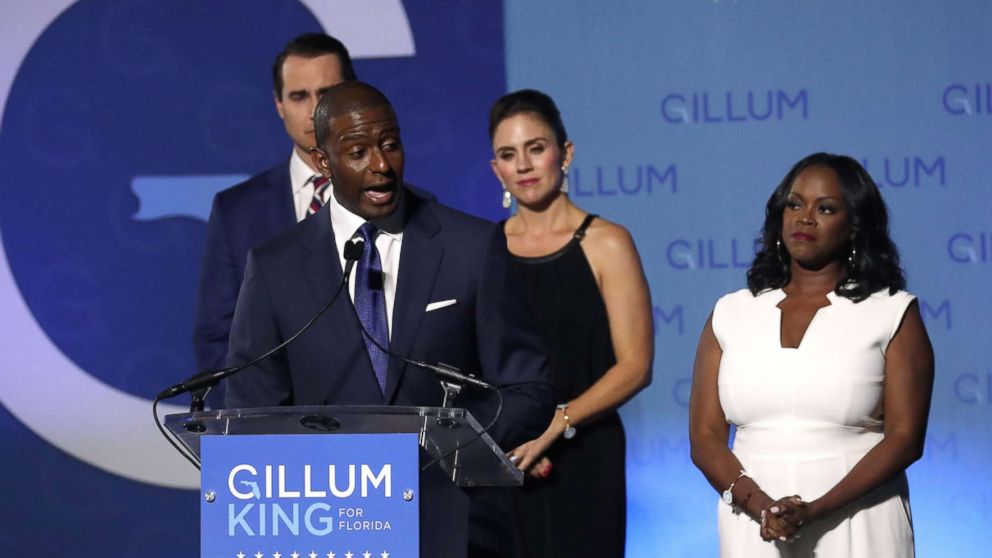 "I still believe and I still trust the voters," he added. "We may not have always shown up but I still believe that there are more of us that believe in what is common and what is good."
"But I can guarantee you this," he continued, "I'm not going anywhere."
DeSantis thanked Floridians for the vote of confidence.
"Other than serving our nation in uniform, the opportunity to serve as the 46th governor of the great state of Florida is the greatest professional honor of my life," he said in his victory speech Tuesday night. "Thank you, the people of Florida, for your faith, your support, and your trust you have placed in me.
The close nature of this election continued Florida's tradition of having consequential elections.
Trump endorsed DeSantis shortly after he won his primary earlier this year, and the president went on to campaign for him in his so-called second home state.
Trump carried the state by a slim margin over Hillary Clinton in the 2016 presidential election.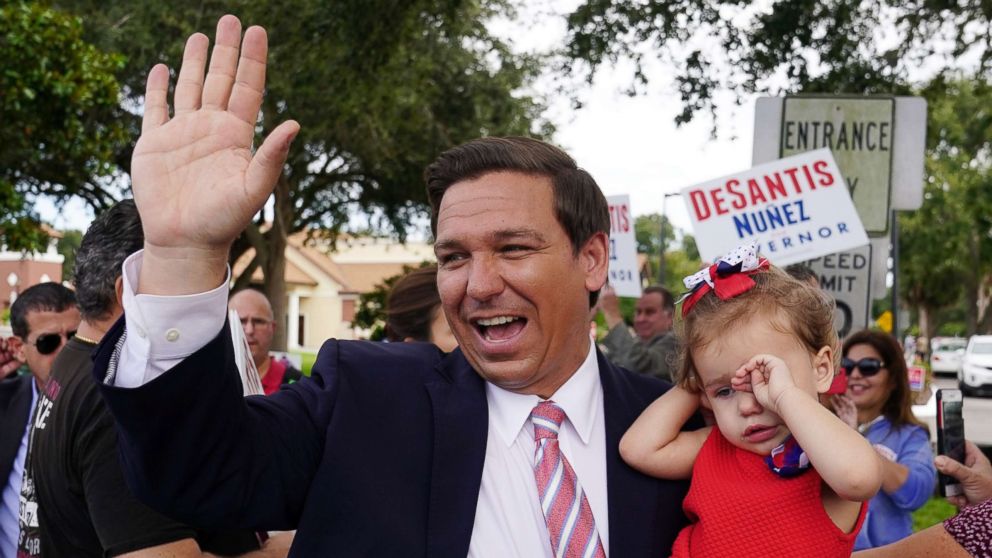 Last week, Trump entered into the fray to defend his staunch ally by relentlessly criticizing the Democratic hopeful over Twitter and at a rally for DeSantis in Fort Myers.
Branding Gillum as a "stone-cold thief" and a "radical socialist," Trump ignited tensions in the contest's final days.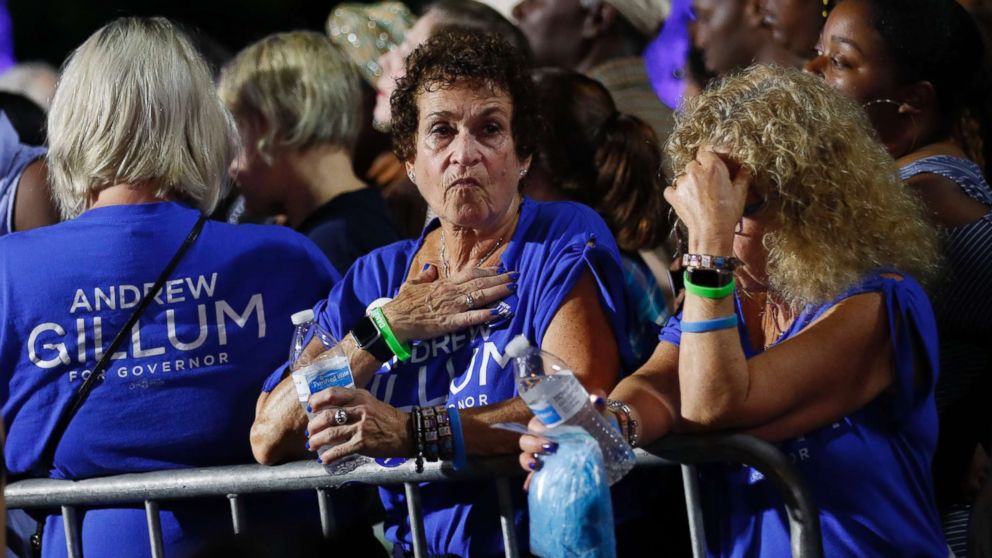 For his part, Gillum faced controversy earlier this year over an FBI probe into government corruption in Tallahassee and accepting a ticket to the Broadway musical "Hamilton" from an undercover FBI agent. Gillum said during a gubernatorial debate that he's not the direct subject of the investigation.
But Trump wasn't the only presidential player who waded into this state-level race, as former President Barack Obama rallied for Gillum just days before voters headed to the polls to energize an already animated democratic base.
This tight battle between Gillum and DeSantis has at times become heated, particularly over race. The day after Gillum won the party's nomination in the August primary, DeSantis came under fire for telling voters during a Fox News interview that they should not "monkey this up" by voting for Gillum.
An occasionally controversial opponent, DeSantis said during one debate that he would represent all Floridians, regardless of race, but would not participate in political correctness.
Gillum responded: "I'm not calling Mr. DeSantis a racist, I'm simply saying the racists believe he's a racist."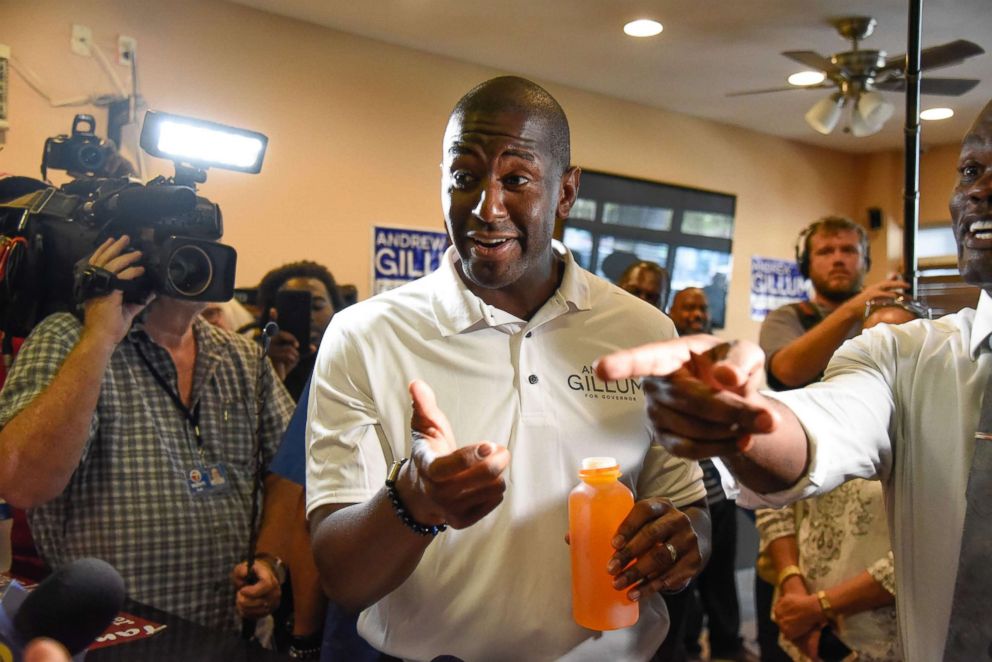 Florida Democrats hoped to use the election as a referendum on Trump and highlight issues that have affected their state, like environmental disasters, gun policy and economic development. The state is the site of the Parkland shooting, in which 17 students and teachers were killed in one of the country's deadliest mass shootings.
Republicans campaigned on maintaining the economic growth fostered under Republican Gov. Rick Scott, who was term-limited and is running for Senate in the state this year.
Gillum, who scored Obama's endorsement last month and who was joined by former Vice President Joe Biden on the trail, was part of a progressive class of candidates who are dominating the Democratic ticket this cycle. More aligned with Vermont Independent Sen. Bernie Sanders and liberal insurgent Alexandria Ocasio-Cortez, the Tallahassee mayor surged onto the scene in the final weeks leading into his primary victory in August.
Floridians were visibly invested in this race, with 3.1 million primary voters breaking midterm records in late August.