Trump focuses on House Democrats at Dallas campaign rally
The president visits Texas amid continued impeachment inquiry by House Dems.
It took President Donald Trump just minutes to pivot away from boasting about jobs and the economy at his Dallas rally Thursday night to again viciously attack House Democrats over their impeachment inquiry, calling House Speaker Nancy Pelosi "crazy" and doubting whether or not they even love the country.
"Crazy Nancy, think of that. That crazy Nancy, she is crazy," Trump said of House Speaker Nancy Pelosi. "The radical Democrats want to destroy America as we know it. They want to indoctrinate our children and teach them that America is a sinful, wicked nation. You see that happening all the time."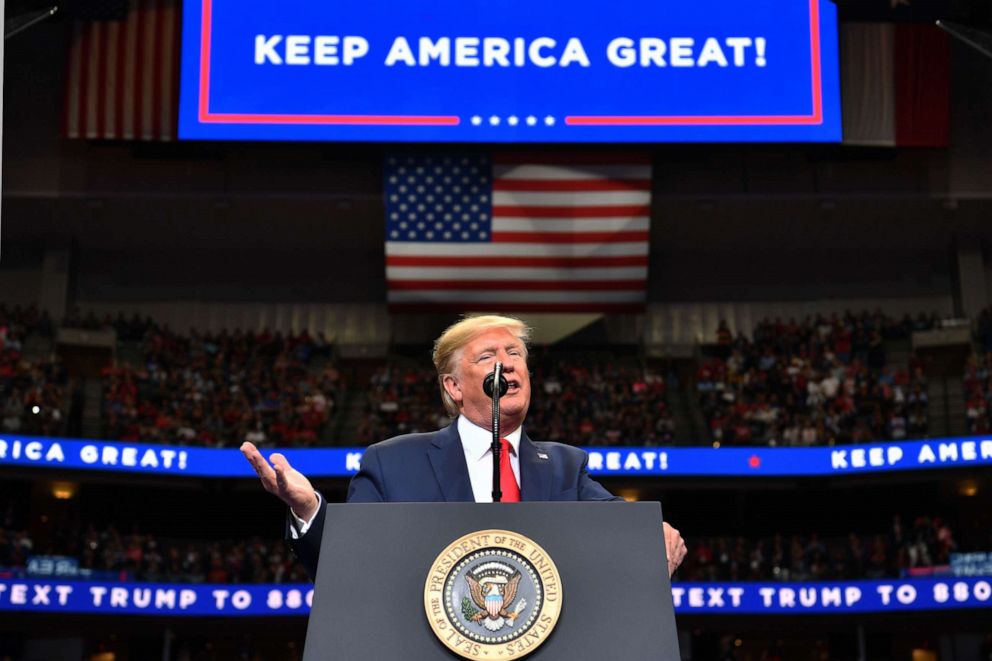 Trump also again targeted the whistleblower at the center of Democrat's impeachment probe, suggesting the whistleblower could be a "spy" and asking for their identity.
"Who is the whistleblower? Who is the whistleblower? We have to know. Is the whistleblower a spy?" Trump asked.
Trump, at his third campaign rally in seven days, railed at House Democrats and continued to toss unsubstantiated claims against former Vice President Joe Biden and his son, even alleging "quid pro quo" just hours after his own acting White House chief of staff Mick Mulvaney admitted there was a quid pro quo regarding military aid being withheld to get Ukraine to probe Democrats.
Trump also celebrated the deal Vice President Pence and Secretary of State Mike Pompeo reached with Turkish President Erdogan earlier Thursday -- even minimizing the crisis in Turkey as "two kids" who "need to fight."
"President Erdogan was a gentleman, he understood," Trump said. "But without a little tough love … they would've never made this deal."
Trump also took shots at "very dumb" Beto O'Rourke, who was holding a counter rally across town in Grand Prairie, Texas.
"Last week, a very dumb Democratic candidate for president -- that's the end of him in this state -- pledged to revoke the tax-exempt status of many churches and religious charities," he said of O'Rourke. "And by the way, that was after a few weeks ago he said, excuse me, we're going to take your guns away."
Trump went on to criticize O'Rourke's hand movements, saying he first noticed his "flailing arms."
"Nobody noticed it. I noticed it. The flailer. You remember, he was flailing all over the place," Trump said.
The president also praised Sen. John Cornyn, whose name will also appear on the ballot in 2020.
"John Cornyn is going to win so easily. Just like Ted Cruz won. He's going to win no matter what happens. But John Cornyn is not talking about Beto anymore, because Beto in a few short weeks got rid of guns and got rid of religion. Those are not two good things in Texas to get rid of. And I will never allow the federal government to be used to punish Americans for their religious beliefs."
"I kept thinking maybe Beto will jump in, because he's at 0 right now. We hope he's going to jump in," Trump said. "Remember, no religion and no guns. I think that's not good."
The Bidens, in the meantime, have quickly become part of the president's stump speech, including his line that "the Bidens got rich" while "America got robbed."
"Joe Biden was in charge of Ukraine policy while his son, with absolutely no energy experience, just got thrown out of the Navy like a dog, was paid massive sums of money by a Ukrainian energy company. You know what that's called? It's called a payoff, folks. He didn't know energy at all, knew nothing about energy," Trump said. "Joe Biden made them go out and fire the prosecutor. He was investigating the son and the son's company, [and they] got rid of him. Now that's what you call quid pro quo."
The president also continued to seize the moment from the first Democratic debate where the Democratic candidates were asked whether their health care plan would cover undocumented immigrants. All ten candidates on stage raised their hand.
"Every single Democratic candidate for president raise their hand in favor of giving free health care to all the illegal aliens," Trump said. "Democrats are now the party of crazy politicians, high taxes, high crime, open borders, late-term abortion, socialism, and blatant corruption. They are corrupt like Adam Schiff, they are corrupt. The Republican party is the party of the American worker, the American family, and it's the party of the American dream."
Trump visited Texas amid a continued impeachment inquiry by House Democrats and a day after a meeting about Syria at the White House with House and Senate leaders ended with the Democrats walking out.
Just prior to the meeting, the House had voted overwhelmingly in favor of a resolution condemning the president's decision to pull U.S. troops out of northeastern Syria.
Thursday's raucous event was Trump's third rally in just seven days, following event in Minnesota last Thursday and Louisiana the following day.
It was also the president's second trip to Texas this year, a state he won by nine points in 2016 and one that some Democrats argue is ready to flip blue in 2020.
"Democrats and the media think they are going to turn Texas blue," Trump campaign manager Brad Parscale told the rally crowd before the president took the stage, brushing off the speculation that Texas may be in play next year to a chorus of cheers.
The campaign dismissed the idea that the president was heading back to Texas out of fear that the state could be at risk.
"This is one of our biggest fundraising states, and the people here love the president -- so of course we're going to come back," Trump campaign spokesman Tim Murtaugh told ABC News.