Government response updates: Trump issues stricter guidelines to stop virus spread
As the president spoke, the Dow closed down almost 3,000 points.
President Donald Trump and his coronavirus task force on Monday issued new, stricter guidelines to stop the spread of the disease, including that states with evidence of community transmission should close bars, restaurants and other indoor and outdoor venues where groups of people congregate.
The new nationwide guidelines also call on Americans to avoid gatherings of more than 10 people; avoid eating and drinking in bars, restaurants, and public food courts; and encouraging schooling from home across the country.
"My administration is recommending that all Americans, including the young and healthy, work to engage in schooling from home when possible, avoid gathering in groups of more than 10 people, avoid discretionary travel and avoid eating and drinking in bars, restaurants, and public food courts," Trump said.
"If everyone makes this change or these critical changes and sacrifices now, we will rally together as one nation and we will defeat the virus, and we are going to have a big celebration altogether. With several weeks of focused action, we can turn the corner and turn it quickly -- a lot of progress has been made."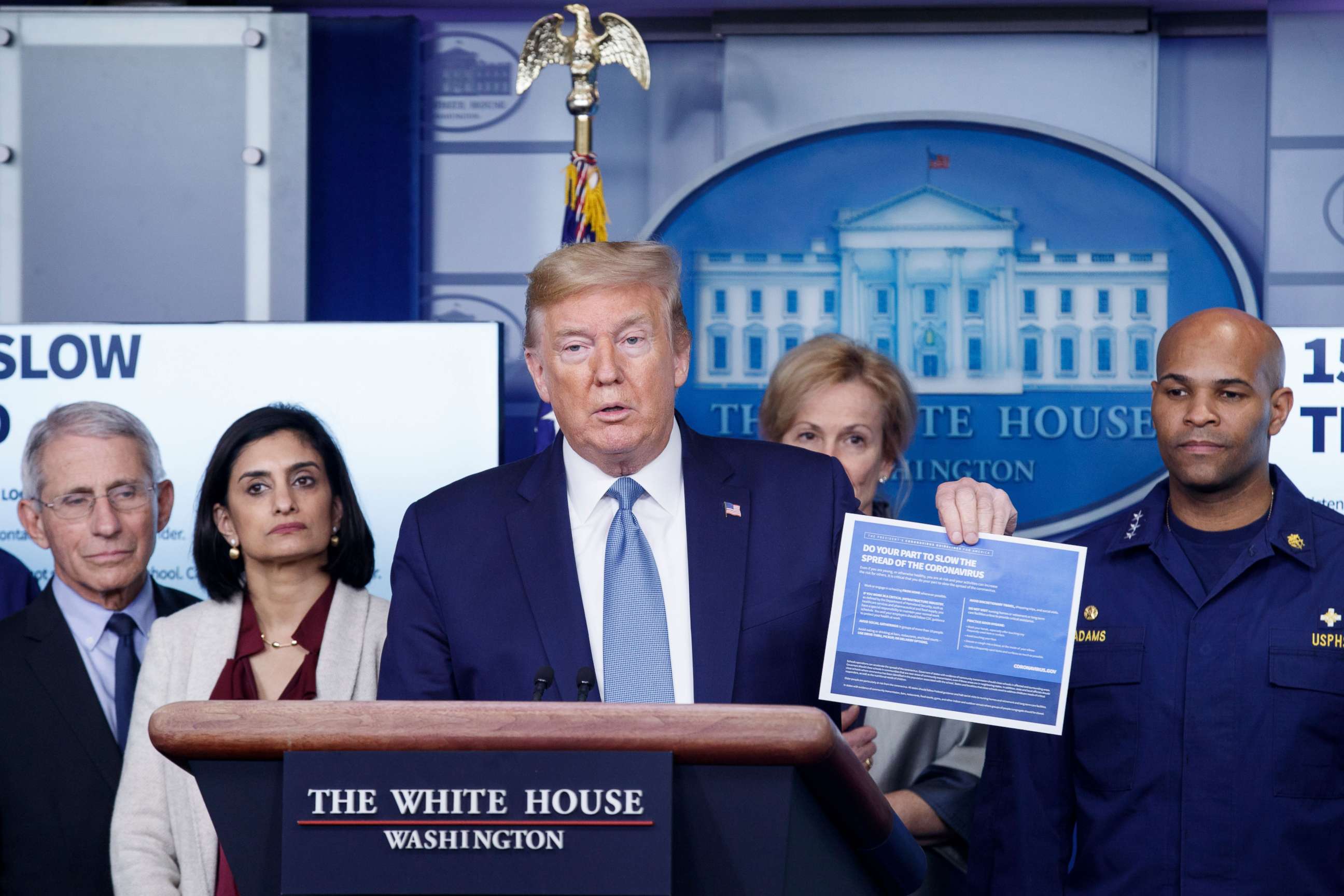 Holding up a paper with the guidelines, Trump explained that everyone needed to comply for them to slow the spread.
"It's important for the young and healthy people to understand that while they may experience milder symptoms, they can easily spread this virus and they will spread it indeed, putting countless others in harm's way," Trump said.
A reporter asked Trump "how long all of this might last" and if he had "any kind of estimate, if Americans really were to band together, do what the White House is suggesting, how quickly we can turn this corner."
Trump said that "people are talking about July, August, something like that." He said he likes to say it "washes through" but "other people don't like that term."
"It could be right in that period of time where I say it washes -- it washes through -- other people don't like that term -- but where it washes through," the president added.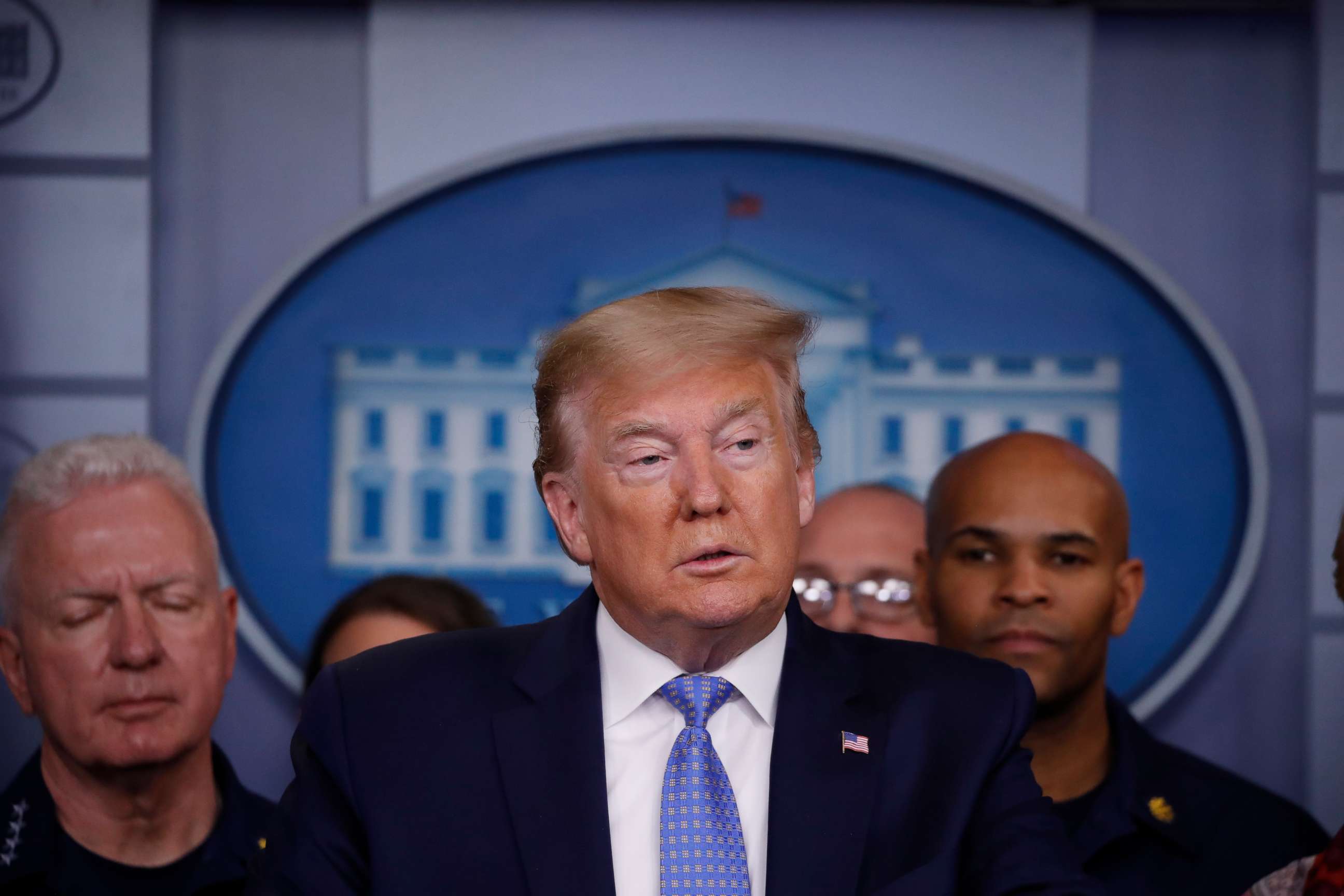 The guidelines say that "In states with evidence of community transmission, bars, restaurants, food courts, gyms, and other indoor and outdoor venues where groups of people congregate should be closed."
Asked if this was "the new normal until the height of summer," Trump replied: "We'll see what happens. But they think August, it could be July, could be longer than that."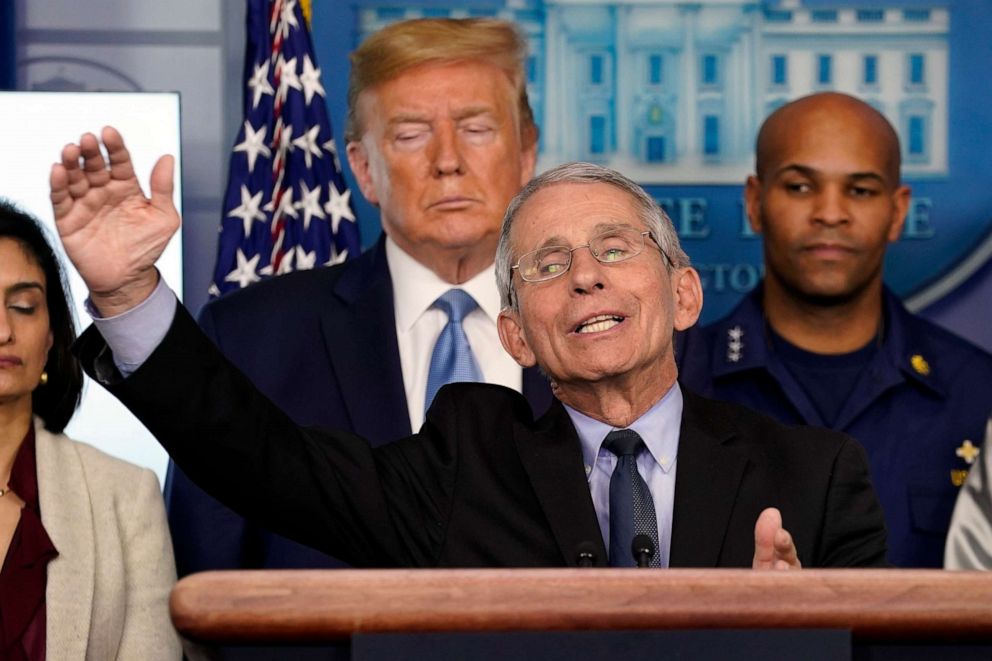 National Institute of Allergy and Infectious Diseases Director Anthony Fauci said it was important to be aggressive, but noted the new guidelines apply only to the next 15 days.
"We really want people to be separated at this time," Ambassador Deborah Birx, the White House's point person on coronavirus, said.
Trump said a nationwide quarantine was not being considered "at this point."
But he said, "We may look at certain areas, certain hot spots, as they call them."
Asked, "Are you considering instituting a nationwide lockdown, a nationwide quarantine? There are still some questions about that,' Trump then responded:
"At this point, not nationwide. But there are some, you know, places in our nation that are not very effective at all but we may, we may look at certain areas, certain hot spots as they call them. We'll be looking at that. But, at this moment, no we are not."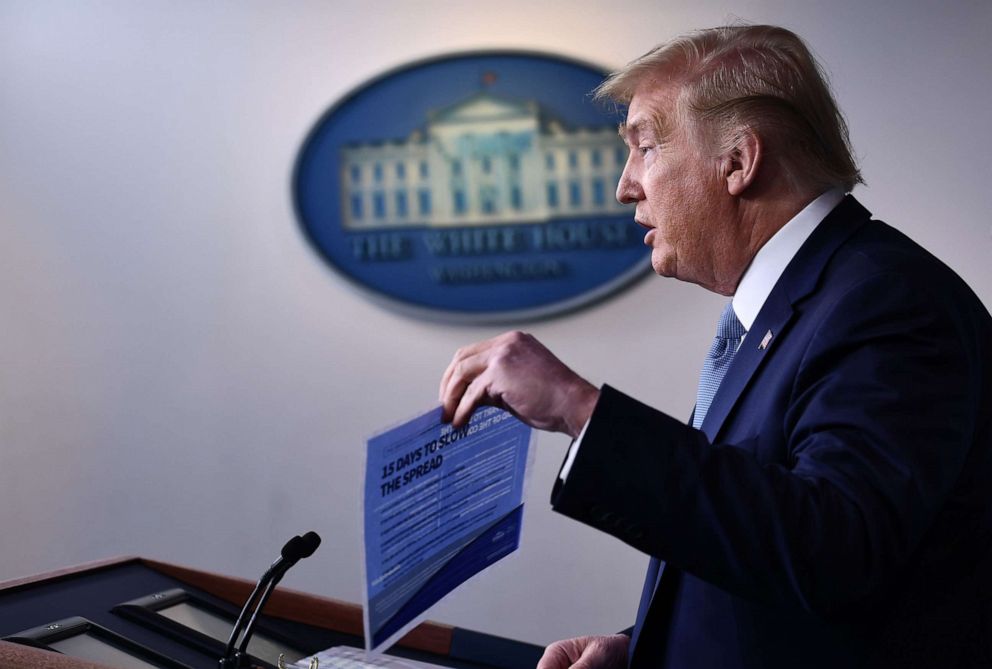 As he spoke, the Dow Jones Industrial average closed down just short of 3,000 points.
Asked if the economy is headed into a recession, Trump said, "Well, it may be."
"We're not thinking in terms of recession. We are thinking in terms of the virus," Trump said. "I think there is a tremendous pent-up demand both in terms of the stock market and in terms of the economy and once this goes away. Once it goes through and we are done with that, you're going to see a tremendous surge."
He expressed confidence that the economy will rebound with strength "once this goes away."
Labeling the coronavirus an "invisible enemy," the president said he doesn't ultimately determine what makes a recession.
"I don't, number one, determine recession. I just say this, we have an invisible enemy. We have a problem that a month ago no one ever thought about," he said.
For now, the president said his focus is on the virus, not a possible recession.
"My focus is really on getting rid of this problem, this virus problem. Once we do that, everything else is gonna fall into place,"
Asked by ABC News Senior White House Correspondent Cecilia Vega about how he's talking to his own family about the coronavirus outbreak, President Trump acknowledged that people are "very scared."
He said he's talked to his youngest son about how bad the virus is and said, "it's bad."
Trump again expressed surprise about the virus' spread but said, "hopefully it is going to be a best case, not a worst-case. That is what we are working for."
Trump confirmed a New York Times report that he told governors they should try to get things like respirators and masks on their own.
"If they can get them faster by getting them on their own -- in other words, go through a supply chain that they may have because, you know, the governors during normal times, the governors buy a lot of things -- not necessarily through federal government," Trump said.
The president was then asked how many ventilators and ICU beds the U.S. has prepared right now and if it that will be enough. He did not have a number.
"I could get back to you with that number," Trump said. "We have ordered a lot, we have quite a few but it may not be enough. And if it's not enough, we will have it by the time we need it. Hopefully we won't need them."
The administration's response has been widely criticized, from slow testing rates to mixed messaging from the president himself. But Trump said he would give his response a 10 out of 10.
"I would rate it at 10," Trump said. "I think we've done a great job."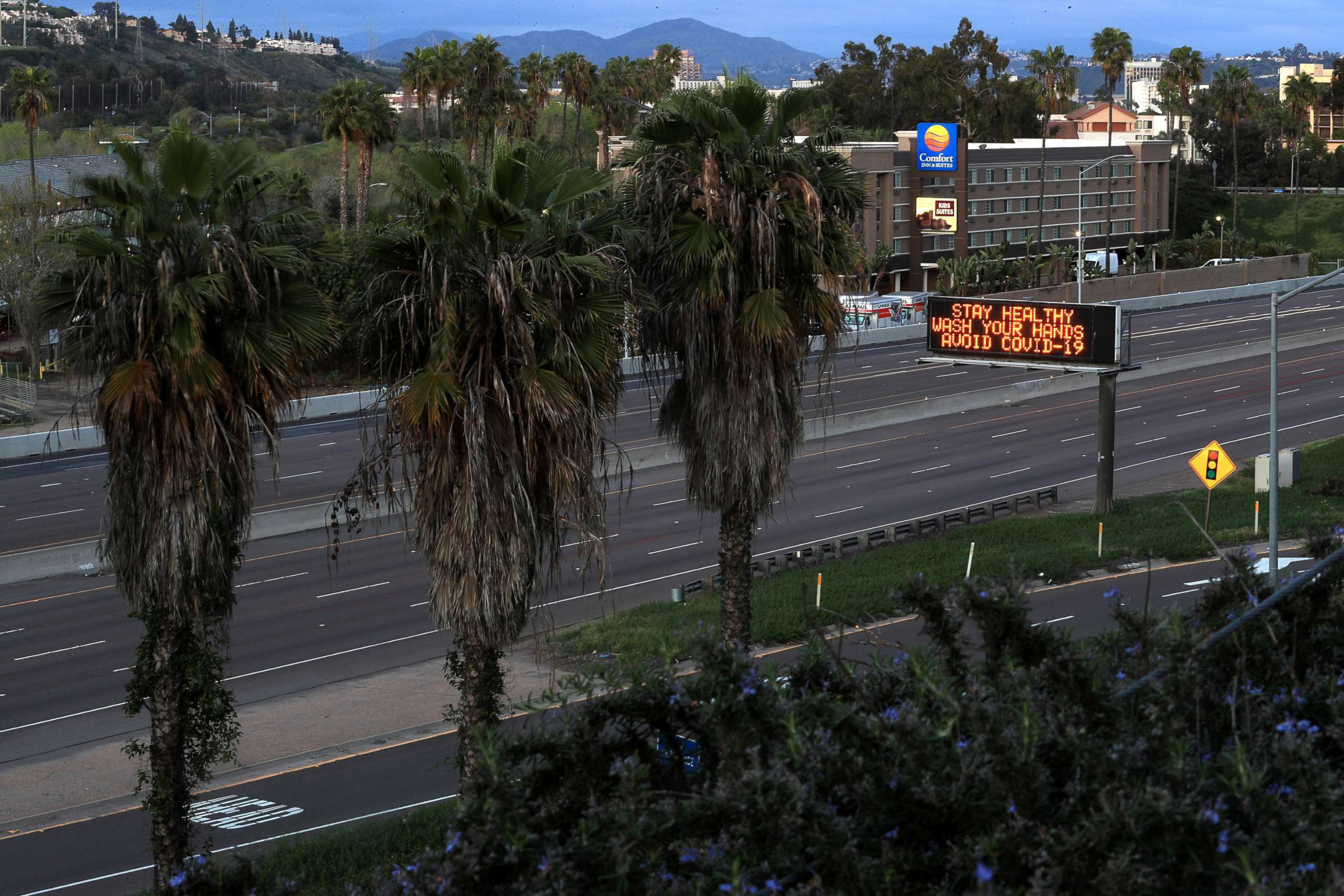 Tune into ABC News Live at noon EDT every weekday for the latest news, context and analysis on the novel coronavirus, with the full ABC News team where we will try to answer your questions about the virus.
Here are Monday's most significant developments in Washington:
President Trump and the coronavirus task force issue new, stricter guidelines
Senate reconvenes with the goal of approving -- at some point this week -- the House-passed economic relief bill
Trump had video teleconference with governors on partnership to prepare and respond to COVID-19
He also had video teleconference with G7 leaders on coordinated action amid global outbreak
Barr tells AGs to prioritize scammers looking to exploit the COVID-19 crisis
Attorney General Bill Barr sent a memo to U.S. Attorneys offices around the country Monday evening, urging them to prioritize prosecutions of scammers, fraudsters and cyber criminals looking to exploit the COVID-19 crisis.
"The pandemic is dangerous enough without wrongdoers seeking to profit from public panic and this sort of conduct cannot be tolerated," Barr said in the memo. "Every U.S. attorney's office is thus hereby directed to prioritize the detection, investigation, and prosecution of all criminal conduct related to the current pandemic."
Barr's memo also asks the U.S. attorneys to work with the chief judges in their individual district "to ensure that every appropriate precaution is taken to protect the health of those who practice in or are called before our courts."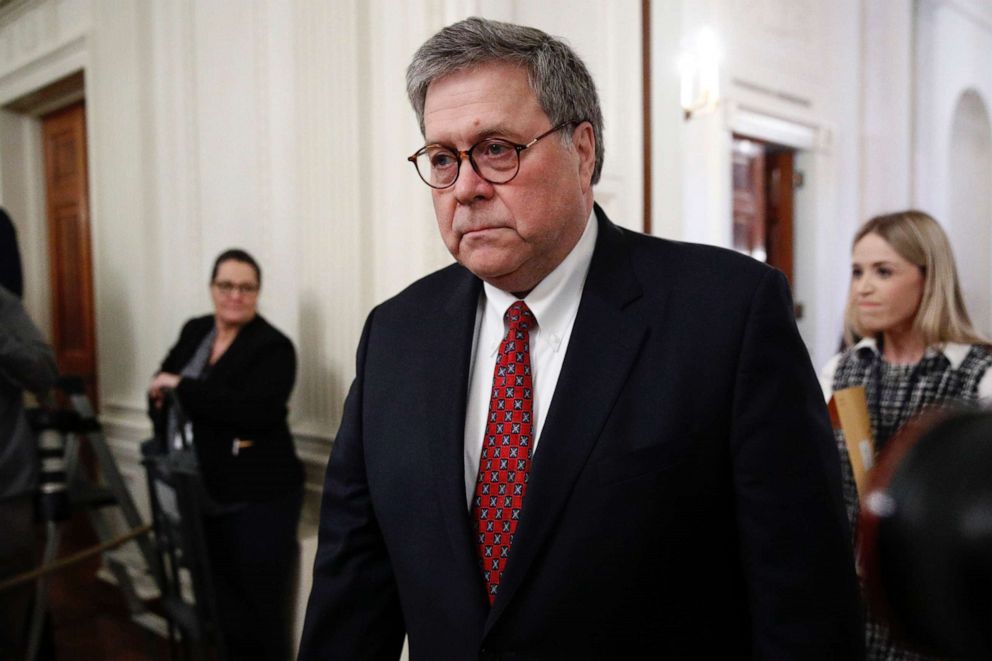 Families First Coronavirus Response Act stuck in the House
The Senate reconvened in the afternoon with the goal of approving -- at some point this week -- the House-passed economic relief bill, which lawmakers have said will help American workers feeling the impact of the coronavirus pandemic.
But the bill's path to the Senate is now delayed: due to a technical glitch, the House will have to pass the bill for a second time at some point this week by a voice vote.
Several sources confirmed to ABC News that the legislation could face some hurdles once the bill reaches the Senate.
After tweeting his full support for the House bill on Friday, Trump told reporters on Monday afternoon that he now supports making changes.
"They are working to only enhance it, and make it better. And make it fair for everybody and that's what we are looking to do. So we may go back and forth with the House a little bit but both will be in a very positive fashion," Trump said.
White House press secretary and outgoing chief of staff in quarantine
White House press secretary Stephanie Grisham is working from home after being in contact with a delegation from Brazil last week. A person familiar with the situation described it as out of an "abundance of caution," and Grisham says she's "feeling great and looking forward to returning to the White House."
Grisham confirmed to ABC News that acting chief of staff Mick Mulvaney is also currently under voluntary self-isolation and teleworking, "out of an abundance of caution" after his niece had contact with a Brazilian official who tested positive for COVID-19.
USDA staffer tests positive for coronavirus, agency shuts down wing of HQ for cleaning
An employee of the U.S. Department of Agriculture in Washington, D.C. has tested positive for COVID-19, the agency notified staff in an email Sunday night.
The USDA has closed the wing of the second floor where the employee works, and all other workers in the area have begun teleworking, according to the email obtained by ABC News.
"This is to ensure the health and safety of our employees while continuing the effectiveness of our Department's mission," Deputy Secretary Stephen Censky wrote in an email to department staff. "We have requested that the office suite and affected bathroom be closed and deep cleaned in accordance with CDC guidance."
The UDSA joins a growing list of government agencies that have resorted to teleworking amid the coronavirus outbreak.
Weekend roundup: CDC releases new guidelines, Fed slashes interest rates
Late Sunday, the Centers for Disease Control and Prevention released new guidance recommending that, for the next eight weeks, "large events and mass gatherings" that draw 50 or more people should be canceled or postponed, excluding those at more critical institutions like businesses, schools and institutions of higher learning. Such types of events include "conferences, festivals, parades, concerts, sporting events, weddings, and other types of assemblies," the CDC said.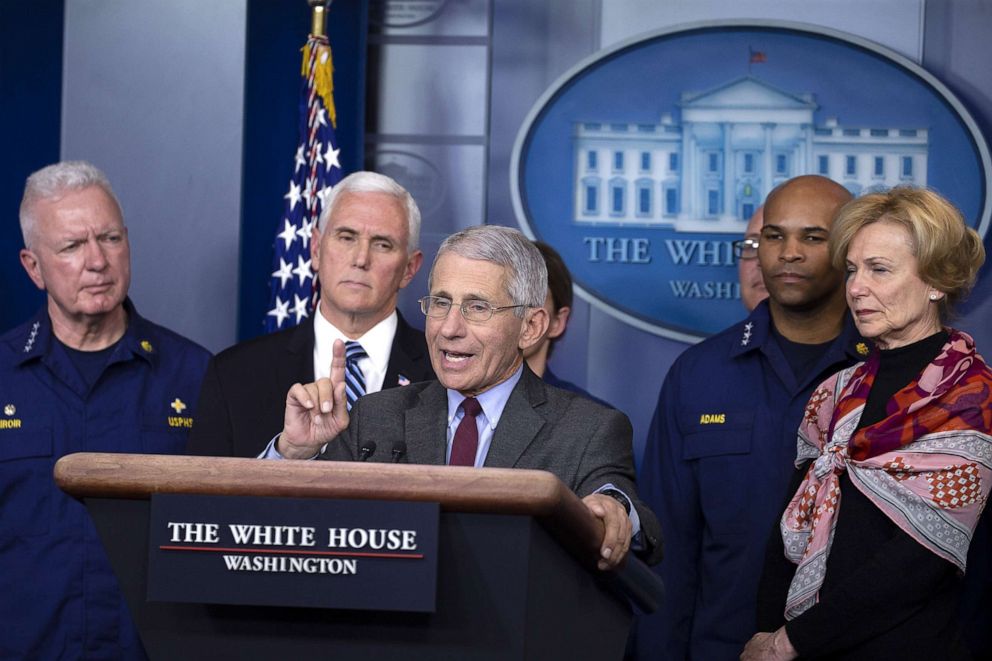 On Monday morning, officials denied a CNN report that the administration had been discussing encouraging a "curfew" for non-essential businesses across the country. White House deputy press secretary Judd Deere called the story "not true," while the vice president's press secretary, Katie Miller, said it was "not correct."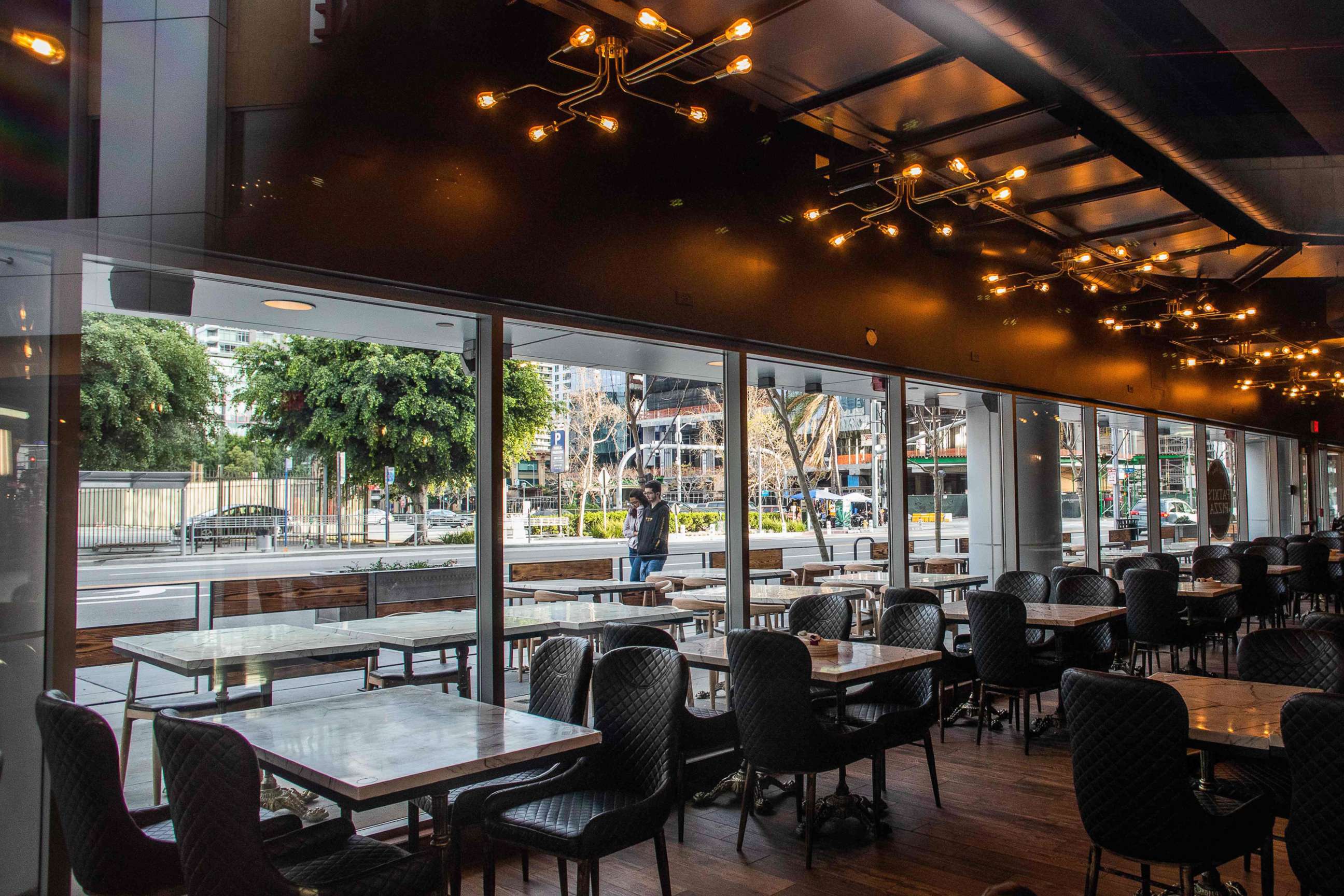 The Federal Reserve on Sunday announced that it was slashing interest rates to near zero and announced $700 billion in quantitative easing program, but that did not prevent trading on Wall Street from being temporarily halted soon after markets opened amid the worldwide ripple effect of the coronavirus outbreak.
Over the course of his presidency, Trump has repeatedly called for the Federal Reserve to cut rates and had been effusive in his praise of the move Sunday.
He has also repeatedly cited stock market gains as he pitches his reelection, but he was silent Monday morning as the markets plummeted.
Kudlow, the economic adviser, declined to directly say whether he believed the economy was heading into a recession.
"We are going to be challenged, no question about it," Kudlow said. "I don't need to have labels on this, we'll take it one step at a time."
Meanwhile, Trump and Pence had promised that Google would soon finish a website that anyone in the country could visit, input their symptoms, and find out if they needed to be tested for the coronavirus. If the answer was yes, they said, the website would tell them where to go.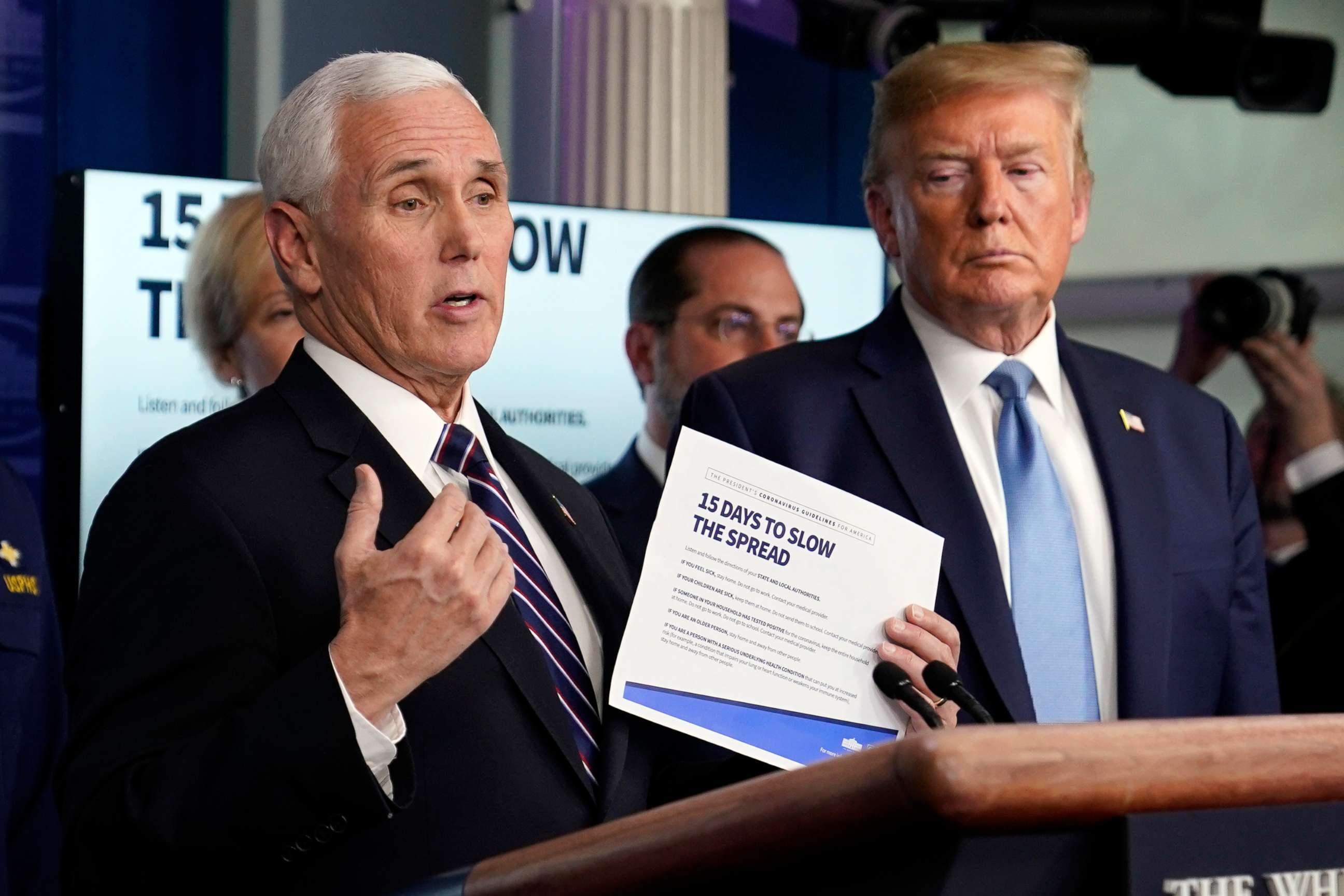 Pence, on Friday and Saturday, promised a "specific" timeline for the site by Sunday evening.
But it immediately became clear that they wildly misrepresented what Google was actually doing.
In reality, a research arm of Google's parent company, Verily, said later that day it was "in the early stages of development" of such a site, that it would be rolled out in the San Francisco Bay Area and that the company had the "hope of expanding more broadly over time."
Google said Sunday it was pushing out information from the CDC and the World Health Organization via the Google homepage, and that it was "partnering with the U.S. government in developing a website dedicated to COVID-19 education, prevention, and local resources nationwide."
It said that website -- whose description did not include the interactive features previewed by the White House -- would come late Monday.
Even so, as late as Sunday evening, Pence was still promising the interactive site would be coming "at some point, early in the week."
ABC News' Benjamin Siegel, Alexander Mallin, Devin Dwyer and Libby Cathey contributed to this report.