Three women, all out-of-state tourists, were killed and four people were injured in the second mass shooting to erupt in Los Angeles County in eight days -- the sixth in California this month, according to police.
The latest shooting occurred Saturday in the upscale Beverly Crest neighborhood of Los Angeles, bordering Beverly Hills.
The mass-casualty shooting unfolded around 2:30 a.m. when police received multiple 911 calls of a shooting in progress at a short-term luxury rental home, according to the Los Angeles Police Department.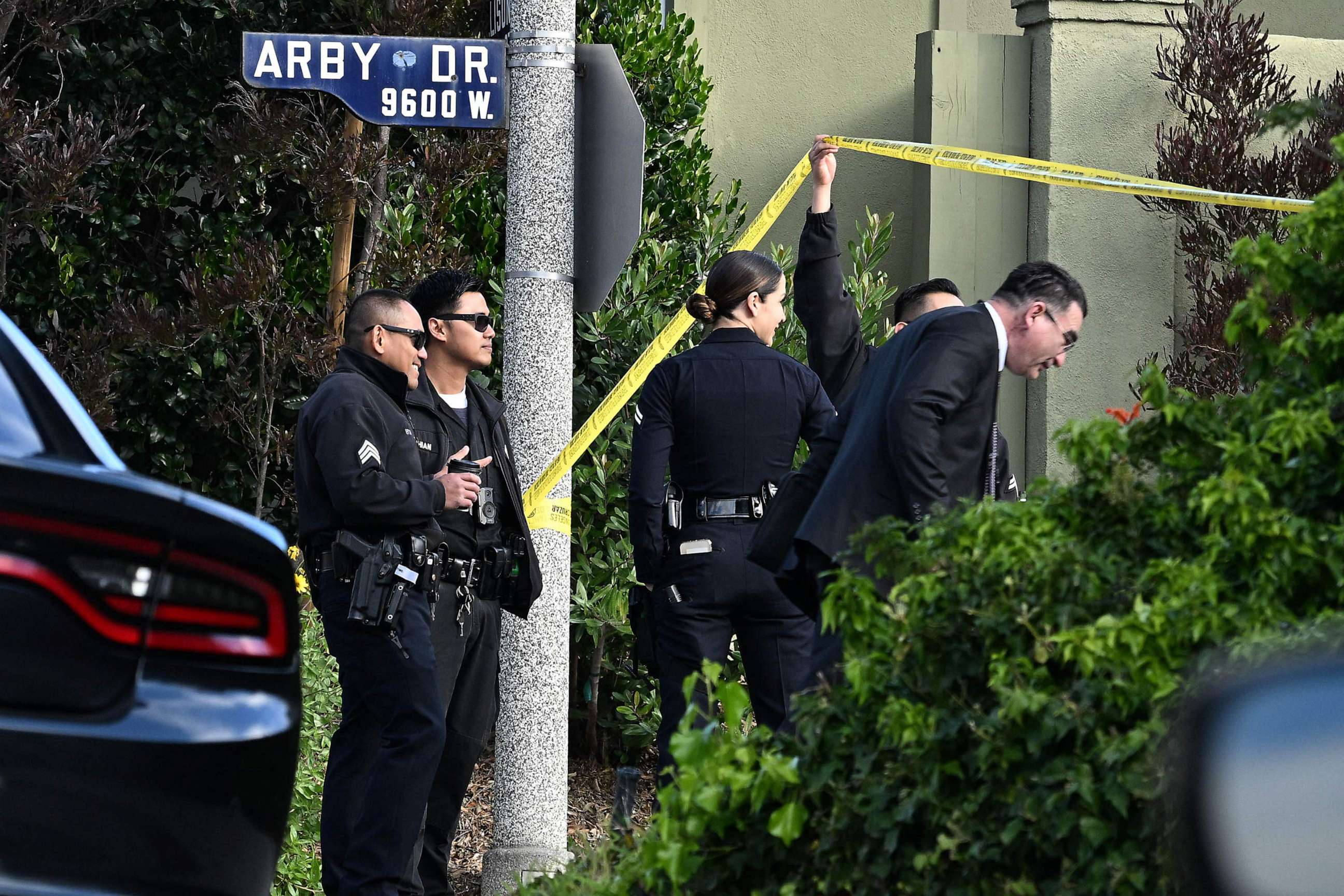 A senior LAPD source told ABC News that the three women killed were found in a car outside of the rental home. Two wounded individuals were located nearby and two others were taken to area hospitals in private vehicles, police said.
Those killed were identified by the Los Angeles County Medical Examiner's Office as Iyana Hutton, 33, of Chicago; Nenah Davis, 29, of Bolingbrook, a suburban Chicago village; and Destiny Sims, 26, of Buckeye, Arizona.
Multiple law enforcement sources told ABC News that investigators believe the episode was a targeted attack and suspect it occurred during a party or some sort of social gathering underway in a home.
Sgt. Bruce Borihanh, a spokesperson for the Los Angeles Police Department, said at a news conference that the shooting occurred outside the rental home.
Two of the injured victims were in critical condition, police said.
No arrests were immediately announced.
A motive for the shooting remains under investigation.
"We're still interviewing additional occupants, as well as witnesses and neighbors, to try to piece together exactly what happened here," Borihanh said. "Investigators are also going door to door and looking for additional surveillance video, or any evidence that could help us."
The Beverly Crest shooting came just eight days after a Jan. 21 mass shooting in the Los Angeles County city of Monterey Park, where 12 people were fatally shot at a dance studio allegedly by a 72-year-old man, who died from an apparent self-inflicted gunshot wound when police cornered him in a van in Torrance, California.
The two Los Angeles County mass shootings are among six that have occurred in California since Jan. 16, when six people, including a teenage mother and her baby, were found fatally shot at a home in Goshen, a semi-rural area in the state's San Joaquin Valley. The Tulare County Sheriff's Department, which has yet to announce any arrests, said the shooting appeared to be a targeted attack by two gunmen possibly connected to a drug cartel.
A day after Monterey Park rampage, a 66-year-old farmworker allegedly shot and killed seven co-workers and injured one in what authorities said was a workplace shooting at two mushroom growing farms in the Northern California city of Half Moon Bay. The suspect, Chunli Zhao, was arrested and charged with seven counts of murder, one count of attempted murder, firearm use enhancements and a count of special circumstance allegation of multiple murders.
Just hours after the Half Moon Bay shooting, five people were shot, one fatally, in Oakland, California, in what police described as a "targeted" and possibly gang-related attack during the filming of a music video at a gas station.
And on Friday night in San Diego, four people were shot, one fatally, in two shooting incidents that occurred several miles apart and allegedly committed by the same suspect, according to the San Diego Police Department.
The first shooting occurred around 8:26 p.m. in San Diego's Encanto neighborhood, where police found two 15-year-old boys suffering from gunshot wounds, officials said. They were taken to an area hospital and are expected to survive, police said.
About 49 minutes later, two men were found shot, one fatally, several miles from the Encanto neighborhood, authorities said.
"After both of these shootings, officers received a detailed physical description of the suspect and his vehicle, and it became apparent these shootings were likely related," police said in a statement. "Officers saturated the area in an effort to locate the suspect before additional acts of violence could occur."
The suspect was located and arrested after police initiated a "high-risk" traffic stop on a vehicle witnesses saw leaving the scene of at least one of the shootings, officials said. The suspect was identified as 22-year-old Jaime Gonzalez, who was jailed of murder and attempted murder, according to police. He was also arrested gun-related charge stemming from a semi-automatic 9mm handgun found in his car that appeared to be an untraceable "ghost gun," police said.
Nationwide, there have been 48 mass shootings in the first month of 2023, according to the Gun Violence Archive, a website that tracks shootings nationwide.