China increases Wuhan coronavirus death toll by 50%
China added 1,290 deaths, revising its numbers for Wuhan.
More than 2.2 million people have been diagnosed with the novel coronavirus worldwide as the spread of the virus continues.
The global coronavirus death toll stands at more than 153,000 people, according to data compiled by the Center for Systems Science and Engineering at Johns Hopkins University. The actual numbers, however, are believed to be much higher.
Many cities and states have begun counting probable deaths caused by COVID-19, including New York City, the epicenter of the disease in the United States.
The U.S. has more cases and deaths than any other country in the world, with over 692,000 diagnosed cases and at least 36,721 deaths.
Today's biggest developments:
Wuhan death toll increases 50%
More African Americans have died in NYC than any other group
NJ reports 1,530 deaths at longterm care facilities
Here's how the news is developing today. All times Eastern. Please refresh this page for updates.
7:41 p.m.: Connecticut postpones its primary -- again
Connecticut Gov. Ned Lamont announced today that he is further postponing the state's presidential primary until Aug. 11, just six days before the Democratic National Convention is set to take place.
This is the second time Connecticut moved its contest, which was initially scheduled for April 28, then June 2, due to the coronavirus crisis.
Aug. 11 is the same day as the state's down ballot primaries. Connecticut is now the third state to move twice, along with Georgia and Louisiana.
5:57 p.m.: 4 more deaths reported at Massachusetts veterans home
The Massachusetts Office of Health and Human Services has announced that 56 veteran residents from the Holyoke Soldiers' Home have now died, up by four deaths from yesterday. Forty-seven of the deceased residents have tested positive for COVID-19, seven have tested negative, one test is pending and one death remains undetermined.
Also, 92 other veteran residents, and 81 employees have tested positive for the virus.
Last week, federal prosecutors in Boston launched an investigation into whether the facility violated the civil rights of the residents by failing to provide them with proper care during the pandemic.
Today, the office of Health and Human Services also announced that in the wake of the influx of COVID-19 related deaths at the Holyoke Soldiers' Home, the Massachusetts Office of Inspector General Glenn A. Cunha will expand an ongoing investigation into the facility. An initial investigation into the facility was launched on Jan. 30.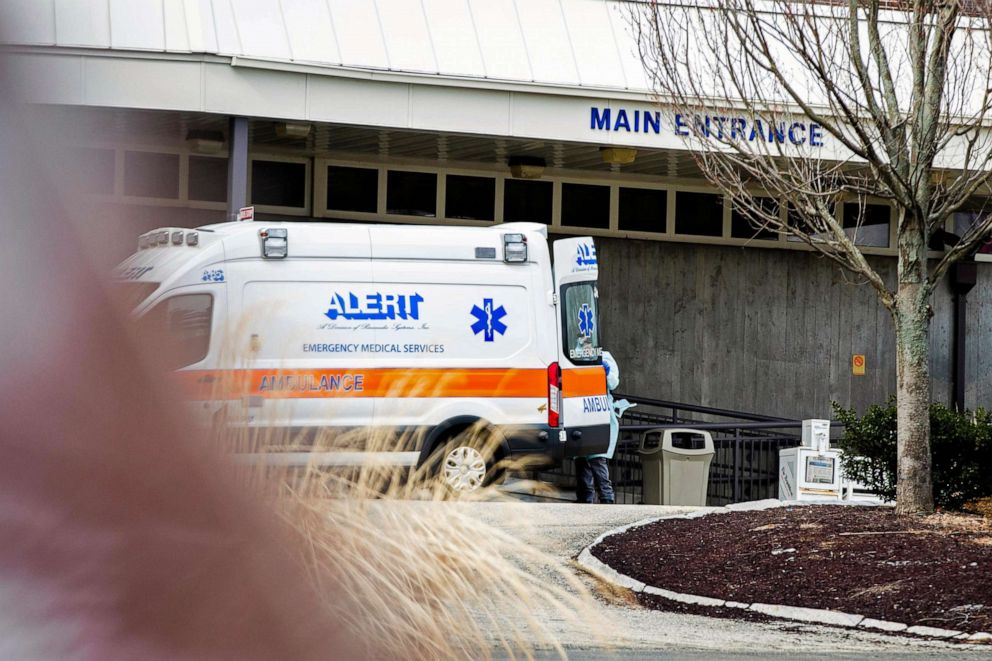 5:14 p.m.: Edwards urges caution in reopening Louisiana
Louisiana Gov. John Bel Edwards gave an update on COVID-19 in the state of Louisiana Friday and sounded a more hesitant tone in driving to reopen the economy for the hard-hit state.
On President Donald Trump's guidelines for reopening up the state's economy, Edwards said, "It's not a one-size-fits-all, because not every state has similarly been impacted. Not every state has the same capabilities and so forth."
However, later during the press conference Edwards said he is hopeful that his state will get there by May 1.
"I really can't tell you whether in two weeks, on May 1 , we actually get to phase one or not, I hope that we do," he said.
Louisiana announced the state now has 23,118 cases and 1,213 deaths, an increase of 57 from the day before. The state has the fifth-highest death toll in the country.
"We're not going to be successful reopening the economy if the cases spike again and get out of control and we can't deliver health care to the people who are going to need it," Edwards said. "And in fact, that will be worse than if we take this slower. And so, we need people to cooperate with us in order to make sure that we are successful, and we can get the businesses back open as soon as possible."
4:50 p.m.: In Massachusetts, half of deaths are at long-term care facilities
The elderly are among the most at-risk of dying from COVID-19 and states from New Jersey to New York have seen deadly coronavirus outbreaks at nursing homes.
In Massachusetts, 702 of the state's 1,404 coronavirus-related deaths -- a staggering 50% -- occurred in long-term care facilities.
With 159 deaths in the last 24 hours, Massachusetts is experiencing its deadliest day from COVID-19 since the start of the pandemic.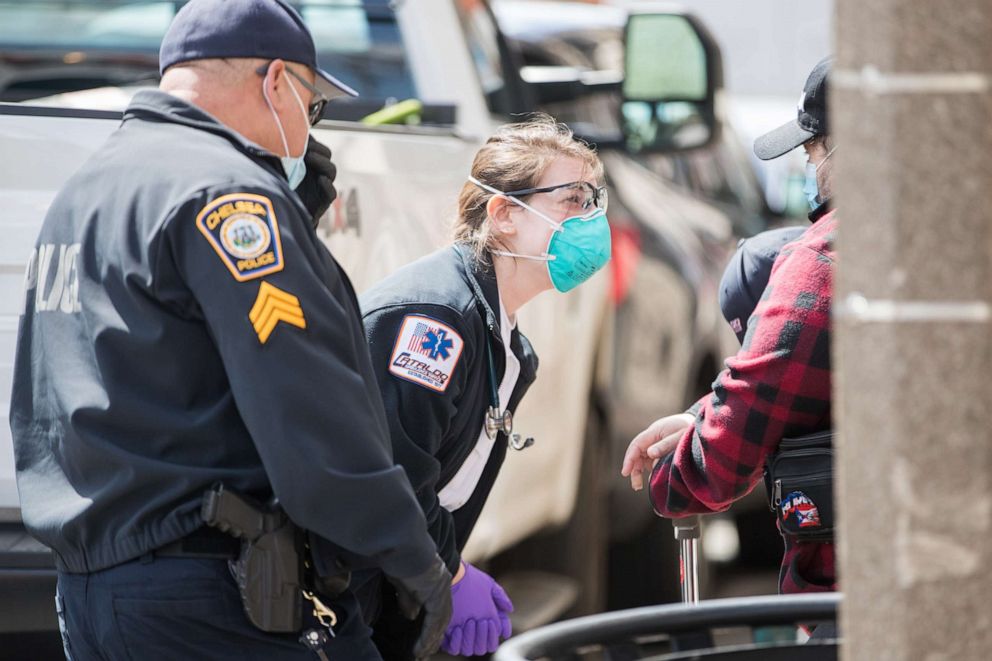 Gov. Charlie Baker said Friday that the state will only reopen when it is safe for all residents to return to normal life.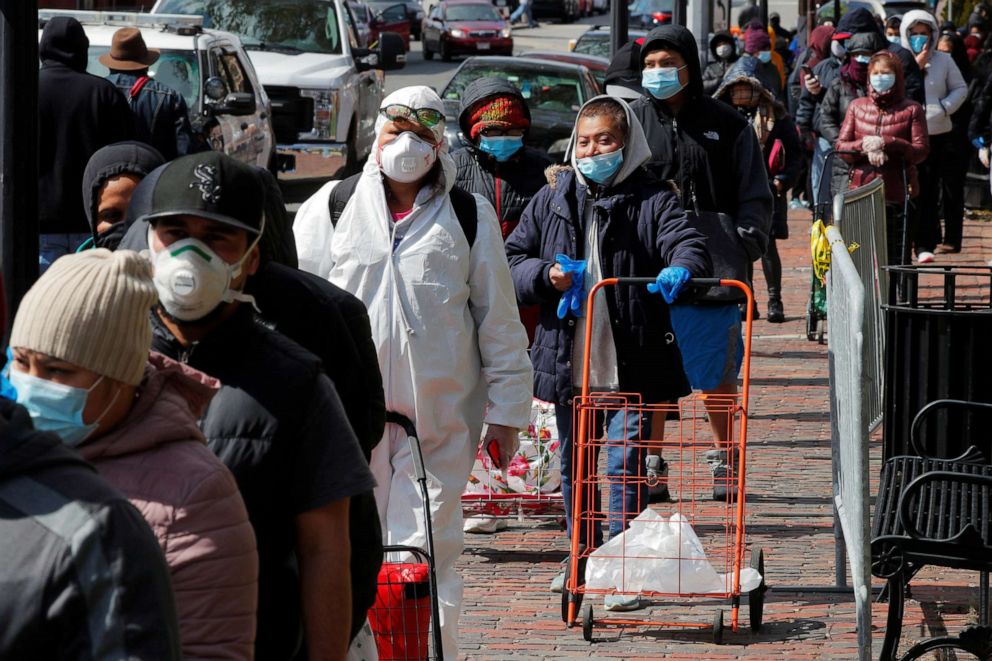 Tune into ABC at 1 p.m. ET and ABC News Live at 4 p.m. ET every weekday for special coverage of the novel coronavirus with the full ABC News team, including the latest news, context and analysis.
3:30 p.m.: 80 California leaders form economy advisory panel
In the last 24 hours, 95 Californians have died from the coronavirus -- the state's highest daily death toll by far.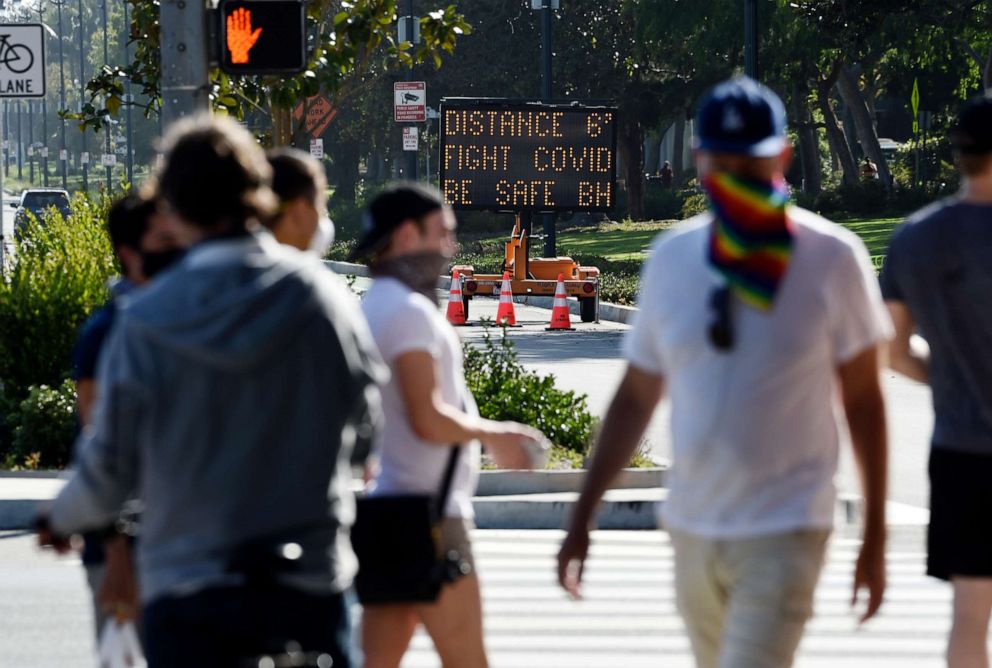 The death toll has now reached 985.
Since March 12, over 3 million people in California filed for unemployment. Gov. Gavin Newsom said California is now in a "pandemic-induced recession."
Eighty California leaders -- including Disney Executive Chairman Bob Iger and the state's former governors -- are forming an advisory panel to "work through each and every sector of our economy to put together tangible, actionable ideas for short-term, medium and long-term economic recovery," Newsom said Friday.
2:30 p.m.: NJ reports 1,530 deaths at long-term care facilities
New Jersey's COVID-19 death toll has now reached 3,840 -- more than five times the number of New Jersey residents who died on Sept. 11, Gov. Phil Murphy said Friday.
Over 78,000 people have been diagnosed in the state.
New Jersey is among the states experiencing deadly coronavirus outbreaks at nursing homes.
The state's long-term care facilities are reporting 9,094 cases and 1,530 deaths.
Nursing home deaths now account for 40% of all COVID-19 deaths in New Jersey.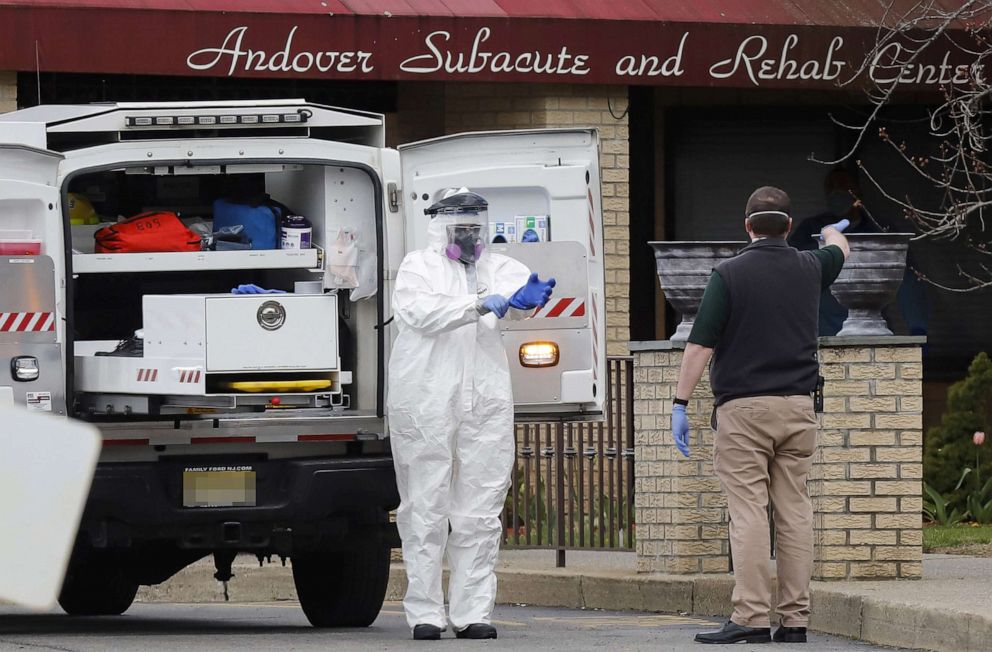 New Jersey schools are closed and operating by remote learning until at least May 15. Asked if students would be instructed to wear masks when back at school, Murphy told reporters, "I would bet the answer is yes."
Murphy also announced that New Jersey is the first state to allow the attorney general's office to issue temporary emergency licenses to foreign-licensed physicians.
2:05 p.m.: Texas governor announces plan to reopen
In Texas -- where 428 have died and 1,522 patients are hospitalized -- Gov. Greg Abbott on Friday announced his plan for reopening the state.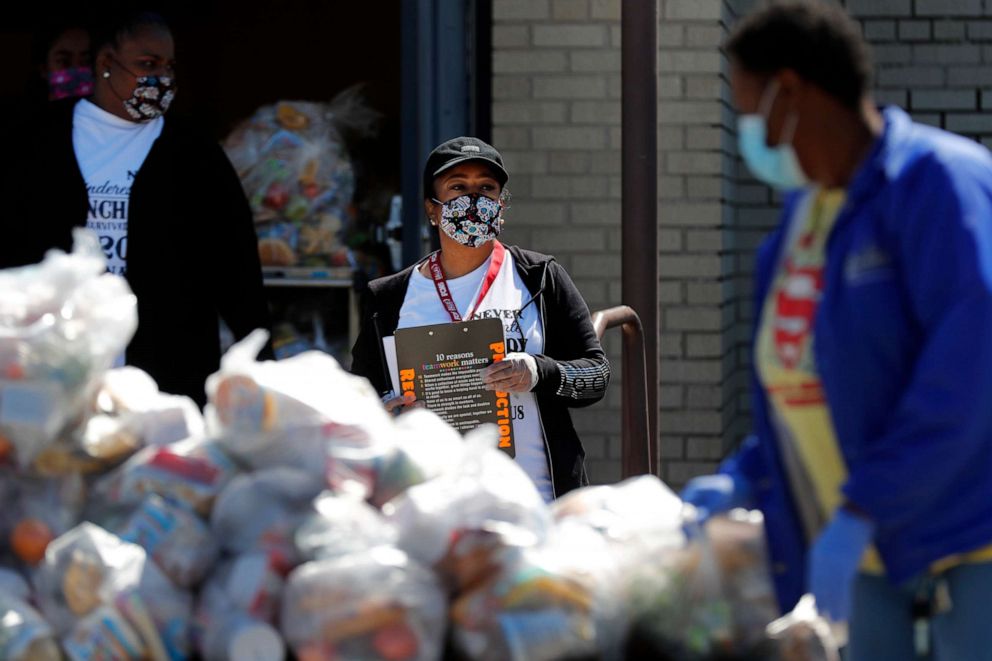 On April 20, state parks will reopen, but visitors must wear face masks and cannot gather in groups larger than five.
On April 22, retailers will be permitted to open as "to-go" businesses -- without shoppers going inside.
The restriction on elective medical procedures will also end on April 22.
Texas' schools and colleges will remain closed for the rest of the school year.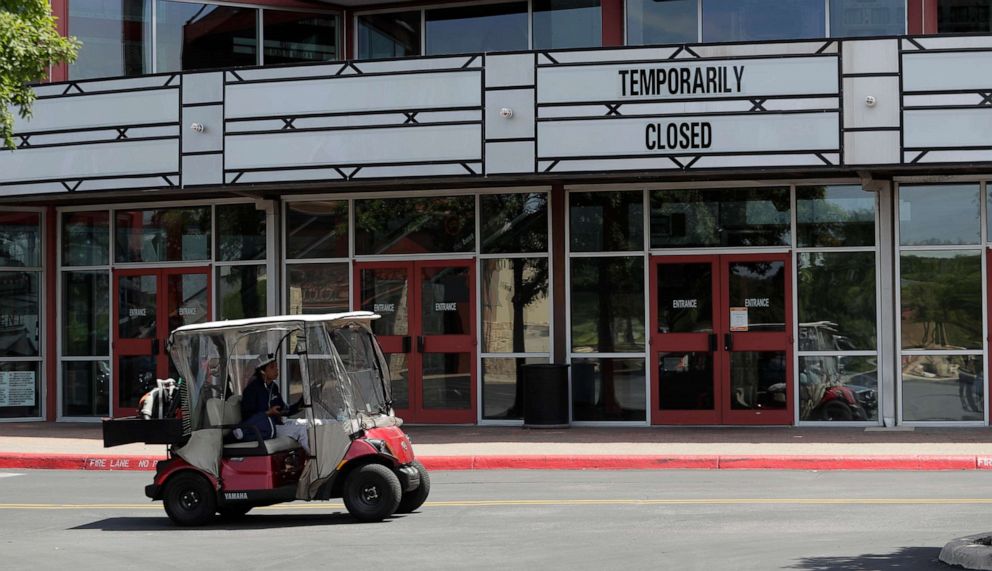 1:25 p.m.: DC public schools will remain closed for rest of academic year
In the nation's capital, public schools will stay closed for the rest of the school year and continue with remote learning.
Schools will close three weeks early, ending remote classes on May 29 instead of the initial end date of June 19, Mayor Muriel Bowser announced Friday.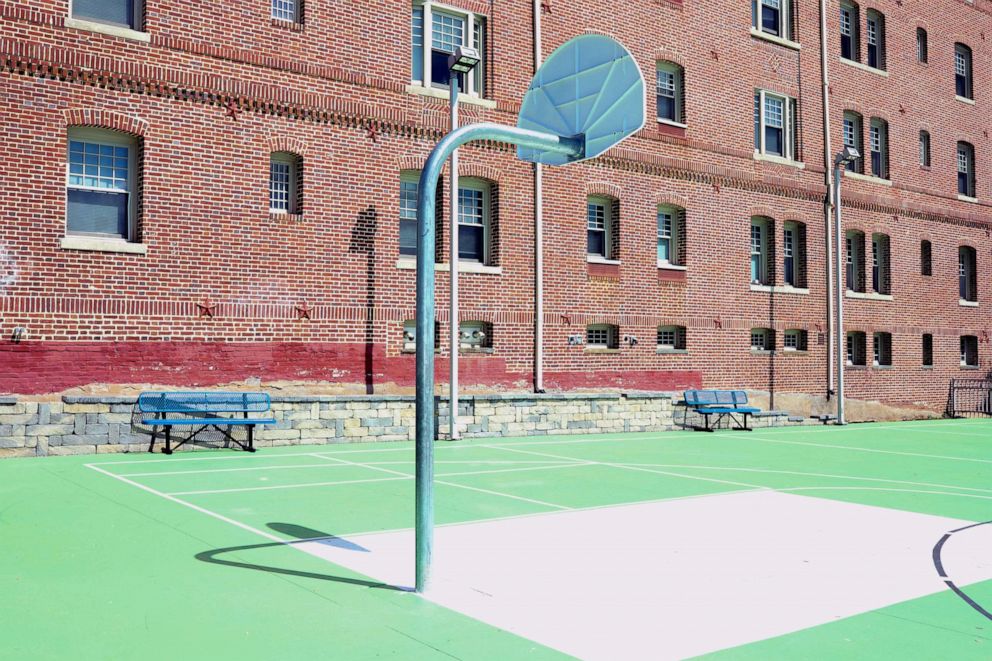 Bowser said officials are weighing whether to begin the 2020-2021 academic year three weeks early to make up for lost learning time.
1 p.m.: 10 different NY nursing homes report high numbers of dead
In New York state, 10 different nursing homes each have least 30 confirmed coronavirus deaths, according to data released Friday by the state health department.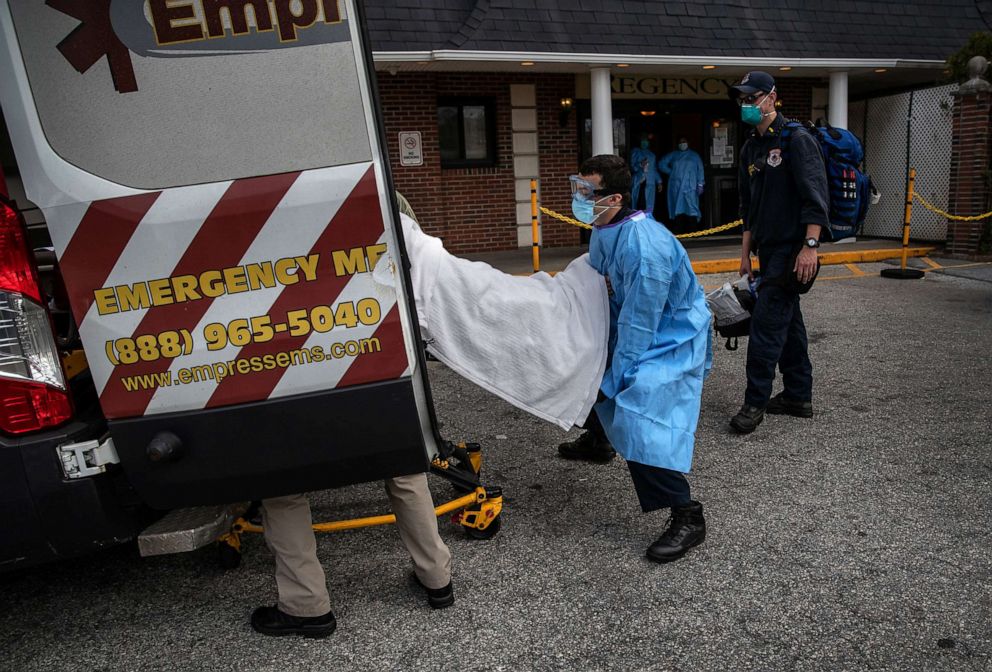 The facilities with the highest number of fatalities are the Cobble Hill Health Center in Brooklyn with 55 deaths, followed by the Kings Harbor Multicare Center in the Bronx with 45 deaths. Two facilities reported 44 deaths each.
As of Tuesday, at least 2,477 nursing home patients had- been killed by the coronavirus in New York, according to state figures. That amounts to about one in five of the state's virus-related fatalities.
12:35 p.m.: More African Americans have died in NYC than any other group
The coronavirus has had a disproportionate impact on minority communities across the country and New York City is no exception.
Two-thousand African Americans have died or are thought to have died from COVID-19 in New York City, the highest figure for any racial group, according to data released Friday by the New York City Health Department.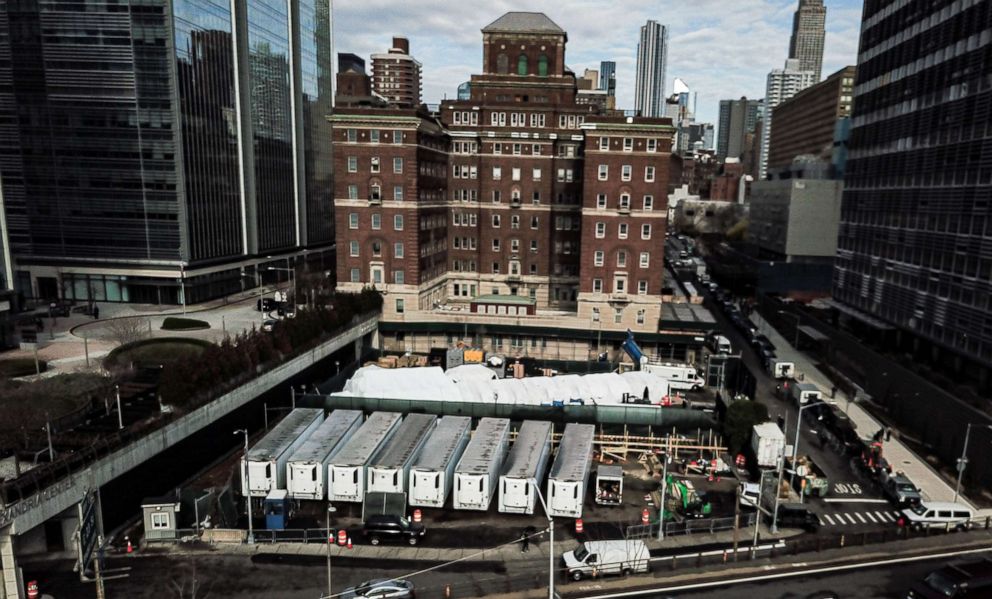 African Americans are more than twice as likely as whites to have non-fatal hospitalizations from coronavirus and twice as likely to die, the data show.
The disparity reflected what Mayor Bill de Blasio has called "clear inequalities" in how the virus is affecting the city.
The first three of five city-run, walk-in testing sites opened Friday in Brooklyn, the Bronx and Staten Island, targeting neighborhoods where the virus has been particularly deadly. Two other testing sites, one in Manhattan and one in Queens, will open Monday.
The city has also started a multi-lingual information campaign targeting 88 zip codes where the impact has been disproportionately high.
12:12 p.m.: Cuomo issues exec. order directing private, public labs to prioritize diagnostic testing
In New York -- the hardest-hit state -- 630 people lost their lives on Thursday, including 40 at nursing homes, said Gov. Andrew Cuomo.
The state's total number of hospitalizations, however, have "ticked" down.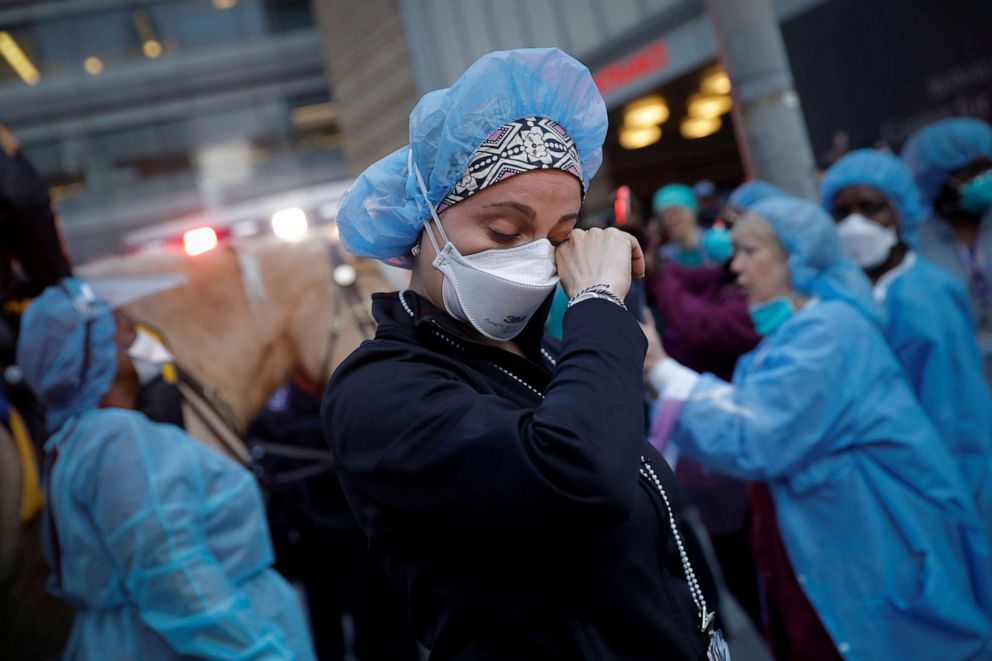 Cuomo called testing and tracing the key, but said there isn't a testing system to manage the volume. He said a federal partnership is necessary.
The governor said he's issuing an executive order directing all of New York's public and private labs to coordinate with the state's department of health to "ensure prioritizing diagnostic testing for public health and restarting the economy."
Cuomo also said it's important that New Yorkers learn from this experience and change for the better once the state reopens, just as New York changed after Sept. 11 and Hurricane Sandy.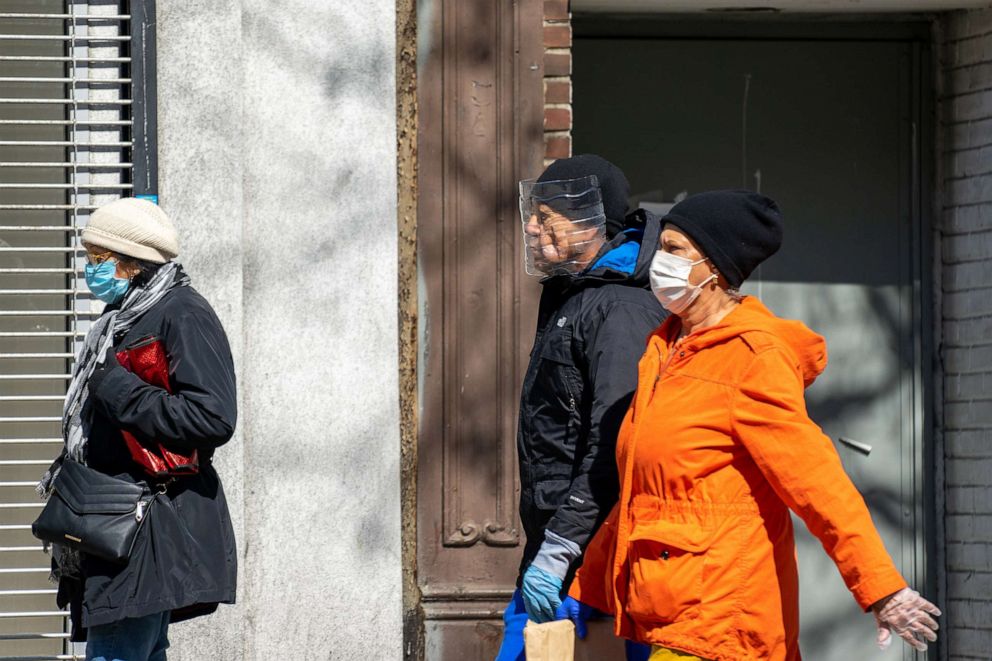 As Cuomo held his Friday news conference, President Donald Trump tweeted, "Cuomo should spend more time 'doing' and less time 'complaining.' Get out there and get the job done. Stop talking!"
Trump went on, "We built you thousands of hospital beds that you didn't need or use, gave large numbers of Ventilators that you should have had, and helped you with testing that you should be doing."
In response to the president, Cuomo said at his briefing, "Let's keep emotion and politics out of this and personal ego, if we can."
Cuomo said Trump was "disrespectful" in dismissing the 800 people who were patients at the Javits Center and pointed out the federal government agreed with the need for hospital beds. New York's projection for ventilators was also based on Trump's and the CDC's projections, he noted.
"I thought New York state relying on what you said would have been a safe assumption. I will not make that mistake again," Cuomo said.
Cuomo also got personal at Friday's news conference, opening up about how the coronavirus crisis opened his eyes to his "superficial" interactions with his daughters over the last few years.
"Now I've got time to sit with them and really have in-depth conversations I hadn't had in a long time," Cuomo said. "I was missing a lot ... they're grown up, they have complex lives and feelings and situations ... they don't open up in a four-minute conversation."
"There's a whole situation, nuance, frankly, I had been oblivious to," Cuomo said. "I'm not going to let that happen again."
11:30 a.m.: Mississippi now allowing 'safe sales' by non-essential businesses
Mississippi Gov. Tate Reeves on Friday said non-essential businesses like clothing stores, florists and athletic shops can reopen with curbside, delivery or drive-thru sales.
Reeves said he hopes this will allow more residents to keep an income and prevent overcrowding at big stores.
"If a salon or other business wants to safely sell their excess supplies to stay afloat, they can do that," Reeves said. "Call ahead or order online, then safely pick it up. I wish I could open it all back up for everyone. I can't do it without harming even more people. But we believe that we can safely do this."
Reeves also on Friday extended the statewide shelter-in-place by seven days to April 27.
The state's lakes and beaches can also reopen.
10:15 a.m.: NYC cancels all non-essential events in May
In hard-hit New York City, all non-essential permitted events in May are canceled, including concerts, parades and large gatherings, New York City Mayor de Blasio said Friday.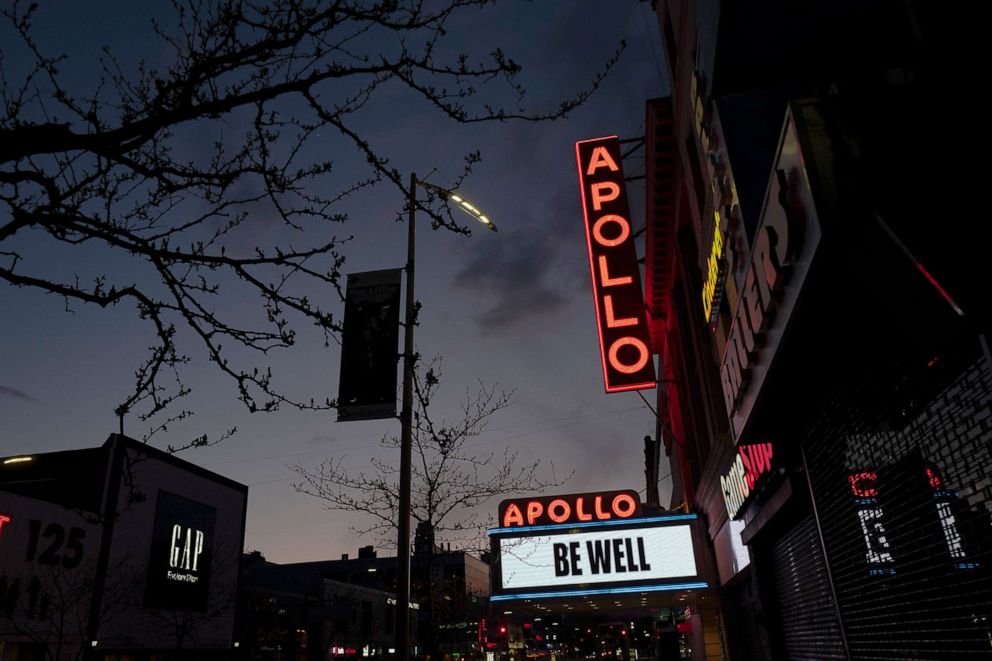 That includes the SummerStage in Central Park and May's Brooklyn Half Marathon, he said.
De Blasio said he is discussing the potential cancelation of June's events with organizers.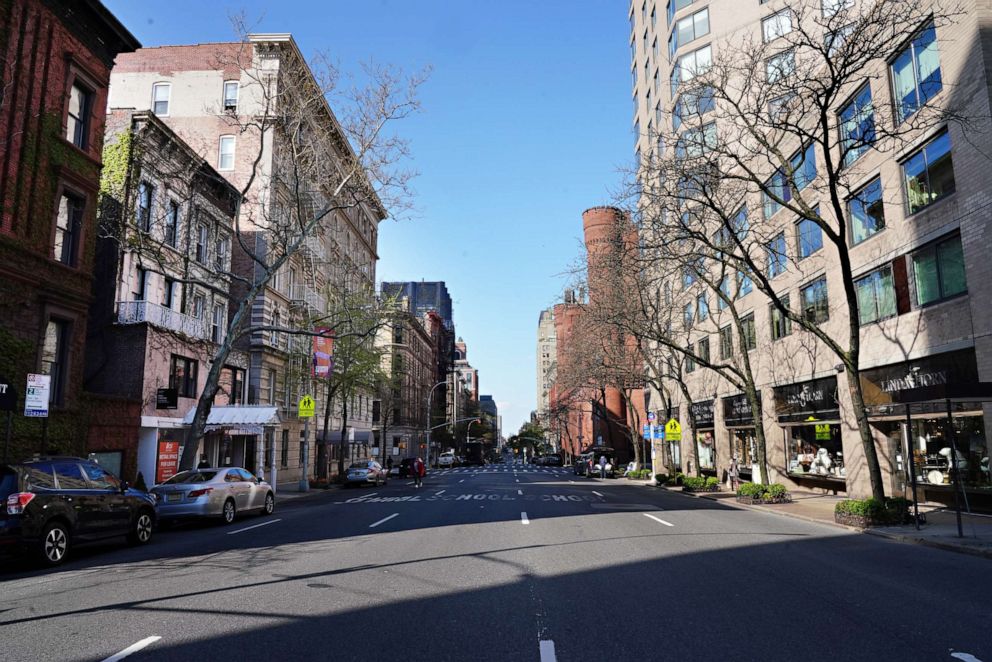 "We're far from out of the woods," he said, explaining that New Yorkers must move steadily to avoid a "boomerang effect."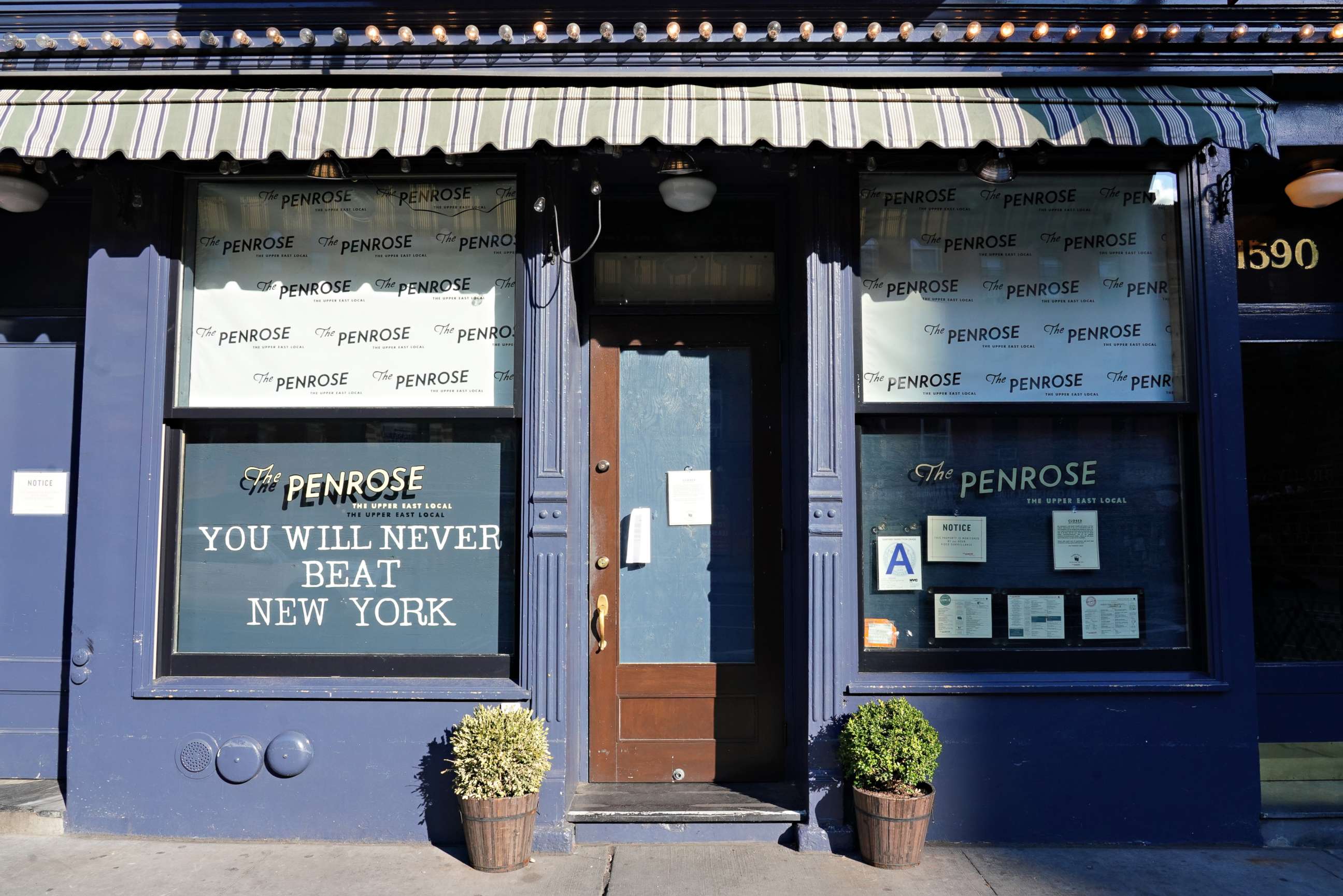 The number of hospital admissions and ICU admissions are showing improvement, according to new numbers provided by the mayor.
De Blasio said there is "no way to get back to normal without a huge amount of testing" and he again asked the federal government for funding.
"The federal government has been the elephant in the room in this entire crisis," he said. "The federal government has a chance to get it right ... I'm appealing directly to President Trump and Senate [Majority] Leader [Mitch] McConnell."
"I've asked and I've asked nicely. Mr. President, your hometown needs you. Leader McConnell, your nation needs you," he said.
9:05 a.m.: Michigan governor on reopening businesses
After Trump released his plan to reopen the U.S. economy on Thursday, Michigan Gov. Gretchen Whitmer says the president's guidelines have shortcomings.
"We should be able to administer a test to anyone who has symptoms. Ideally to people that are around people with symptoms, and in the best case scenario just doing them broadly so we really get a handle on where COVID-19 is and where the threats are," Whitmer told ABC News chief anchor George Stephanopoulos on "Good Morning America."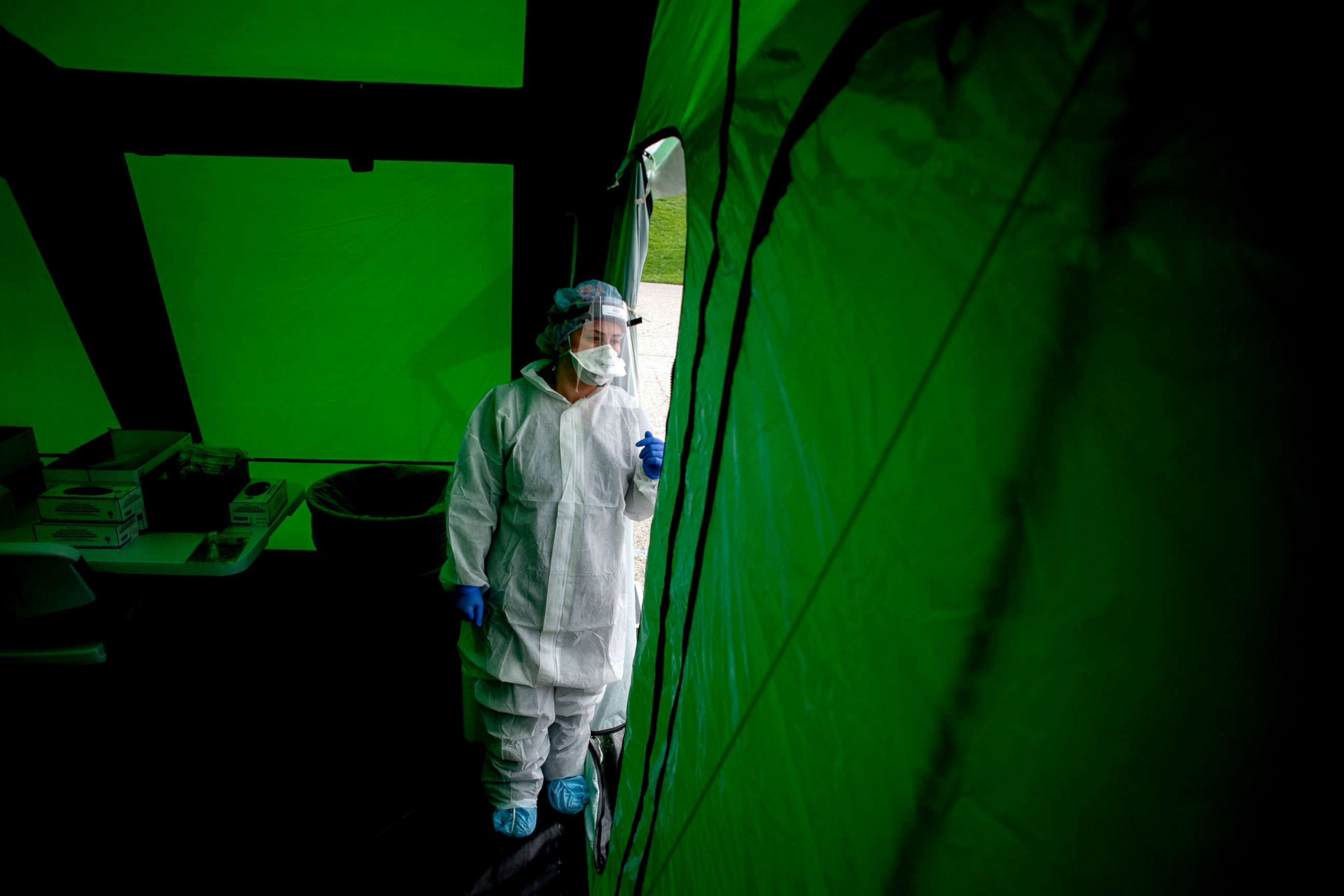 "In Michigan we've had to be really aggressive. We've got the third-highest death rate in the country right now," Whitmer said. "We have a unique crisis ... we need unique solutions."
Whitmer said that's why seven Midwest governors from both sides of the aisle have joined together so they can have an open dialogue and share best practices as they work toward reopening their economics.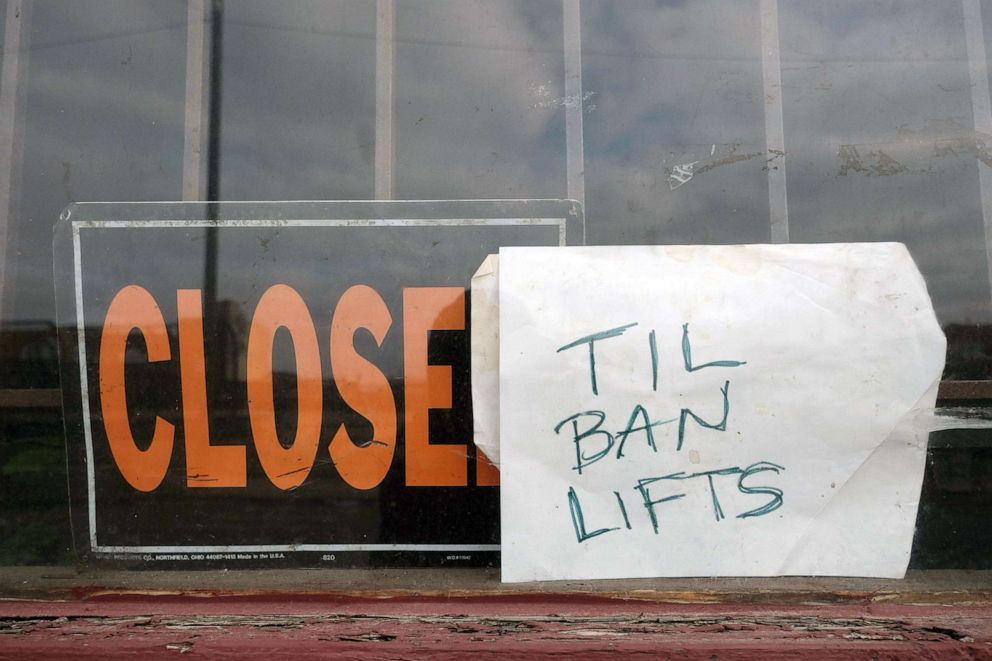 One of the governors in the Midwest coalition -- Ohio Gov. Mike DeWine -- tweeted Thursday that his state would start reopening on May 1.
Whitmer responded on "GMA" that the coalition "doesn't mean that each of us is going to take the exact same steps."
"I do hope to have some relaxing come May 1, but it's two weeks away, and that information and the data and our ability to test is changing so rapidly," she said. "It's hard to tell you precisely where we'll be in a week from now much less two."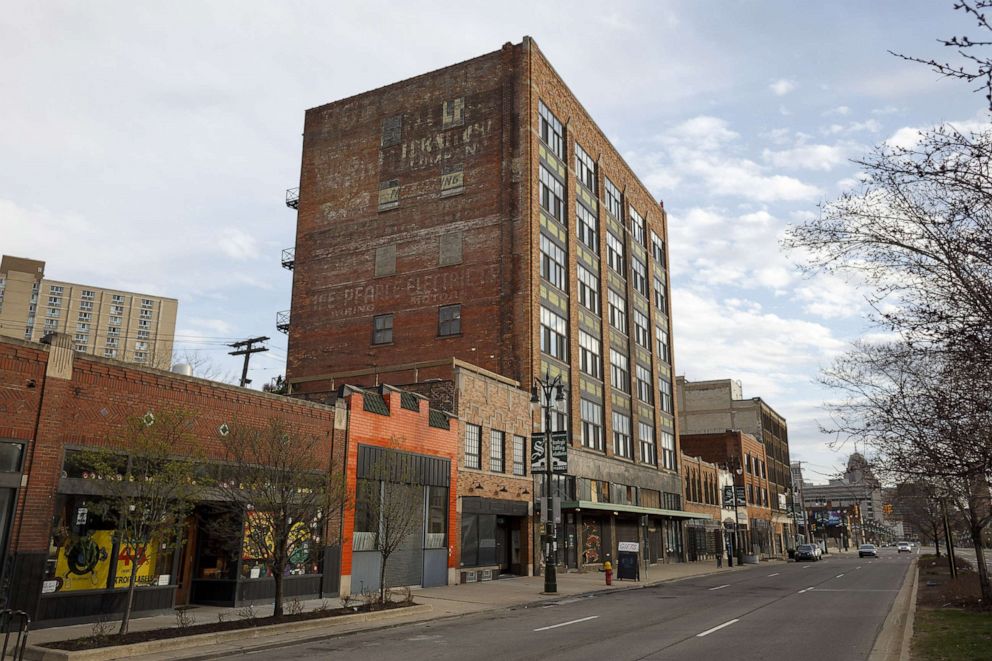 After four sheriffs in Michigan said they won't enforce Whitmer's stay-at-home order, the governor said, "I can take it."
"Four sheriffs out of 83 sheriffs making a point, that's fine," she said. "I can take it. If it makes people feel better to take their frustrations out on me, that's fine. All I ask is let's not get overly political here. Let's focus on the public health."
What to know about coronavirus:
6:35 a.m.: China increases Wuhan death toll by 50%
Chinese officials said overnight they had underestimated the number of people who died from COVID-19 in Wuhan by 50%. The country added 1,290 deaths to its readjusted total for Wuhan and the death toll now stands at 3,869 in the city.
China said this was not a cover-up but rather an adjustment to numbers based on new information coming from places like prisons and care facilities.
The timing of this adjustment comes as President Trump criticized China for its underreporting of deaths and cases at the start of the outbreak.
French President Emmanuel Macron added his voice to the growing skepticism of China's handling of the pandemic.
"There are clearly things that have happened that we don't know about," Macron told The Financial Times.
3:45 a.m.: Illinois has deadliest day since pandemic began
As President Donald Trump talks with governors about reopening the country and cautious optimism rises with COVID-related hospital admissions down in many cities, Illinois had its worst day since the pandemic began.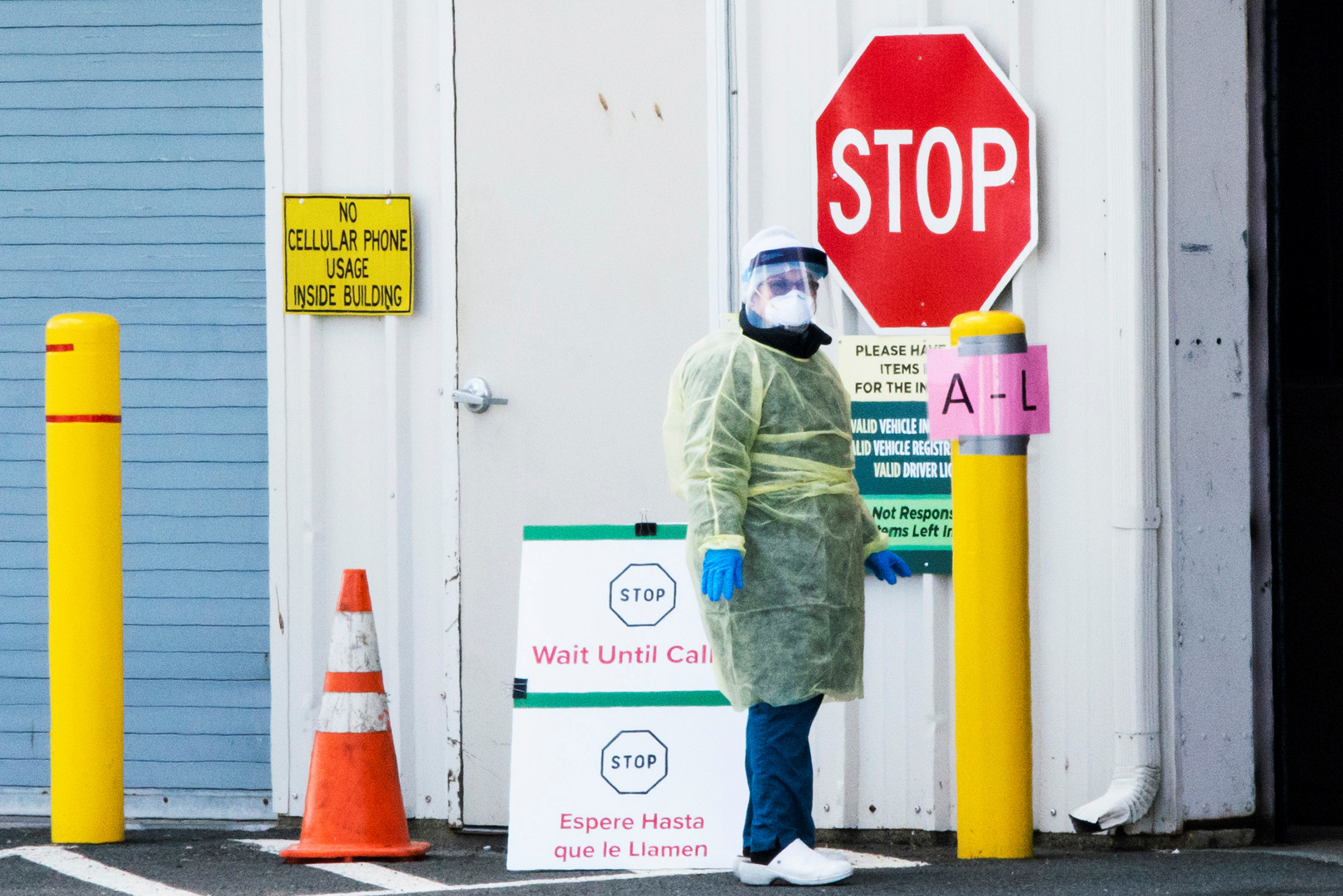 At least 125 people died in the state in the last 24 hours, which brings the statewide coronavirus death to at least 1,072 residents.
"While these numbers are disheartening, I don't want people to despair," Illinois Dept. of Public Health Director Dr. Ngozi Ezike said, according to ABC Chicago station WLS. "Instead, I want them to renew our collective resolve to do what is needed to end the pandemic. We continue to learn and amass new information about this virus every single day."
Illinois Gov. J.B. Pritzker also announced Thursday there were new testing sites in the state and that Illinois has joined a coalition of other Midwestern states exploring how to boost their economies.
The state's unemployment rate rose 1.2%, to 4.6%, Thursday and lost at least 34,000 jobs, the Illinois Department of Employment Security announced. Nationwide, the staggering number of people who have filed for unemployment amid the pandemic has suppressed 20 million. More than 5.2 million filed for unemployment insurance just in the last week, the U.S. Department of Labor said Thursday.
ABC News' Jamie Aranoff, Brandon Baur, Dee Carden, Ben Gittleson, Matt Gutman, Aaron Katersky, Arielle Mitropoulos, Alex Stone, Gina Sunseri, Kendall Karson and Karson Yiu contributed to this report.