The Trump administration last year "lost" nearly 1,500 migrant children whom a government agency placed with U.S. sponsors.
Shocking news, but it wasn't true.
But it was enough to outrage politicians, stir up journalists and make the public ask questions. Chasing this misleading story, however, helped uncover a story that many found even more troubling. And this one was real.
Here's how it happened.
#WhereAreTheChildren takes hold
In late April, Steven Wagner, an official at the U.S. Department of Health and Human Services (HHS) who oversees programs that place unaccompanied minors with families, told a Senate committee that a department office "was unable to determine with certainty the whereabouts of 1,475 unaccompanied alien children" who had been placed with sponsors living in the United States.
On May 25, National Missing Children's Day, social media users began sharing a New York Times story on Wagner's testimony, one that had been out in public for weeks but hadn't received much attention. News of the testimony generated hundreds of thousands of tweets and the trending hashtag #WhereAreTheChildren was born.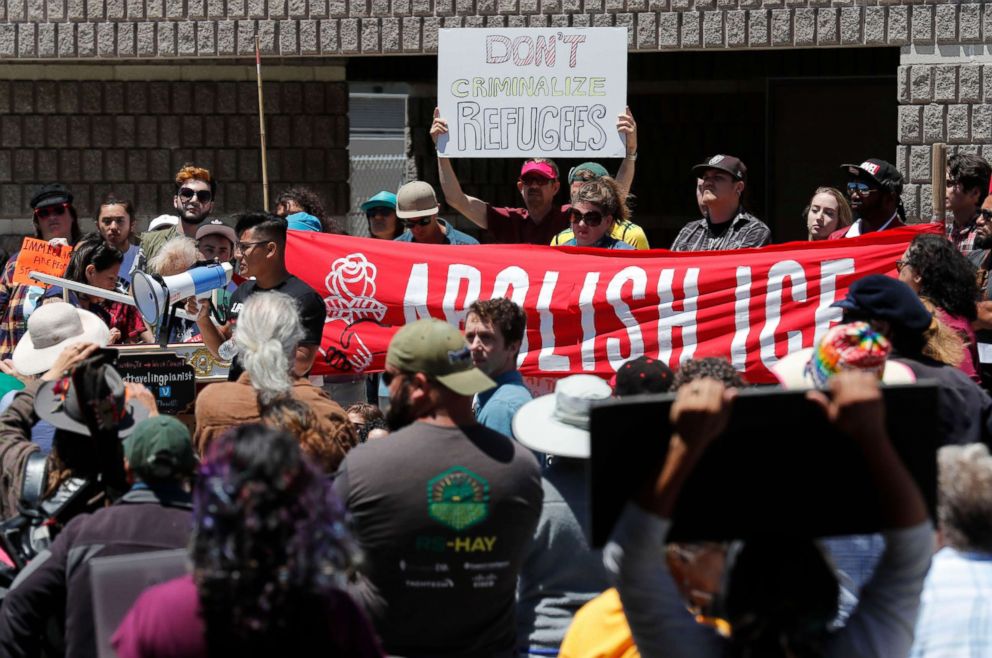 Democratic politicians weighed in. Sen. Jeff Merkley, D-Ore., posted on Twitter, "We are doing irreparable harm to our country; to our standing in the world as global leader; to our reputation as human rights champion. The world is watching, and they are watching in horror. #WhereAreTheChildren."
Rep. Joaquin Castro, D-Texas, posted about organizing a #WhereAreTheChildren rally in San Antonio.
On May 28, after a Memorial Day weekend dominated by "lost children" headlines, Deputy HHS Secretary Eric Hargan disputed what was becoming a widespread narrative, saying these children were not "lost" but had simply been placed with friends and extended family members (some of whom might be in the country illegally) who didn't respond when the government checked on them.
It might be a logical move for them not to answer a voluntary call from a federal agency checking up on their charge.
"Their sponsors — who are usually parents or family members and in all cases have been vetted for criminality and ability to provide for them — simply did not respond or could not be reached when this voluntary call was made," Hargan said in a statement.
Just because those children are unaccounted for did not mean they were missing, HHS said.
But all the digging had uncovered a separate issue that had also been reported, but had not yet captured the nation's full attention: the Trump administration's practice of separating migrant children from their parents at the southern border, which accelerated under the "zero-tolerance" policy announced in April.
"The situation at our Southwest Border is unacceptable," U.S. Attorney General Jeff Sessions said on April 6 when he announced that all adults caught illegally entering the country would be detained and prosecuted.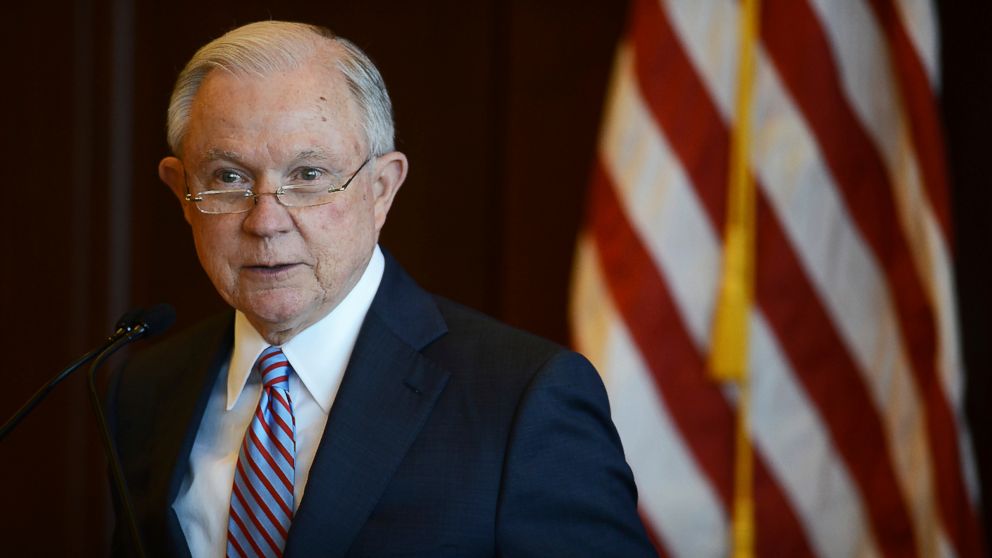 This policy -- a break from what Sessions and President Trump have derisively called the "catch and release" practice of the Obama Administration -- came after the U.S. Department of Homeland Security reported a 203 percent increase in illegal border crossings from March 2017 to March 2018.
To be clear: Family separation at the border had been happening for months, largely under the radar, but accelerated under "zero tolerance," immigrant rights advocates say.
The systemic separation of migrant parents from their children became the topic we've all become familiar with: adults sent to jails or DHS detention facilities, their minor children taken to shelters run by the Office of Refugee Resettlement, or to foster homes. All told, 2,342 children, including infants, were separated from their parents at the U.S.-Mexico border between May 5 and June 9, the DHS said.
This story, brought into focus almost accidentally by the #WhereAreTheChildren furor, has driven the news cycle and prompted vigorous debate across the country.
For example, in an op-ed for The Washington Post June 17, former first lady Laura Bush described the facilities for children as "eerily reminiscent of the internment camps for U.S. citizens and noncitizens of Japanese descent during World War II."
First lady Melania Trump also took notice, twice visiting detention facilities at the southern border, while Fox News host Laura Ingraham on June 18 described the children's shelters as "essentially summer camps," which drew swift backlash.
Alexandria Ocasio-Cortez, the 28-year-old unlikely winner of the Democratic primary election for the 14th Congressional District of New York, called for the abolition of U.S. Immigration and Customs Enforcement (ICE) as part of her platform and visited a Tornillo, Texas, ICE child detention center last weekend.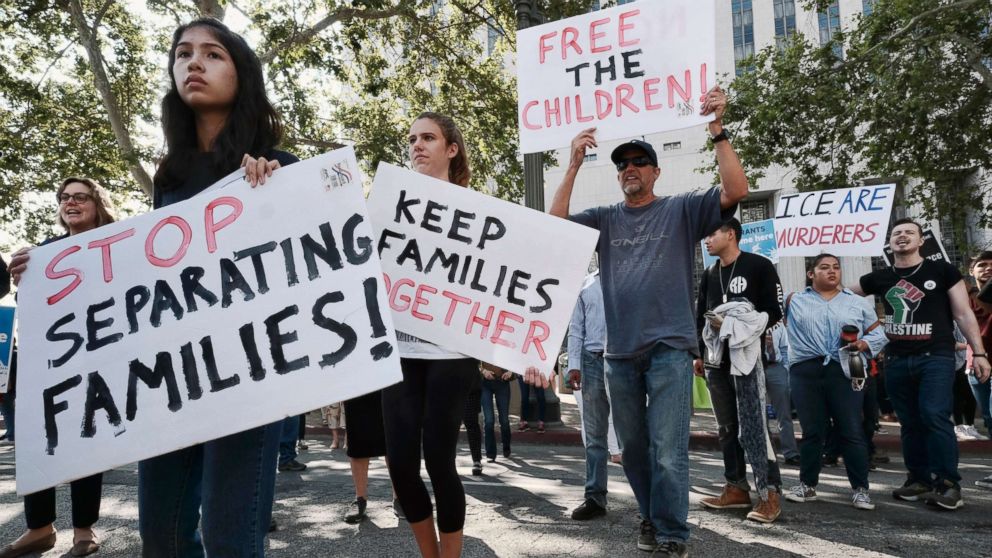 But some family separation stories emerged months earlier to a more muted response. For example, on Feb. 26, 2018, the American Civil Liberties Union (ACLU) filed a lawsuit on behalf of "Ms. L," a Congolese mother who entered the country legally at a border crossing near San Diego with her 7-year-old daughter Nov. 1, 2017, to seek asylum.
Four days after their arrival, Ms. L was sent to Otay Mesa Detention Center in San Diego County while her daughter was taken from her and flown 2,000 miles to a children's shelter in Chicago. The child "sits all alone in a Chicago facility, frightened and traumatized, crying for her mother and not knowing when she will see her again," the court papers filed by the ACLU stated.
The ACLU told ABC News in February that it had learned of hundreds of similar cases, but was still gathering facts and had brought the lawsuit as a "legal test case."
Reflecting on what was known at that time, Lee Gelernt, deputy director of the ACLU's National Immigrants' Rights Project, said "the administration deflected attention away from the issue during the fall and winter by saying they were only considering a policy of family separation. But, in practice, they had already begun separating hundreds of families."
This was the case that became a class-action lawsuit that, this week, led to a nationwide preliminary injunction that temporarily halts the practice of family separation and orders the government to reunite all separated children within 30 days. The judge's injunction came after Trump signed an executive order directing his agencies to keep migrant families together, with certain exceptions, but provided no timetable for reunification.
Ms. L and her daughter, after spending nearly five months apart, were reunited in March.
"In seeking civil rights changes, court cases are a critical piece but nothing can substitute for public outcry," Gelernt said.
That outcry, which reached a fever pitch in recent weeks, took months to unfold. And it largely began with a search for children who probably weren't missing after all.
ABC News' Halley Freger, Stephanie Ebbs and Ali Rogin contributed to this report.