One was on the varsity basketball and football teams and wrote for the school newspaper.
The other was two years younger and was elected as the student body president and also a member of the debate and international relations clubs.
These two former high school students, Brett Kavanaugh and Neil Gorsuch, could go from seeing one another in the halls of their tony private school to the bench of the Supreme Court if Kavanaugh's pending nomination is approved.
While their attendance at Georgetown Prep in was seen as a fun piece of trivia early on in Kavanaugh's confirmation process, some of his alleged behavior during those years, which he vehemently denies, has thrust the school into the harsh spotlight.
The 93-acre campus of the all-boys high school is located in the wealthy Washington, D.C., suburb of Bethesda, Maryland. Students have the option to board at the school or attend for the day.
Tuition has increased since Gorsuch and Kavanaugh attended, having graduated in 1985 and 1983, respectively, now ringing up at $60,280 for boarders and $37,215 for day students, according to the school's website.
There are 491 students enrolled in the four grades, according to the school's website, meaning that there are likely fewer than 123 students per class year.
The high school was founded in 1789, the same year as nearby Georgetown University. The two schools were initially located on the grounds that the university now calls home but the high school moved about 11 miles north to its current location in 1919.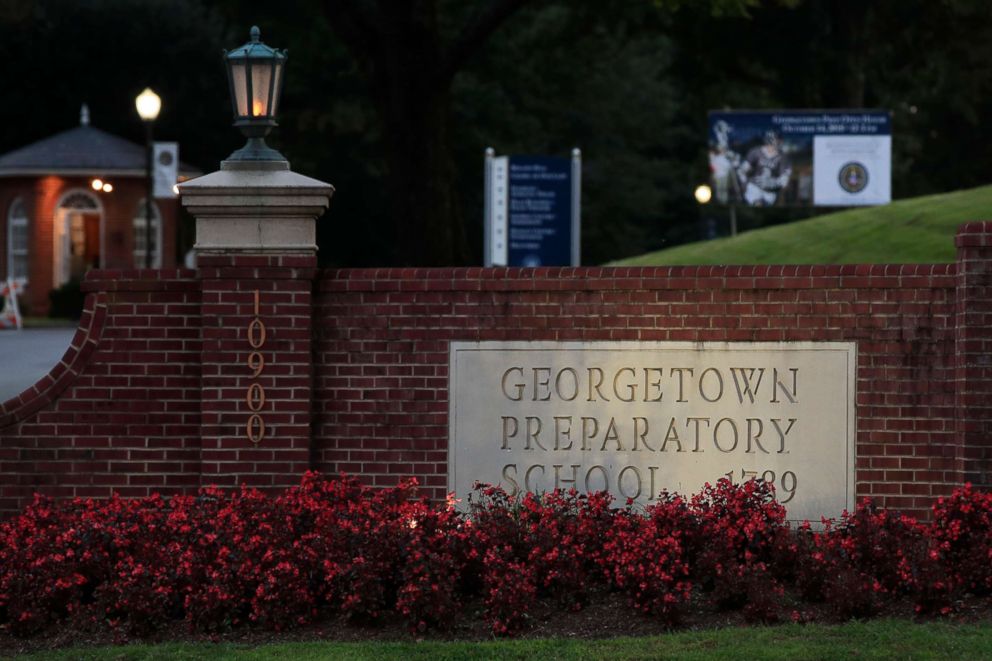 In addition to their founding year and founding father, the first bishop of Baltimore John Carroll, Georgetown Preparatory School also shares symbolic school colors and a mascot with the university.
Legend has it that a Georgetown University student, who was apparently a fan of the classics, made up the school motto of "Hoya Saxa," which means "what rocks" in Greek and Latin. As the motto evolved, the school's mascot was dubbed "the Hoyas," and the high school's mascot is the "the little Hoyas," which is also used in the name of its school newspaper.
Georgetown University also adopted the colors blue and gray as its school colors for a symbolic reason in the 1800s, according to the school's library's website, in an effort to express appreciation and unity for students who hailed from either side of the Civil War. Blue and gray are also the colors for Georgetown Prep.
As for the judges, Kavanaugh, 53, is the oldest of the two and was a junior when Gorsuch, 51, arrived as a freshman in 1981.
"I know Neil Gorsuch well and have known him seemingly forever," Kavanaugh said at a speech to Notre Dame law students three days after Gorsuch's name was put forward by President Donald Trump in 2017. "He is a good friend. He is kind, funny, hard-working and brilliant. He's a great writer and independent."
But the two judges are far from the only famous faces to have attended the prep school. New York Yankees general manager Brian Cashman went to school with Gorsuch for two years, he told The Daily News at the time of his nomination.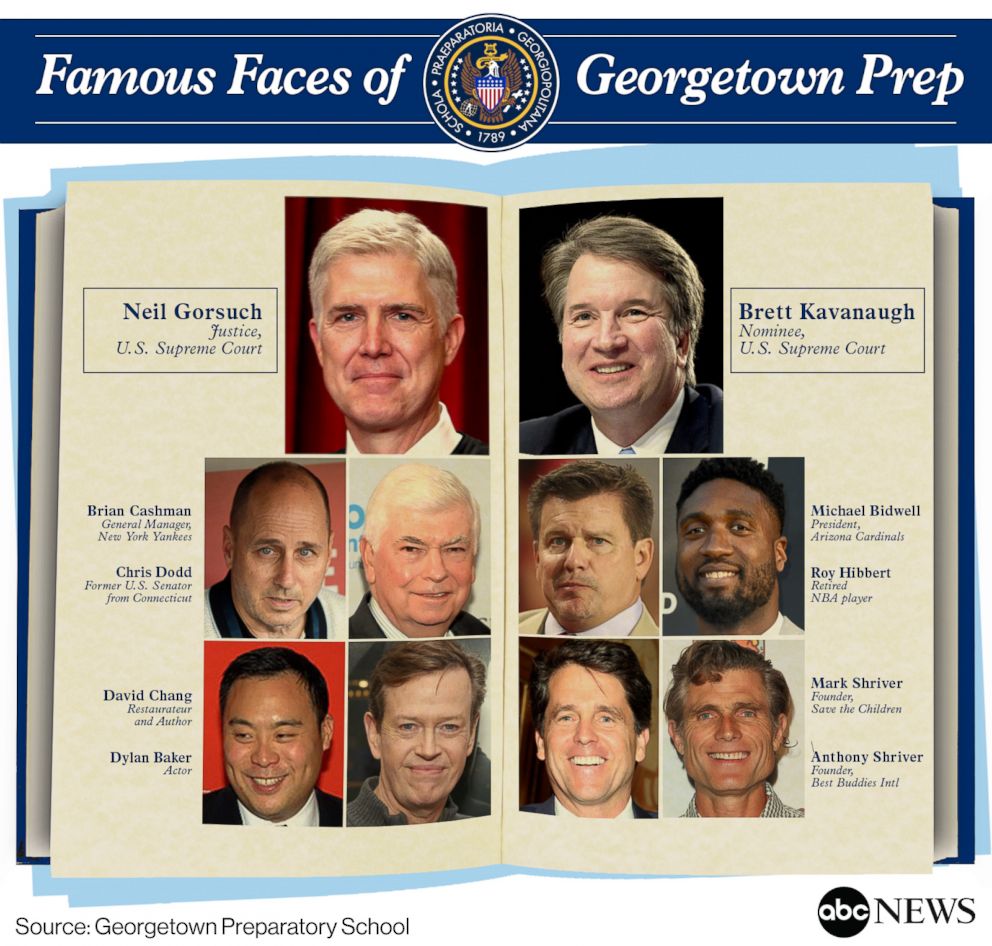 Arizona Cardinals president Michael Bidwell was the same year as Kavanaugh, as was Maryland state senator-turned gubernatorial candidate Richard Madaleno. Kennedy family members Mark and Anthony Shriver also would have overlapped with Gorsuch and Kavanaugh.
Kevin Dowd, who coached Kavanaugh on the basketball team, said he was serious as a young student.
"He was a good leader," Dowd told ABC News. "He was very serious. I used to kid people that he was 30 when he was 16. He didn't like fooling around at practice."
Dowd, who said he did not know Gorsuch at all, coached there for 25 years and sent his three sons to the school.
"Prep is no different than any other high school in the area," Dowd said. "They all party, they all sneak beers before they're supposed to drink them. The difference is the more academic, rigorous schools still get the results."
It's the alleged partying that Kavanaugh may have done during his time in high school – and an allegation of sexual assault at one such party – that has drawn scrutiny of his time at Georgetown Prep from 1979 to 1983.
Christine Blasey Ford alleged, first in a letter to Sen. Dianne Feinstein, D-Calif., and later in The Washington Post, that Kavanaugh drunkenly sexually assaulted her and put his hand over her mouth.
The alleged party in question reportedly occurred in July 1982. Kavanaugh, who's Catholic, has denied the allegations and said in an interview with Fox News this week that he "was never at any such party" and "never sexually assaulted anyone, in high school or otherwise."
From his description, high school parties were fairly typical and he has admitted to drinking at them but said he was never intoxicated enough to forget what happened.
"Yes, there were parties. And the drinking age was 18 and, yes, the seniors were legal and had beer there," Kavanaugh said during his Fox News interview, though the drinking age was raised from 18 to 21 in the state in July 1982.
"And yes, people might have had too many beers on occasion and people generally in high school – I think all of us have probably done things we look back on in high school and regret or cringe a bit, but that's not what we're talking about."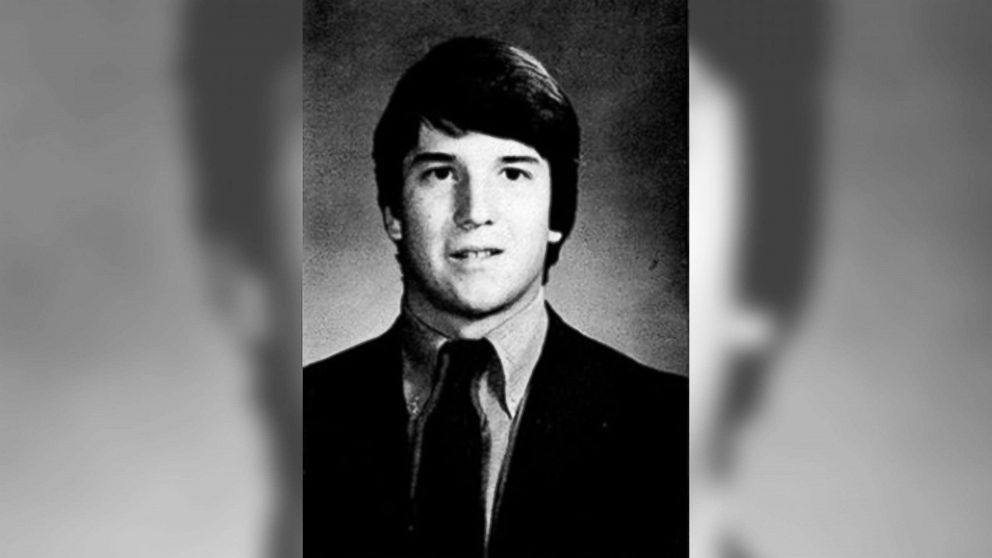 The school released a lengthy new statement today defending its image and reputation in light of recent reports where "our community is being disparaged."
"The image that has been presented on social media and in various news outlets depicts recklessness, illegal conduct, and lack of respect for persons," according to the statement. "Worse, many blame these faults on institutional indifference. But the temptations, and the failings, presented in these stories are not unique to Georgetown Prep.
"The problems and abuses of alcohol and drugs, sexual assault and misconduct, emotional and physical violence toward others are real; educators at every institution of primary, secondary, or higher learning in our nation face these problems every day. Serious educators in public, private, religious, and secular schools, as well as parents and families, have been wrestling with the collateral damage of an out-of-control culture for many decades. Jesuit schools, Georgetown Prep among them, have been working together since the 1970s to address these issues," the statement reads.
The statement also cites the Jesuit mission of being "men for and with others."
"It is not that our students are perfect while they are here or even when they graduate; they are still learning, and we hope that they will continue to learn, not only at the intellectual level, but at the spiritual, moral, psychological, social and interpersonal levels as well," the statement reads.
As for Kavanaugh, in the years leading up to his Supreme Court nomination, when he was a judge on the Court of Appeals for the D.C. Circuit, he made jokes alluding to some hard-partying ways while in high school.
The clearest example came in 2015 when speaking to a group of law students at Catholic University where he made a similar comment.
"Fortunately, we had a good saying that we've held firm to this day, as the dean was reminding me before the talk, which is, 'What happens at Georgetown Prep stays at Georgetown Prep,'" Kavanaugh said.
"That's been a good thing for all of us."