Sheriff has grim advice for those who don't evacuate Hurricane Laura
Landfall is expected between 1 a.m. and 4 a.m. near the Texas-Louisiana border.
Laura is approaching the Gulf Coast as a Category 4 hurricane with "unsurvivable storm surge" expected in some areas, according to the National Hurricane Center.
"Unsurvivable storm surge with large and destructive waves will cause catastrophic damage from Sea Rim State Park, Texas, to Intracoastal City, Louisiana, including Calcasieu and Sabine Lakes," the NHC said in a statement. "This surge could penetrate up to 30 miles inland from the immediate coastline. Only a few hours remain to protect life and property and all actions should be rushed to completion."
Parts of eastern Texas and western Louisiana are forecast to see "catastrophic wind damage," especially in places where the storm's eyewall makes landfall early Thursday morning, the NHC said. Residents in affected areas are being instructed to evacuate and are urged to brace for "widespread damaging wind gusts" that will spread well inland across parts of those areas.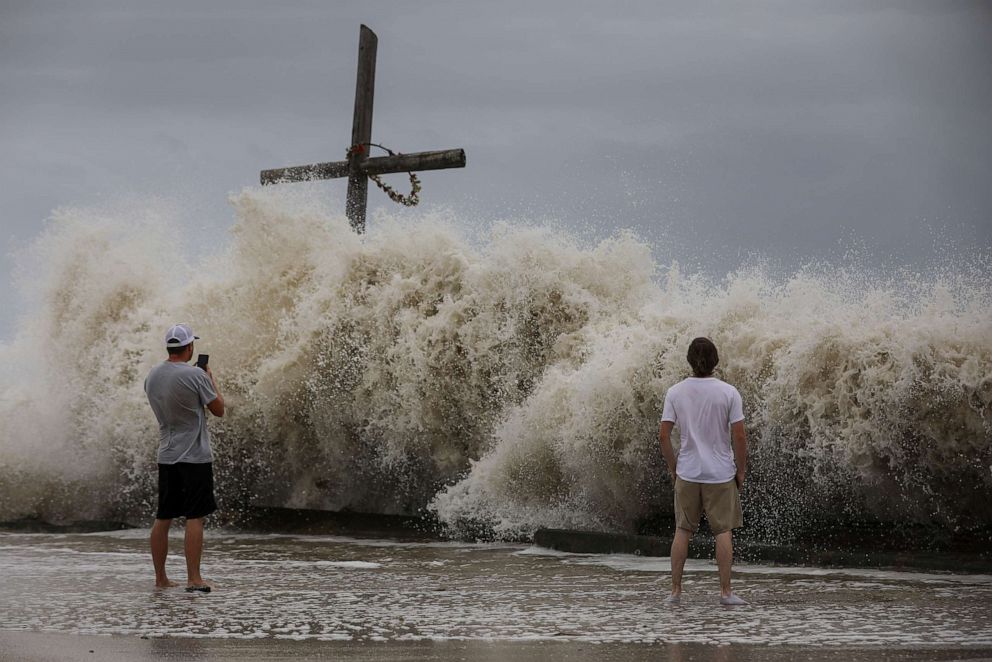 Here's how the news is developing today. All times Eastern. Please refresh this page for updates.
12:08 a.m.: Extreme wind warning now in effect
The first extreme wind warning has been issued at midnight for coastal areas from Beaumont, Texas, to Lake Charles, Louisiana.
Laura is about 60 miles south of Lake Charles with winds holding at 150 mph, a strong Category 4 storm. Cameron, Louisiana, on the southern coast, has already had a gust of 67 mph.
A tornado watch remains in effect for parts of Texas, Louisiana and Mississippi until 8 a.m. local time. As Hurricane Laura approaches the coast, numerous tornadoes will be possible through the overnight and early morning hours.
There are tornado warnings in effect for parts of southern Louisiana. There was one reported tornado already on Wednesday in Assumption Parish, Louisiana.
10:30 p.m.: Texas roads already impassable; health emergency declared
With the storm still about 90 miles south-southeast of Port Arthur, Texas, there are already roads underwater, according to officials.
State Highway 87 on the Bolivar Peninsula is now impassable, according to the Galveston County Office of Emergency Management. The Texas Department of Transportation has also closed Interstate 10 between Texas and Louisiana in anticipation of the storm.
Gov. Greg Abbott tweeted that his state was prepared to make water rescues, led by the National Guard.
"As #HurricaneLaura comes ashore the @TexasGuard is ready," he tweeted. "Texas Task Forces 1 & 2 @txtf1 and the Texas Parks & Wildlife @TPWDnews are prepared for water rescues. Texas Department of Public Safety @TxDPSwill patrol the area to assist local law enforcement. Then, we rebuild."
Additionally, Health and Human Services Secretary Alex Azar has declared public health emergencies in Texas and Louisiana to give assistance to health care providers in the states.
"Hurricane Laura is an extremely dangerous storm that poses a significant threat to the health and safety of Louisianans and Texans," HHS Secretary Alex Azar said in a statement. "We have been working for months to prepare for the challenges of hurricanes striking land during the COVID-19 pandemic. With these declarations and waivers, the Trump Administration is helping to ensure that Americans who rely on Medicare and Medicaid have continuous access to the care they need during and after the storm."
10:05 p.m.: Nurses, doctors prepare for storm in Beaumont
At CHRISTUS Southeast Texas-St. Elizabeth, a hospital in Beaumont, Texas, the hospital was bustling with nurses carrying bedding to the various places they are assigned for the night. Workers are expecting to be there for a week.
Luckily the ugly, brick beast was built in the 1950s, replete with a bunker able to withstand a nuclear attack, which is now the ER.
More ER nurses volunteered to ride out the storm than needed.
Kristen Hauffpaur doesn't know when she'll see her 3-year-old again. When she closed the door of the car, she told her daughter, "Mama loves you," and warned here there would be "a lot of wind."
Friends were evacuating with her daughter, because Hauffpaur and her husband volunteered to work through the storm here in the emergency department.
"It's my calling," she told ABC News.
As of 9 p.m. local time, the storm was holding at 150 mph and was about 90 miles south of Lake Charles, Louisiana. Sustained winds of 40 to 45 mph are being reported along portions of the Louisiana coast.
9:37 p.m.: Storm closes in on northwest Gulf Coast
Hurricane Laura has sustained winds at 150 mph, and is moving north-northwest at 15 mph. The center of the storm is currently about 95 miles south of Lake Charles, Louisiana, and about 95 miles south-southeast of Port Arthur, Texas.
Winds are increasing right now as Laura takes aim at the northwest Gulf Coast. Catastrophic storm surge, extremes winds and flash flooding are expected tonight.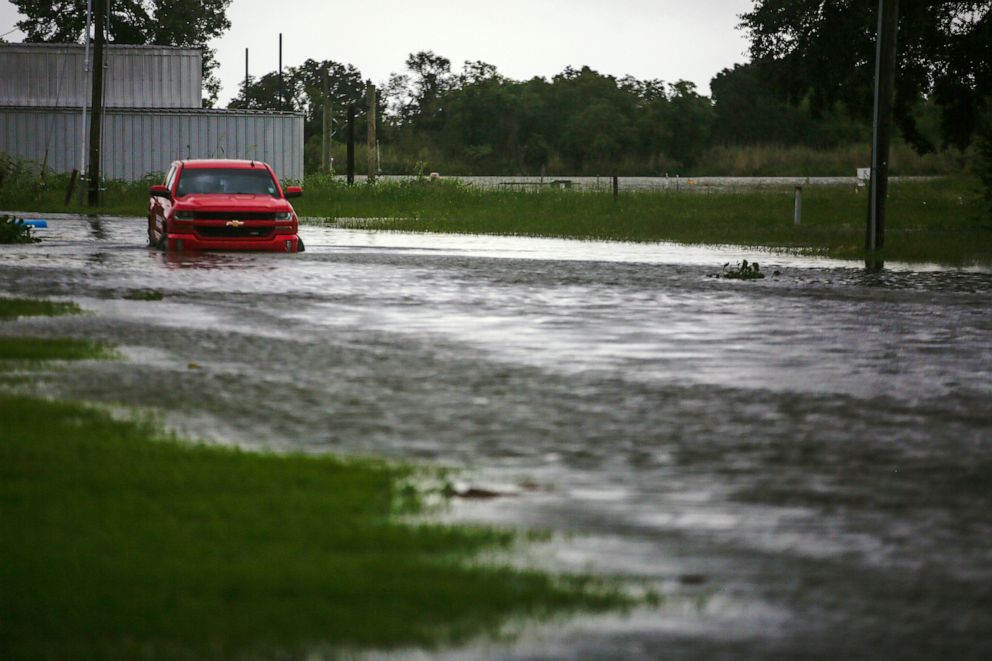 8:37 p.m.: Sheriff has stark warning for those who don't evacuate
The sheriff's office in Louisiana's Vermilion Parish isn't mincing words for those who decide not to evacuate before the storm's arrival.
"Those choosing to stay and face this very dangerous storm must understand that rescue efforts cannot and will not begin until after storm and surge has passed and it is safe to do so," the sheriff's office posted to social media. "Please evacuate and if you choose to stay and we can't get to you, write your name, address, social security number and next of kin and put it a ziplock bag in your pocket."
"Praying that it does not come to this!" the sheriff's office added.
Vermilion Parish and Cameron Parish, which sit on the Gulf Coast in the southwest corner of the state, are likely to get the worst of the storm in the Bayou State.
Police have ordered mandatory evacuations for numerous areas in those parishes, and a curfew has been ordered from 9 p.m. local time until 5 a.m. as Laura approaches landfall early Thursday morning.
7:52 p.m.: Winds increase to 150 mph as storm turns northward
Hurricane Laura's sustained winds have increased to 150 mph as the storm approaches the coast of Texas and Louisiana.
The storm is about 120 miles south of Lake Charles, Louisiana, and the same distance south-southeast of Port Arthur, Texas, as it continues its push toward the Gulf Coast.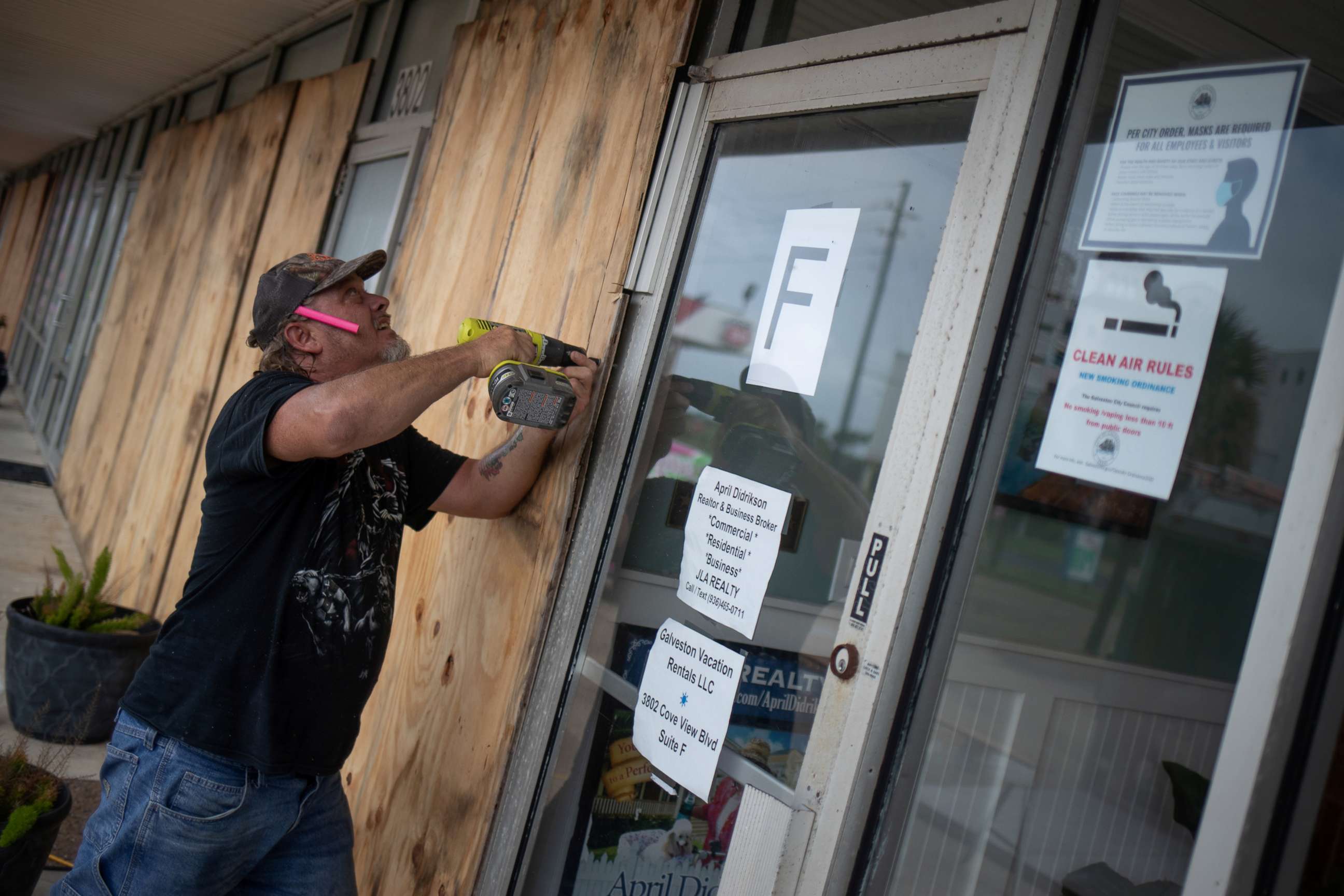 Laura is beginning a more northward turn, moving at 15 mph toward the north-northwest.
7:06 p.m.: Cameron Parish taking all precautions as storm nears
Officials in Cameron Parish, Louisiana, say the area is bracing for the worst as Laura approaches.
In an interview with ABC News, Cameron Parish Assistant Director of OEM Ashley Buller said the parish is taking all precautions as projections indicate that it could get the brunt of the storm.
The parish, much of which is marshy bayou, is home to about 7,000 residents, most of whom have heeded the warnings to evacuate, Buller said.
Authorities know of about 150 residents who have opted to stay behind, Buller said, and officials have their contact information so they can send search-and-rescue responders to check on them once it's safe to do so.
All emergency operations have been moved to the OEM offices in neighboring Calcasieu Parish, Buller said.
5:51 p.m.: Tornadoes will pose additional threat
In addition to hurricane conditions, forecasters says residents in Laura's path should be on the lookout for possible tornadoes as the storm approaches landfall.
Due to Laura's strength, there is the increasing threat of several tornadoes this evening and continuing overnight across parts of Central Louisiana.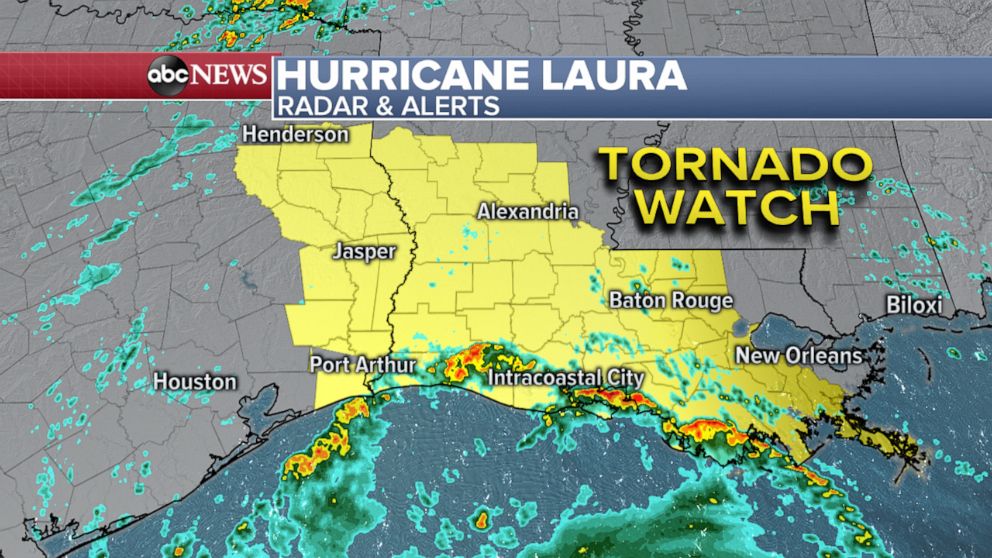 There was at least one reported tornado in Paincourtville, Louisiana, but there no damage was immediately reported.
A tornado watch is in effect for several areas, including Port Arthur, Texas, Alexandria, Louisiana and Baton Rouge, Louisiana.
5:20 p.m.: Landfall expected between 2-5 a.m. ET
Hurricane Laura is expected to strike land between 2-5 a.m. ET based on the latest observations.
Wind and water levels in the gulf are increasing as the storm makes its way toward the Texas and Louisiana coast.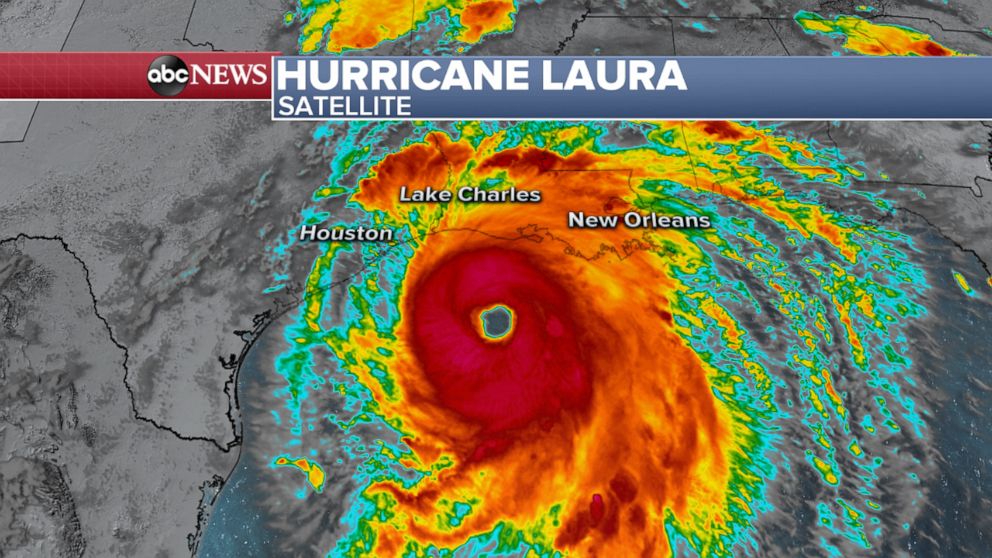 The storm is about 155 miles south of Lake Charles, Louisiana, and the same distance south-southeast of Port Arthur, Texas, according to the NHC. The eye of the storm is more than 400 miles wide.
Maximum sustained winds continue to hit 145 mph as the storm heads northwest at 15 mph.
4:42 p.m.: FEMA, Red Cross preparing for storm
FEMA officials say they're prepared to stage a large response across Louisiana and Texas, with nearly 600 trained disaster workers on hand to support communities threatened by the hurricane.
The Red Cross has also pre-positioned shelter and relief supplies along the Gulf Coast, and additional workers are standing by if needed, officials said.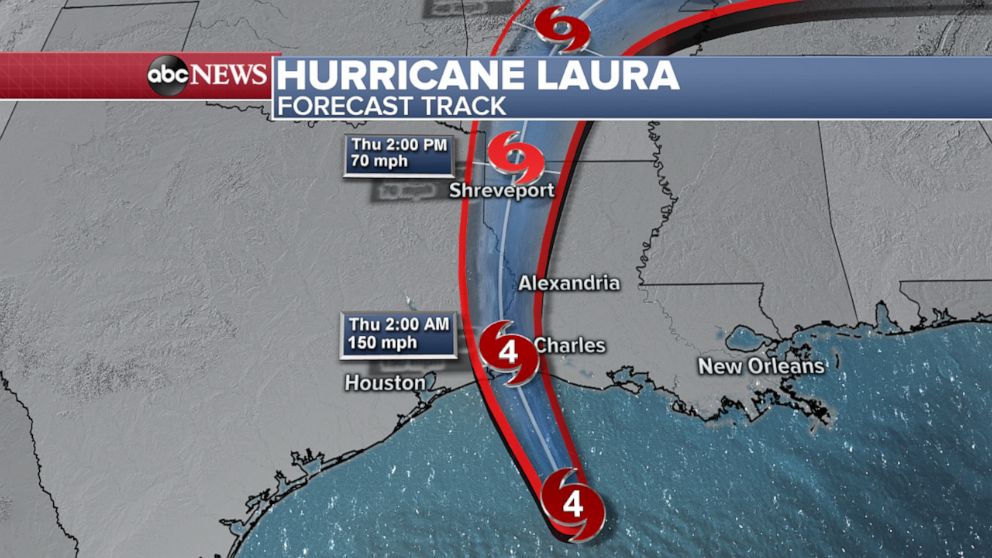 "Over the past few days our volunteers have been working tirelessly to position supplies and shelter teams across the state," American Red Cross Louisiana Regional Executive Joshua Joachim said. "As the storms shift, we shift with them and remain prepared to meet the immediate needs of those impacted across Louisiana."
As many as 5,000 people are being housed in emergency lodgings, including shelters and hotel, emergency officials said.
3:24 p.m.: Louisiana's Cameron Parish expected to be underwater
Louisiana Gov. John Bel Edwards is urging residents in the southwestern part of the state to pay especially close attention to the storm as it approaches landfall in Cameron Parish early Thursday morning.
The governor said the hurricane could bring storm surges that residents haven't seen since a 1957.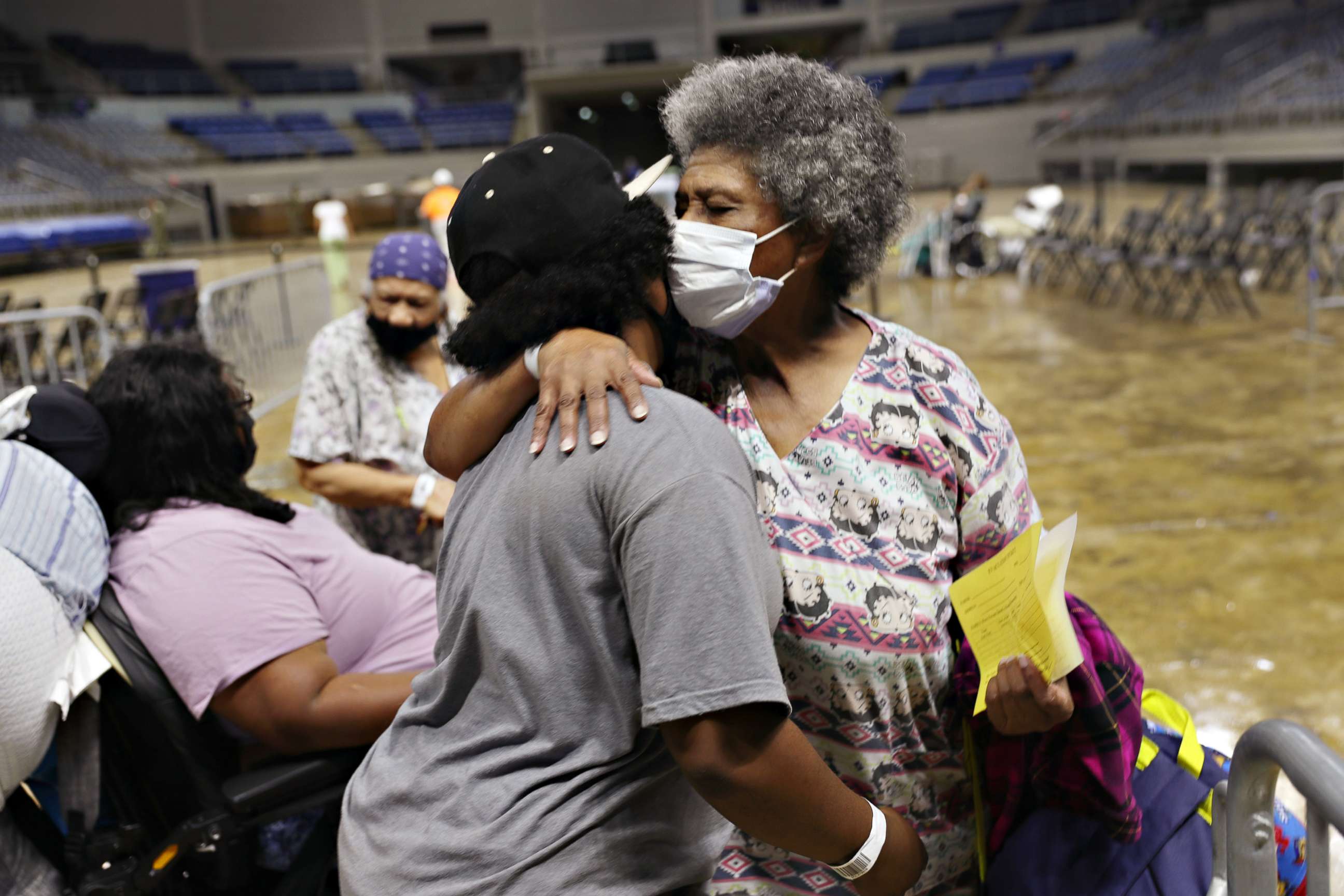 The state has activated its entire National Guard, something it hasn't done in "many years," according to the governor.
"This is a very serious storm -- I don't think I have ever held a press conference to take something as seriously as I am right now," Edwards told reporters. "Our state hasn't seen a storm surge like this in many decades. Same with wind speeds."
Forecasters say residents should expect to see storm surge of up to 18-20 feet. The majority of Cameron Parish will be totally underwater at some point, according to the NHC.
The state said it has reserved 2,000 hotel rooms for residents in need. On Tuesday night it put up some 800 people in hotel rooms.
2:26 p.m.: Major airlines issue waivers as storm cancels flights
All major U.S. airlines -- United, Southwest, Delta, American and JetBlue -- have issued weather waivers to allow travelers to adjust flights potentially impacted by Hurricane Laura without fees.
There are currently 643 storm-related flight cancellations, according to FlightAware.
More than 400 of today's cancellations are at Houston Bush International Airport, representing about 60% of their total flights.
2:14 p.m.: Texas governor says to "get out of harm's way"
Texas has added three more counties to the state's disaster declaration, covering most of East Texas and bringing the total number to 36.
"I urge anyone in harm's way to get out of harm's way," Texas Gov. Greg Abbott said at a briefing. "Because of the power of this storm, if you are unable or do not get out of harm's way ... for almost a 24-hour time period there will be no ability for rescuers and aiders to get in and assist you in any way."
The state has dedicated 400 buses, 38 aircraft, 82 boats and 202 high profile vehicles to disaster relief, authorities say. It also ordered 60 ambulances and an additional 75 paratransit vehicles to assist in moving residents.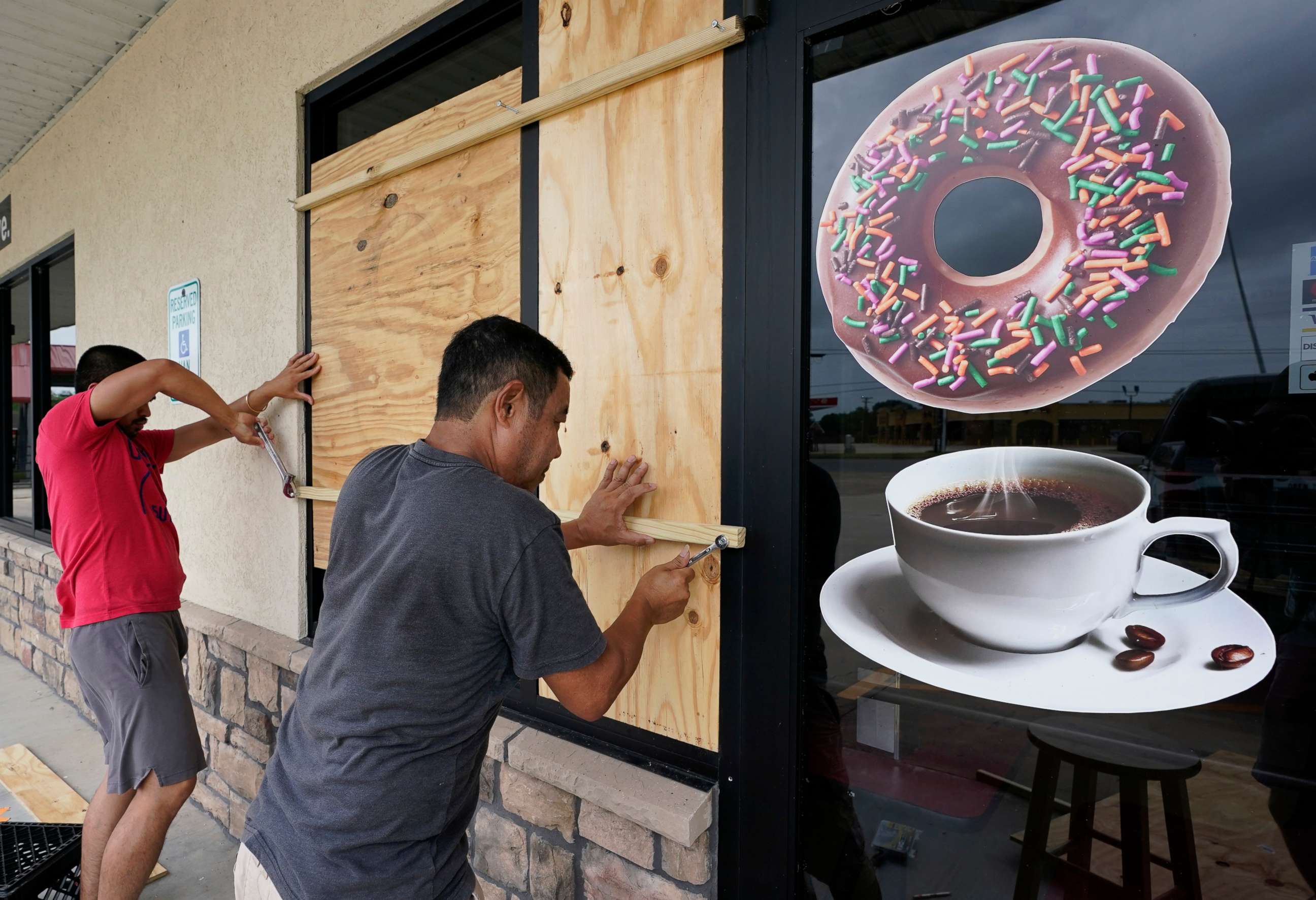 More than 5,000 people are already sheltered and officials are preparing for many more.
The expected storm surge, described by officials as "unsurvivable," could continue inland for about 30 miles.
1:52 p.m.: Laura is now a Category 4 storm
Laura has strengthened into a Category 4 hurricane with maximum sustained winds of 140 mph, making it "extremely dangerous," says the National Hurricane Center.
The center of the storm is about 200 miles southeast of Lake Charles, Louisiana, and about 200 miles southeast of Port Arthur, Texas.
The storm will bring catastrophic storm surge, extreme winds, and flash flooding to the Gulf Coast tonight, the National Hurricane Center says.
Little time remains to protect life and property, authorities say.
12:56 p.m.: Louisiana officials expect catastrophic events from storm
OEM officials in Louisiana are putting it bluntly to residents: Leave and leave now.
In their final briefing before Laura makes landfall, officials with Louisiana's Calcasieu Parish say they expect catastrophic events from the storm.
"Short of pulling people out of their homes, we have done everything humanly possible to get people out of Calcasieu Parish," said Lake Charles Mayor Nic Hunter. "As much as it pains me, we are quickly getting to the point where you are going to have to hunker down. Public safety is not going to be able to respond."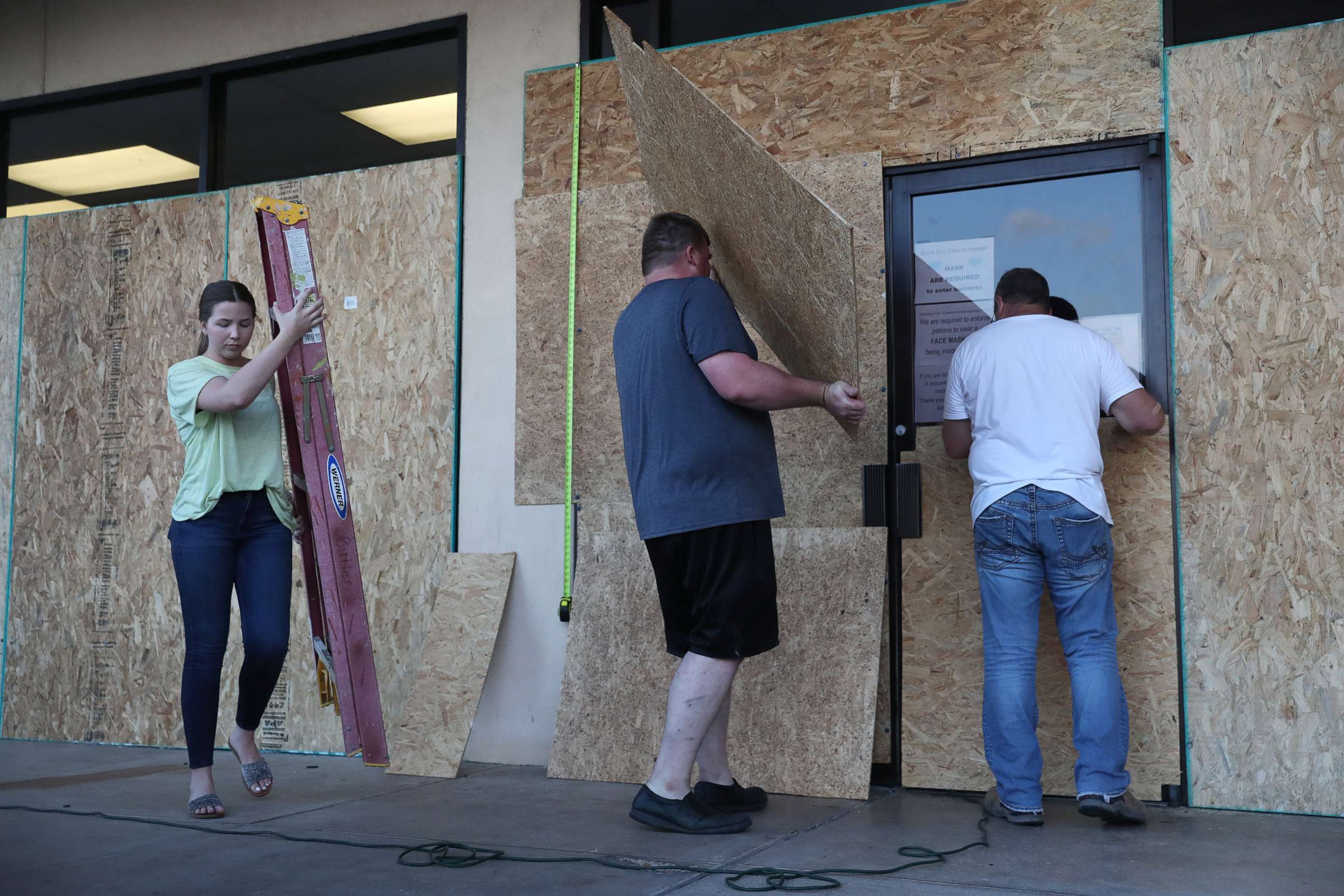 Sheriff Tony Mancuso said that while they could protect property from looters, they can't protect homes from the wind and the storm surge, both of which are expected to be well above the devastating effect that Hurricane Rita had in 2005.
He, too, begged people to leave and leave now.
"There is nothing at my house that is so important in my house that I would stay there," he said. "I would love to leave. It is not an option for me. It is an option for you."
In addition to those leaving in their own vehicles, more than 800 people have been bused out of the area.
12:01 p.m.: Storm is a Category 3 with 125 mph winds
Laura has winds of 125 mph and is forecast to reach 145 mph.
The storm is currently a Category 3 and is expected to reach Category 4 if winds increase as expected.
In an interview with ABC News, Houston Mayor Sylvester Turner said he woke up Tuesday morning to find Laura's track had shifted slightly west and closer to Houston, the country's fourth-largest city with a population of about 7 million.
Officials in Houston and Harris County urged residents to stay off the roads so people evacuating have access to the freeways. Local officials urged all residents in the storm's path to fill up their gas tanks and generators.
The mayor urged people not to panic. City officials said they don't expect Laura to be another Hurricane Harvey or Tropical Storm Imelda, which both led to catastrophic flooding. They do, however, expect this storm to be a fast-moving wind event, which could bring a storm surge, structural damage and power outages.
Compounding the situation is the COVID-19 pandemic, which is why Turner told residents to stock up on necessary food, supplies and PPE. He said he anticipates that COVID-19 testing will be suspended until after the storm and that the city won't be opening mass shelters as it has in years past.
Laura has kept people along the Gulf Coast guessing for days as the projected track continues to change. Forecasters say the storm could strengthen to a Category 4 even before it makes landfall near the Texas-Louisiana border late Wednesday or early Thursday.
ABC News' Matt Gutman, Janice McDonald and Mina Kaji contributed to this report.