The Michigan State University community is grieving after three students were killed and five injured in a shooting on the East Lansing campus.
While school shootings are rare, the tragic incident on Monday night marked the 67th mass shooting, and the first at a college or university, so far this year in the U.S., according to the Gun Violence Archive. It comes as Michigan is still grappling with a November 2021 mass shooting at a high school in Oxford that left four students dead and several injured. The fifth anniversary of the massacre at Marjory Stoneman Douglas High School in Parkland, Florida, was also observed a day after a gunman opened fire at Michigan State.
In the wake of school shootings, access to the campuses and the role of locked doors often comes into question. The Michigan State incident continues to show the challenges in securing so-called soft targets -- public places like schools that aren't heavily defended -- according to John Cohen, a former U.S. Department of Homeland Security acting undersecretary for intelligence and ABC News contributor.
"There are some types of locations -- like college campuses, schools, entertainment venues, transportation facilities -- where if you were to harden those targets, you would make it impossible for those locations to serve the purposes that are intended," Cohen said. "That's what we've been wrestling with in the homeland security world since 9/11 -- is understanding which targets can be hardened and then how to the best degree possible enhance security around those softer targets that can't make an impenetrable ring of security around."
Role of locked doors
Limiting entry points to school buildings, reinforcing main entrances and locking classroom doors have been among measures adopted by schools as part of their safety measures in the years since the Columbine High School mass shooting in 1999.
The measure has appeared to save lives in some cases. A potentially deadly shooting at a California elementary school in 2017 was likely averted when a gunman who rammed his car through a fence at the gate of the school left the grounds, apparently growing frustrated after not being able to access classrooms, authorities said at the time.
A 2020 simulation experiment by the Department of Homeland Security's Cybersecurity and Infrastructure Security Agency found that classroom doors that lock when closed had a "significant impact" on the outcome of an active school shooter event, particularly in completing lockdown procedures.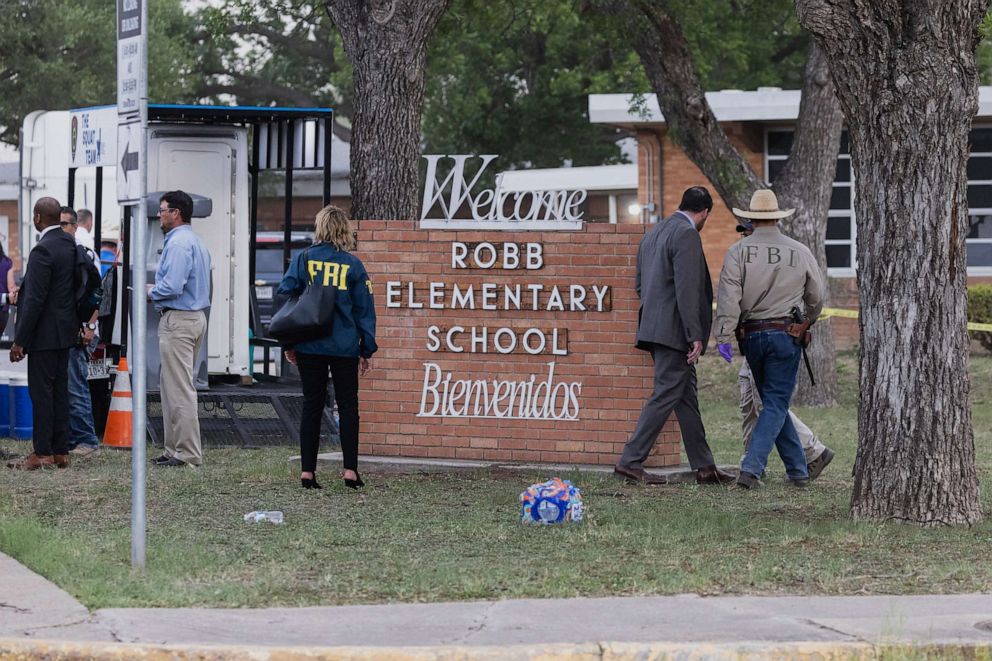 In some high-profile cases, shooters have been able to gain entry into schools through unlocked doors and unsecured gates. In Parkland, the gates and doors the gunman entered were left "unlocked, open and unattended," according to a 2019 report from the Marjory Stoneman Douglas Public Safety Commission. In Uvalde, Texas, the door the gunman entered Robb Elementary School through didn't lock even though it was supposed to automatically, state officials said.
Human error is often behind lapses in security, according to National School Safety and Security Services President Ken Trump.
"While the facts and merits of every case vary, the common thread is that they involved allegations of failures of human factors -- people, policies, procedures, communications, training -- not alleged failures of security hardware, products and technology," Trump, who is not related to former President Donald Trump, told ABC News. "Any type of security technology is only as strong as the weakest human link behind it."
Trump cited one school district he recently toured that had installed a camera security system for its delivery area so it could buzz in deliveries.
"We walk through that area, there are signs that say, 'For everyone's safety, never ever prop this door open.' And there's the door propped open with a towel," he said. "It's just a classic illustration of the human factors."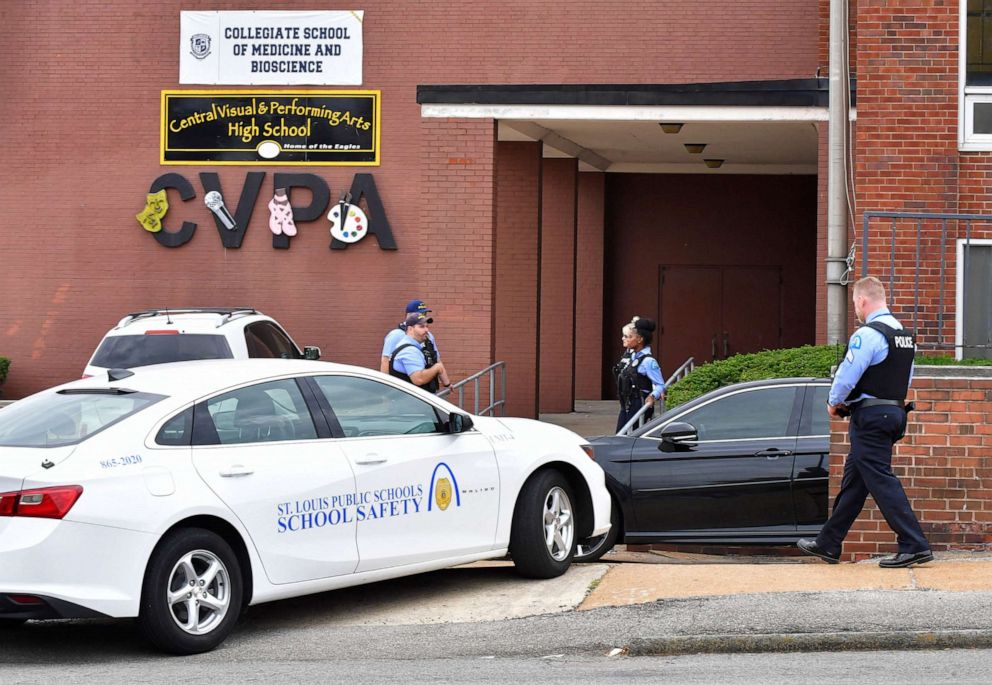 Determined perpetrators may also still be able to find a way past security defenses. Last year, a gunman found a way into a St. Louis high school despite the school's doors being locked, bypassing a checkpoint, authorities said. Officials said security staff identified the suspect's efforts to enter the school and immediately notified other staff, though a student and teacher were killed. The suspect -- a former student -- died in an exchange of gunfire with police, authorities said.
"They've got the doors locked. They've got the metal detectors. They're taking all the reasonable precautions," St. Louis Police Commissioner Michael Sack said during a news briefing following the incident. "If there's somebody who has a will, they're going to figure it out. We don't want to make it easy for them, but we've just got to do the best we can to extend that time it takes them to get into the building to buy us time to respond and get there."
Higher education setting
In the case of Michigan State, the shootings occurred at an academic building and the MSU Union building, home to a food court, convenience store and more, open to visitors and students alike.
Marlon Lynch, the campus chief of police, said it's not the university's practice to outfit classrooms with auto-locking doors. He said they plan to discuss with the community options on "how we proceed with different physical security."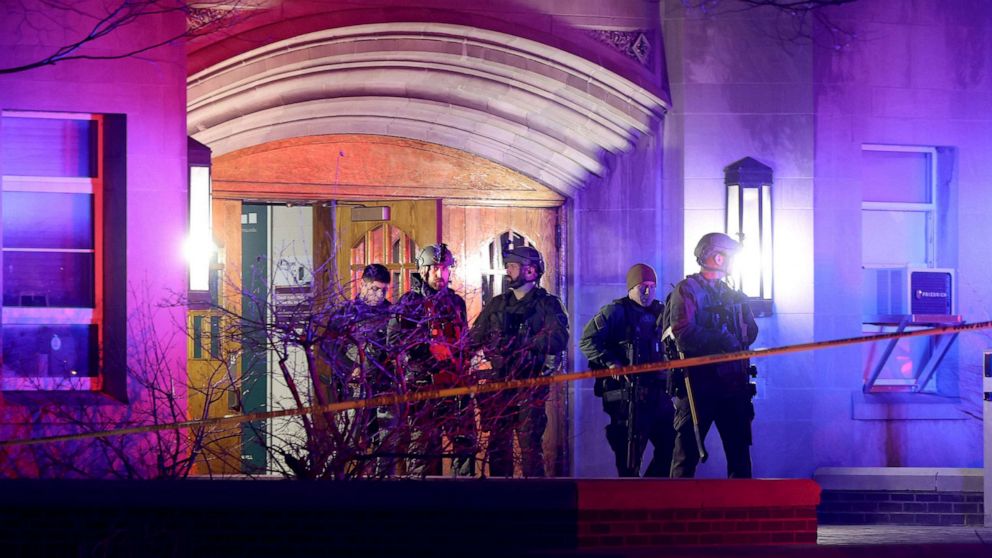 Higher education settings present a unique situation compared to K-12 environments, according to Amy Klinger, founder of the Educator's School Safety Network, which provides schools with safety training and resources.
"K-12 environment, there is more you can do to secure, there's more you can do to oversee what students are doing, there's more you can do to detect vulnerabilities," Klinger said. "A higher ed environment, it's much more open. The students are technically typically adults who ... perhaps need a higher level of information so they can make informed choices about what to do."
Higher ed is "like a hybrid of what you would do if there was a shooting in a mall or a grocery store, sort of combined with what you're trying to do if there's a violent event in a K-12 school," she said.
Prevention and accountability
Following a tragic shooting, schools often look to beef up security. For instance, after a 6-year-old shot and injured his teacher at an elementary school in Newport News, Virginia, earlier this year, the district said it will install metal detectors in every school.
Though Klinger said more needs to be focused on prevention to avoid such tragic outcomes.
"We're now walking 6-year-olds through metal detectors -- that's not gonna stop the next shooting," she said. "We're not spending enough time on all of the different, complicated factors that contribute to a 6-year-old bringing a gun."
Klinger said there needs to be more accountability in communities to prevent school violence -- from parents to officials and authorities to act when something is reported.
"If I could say, 'If you just do this one thing, everybody is safe,' it's not that simple," she said. "It's never been that simple."
Cohen outlined a three-pronged approach for protecting soft targets from mass shootings: improving physical security in and around the location; educating the public on what to do if they see suspicious activities, as well as how to behave if they find themselves amid an attack; and training first responders to rapidly respond and neutralize the threat.
The suspect in the Michigan State shooting -- identified as 43-year-old Anthony McRae -- was found dead from an apparent self-inflicted gunshot wound as officers confronted him in Lansing, authorities said. In a confidential briefing to law enforcement on Tuesday, FBI investigators said the suspect's writings indicated that he acted alone, and that he viewed himself as "a loner" and an "outcast" who was "never noticed or accepted by others."
Cohen said he was concerned that not enough is being done amid an evolving threat environment to improve our ability to prevent mass casualty attacks by lone offenders who are motivated by a combination of ideological beliefs and personal grievance often cultivated through the consumption of online content.
"While increased physical security measures can help to deter attacks, we cannot rely on locked doors to prevent them," he said. "We need to do more to improve our ability to detect and investigate potential threats and stop attacks before they occur."