The image of a powerful man's wife standing by her man amid allegations of his sexual misconduct is one that has been around for decades.
On Monday, Ashley Kavanaugh appeared on Fox News alongside her Supreme Court nominee husband, Brett, as he batted away sexual misconduct allegations from two women. Brett Kavanaugh has repeatedly denied engaging in any sexual misconduct after two women have come forward with allegations from his high school and university days.
"I know Brett," Ashley Kavanaugh told Fox News. "I've known him for 17 years. He's decent. He's kind. He's good. I know his heart. This is not consistent with Brett."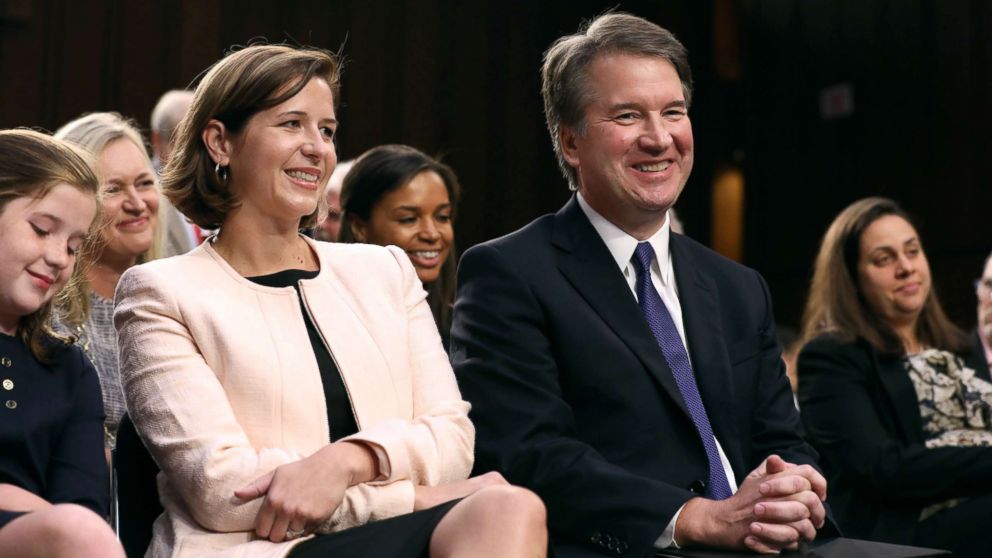 In publicly defending her husband, Ashley Kavanaugh is far from alone. Women from both political parties as well as the wives of powerful men in media, entertainment and business have often chosen to publicly stand by their men. But the #MeToo movement has caused many to look at that image through a different lens and examine why, too often, women are criticized for whatever choice they make and shamed right alongside their husbands.
"Ever since Eve was framed, as it were, and Adam's fall was seen to be Eve's fault, somehow whatever the man does, whatever sin the man commits, the woman is implicated," Dr. Terri Apter, a psychologist at the University of Cambridge and author of "Passing Judgment: Praise and Blame in Everyday Life," told ABC News.
It's become almost a ritual in American public life -- a man is accused of misconduct and his wife appears alongside him as he defends himself.
In 1992, Hillary Clinton name-checked the country singer who penned the now 50-year-old ballad "Stand By Your Man" when she appeared alongside her husband, then a presidential candidate accused of having an extramarital affair.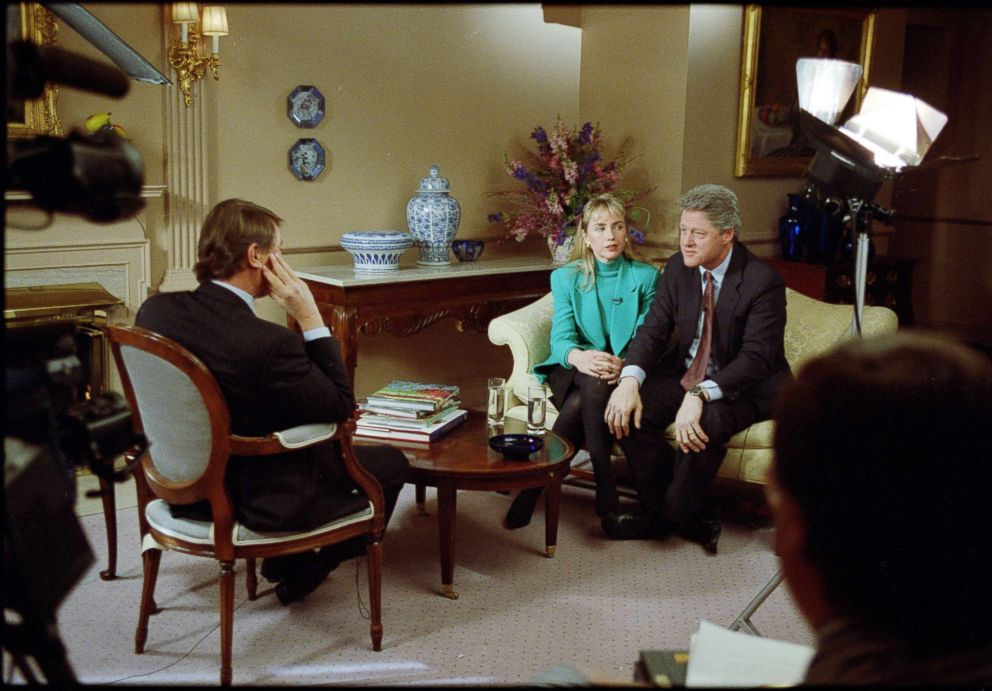 "I'm not sitting here some little woman standing by my man like Tammy Wynette," Hillary Clinton told CBS as she sat beside her husband. "I'm sitting here because I love him and I respect him."
In 2008, Silda Spitzer stood behind her husband, then-New York Gov. Eliot Spitzer, as he resigned over a scandal involving prostitution, a scene that was echoed in the television show "The Good Wife." Spitzer faced no charges in the case, and the couple divorced years later.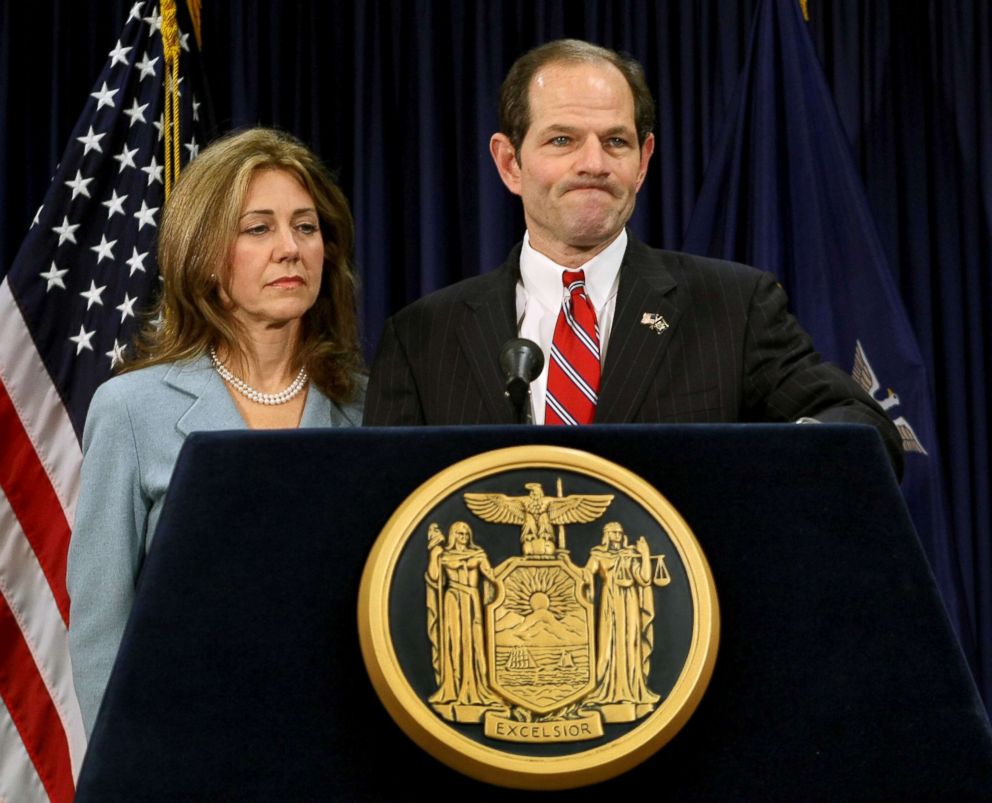 In 2017, on the day the first of two bombshell reports about Harvey Weinstein's alleged sexual misconduct was released, the embattled producer told The New York Post that his wife, the fashion designer Georgina Chapman, "stands 100 percent behind me."
Weinstein, 66, has been accused by dozens of women of sexual misconduct and has been investigated by the New York City Police Department, the Manhattan District Attorney's Office, the New York Attorney General's Office, the Los Angeles Police Department and U.K. authorities. He has denied all allegations of nonconsensual sex.
Then, as the #MeToo movement gained traction and the allegations against Weinstein mounted over five days, Chapman issued a statement saying she was leaving her husband. Weinstein is now facing charges of rape, criminal sex act, sex abuse and sexual misconduct for alleged incidents involving two separate women, police said.
'She falls down too'
In the process, Chapman's own career suffered, too -- a reality faced by many wives of men accused of abuse. Often used as a line of defense by their husbands, women find themsleves being shamed right along with their husbands even though they have not been accused of miscondcut themselves. So why are women shamed in the process too?
Experts say it has a lot to do with how we view women in sometimes antiquated, stereotypical ways.
Wives "should have known" about the allegations against their husbands before they surface can be one frequent refrain.
Weinstein's immediate response to the allegations citing his wife's approval is an example of that, Apter said.
"Saying, 'Well, she believes in me' wouldn't ordinarily be a defense but it is a defense in this context ... because the assumption is that women have intuition and they really know what's going on with the people around them," Apter said.
"Her status is seen to rest on her husband's status and if her man loses status, then she falls down too," Apter added, citing Chapman as an example.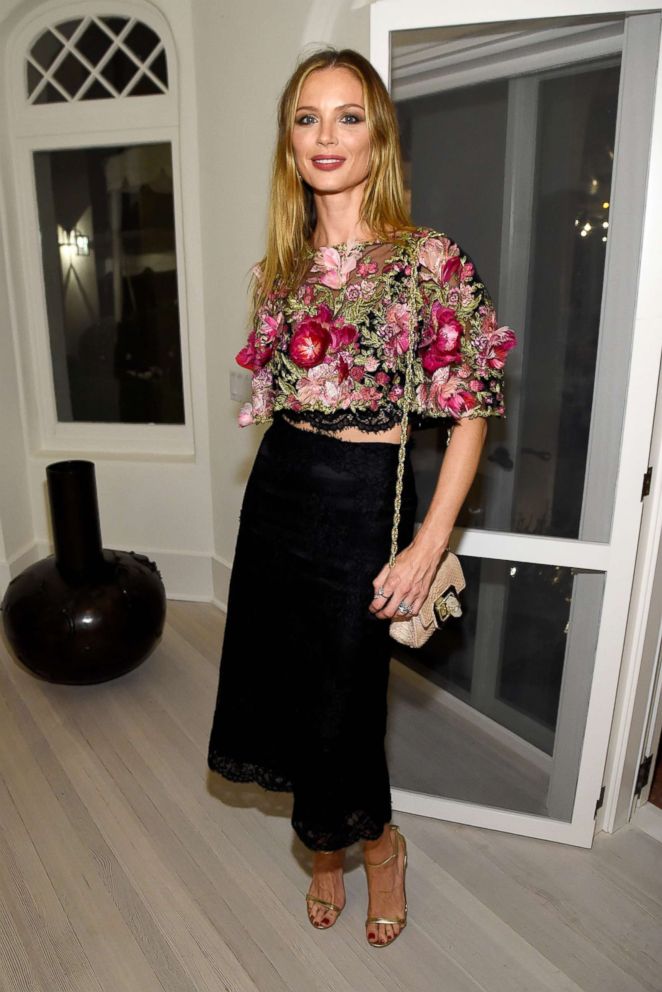 Chapman is well-known in her own right because of her fashion line, Marchesa. The line, known for the flowing, floral gowns that celebrities wore to so many awards shows and premieres, took a step back in the wake of Weinstein's allegations. According to a Vogue profile released in May,
Chapman canceled the company's fall 2018 show and consciously decided not to offer any gowns for awards show season. The one exception was that of actress Scarlett Johansson, who wore the brand to the Met Gala in May and released a statement saying it was her "pleasure to support a brand created by two incredibly talented and important female designers."
'A no-win situation'
Newscaster Julie Chen is another high-profile wife who has a career of her own that has seemingly taken a hit amid accusations against her husband, former CBS chief Les Moonves. Moonves has denied multiple accusations of sexual misconduct.
Chen announced last week that she is stepping down as a co-host of the network's show "The Talk," yet is slated to remain on as a host of the show "Big Brother."
Chen, who had been with "The Talk" since 2010, released a statement of her own in late July after the first allegations against her husband came to light.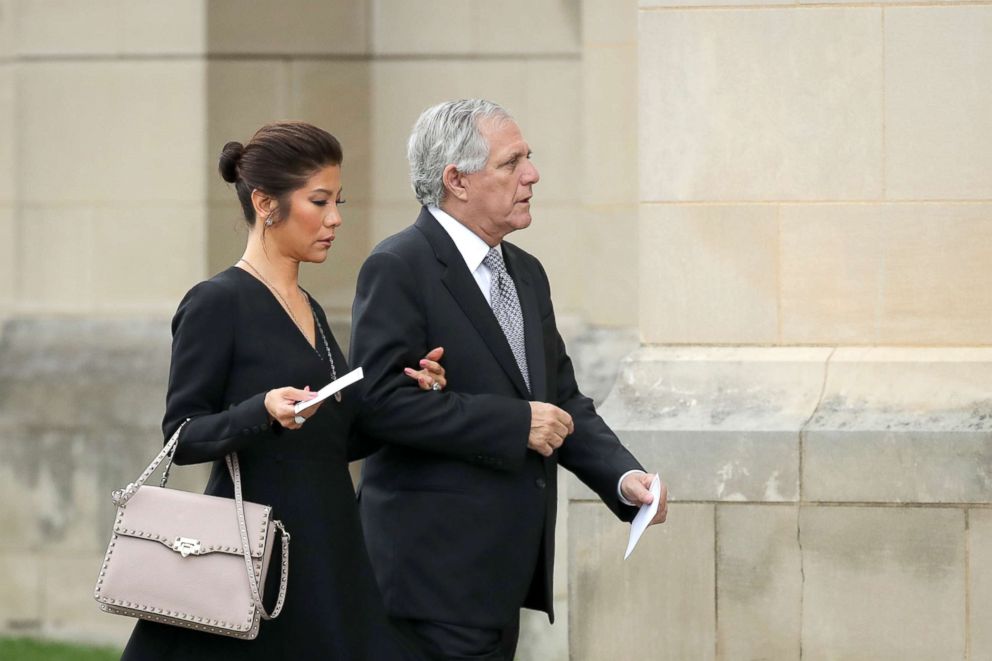 "Leslie is a good man and a loving father, devoted husband and inspiring corporate leader," Chen wrote on Twitter on July 27. "He's always been a kind, decent and moral human being. I fully support my husband and stand behind him."
Two months later, when new allegations surfaced, prompting Moonves to be forced out of CBS, Chen took a week off from "The Talk." She returned with a taped statement that announced she would be stepping down. That day, she signed off with her legal name, Julie Chen Moonves, which she had never done before and which was widely seen as a sign of support for her husband.
Unlike Chapman, Chen has continued to stand by her man. But both have faced criticism for their decisions.
That's nothing new, according to Carrie Baker, a professor and the director of the Program for the Study of Women and Gender at Smith College. When it comes to the question of whether or not to stand by their partners, women are "damned if you do, damned if you don't," she said.
"It's kind of a no-win situation for them," Baker told ABC News. "There's still pressure or expectation that [women are] defined by their relationships with men, and so as a result, I think that they are more likely to experience shame and get sort of tarnished by their association with somebody who's done this."
Staying for the children
The impact on a couple's children is often cited when women decide to leave -- or stand by -- a partner accused of abuse.
When Chen announced her departure from "The Talk," she said that "right now, I need to spend more time at home with my husband and young son," making her the latest to include their child as a reason to support a partner accused of misconduct.
Longtime Clinton aide Huma Abedin did not appear alongside her husband, then-Rep. Anthony Weiner, when he first dealt with a sexting scandal in 2011 while she was pregnant with the couple's son.
"Here was a man I respected, I loved, was the father of this child inside of me, and he was asking me for a second chance," Abedin said in a 2012 New York Times Magazine article. "And I'm not going to say that was an easy or fast decision that I made. It's been almost two years now. I did spend a lot of time saying and thinking: 'I. Don't. Understand.' And it took a long time to be able to sit on a couch next to Anthony and say, 'O.K., I understand and I forgive.' It was the right choice for me. I didn't make it lightly."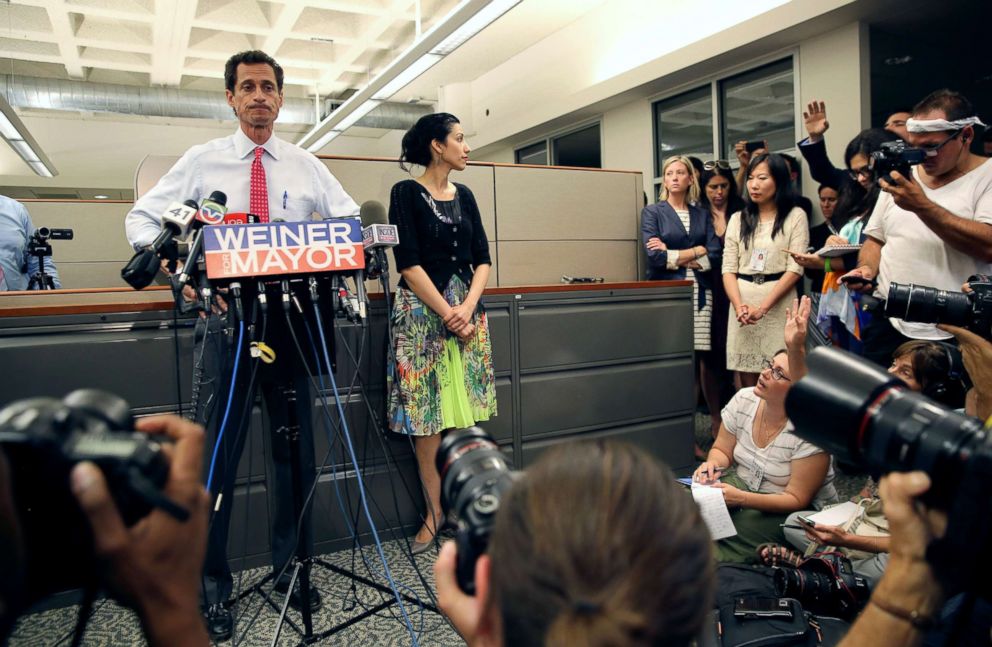 A year later, in the middle of his mayoral campaign, Abedin did appear alongside Weiner when he admitted that his sexting behavior had continued after his resignation from Congress.
It wasn't until another scandal emerged, this time when Hillary Clinton was running for president with Abedin on her team, that Abedin announced she was separating from Weiner. In that August 2016 scandal, photos that Weiner sexted to another woman were shown to include the couple's young son. In 2017, Weiner was sentenced to 21 months in prison for sending obscene material to a 15-year-old girl.
Sue Scheff, the author of "Shame Nation: The Global Epidemic of Online Hate," said that while each marriage is different and there's no way to tell what is really going on behind the scenes, she believes that "it took the inappropriate photo of him with her child actually going viral before she left him."
"We stay with our man for family reasons -- for the children -- and she probably did it as long as she possibly could. She probably took as she possibly could until she just had enough," Scheff said of Abedin.
Apter pointed to "The Good Wife," which premiered in 2009, as proof that the question of how and when women are expected to "stand by their man" has been debated publicly well before the #MeToo era.
"There was already the question of what loyalty is reasonable to expect or what's wifely dignity? How much of your husband's sin do you take on and suffer from? I don't think that's new with the Me Too movement," Apter said.
Instead, Apter said, the #MeToo movement "puts it in a new context, this very strange double standard we have, why somehow someone else's sexual misconduct can then shame you."