Trump aide Walt Nauta pleads not guilty in classified documents case
He is charged with conspiracy to obstruct justice and making false statements.
Walt Nauta, the longtime aide to former President Donald Trump who was charged alongside him in the special counsel's classified documents case, pleaded not guilty to all charges Thursday at his arraignment in Miami.
Nauta, who first worked for Trump in the White House before accompanying him to Florida following Trump's presidency, is facing six counts as part of the criminal case involving Trump's handling of classified documents. The charges include conspiracy to obstruct justice and making false statements.
The longtime aide appeared in a Miami federal courthouse Thursday after his arraignment was repeatedly delayed due in part to his inability to obtain local counsel to represent him. His plea was entered by Trump attorney Stan Woodward, and Nauta was represented by Woodward and local Florida attorney Sasha Dadan.
"I'm very glad to see you here," Judge Edwin Torres told them.
Nauta barely spoke during the hearing. When asked by the judge if he had a chance to review the indictment, he said "Yes, your honor."
Woodward waived the reading of the indictment and requested a jury trial. He also brought up one "registration issue," but did not elaborate.
The judge said he would work to get that cleared -- noting that there are more proceedings already scheduled that Judge Aileen Cannon "is waiting on."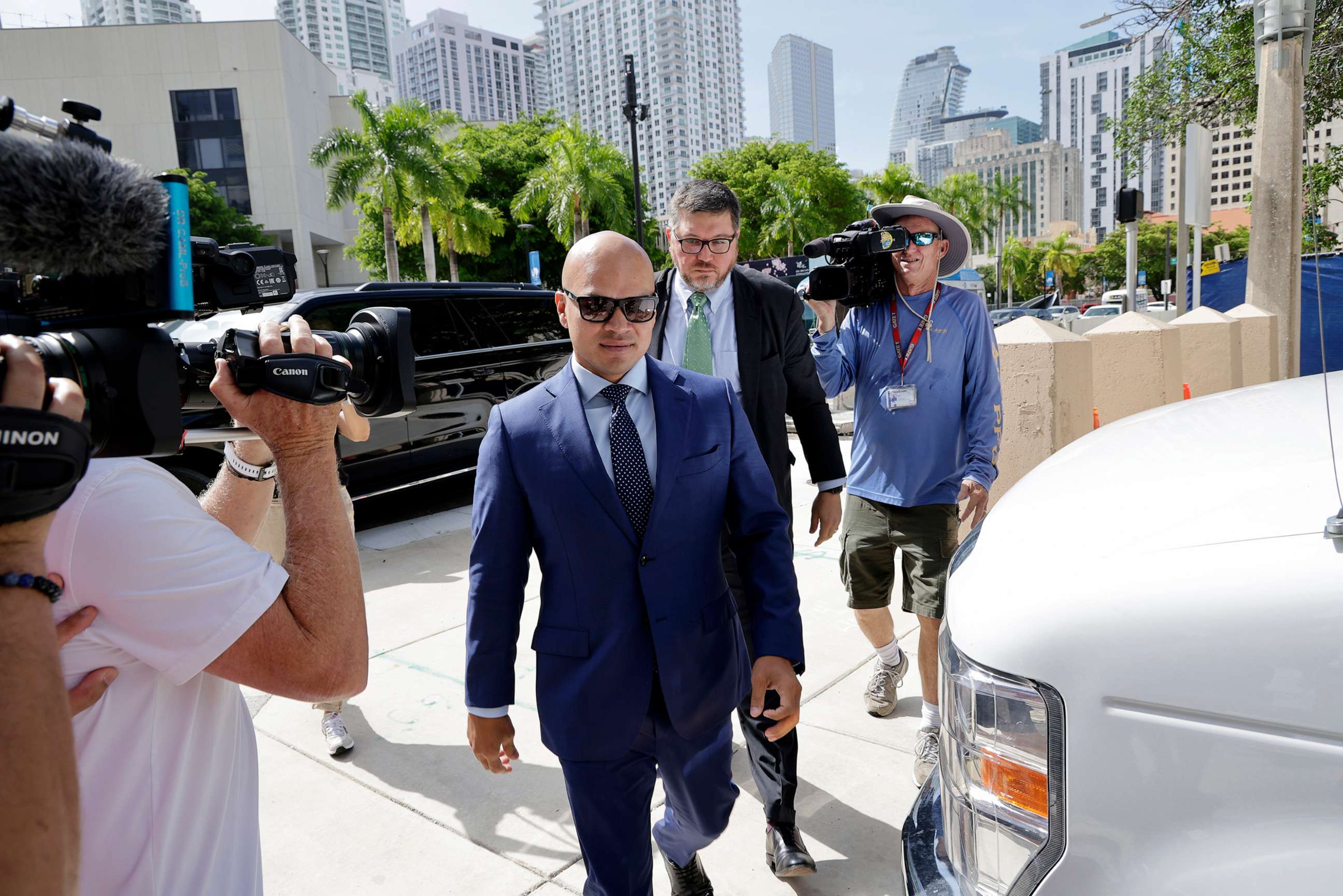 Special counsel Jack Smith was not present for the hearing. Members of his team, including Jay Bratt and David Harbach, were in court on behalf of the government.
Nauta said nothing to reporters as he departed the federal courthouse after the hearing.
Nauta, 40, first appeared in court in Miami with Trump in June, but was not arraigned because he did not have local representation. He and Trump sat with each other at the defendants' table, separated by Trump's attorney, for the duration of the hearing.
Trump pleaded not guilty to all charges.
Nauta was then set to be arraigned last week, but Woodward told the judge that Nauta still had not retained local counsel, and was also unable to get to Florida due to travel issues.
The judge warned Nauta's attorney last week that Thursday's arraignment should be considered the "drop dead" deadline.
Nauta wanted to "express his sincerest condolences to the court," Woodward told the judge last week.
"He takes very seriously the charges," Woodward said.
Trump pleaded not guilty last month to 37 criminal counts related to his handling of classified materials, after prosecutors said he repeatedly refused to return hundreds of documents containing classified information ranging from U.S. nuclear secrets to the nation's defense capabilities. He has denied all charges and denounced the probe as a political witch hunt.
Prosecutors allege that Nauta moved boxes containing classified documents around Trump's Mar-a-Lago estate at Trump's direction, in an effort to prevent the documents from being turned over to authorities.
In one instance, prosecutors allege that boxes were moved out of a storage room at the Palm Beach estate before Trump's attorney searched the room for documents to hand over to investigators in compliance with a grand jury subpoena seeking their return.
According to the indictment, Nauta was seen on surveillance footage moving boxes.
Nauta, a Guam native who enlisted in the Navy in 2001, worked in the Trump White House, where in 2021 he was promoted to the rank of Senior Chief Culinary Specialist, according to Navy records. Trump, according to investigators, subsequently promoted Nauta to be his valet, otherwise known as a "body man."
After Trump left the White House and moved to Florida, Nauta left the Navy and continued to work for the former president. In August 2021, Nauta became Trump's executive assistant, serving as his personal aide, a role in which he "reported to Trump, worked closely with Trump and traveled with Trump," according to the federal indictment.
ABC News' Will Steakin contributed to this report.