Explosive devices sent to Hillary Clinton, Obama, other prominent Democrats and CNN
The spate of delivered devices began with a pipe bomb at George Soros' home.
October 25, 2018, 6:02 AM
Law enforcement may have intercepted a suspicious package addressed to former Vice President Joe Biden on Wednesday, making him the latest potential target in a string of suspected bombing attacks, according to sources with knowledge of the matter.
Authorities are treating it as the eighth possible package in the government's domestic terrorism investigation, sources told ABC News Wednesday night, saying it was similar to those containing explosive devices sent to former President Barack Obama, Hillary Clinton and CNN's New York headquarters.
Officials said they intercepted two suspicious packages addressed to Rep. Maxine Waters, D-Calif., that matched the descriptions of explosive devices sent to Clinton, Obama, former U.S. Attorney General Eric Holder and other Democratic figures in New York and Washington.
The packages, which were sent to the FBI Laboratory in Quantico, Virginia, for analysis, were mailed in manila envelopes with bubble wrap interiors and had computer-printed address labels, the FBI said.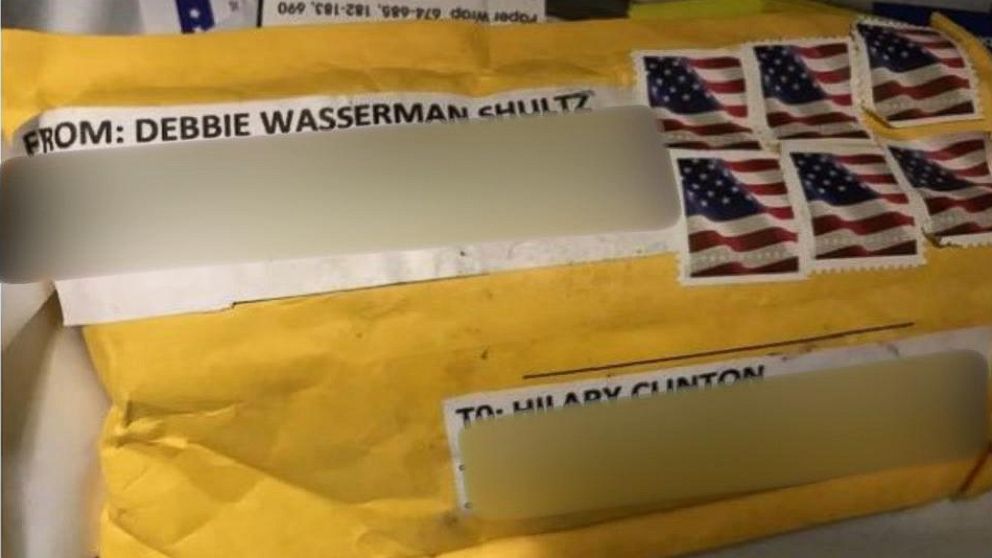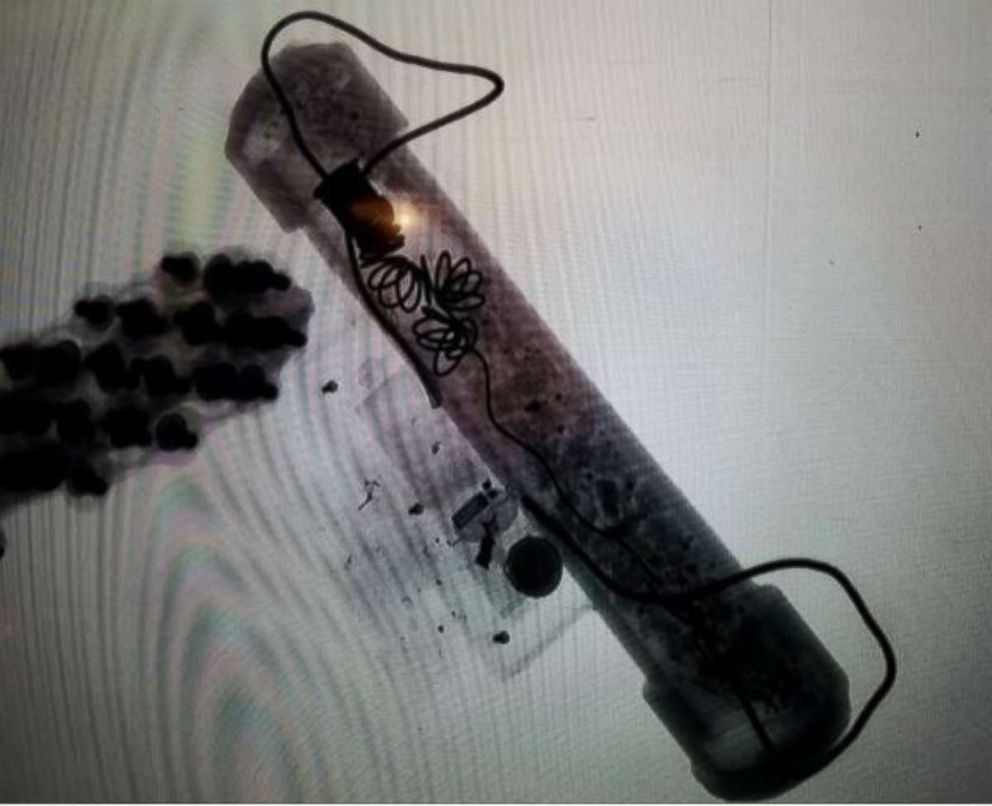 Many of the packages listed a return address for Rep. Debbie Wasserman Schultz, D-Fla., although her name was misspelled.
Officials said it's "possible that additional packages were mailed to other locations" and warned the public to "remain vigilant."
"The FBI advises the public to remain vigilant and not touch, move or handle any suspicious or unknown packages," the FBI said in a statement Wednesday evening. "We ask anyone who may have information to contact the FBI. Do not hesitate to call; no piece of information is too small to help us in this investigation."
Law enforcement officials said that based on the components and construction of at least five pipe-bomb-like devices, preliminary information leads investigators to fear the intent of the senders was to maim or kill. While some of the devices arrived in envelopes with stamps, authorities don't believe they were delivered by the U.S. Postal Service, which likely would have discovered them sooner.
The spate of incidents comes on the heels of a pipe bomb found Monday in the mailbox of the New York home of billionaire George Soros, a supporter of Democrats who's often criticized by right-wing groups.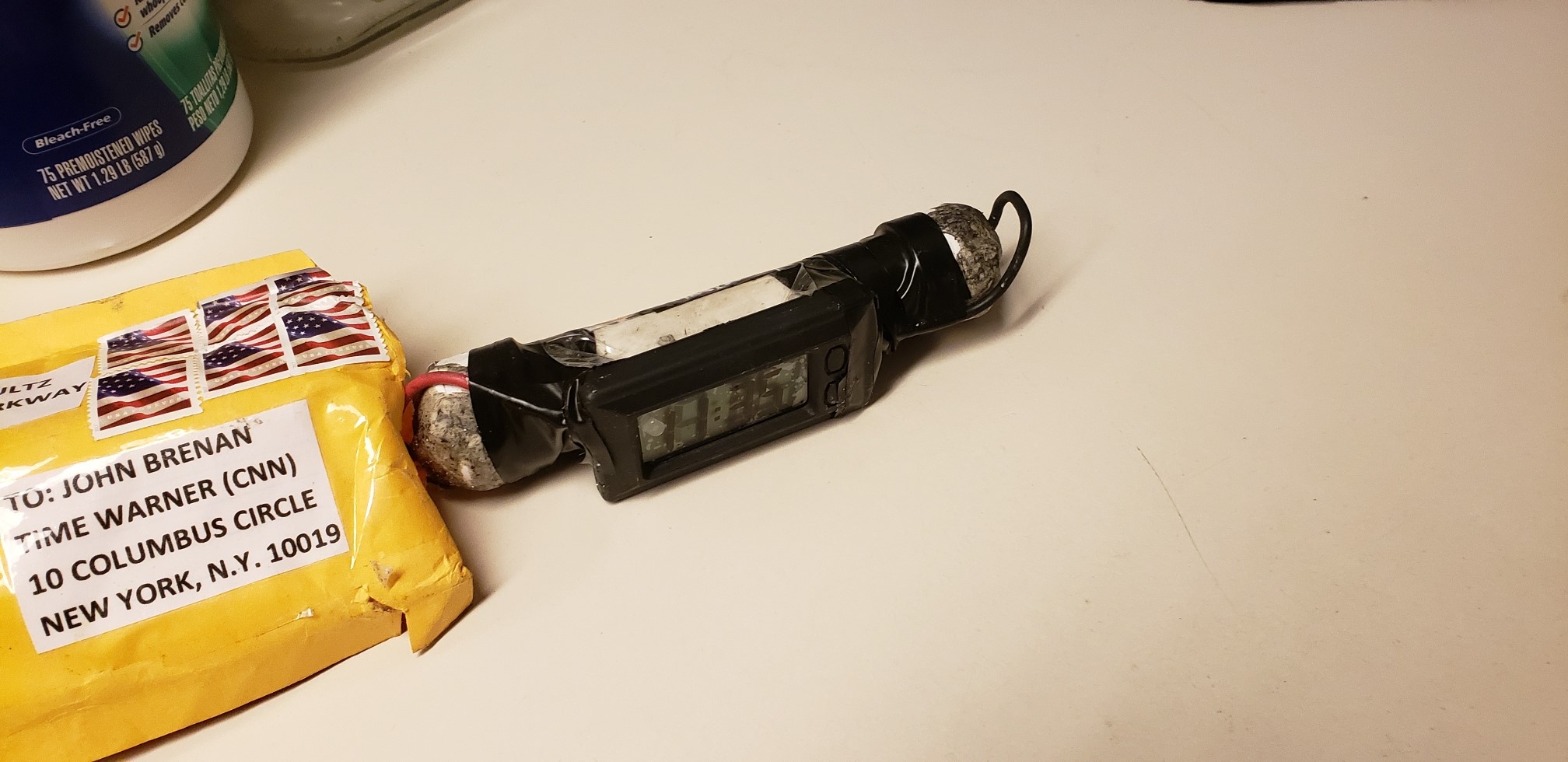 The package addressed to Hillary Clinton that contained an explosive device was intercepted Tuesday night by the Secret Service at a screening facility before it reached her home, also in Westchester County. Former President Bill Clinton was home at the time. It was discovered and screened away from the residence, a source said.
President Donald Trump called for "peace and harmony" from a rally in Mosinee, Wisconsin, but added: "The media has a responsibility to set a civil tone and to stop the endless hostility and constant negative and oftentimes false attacks in stories."
All of the packages were intercepted before they reached the intended targets. It's not completely clear whether the incidents are linked, but officials said they feared more devices and packages may already have been sent.
Bryan Paarmann, special agent in charge of the FBI's Counterterrorism Division and Joint Terrorism Task Force in New York City, said at a press conference on Wednesday that the mailings were an apparent attempt to further political aims.
"The utilization of violence in order to further one's own political agenda is unacceptable to us, and we will not rest until we find this," Paarmann said. "We will turn over every rock, we will turn every corner and we will talk to everybody that we have to in order to mitigate this threat."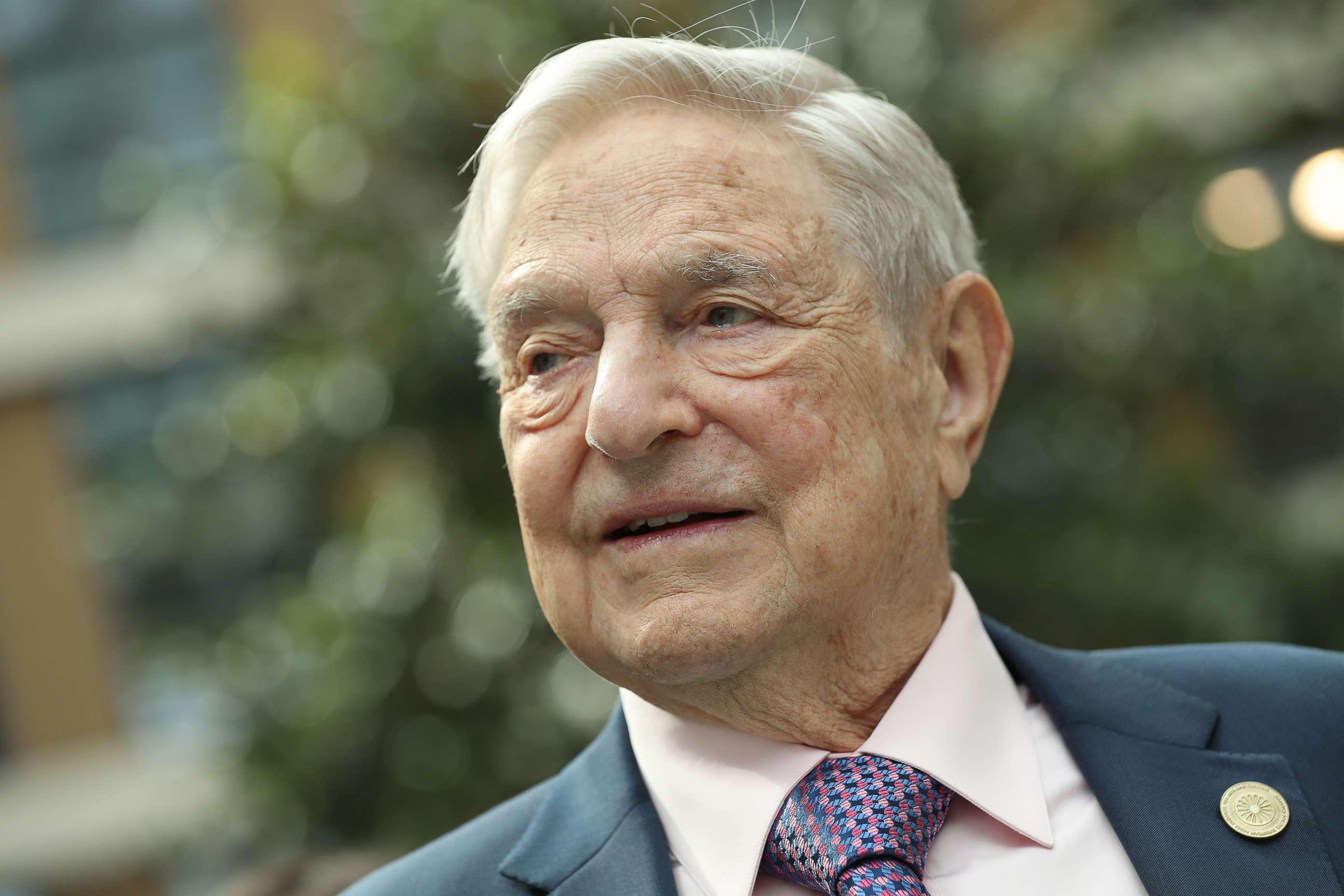 Trump said at the White House: "This egregious conduct is abhorrent to everything we hold dear and sacred as Americans," adding that the "full weight of our government is being deployed to conduct this investigation and bring those responsible to justice."
He said his administration is "extremely angry" about the incidents, adding that "the full weight of our government is being deployed to conduct this investigation and bring those responsible for these despicable acts to justice."
"Any acts or threats of political violence are an attack on our democracy, itself," Trump said. "No nation can succeed that tolerates violence or the threat of violence as a method of political intimidation, coercion or control."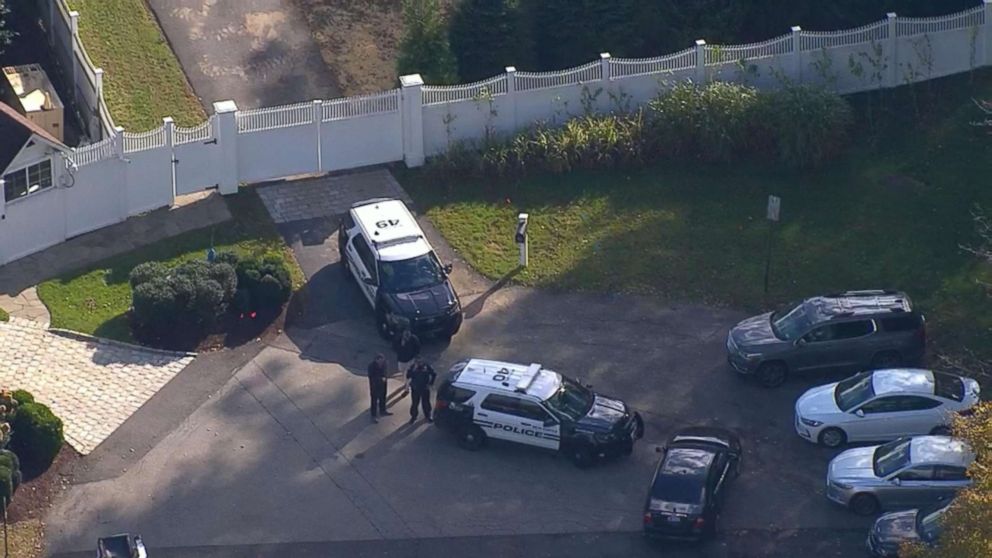 But on a day when a major newsroom was forced to evacuate over a bomb threat, the president used the moment to call for the media to spend some time in self-reflection, while making no mention of whether his own comments have contributed to the current political climate.
ABC has confirmed that suspected explosive devices or suspicious packages include:
-- A pipe bomb found Monday afternoon in the home mailbox of Soros in Westchester County north of New York City.
-- A package addressed to Hillary Clinton containing an explosive device that was intercepted Tuesday night by the Secret Service at a screening facility before it reached her home, also in Westchester County. Former President Bill Clinton was home at the time.
-- A package containing an explosive and suspicious powder was found Wednesday morning in the mailroom of the Time Warner Center in Manhattan where CNN is located. It was addressed to John Brennan, former director of the CIA. New York City police officers were present when the device was found.
-- The package addressed to Holder did not reach its intended destination and was returned to Wasserman Schultz's address in Florida, the FBI said.
-- The devices found in New York, Washington and Florida were all similarly constructed, using digital clocks as a switch, a powder charge and a battery power source, law enforcement sources told ABC News. They were built using PVC pipe and contained possible enhancements to cause more potential harm.
'It is a troubling time'
Hillary Clinton, speaking at a campaign event in Florida, said, "We are fine, thanks to the men and women of the Secret Service who intercepted the package addressed to us long before it reached our home."
"But it is a troubling time, isn't it?" Clinton said. "And it's a time of deep divisions and we have to do everything we can to bring our country together."
Security was tight around the event in Coral Gables where she spoke. People and cars were kept away from the perimeter of the building, and police had closed off surrounding streets.
The Clintons' daughter, Chelsea, tweeted Wednesday, "Every day, I am grateful to the women and men of the United States Secret Service. Thank you."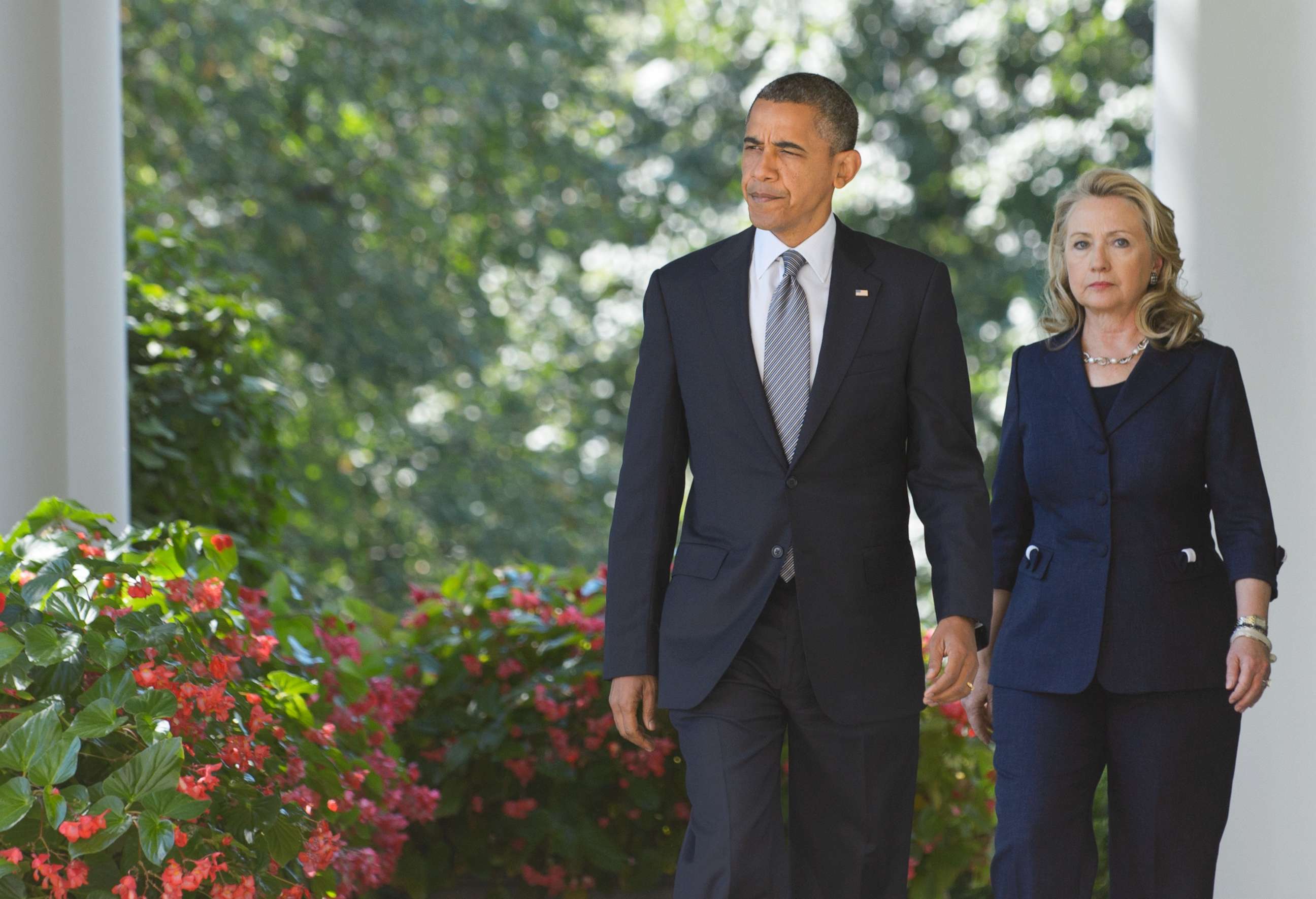 While speaking at the LBJ Presidential Library in Austin, Brennan said he believes "we're at a very unfortunate stage of our national history when we cannot have the civil discourse that we need about the future direction of our country and policies."
High alert in New York
The device sent to CNN appeared to be a "live explosive," New York Police Commissioner James O'Neill said.
The package containing the device sent to CNN also had in it a suspicious powder, said John Miller, NYPD deputy commissioner for intelligence and counterterrorism.
The package found in the CNN building appeared to be a metal pipe with wires, police sources told ABC News. Floors above and below the mailroom of Time Warner Center were evacuated.
Former NYPD chief of detectives Robert Boyce, now an ABC News contributor, said police are on high alert.
"They're covering all the locations. ... They have the ability to do that. These are plans that we, the NYPD, goes through and does drills for," Boyce said. "Right now the big thing is rendering the devices safe."
The NYPD Intelligence, Counterterrorism and Bomb Squad teams told ABC News they were also increasing patrols at locations in New York City associated with the individuals who were purported targets of the other explosives -- George Soros, Bill and Hillary Clinton, and Obama -- and inspecting packages delivered to locations associated with those individuals.
New York police also said they're increasing patrols at the offices of other media.
'Abundance of caution'
CNN anchor Jim Sciutto was on air at the time of the evacuation, and the channel's news coverage was switched over to its offices in Washington. Sciutto called in to the broadcast to say that he and hundreds of other CNN employees were standing outside, watching a "very fast-acting, quick response group" of NYPD officers responding to the scene.
CNN president Jeff Zucker sent a note to the company's New York employees, saying the evacuation was ordered "out of an abundance of caution."
"We are working with authorities to determine the severity of the situation," Zucker wrote, adding that they are checking all bureaus "around the world, out of a complete abundance of caution."
Responding agents from the Bureau of Alcohol Tobacco Firearms and Explosives were on the scene in Columbus Circle as part of the investigation into the suspicious package sent to CNN. The ATF agents were working alongside the NYPD and other investigators at the scene. The U.S. Postal Inspection Service also was involved.
The Secret Service stressed that the two devices sent to Clinton or Obama did not reach them.
"The packages were immediately identified during routine mail screening procedures as potential explosive devices and were appropriately handled as such," the Secret Service said in a statement.
Trump calls for unity
Trump called on all Americans to unify.
"We have to come together and send one very clear, strong, unmistakable message that acts or threats of political violence of any kind have no place in the United States of America," he said.
Democratic leaders pointed out that most of the people who were sent explosive have frequently been ridiculed by Trump.
"We listened with great interest to the president's remarks this afternoon. We all take an oath to support and defend the Constitution and protect the American people, and that is our first responsibility. However, President Trump's words ring hollow until he reverses his statements that condone acts of violence," Rep. Nancy Pelosi, the House minority leader, and Sen. Chuck, the Senate minority leader, said in a joint statement released Wednesday afternoon. "Time and time again, the president has condoned physical violence and divided Americans with his words and his actions: expressing support for the Congressman who body-slammed a reporter, the neo-Nazis who killed a young woman in Charlottesville, his supporters at rallies who get violent with protesters, dictators around the world who murder their own citizens, and referring to the free press as the enemy of the people."
Donald Trump Jr. also condemned the incidents.
"As someone whose family has directly been the victim of these mail threats I condemn whoever did this regardless of party or ideology. This crap has to stop and I hope they end up in jail for a long time," he wrote on Twitter.
The Department of Homeland Security has heightened security at all federal buildings around the country, DHS Secretary Kirstjen Nielsenn said in a statement.
ABC News' Christopher Donato, Justin Fishel, Katherine Faulders and Ali Rogan contributed to this report.