Summer sleepover camp has always brought a few perils, but usually they were no worse than poison ivy and mosquitoes. This year, dozens of camps around the country are contending with H1N1 swine flu, causing many to take drastic prevention measures.
The Muscular Dystrophy Association cancelled 47 camps after 11 cases of swine flu were reported among children. The American Lung Assocation also closed its camps, fearing that children who have asthma and other respiratory illnesses may be at high-risk for complications with the disease. Around the nation, at least 50 other camps have canceled their programs.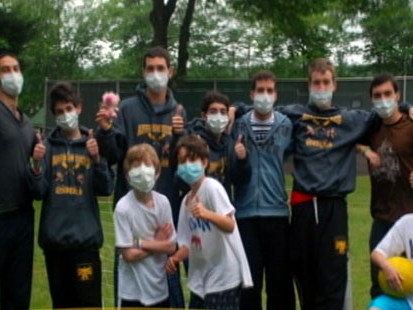 In Maine alone at least 34 camps have experienced outbreaks, but the cases have been mild and the state's public health director, Dr. Dora Anne Mills, says that many camps have successfully quelled the spread of
H1N1
without closing.
"We've taken it very seriously," says Dr. Mills. "We've been in contact with the camps and camp directors since early June anticipating this."
Earlier in the summer, Camp Modin in Belgrade, Maine, had 94 campers and camp counselors who had caught swine flu. One day, 25 campers fell ill. The arts and craft cabin and bunks were turned into isolation rooms, with police tape surrounding them so that healthy campers wouldn't cross into quarantined areas.
The recommended quarantine time is a week.
"I was just tired, I had a cough I slept basically all day," says 12-year-old Josh Schwarz. "I didn't feel good at all, had my temperature checked, I had like a 103 or something."
As more campers fell ill, the camp, which houses more than 300 kids, took the drastic step of offering Tamiflu to all camp participants. The anti-viral drug was taken for 10 days as a precaution by almost everyone at the camp.
Widespread use of Tamiflu as a prophylactic is controversial because it may breed resistance to the drug and could lead to shortages; however nursing homes have employed the precaution with success.
"In summer camp, children live on top of each other. It's a very close, communal environment, and it's very difficult to stop the spread," says Camp Monin director Howie Salzberg. "We thought the aggressive measures were needed."
Dr. Mills does not advocate mass use of Tamiflu as a preventative and says there are better ways to contain the virus' spread.
"There are other tools besides putting millions of healthy adults and children on a medication for weeks at a time," she says. "For instance, teaching respiratory etiquette -- covering their coughs -- staying home if they're sick, and teaching frequent handwashing."
Camp Modin coupled education with Tamiflu. Hand sanitizing gels are ubiquitous at the camp where the buzz phrase is, "be wise, sanitize."
Early and regular temperature checks, immediate quarantine of sick patients, and education about the importance of handwashing, has helped to wipe the virus out of Camp Modin.
Having recovered from the illness has become a badge of pride around the camp, where some of the children have taken to wearing specially beaded bracelets that symbolize they survived the swine flu.
When asked how bad the illness was, most of the campers say it was a mild flu and that their overall camp experience was not affected.
Still, Dr. Mills says there are many lessons to be drawn from the summer camp season for the coming school year.
"It seems to me that the experience of swine flu in summer camps has really taught us how easily this virus can be transmitted in a residential setting of young people," she says.
She says colleges, universities, and boarding schools should begin preparing now for students' return.
"They need to be preparing how to prevent H1N1, how to detect it early, how to isolate people with symptoms," she says, "and how to treat it appropriately."