The accidental shooting on the New Mexico film set of "Rust" spawned a yearlong criminal investigation, multiple lawsuits and heartfelt remembrances of cinematographer Halyna Hutchins, who was tragically killed when a prop gun fired.
Multiple people, including star Alec Baldwin, now face charges in connection with the deadly shooting.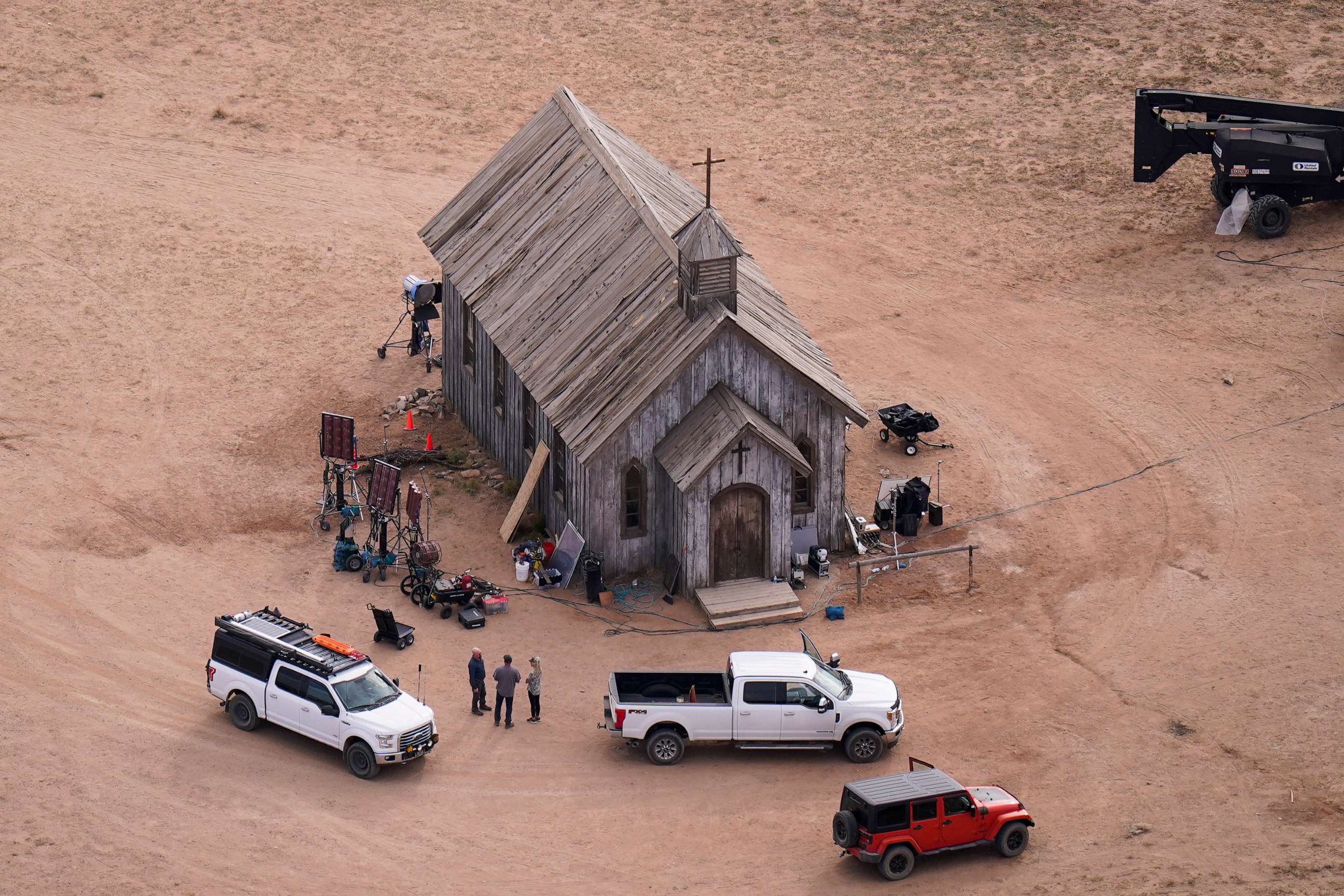 Here's a look at key events in the incident, which sent shockwaves throughout the entertainment industry.
Oct. 6, 2021: Production in progress
The New Mexico Film Office announced that "Rust" was currently in production in Santa Fe, with filming scheduled to go until early November 2021.
Oct. 21, 2021: On-set shooting
While on the set of the Western at Bonanza Creek Ranch, Hutchins, 42, was shot and killed by Baldwin while he was practicing using a Colt .45 revolver. Director Joel Souza was also injured in the shooting.
First assistant director David Halls had handed the gun to Baldwin while proclaiming "cold gun," to let the crew know a gun with no live rounds was being used, according to a search warrant affidavit. However, Hutchins was killed by a live round inside the gun, authorities said.
The Santa Fe County Sheriff's Office said it is investigating the incident.
Nov. 17, 2021: Script supervisor files lawsuit
The film's script supervisor, Mamie Mitchell, announced she has filed a civil suit accusing Baldwin of "playing Russian roulette" by pointing a Colt .45 revolver at Hutchins.
Dec. 2, 2021: Baldwin speaks out in first interview
In his first interview following the shooting, Baldwin told ABC News' George Stephanopoulos that he had "no idea" how a live bullet got onto the set of his film, but that he "didn't pull the trigger" on the firearm. He also said he didn't believe he would face criminal charges for the tragedy.
Jan. 12, 2022: Armorer files lawsuit
The film's armorer, Hannah Gutierrez-Reed, filed a lawsuit alleging that the ammunition boxes supplied by the prop provider "failed to state" that "the contents contained both dummy and live ammunition."
Feb. 15, 2022: Hutchins family files wrongful death lawsuit
The family of Hutchins filed a wrongful death lawsuit, alleging reckless behavior and cost-cutting by Baldwin and others led to Hutchins' death.
April 20, 2022: 'Rust' production company fined
The New Mexico Environment Department's Occupational Health and Safety Bureau issued Rust Movie Productions a "willful" citation, including a $136,793 penalty, for failures that led to Hutchins' "avoidable death." This is the highest level of citation and maximum fine allowable by state law in New Mexico.
Oct. 5, 2022: Hutchins family announces settlement reached
The family of Hutchins announced they had reached a settlement in their wrongful death lawsuit against the film's producers.
As part of the settlement, Matthew Hutchins, Halyna's husband, took over as executive producer of the film and it was announced the principal actors and director would restart filming in January 2023.
Oct. 27, 2022: Sheriff's investigation handed over to DA
Santa Fe County sheriff investigators confirmed they had turned over their report to Santa Fe First Judicial District Attorney Mary Carmack-Altwies, who will decide whether to press criminal charges against anyone involved in the shooting.
Nov. 11, 2022: Baldwin files lawsuit
Baldwin filed a lawsuit over the fatal shooting, alleging negligence of several of the film's crew members. The cross-complaint, which named the Western's first assistant director, armorer, ammunitions supplier and prop master as defendants, follows the lawsuit filed last year by the film's script supervisor.
Nov. 18, 2022: Sheriff releases investigative report
The Santa Fe County Sheriff's Office released its 550-page report into the fatal shooting.
Jan. 19, 2023: Charges announced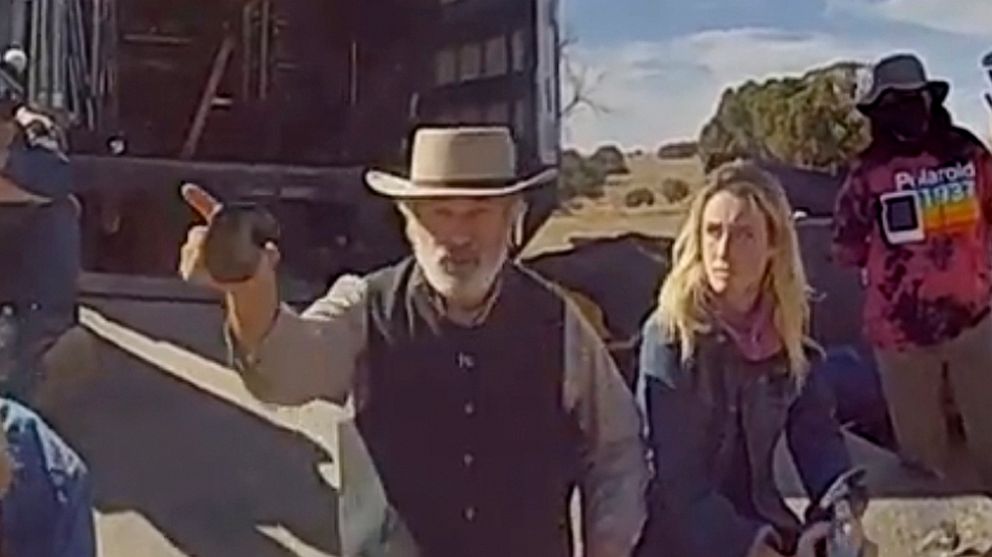 Prosecutors announced that Baldwin and Gutierrez-Reed will each be charged with two counts of involuntary manslaughter.
Halls already agreed to plead no contest to the charge of negligent use of a deadly weapon.
No charges will be filed in the shooting of Souza, the district attorney's office said.
Jan. 31, 2023: Charges formally filed
Carmack-Altwies formally filed involuntary manslaughter charges in the shooting.
The filings claimed that Baldwin and Guiterrez-Reed failed to correct reckless safety violations in their roles as producer and armorer, respectively, and that Baldwin had his finger inside the trigger and the trigger was pulled -- contradicting his statements saying he never pulled the trigger.
Halls' plea agreement is pending a judge's approval, prosecutors said. A plea conference has been scheduled for March 8.
Feb. 7, 2023: Baldwin's attorney seeks to remove special prosecutor
Baldwin's attorney filed a motion seeking to disqualify Andrea Reeb, the special prosecutor who investigated the fatal shooting, due to her role as a member of the New Mexico House of Representatives. The attorney, Luke Nikas, claimed that Reeb violated a separation-of-powers provision in the New Mexico Constitution and argued that she cannot simultaneously exercise legislative and judicial power.
In a statement in response to the motion, a spokesperson for the district attorney's office called it a tactic to "distract from the fact that Halyna Hutchins died because of gross negligence and a reckless disregard for safety on the 'Rust' film set."
Feb. 9, 2023: Hutchins' parents, sister file lawsuit
Hutchins' parents and sister, who live in her native Ukraine, file a lawsuit against Baldwin, the film's producers and several crew members, alleging battery, intentional infliction of emotional distress, negligence and loss of consortium.
Feb. 10, 2023: Baldwin's attorney files motion claiming gun-enhancement charge misapplied
Baldwin's legal team filed a motion arguing that the five-year gun enhancement didn't apply at the time of the shooting writing, "The prosecutors committed a basic legal error by charging Mr. Baldwin under a version of the firearm-enhancement statute that did not exist on the date of the accident."
The accident occurred in October 2021, but the current version of the law did not take effect until May 2022.
The district attorney's office again said it was a tactic to distract from responsibility for the shooting and "the DA's and the special prosecutor's focus will always remain on ensuring that justice is served and that everyone -- even celebrities with fancy attorneys -- is held accountable under the law."
Feb. 20. 2023: DA dismisses gun-enhancement charges against Baldwin, Gutierrez-Reed
The Santa Fe District Attorney's Office announced it is dropping the gun enhancement charge -- a crime that would have carried a five-year sentence if convicted -- against both Baldwin and Gutierrez-Reed.
Baldwin and Gutierrez-Reed still face charges of involuntary manslaughter for the shooting, however, that crime would carry a lesser sentence of 18 months if convicted. The amended complaint was filed on Feb. 17.
"In order to avoid further litigious distractions by Mr. Baldwin and his attorneys, the District Attorney and the special prosecutor have removed the firearm enhancement to the involuntary manslaughter charges in the death of Halyna Hutchins on the 'Rust' film set," Santa Fe District Attorney Mary Carmack-Altwies said in a statement. "The prosecution's priority is securing justice, not securing billable hours for big-city attorneys."
Feb. 23. 2023: Baldwin pleads not guilty, waives 1st court appearance
Baldwin entered a plea of not guilty and waived his first court appearance in a court document filed a day before he was scheduled to appear virtually in court. A district judge also issued an order setting conditions of Baldwin's release, including that he must not possess any firearms, not consume alcohol and have no contact with any potential witnesses unless it's related to filming the movie.
Halls also filed a waiver of first appearance on Feb. 22 and pleaded not guilty, court records show.
Feb. 24. 2023: Producers, state reach settlement over fine
The New Mexico Environment Department's Occupational Health and Safety Bureau and Rust Movie Productions announced they have reached a settlement over the fine issued in April 2022 for the on-set shooting. Rust Movie Productions has agreed to pay $100,000 -- down from the original $136,793 civil penalty issued by the agency -- and the citation was amended from "willful-serious" to "serious," according to the agreement.
March 14, 2023: Special prosecutor to step down
Reeb announced she will step down from the case, saying in a statement issued by the Santa Fe district attorney's office that she will "not allow questions about my serving as a legislator and prosecutor to cloud the real issue at hand."
March 29, 2023: District attorney also steps away from case
The district attorney's office announced that Carmack-Altwies will step away from prosecuting the case and has appointed New Mexico attorneys Kari Morrissey and Jason Lewis to serve as special prosecutors.
April 20, 2023: Charges against Baldwin dropped as 'Rust' resumes filming
Charges against Baldwin in the shooting have been dropped, according to sources familiar with the matter.
The development came as "Rust" resumed production at Yellowstone Film Ranch in Montana with the original producers and principal cast, including Baldwin.