Iran has admitted that it unintentionally shot down the Ukrainian passenger plane that crashed near Tehran Wednesday, killing all 176 people on board.
The plane was mistaken for a "hostile flight" after it turned toward a "sensitive military center," at which point the plane was "unintentionally hit" with an anti-aircraft missile, according to an official Iranian statement released early Saturday morning local time.
The crash of Ukraine International Airlines Flight 752 occurred about three hours after Iran fired multiple missiles into Iraq, targeting U.S. military sites in retaliation for the American drone strike that killed Qassem Soleimani, one of its top generals.
"Hours after the missile strikes, US terrorist forces' military flights around the country increased, and defense centers received some news indicating observations of air targets (moving) towards strategic centers of country," an English translation of the statement said. "Several targets appeared on some radar screens which increased the sensitivity in air defense complexes."
"In such critical and critical conditions, Flight 737 of the Ukrainian Airlines departed from the Imam Khomeini Airport and, while in rotation, was completely in approaching position to a sensitive military center of the IRGC and reached at an altitude and shape of a hostile flight," said the statement. "In such circumstances, the plane was unintentionally hit due to human error, which unfortunately resulted in the martyrdom of dear compatriots and the death of a number of foreign nationals."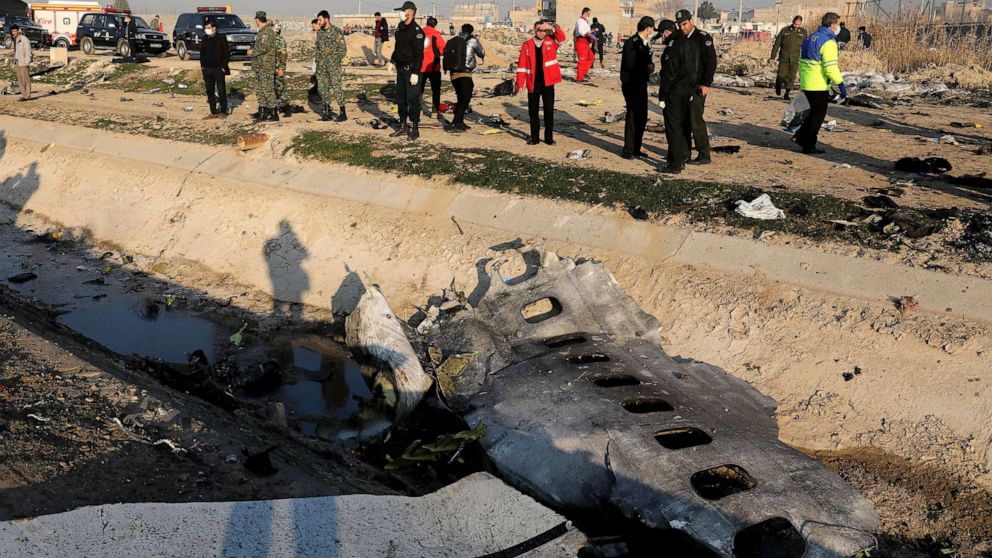 The statement apologized for the disaster and said Iran would upgrade its military systems to eliminate future mistakes. It also said that those responsible for the error would be prosecuted.
"The General Staff of the Armed Forces expresses its condolences to the grieving families of the fellow nationals, and of the nationals of other countries, and also expresses its apology for the human error," the statement said. "It fully assures fundamental reforms in operational processes on the level of armed forces to make such unintentional errors impossible and to immediately report the culprit to the Judicial Organization of the Armed Forces to let it confront the mistakes legally."
Iranian President Hassan Rouhani also expressed his regret in a post to Twitter.
"Armed Forces' internal investigation has concluded that regrettably missiles fired due to human error caused the horrific crash of the Ukrainian plane & death of 176 innocent people," Rouhani said, writing in English. "Investigations continue to identify & prosecute this great tragedy & unforgivable mistake."
"The Islamic Republic of Iran deeply regrets this disastrous mistake. My thoughts and prayers go to all the mourning families. I offer my sincerest condolences," he added.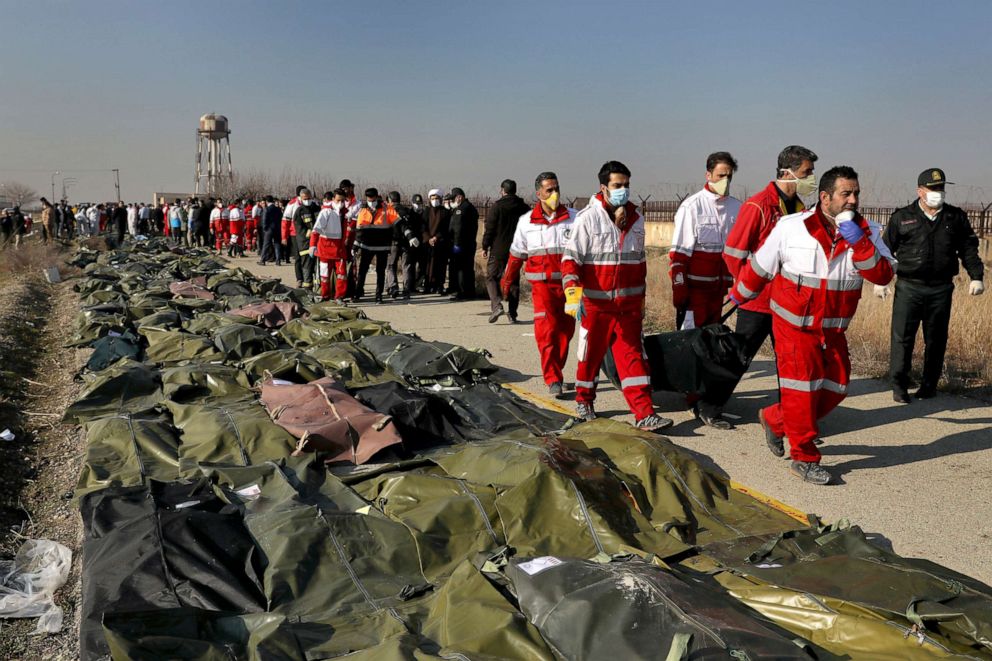 In another Twitter post, Iranian foreign minister Javad Zarif blamed the disaster on "human error" caused by "US adventurism."
"A sad day. Preliminary conclusions of internal investigation by Armed Forces: Human error at time of crisis caused by US adventurism led to disaster," said Zarif, who the day before the crash criticized President Donald Trump for threatening to strike Iranian cultural sites if Iran retaliated for the killing of Soleimani. "Our profound regrets, apologies and condolences to our people, to the families of all victims, and to other affected nations," Zarif added.
The Boeing 737 airliner bound for Kyiv, Ukraine, took off at 6:12 a.m. Wednesday from Tehran's Imam Homeini International Airport and dropped off flight trackers just two minutes into the flight.
Iranian officials initially blamed the crash on a technical problem and rejected the theory that the aircraft could have been struck by a missile.
But U.S. military officials strongly suspected that the Ukrainian airliner had been brought down by an Iranian air defense system. The launch of two surface-to-air missiles was detected by American satellites that monitor missile launches around the globe, authorities said.
Among the flight's passengers, at least 82 were Iranian, according to Ukraine's Foreign Minister Vadym Prystaiko. Canadian Foreign Affairs Minister Francois-Philippe said Friday that 57 passengers were Canadian, down from an earlier estimate of 63.
"Tonight, Iran acknowledged that Ukraine International Airlines Flight 752 was shot down by its own armed forces," Canadian Prime Minister Justin Trudeau said in a statement following Iran's announcement. "We will continue working with our partners around the world to ensure a complete and thorough investigation, and the Canadian government expects full cooperation from Iranian authorities."
Eleven Ukrainians were also aboard, including the airliner's nine crew members, Prystaiko said. Ten other passengers were from Sweden, four were from Afghanistan, three were from Germany and three were from Britain, according to the minister.
"This morning brings the truth," Ukranian President Volodymyr Zelenskiy posted to Twitter in English after Iran's announcement. "Ukraine insists on a full admission of guilt. We expect Iran to bring those responsible to justice, return the bodies, pay compensation and issue an official apology. The investigation must be full, open & continue without delays or obstacles."
ABC News' Mina Kaji and Jeffrey Cook contributed to this report.