Critics and supporters are sharply divided over President Trump's most recent controversial tweet, in which he shared an edited video of him body-slamming someone with the CNN logo superimposed on his face.
Interested in
Donald Trump?
Add Donald Trump as an interest to stay up to date on the latest Donald Trump news, video, and analysis from ABC News.
While Trump and members of his team have repeatedly denied that his words and actions are intended to threaten or encourage violence, many of his detractors have said they fear that his most incendiary rhetoric can be interpreted that way.
Here are some examples:
Recounting a childhood story
Decades before launching his political career, Trump started crafting his public image with the release of his book "The Art of the Deal," which was published in 1987. In that book, he described an incident when he was younger that stood out as a memorable moment.
"Even in elementary school, I was a very assertive, aggressive kid," Trump wrote in the bestseller. "In the second grade I actually gave a teacher a black eye — I punched my music teacher because I didn't think he knew anything about music and I almost got expelled. I'm not proud of that but it's clear evidence that even early on I had a tendency to stand up and make my opinions known in a very forceful way. The difference now is that I like to use my brain instead of my fists."
Asked about the story during an interview with The Washington Post on April 21, 2016, he hedged about the details.
"When I say 'punch,' when you're that age, nobody punches very hard. But I was very rambunctious in school, and it was good to go to a military academy because in those days it was a lot tougher than it is now. It was a different environment," Trump said.
Weighing in on protesters
Protesters regularly interrupted Trump's rallies during the presidential campaign — which he often mentioned in his speeches.
In Cedar Rapids, Iowa, on the day of the Iowa caucuses, for instance, he told audience members he would pay their legal fees if they engaged in violence against protesters.
"If you see somebody getting ready to throw a tomato, knock the crap out of them, would you? Seriously, OK? Just knock the hell ... I promise you I will pay for the legal fees. I promise, I promise," he said on Feb. 1, 2016.
At a Las Vegas rally later that month, he said security guards were too gentle with a protester. "He's walking out with big high-fives, smiling, laughing," Trump said. "I'd like to punch him in the face, I'll tell you."
A similar situation unfolded at a rally that month in Warren, Michigan.
"Get him out," he said of a protester. "Try not to hurt him. If you do, I'll defend you in court. Don't worry about it."
The sucker-punch incident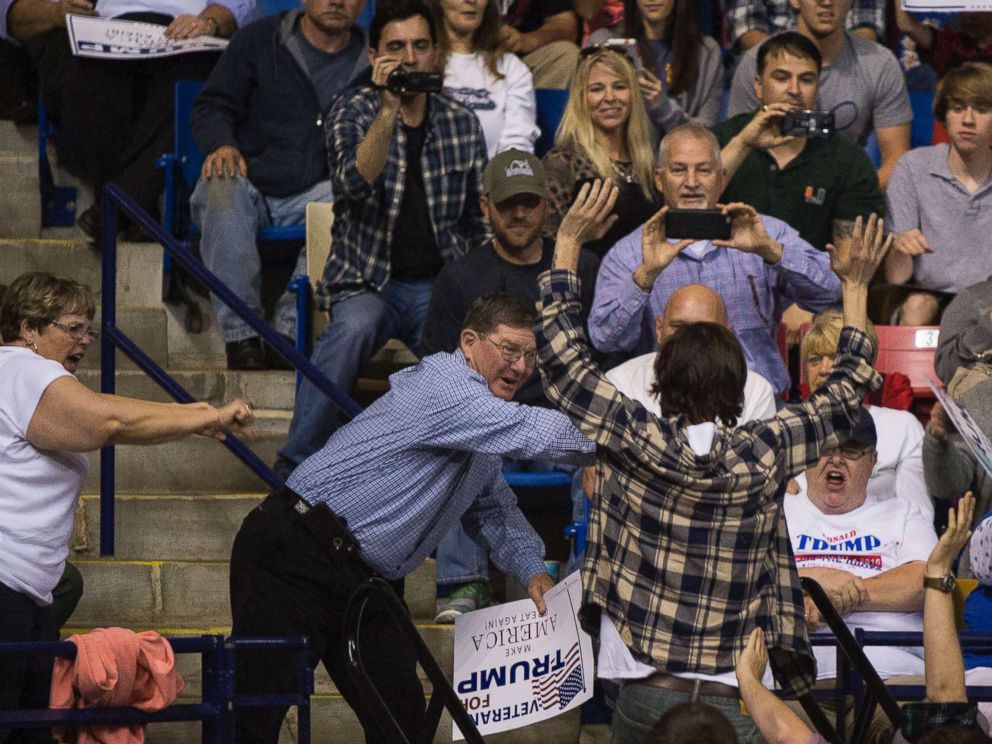 On March 9, 2016, as a protester was being escorted out of a rally in Fayetteville, North Carolina, he was sucker-punched by another attendee.
The Cumberland County Sheriff's Office released a statement saying officers arrested the man suspected of throwing the punch, identified by authorities as John Franklin McGraw, for allegedly assaulting the protester.
The day after the Fayetteville incident, the Trump campaign released a statement that didn't mention Trump's comments.
"We obviously discourage this kind of behavior and take significant measures to ensure the safety of any and all attendees," it read.
In the subsequent days and weeks, Trump was asked about the incident and said that he did not condone the violence but at one point said he would look into whether to pay the legal fees for McGraw. Trump said he never offered to pay in the first place.
McGraw was charged with misdemeanor charges of assault and battery and disorderly conduct and pleaded no contest. In court in December, he spoke with and hugged the man whom he allegedly punched.
An ongoing lawsuit
Even though most of Trump's public remarks now come during appearances with world leaders at the White House and less often at rallies across the country, some of his acerbic comments have followed him.
Three protesters who claim they were roughed up by Trump supporters at a March 1, 2016, rally in Louisville, Kentucky, have filed a federal suit against Trump, accusing him of inciting violence.
His lawyers tried to get the case dismissed by saying his comments are protected by the First Amendment's guarantee of freedom of speech and that he did not intend for his words to incite violence.
But federal Judge David Hale rejected that argument in April and said there was sufficient evidence that the protesters' injuries were a "direct and proximate result" of Trump's comments, according to The Associated Press. The case is pending.
More recent denials
Critics have condemned Trump's most controversial comments for some time now, and several of his statements have become flashpoints in the past week.
In comments published June 29, Trump made disparaging comments and personally attacked "Morning Joe" co-hosts Joe Scarborough and Mika Brzezinski. Hours later, deputy press secretary Sarah Huckabee Sanders, asked whether "the hostility of the verbal environment can create an atmosphere of violence," disputed the notion that his tweets do so.
"The president in no way form or fashion has ever promoted or encouraged violence. If anything, quite the contrary. And he was simply pushing back and defending himself," she said.
This weekend, Trump shared the doctored video, from a 2007 WWE skit in which he is seen taking down WWE owner Vince McMahon. In the version Trump shared, McMahon's face is blocked by the CNN logo.
When the video was shown to homeland security adviser Tom Bossert on ABC News' "This Week" on Sunday, he said it is "certainly not" a threat against the media or CNN specifically.
"I think that no one would perceive that as a threat. I hope they don't," he added. "But I do think that he's beaten up in a way on cable platforms that he has a right to respond to."
Outcry from Democrats was swift, and House Minority Leader Nancy Pelosi of California posted a tweet making her feelings clear.
"Violence & violent imagery to bully the press must be rejected. This #July4th, celebrate freedom of the press, guardians to our democracy," she wrote.
CNN released a statement criticizing the video.
"It is a sad day when the president of the United States encourages violence against reporters. Clearly, Sarah Huckabee Sanders lied when she said the president had never done so," the statement reads.
"Instead of preparing for his overseas trip, his first meeting with Vladimir Putin, dealing with North Korea and working on his health care bill, he is instead involved in juvenile behavior far below the dignity of his office. We will keep doing our jobs. He should start doing his," the statement concludes.