As the U.S. Senate prepares to vote on Brett Kavanaugh's Supreme Court nomination political groups are flooding television and social media with millions of dollars in ads meant to sway public opinion.
Campaign finance experts told ABC News that while precise figures may be hard to tally, the level of outside spending from deep-pocketed groups on both sides this year appears to be unprecedented.
"The balance of the court is at stake," said Brendan Fischer, an analyst with the Campaign Legal Center, a Washington-based nonpartisan group that tracks money in politics.
ABC News looked at figures from public statements by groups that have taken credit for advertising—as well as advertising records mentioning Kavanaugh filed to the Federal Communications Commission. Those records were filed by large-market television stations in states represented by senators whose votes were seen as central to determining the ultimate fate of Kavanaugh and to galvanize voters in those states.
Both sides are spending well into the millions of dollars, the records show. It's impossible to tell the total amounts because some of the organizations involved do not have to report their spending, but from what ABC was able to initially identify, it appears the pro-Kavanaugh spending is significantly more than that of the opposition.
Kavanaugh himself decried the spending campaign targeting his nomination during his most recent testimony, saying he believed "millions of dollars in money from outside left-wing opposition groups" were behind the effort to sink his court bid. "This whole two-week effort has been a calculated and orchestrated political hit," Kavanaugh told senators.
A political group formed in February called Demand Justice, headed by former Hillary Clinton campaign press secretary Brian Fallon has said it planned to spend at least $5 million opposing Kavanaugh. The group, which is organized in a manner that hides the source of its funding, has focused spending on swaying moderate Republicans, including Sens. Lisa Murkowski of Alaska, Susan Collins of Maine and Jeff Flake of Arizona.
On Wednesday, Demand Justice released a new digital ad featuring the image of one of the Kavanaugh's accusers, Christine Blasey Ford, being sworn in before the Senate Judiciary Committee, with audio of President Trump mocking Ford's testimony.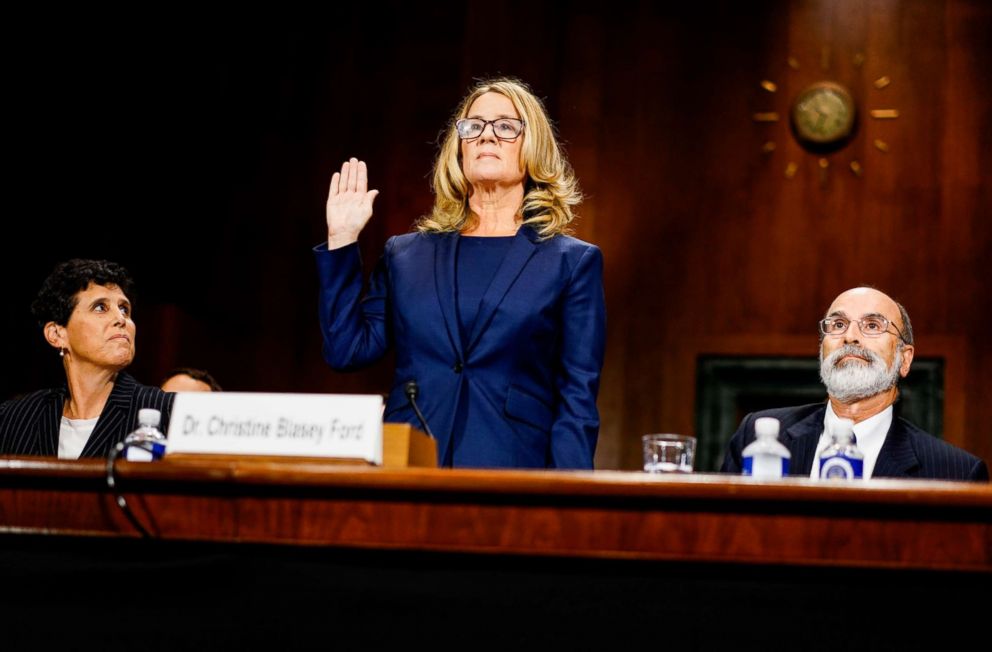 Other groups opposing Kavanaugh, including Planned Parenthood and NARAL Pro-Choice America, have also poured in money.
ABC found that since August, Planned Parenthood spent about $110,000 in airing ads just on a local television station in Anchorage, Alaska, and about $33,700 in a station in Portland, Maine, according to an analysis of political ad buy records filed to the Federal Communications Commission.
More recently, Planned Parenthood also announced a six-figure ad buy seeking to sway Sen. Dean Heller, R-Nev., on the vote. While Heller has not been a viewed as a swing vote on Kavanaugh, but the issue could mobilize voters in an extremely tight Senate race.
Overall, NARAL has spent at least $2.5 million on campaigns against Kavanaugh, including $1.25 million on television and social media ads, according to a NARAL spokesperson.
NARAL has also joined forces with other liberal groups, including the People's Defense and MoveOn, to mount a grassroots project against Kavanaugh. The group produced a "KAVA NOPE" poster, illustrator Tracie Ching's homage to street artist Shepard Fairey's "Hope" image of former President Barack Obama.
"Women and allies won't forget this fight- not now, not in November, and not in 2020," NARAL spokesperson told ABC News in a statement. "Senators who claim to be allies to women and survivors cannot in good conscience vote to confirm Kavanaugh -- we knew that before, and that has only become clearer with every hour that passes by."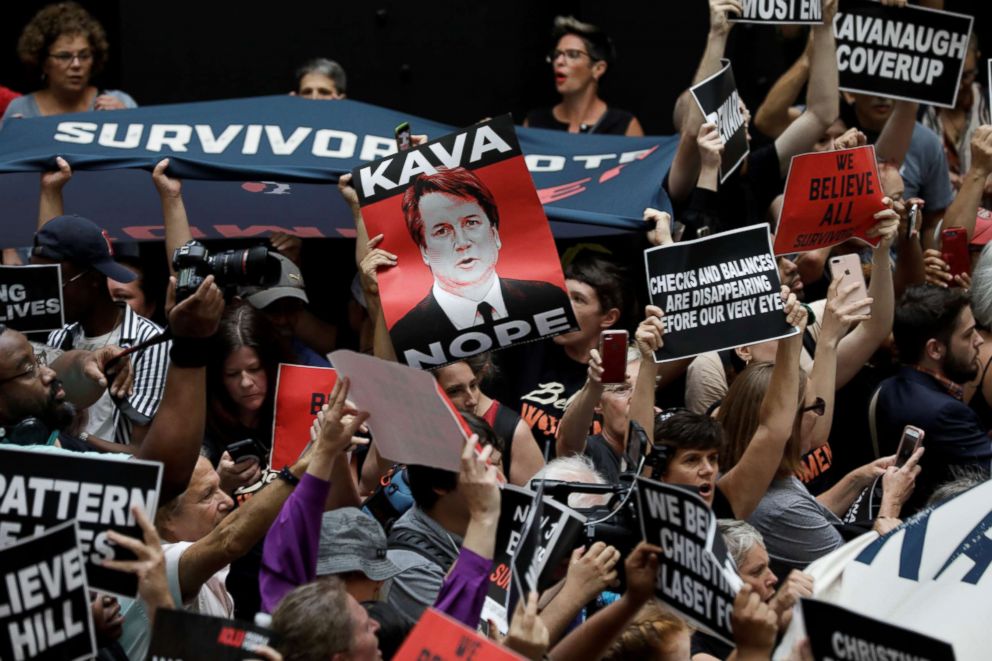 Significant spending is coming from both sides of the aisle.
The conservative-leaning nonprofit Judicial Crisis Network has pumped $12 million into television and digital ads targeting the key states since Kavanaugh's nomination, according to JCN Chief Counsel Carrie Severino.
"This has been one of the ugliest confirmation processes our history has seen," Severino told ABC News.
Heritage Action for America has also committed more than half its $12 million operating budget to campaigns in support Kavanaugh, including digital ads, grassroots rallies, petitions, according to Heritage Action spokesperson Brian Schmitt.
America First Policies, a nonprofit headed by the Trump campaign manager Brad Parscale, has also jumped behind Kavanaugh, running ads that feature the president praising Kavanaugh's qualifications and integrity.
America First Policies has spent at least $105,000 on television ads in Indiana, and more than $153,000 in North Dakota, FCC records show.
Pro-Trump super PAC, Great America PAC, has also been running ads in support of Kavanaugh. One of the ads paid for by the group accuses Democrats of obstruction, showing Senate Minority Leader Chuck Schumer, D-N.Y., saying "I will oppose him with everything I've got." The ad accuses the Democratic Party leadership of exploiting for political gain the women who have come forward to accuse Kavanaugh.
Like their opponents, the pro-Kavanaugh efforts have focused attention on key swing senators, pressuring vulnerable Democrats up for re-election in red states in November, including Sens. Joe Manchin of West Virginia, Heidi Heitkamp of North Dakota, and Joe Donnelly of Indiana. Manchin, Heitkamp, and Donnelly are three Democrats that crossed the party lines to vote yes for Justice Neil Gorusch when Trump nominated him to the Supreme Court in 2017.
"We believe that they are people who want to be independent or viewed as independent as Sen. Schumer, and they have a clear choice to make," Severino said.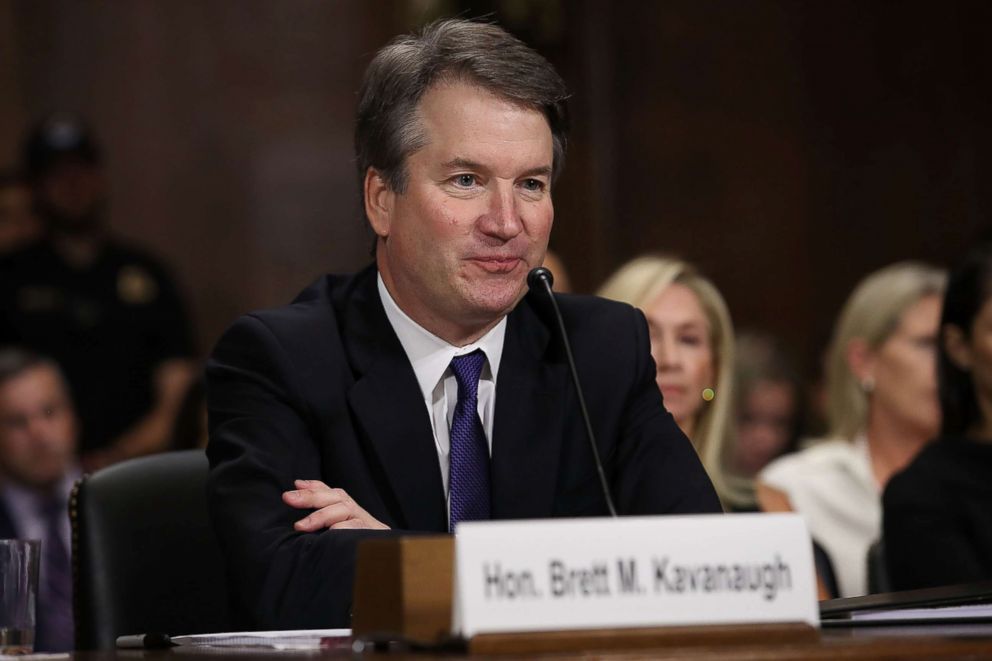 Heitkamp and Donnelly have both said they plan to vote against Kavanaugh.
The State Government Leadership Fund, a political nonprofit led by former Rep. Thomas Reynolds, R-N.Y., has spent about $800,000 on ads specifically targeting Collins to support Kavanaugh, according to spokesperson David James
Public records and press releases do not give a complete picture of spending on the Supreme Court fight, Fischer warns. That is because there are minimal disclosure requirements on political spending on Supreme Court nominations, including the ad buy records filed to the FCC, which are not archived in a way that is easy for the public to examine.
For example, One Nation, an obscure political nonprofit linked to GOP operative Karl Rove, which boasted a $62 million budget in 2016 and 2017, according to its tax record, has pledged to support conservative judicial nominees. The group has spent at least $93,000 on airing ads just on a local station in Portland, Maine, according to FCC ad buy records, but no other information is available about their spending.
"So we don't know where much of the money spent is coming from, and we only have limited perspectives on how much is spent," Fischer said.