The latest high-level departure from President Donald Trump's Cabinet was not the most unexpected departure that has faced the administration.
Scott Pruitt, the administrator for the Environmental Protection Agency, came under fire multiple times during his tenure over questionable finances, including both excessive spending and sweetheart deals that helped him spend less than expected.
Here's a review of his time in office.
Dec. 7, 2016: Trump announces that Pruitt will be his nominee for EPA administrator
The then-Attorney General of Oklahoma was touted by Trump as having "great qualifications and a good record."
Part of that record was Pruitt touting himself as a "leading advocate against the EPA's activist agenda," and his history of challenging the EPA was well known.
Feb. 17, 2017: Confirmed by the Senate
Pruitt's confirmation, which was approved with a vote of 52-46, came in the midst of a court order that required him to turn over thousands of communications with major coal, oil and gas companies from his time in office.
Democratic senators expressed outrage that Republicans were going ahead as scheduled with the vote on Pruitt, despite the judge's ruling in the order.
March 23, 2017: Defends budget cuts to his agency
The budget plan put forward by the Trump administration proposed cuts 31 percent of the EPA's funding, including significant reductions to research programs and enforcement of clean air and clean water programs, but that didn't bother Pruitt.
"The President's budget respects the American taxpayer," said EPA Administrator Scott Pruitt. "This budget supports EPA's highest priorities with federal funding for priority work in infrastructure, air and water quality, and ensuring the safety of chemicals in the marketplace."
Sept. 27, 2017: Pricey private flights revealed
The EPA confirmed that Pruitt took at least one chartered flight and multiple government flights, adding his name to the list of cabinet members whose travel is under scrutiny.
Oct. 9, 2017: Announces end of the Clean Power Plan
Pruitt announced that the agency would roll back a carbon emissions rule put in place by the Obama administration.
"When you think about the Clean Power Plan, it wasn't about regulating to make things regular," Pruitt said. "It was truly about regulating to pick winners and losers, and they interpreted the best system of emission reduction is generating electricity not using fossil fuels."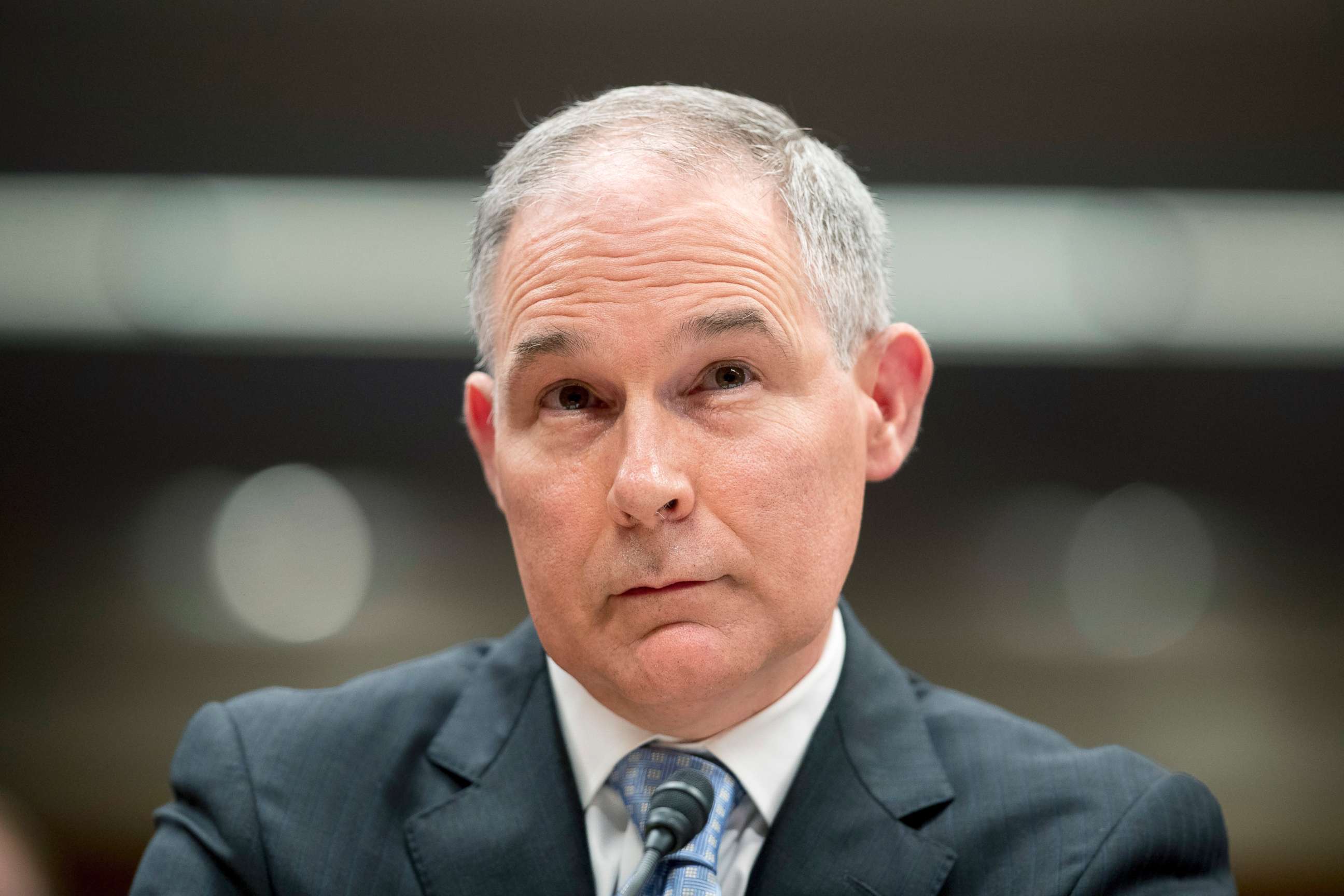 Oct. 31, 2017: EPA blocked scientists from advisory boards
Scientists who receive money from the EPA were barred from being able to serve on its advisory boards, a move that critics contended would push independent science out of decisions about environmental policy.
Dec. 13, 2017: Pruitt's $25,000 secure phone booth investigated
The inspector general for the EPA announced a review of whether Pruitt misused any appropriated funds when he had a $25,000 "privacy booth" with a secure phone line installed in his office earlier in the year.
Dec. 21, 2017: Threats prompt more security
It was reported that Pruitt had his office swept for listening devices and had biometric locks installed on his office doors as the latest steps that were put in place to counteract what the agency said were an "unprecedented amount of threats."
The agency paid an outside firm $3,000 to sweep the administrator's office for "covert/illegal surveillance devices" in March.
March 21, 2018: Changes to his flying style
Pruitt spent almost $118,000 in flights — many of them first class — during his first year in the role, according to documents the agency provided to the House Oversight Committee.
He defended a $120,000 trip to a conference in Italy, where he spent more than $30,000 in security on the trip.
Earlier in the month, before the figures from his flight spending were publicly confirmed, he said that he would only fly coach moving forward.
March 29, 2018: His sweetheart deal first reported
ABC News first reported that for much of his first year in Washington, Pruitt occupied prime real estate in a townhouse near the U.S. Capitol that is co-owned by the wife of a top energy lobbyist, property records from 2017 show.
Later that day, Bloomberg reported that Pruitt was charged $50-a-night in rent.
April 5, 2018: Trump defended Pruitt
When asked by a reporter if he still had confidence in Pruitt, Trump said: "I do."
April 26, 2018: Faces questions on Capitol Hill
During six hours of grilling before a House Energy and Commerce subcommittee, Pruitt insisted he has "nothing to hide" and shifted blame for some of the agency's spending decisions to staffers.
May 1, 2018: Two top aides leave
As Democrats raised questions about spending and security decisions made by the head of Pruitt's security team, Nino Perrotta, as well as about the professional background of Albert Kelly, a senior advisor to Pruitt who he put in charge of a task force on the agency's Superfund sites, both left their jobs.
June 4, 2018: Questionable use of staff time
According to a letter released by Democrats, Pruitt's director of scheduling Millan Hupp said she spent several hours a week at work discussing housing accommodations for Pruitt with realtors. She also said that she reached out the managing director of the Trump International Hotel in D.C. on Pruitt's behalf to see about acquiring an old mattress from the hotel for Pruitt's personal use.
July 3, 2018: Public confrontation
A teacher at Sidwell Friends school confronted Pruitt at a restaurant, making him the third in a series of such confrontations that Trump administration officials had faced in recent weeks.
July 4, 2018: Celebrating at the White House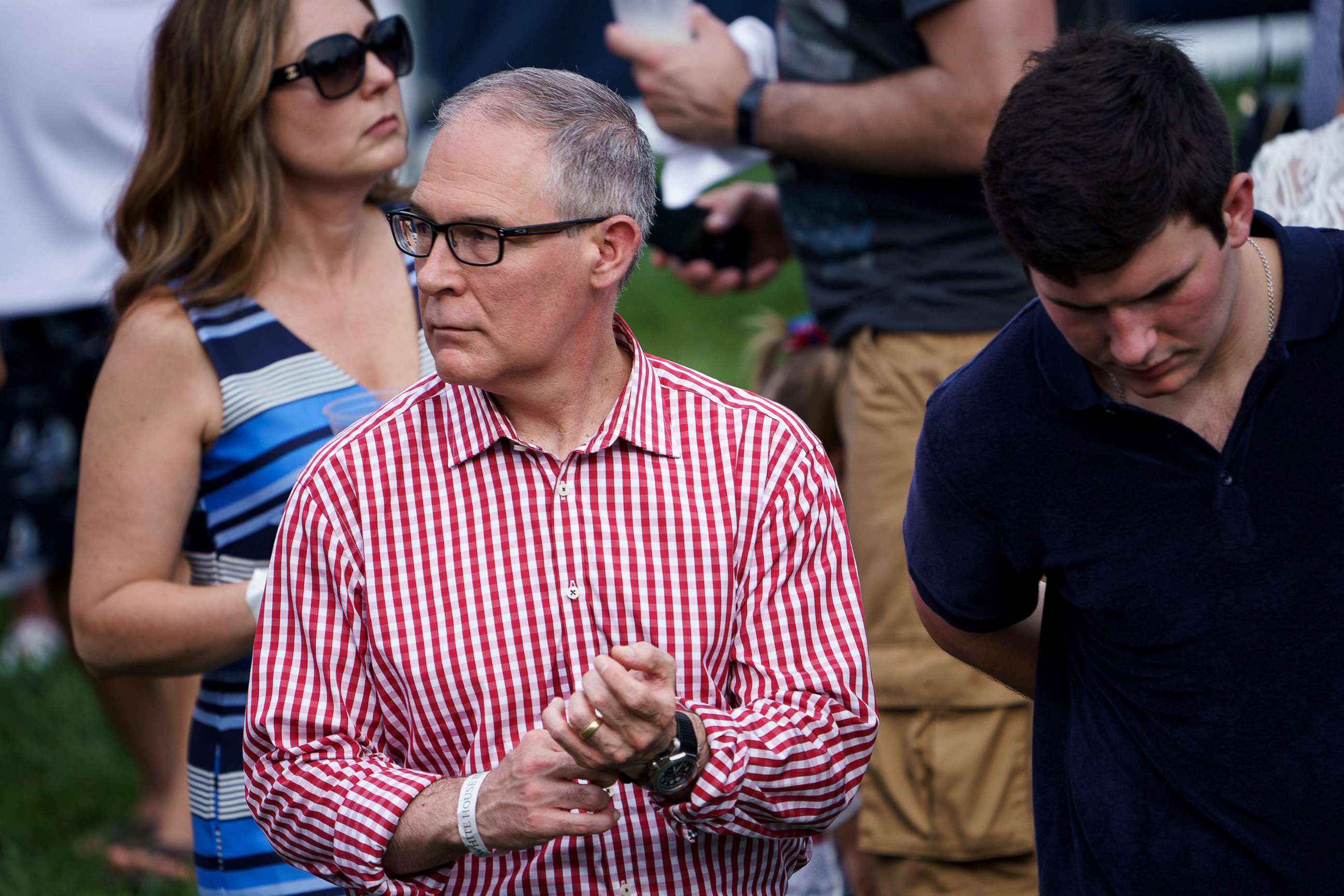 Pruitt attended the White House celebrations for the fourth of July, with no indication of what was to come.
July 5, 2018: Pruitt resigns, and Trump announces the change
Trump first announced the resignation on Thursday afternoon, and Pruitt's letter was released shortly after.
In it, Pruitt wrote to Trump that "your confidence in me has blessed me personally," but said that the "unrelenting attacks on me personally, my family, are unprecedented and have taken a sizable toll on all of us."
ABC News' MaryAlice Parks, Alexander Mallin, and John Santucci contributed to this report.
Editor's note: A previous version of this story misstated the cost of Pruitt's secure phone booth. It is $25,000.