Simona Mangiante says she is officially tired of being asked whether she's a Russian spy.
The wife of the onetime Trump campaign foreign policy adviser George Papadopoulos, who was recently sentenced to a two-week jail term for lying to the FBI about his attempts to arrange a meeting between campaign and Russian officials, has faced questions about her background from social-media sleuths, media personalities and even her in-laws.
When federal investigators from Special Counsel Robert Mueller's office charged her then-fiancé in October 2017, they also pulled her aside to ask her whether she spoke Russian or had traveled to Moscow. She does not and had not, she replied, as she laughed off the implications.
But for Mangiante, a trained lawyer turned aspiring actress, those questions are no longer a laughing matter. She is in the process of hiring an attorney, she said, to try to put a stop to speculation about her allegiances, fearing that the swirling rumors have stalled her efforts to secure a work permit to begin an acting job she says she has landed in Hollywood.
"I'm facing something worse than character assassination," Mangiante told ABC News. "I have studied so long to be where I am. And there is this effort to completely destroy all my achievements over lies."
So Mangiante is pushing back, trying to clarify some of the disputed details of her background. While Mangiante initially told friends that she felt the speculation lent her an alluring air of mystery, she now views the spy claims as "serious allegations" that "question my legitimacy as a person, as a wife, as a human being." She has been taunted so thoroughly on Twitter, she said, that she has considered abandoning her account.
"People don't see the human side of the situation," Mangiante told ABC News. "It's very cruel what they are putting me through."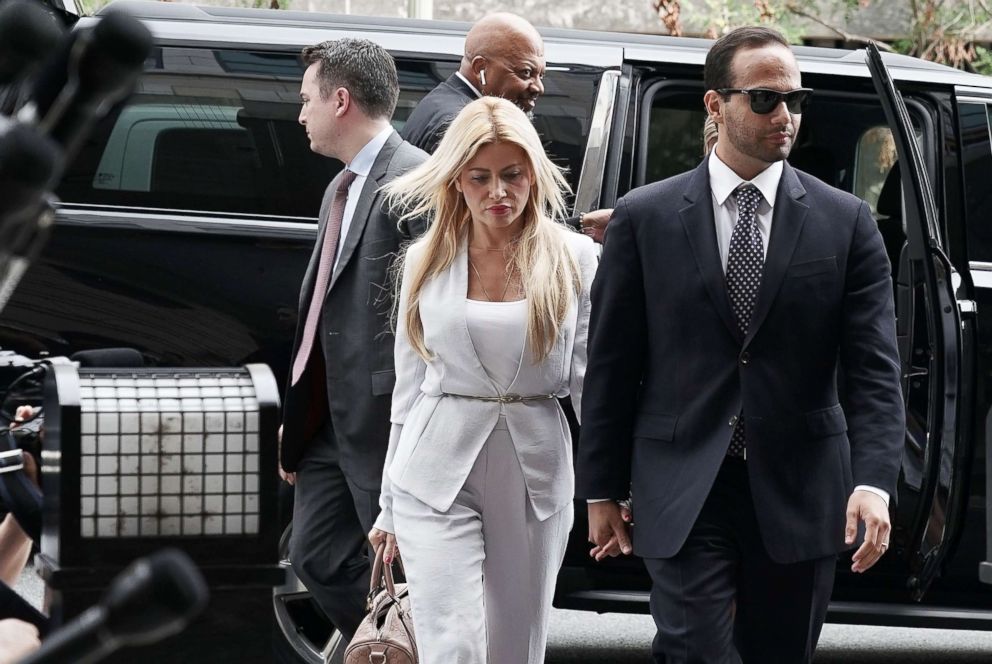 The speculation about Mangiante's background is not without some basis. In addition to the questions from the FBI – which she acknowledged in an interview on Good Morning America last year – there is another connection between her and a murky figure tied to the ongoing probe of Russian interference in the 2016 election.
Both Papadopoulos and Mangiante were tied a Maltese academic named Joseph Mifsud. Prosecutors have alleged that an unnamed professor -- later identified by sources as Mifsud -- was acting as an agent for the Russian government in April 2016 when he told Mangiante's future husband George, then a volunteer foreign policy adviser to the Trump campaign, that the Russians had dirt on Hillary Clinton in the form of thousands of emails.
Mifsud denied those allegations, but he has since gone underground and has not been seen or heard from in public. Mangiante, meanwhile, started working for Mifsud, according to her LinkedIn profile, later that same year. She said their mutual connection to Mifsud was merely a coincidence but acknowledged that it was indeed that affiliation that brought them together in September 2016 as they started exchanging flirtatious messages on LinkedIn.
But Mangiante says she harbors no hidden connections to Russia. She initially said she was born in 1984 in Caserta, Italy -- near Naples – and provided ABC News with an image of her Italian passport, which noted both her birth year and her birthplace. Other sources, including an Italian legal database, listed her birth year as 1981, however, and Mangiante ultimately acknowledged that she altered the date of birth on the image she provided to ABC News to disguise her age, dismissing the discrepancy as proof of nothing more than vanity.
She now says she is 37, not 34, years old.
"I did happen to lie about my age," Mangiante said in a statement to ABC News. "I don't owe anyone an explanation about it."
She says she studied law, and although ABC News was not able to verify her law degree, an Italian legal database shows her registered to practice in Italy until 2010, when she says she moved to Brussels.
She worked as a lawyer on international child custody and abduction cases in the European Parliament, she says, before moving to London to work for Mifsud. But when she stepped into the spotlight to defend her husband – the first person indicted in the Mueller probe – she was immediately confronted with doubts about her history. She says people have told her the that even the work she did for the European Parliament sounded like a cover story.
"I used to work as a diplomat at the European Parliament for a few years and this could be a red flag because many officials at European Union actually -- it's a cover-up for spy jobs," Mangiante told ABC News last year.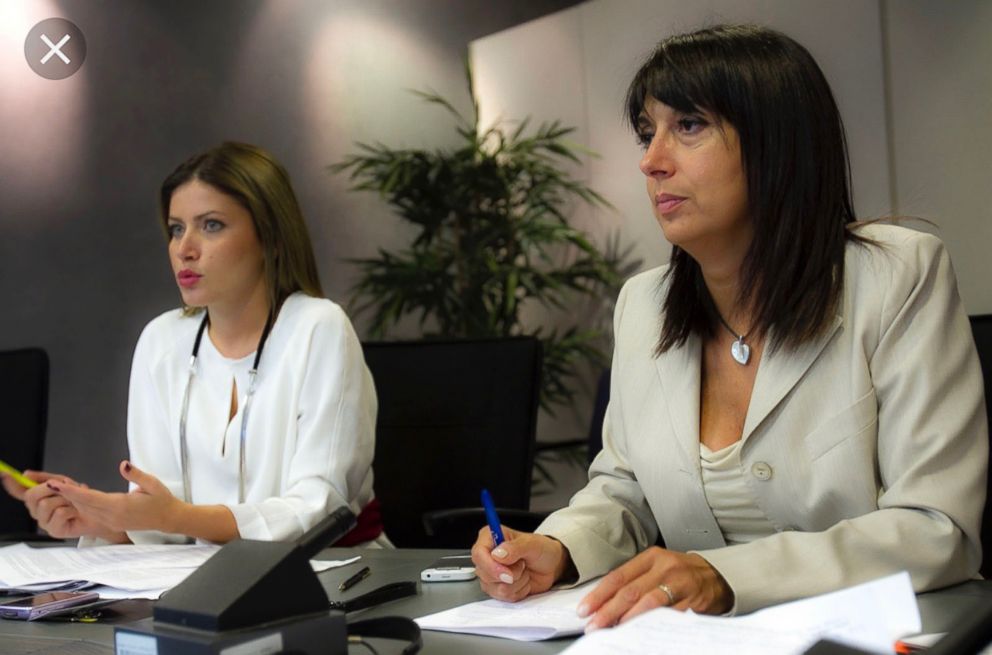 More recent questions have focused on work she said she had done as a legal intern for the Chicago-based law firm Mayer Brown in 2007. A firm spokesman was quoted by independent journalist Scott Stedman saying the firm had no record of Mangiante having worked for the firm. But the firm revised its position in a statement to ABC News on Tuesday.
"We believe Simona Mangiante was a visiting foreign intern from August to November 2007," a firm spokesperson said in a brief email to ABC News.
Mangiante pointed ABC News to two former Mayer Brown colleagues who said they remember her time there. Both asked not to be identified by name because they did not wish to be dragged into a political dispute. "She's a very smart, very nice person," one former colleague said, adding that she can "totally confirm that she was in the New York office."
The other, a former partner at Mayer Brown who worked with her in the Washington D.C. office in 2007, also confirmed she worked as a "foreign legal intern," a prestigious internship program that Mayer Brown began in 1993.
But perhaps the most delicate aspect of Mangiante's effort to knock down allegations that she is misrepresenting her background involve the assertions being floated by her in-laws. Kiki Papadopoulos, George's mother, has been prolific in her criticism of her daughter-in-law on Twitter, writing at one point, "There were two things she wanted from George and she did get it Fame and fortune."
Reached by phone, Kiki Papadopoulos declined to be interviewed, but in September, the couple addressed the family dispute in an appearance on ABC News' This Week with George Stephanopoulos, with Papadopoulos saying his parents "thought that she might have been some sort of Russian spy. Of course I never believed anything like that. I don't think every beautiful blonde person necessarily has to be a Russian agent. You know, there are many blonde Italians as well."
In a subsequent appearance on The View, host Joy Behar posed the question to Mangiante directly after she described the Mueller team's efforts to determine if she was a spy.
"Are you?" Behar asked.
"No," was her reply. "And I would like to make a point – if I am a spy I would be an Italian one. Why a Russian one? That's something I don't get it yet."
Editor's note: On Monday, several days after publication of this report, Mangiante acknowledged that she altered the date of birth on the image of her passport she provided to ABC News to disguise her age. She now says she is 37, not 34, years old.