Murder Trial in Boy's Death Stirs Up Controversy in Small NY Town
Nick Hillary, accused of strangling 12-year-old Garrett Phillips, insists he's innocent.
By EMILY SHAPIRO
Five years ago, a 12-year-old boy named Garrett Phillips was found strangled to death in his upstate New York home. The popular, friendly and athletic boy had just begun the sixth grade when his mysterious murder shocked the small village of Potsdam.

From nearly Day 1, the spotlight of suspicion seemed focused on his mother's ex-boyfriend: a well-regarded college soccer coach, Oral "Nick" Hillary, who happened to be one of the small number of black men in the village of 9,400 people.

But years went by without an arrest until a candidate running for district attorney made it her campaign promise to seek justice for the little boy with golden hair. Months later, after her victory, Hillary was charged in the murder.

Potsdam Police Lt. Mark Murray said that the biggest factor in the killing was what he called Hillary's "disdain" for the boy, and prosecutors say they believe their evidence is compelling.

But Hillary's fingerprints were not found at the scene, and he insists he had nothing to do with the murder and the real killer is still out there. Some of Hillary's supporters even claim racial bias is to blame for his arrest, and Hillary has sued the local police and the village of Potsdam for allegedly violating his civil rights.

This month, the years of drama surrounding Garrett's tragic death will finally play out in a courtroom, as Hillary stands trial for the young boy's murder.

Do police have the right man? And will this trial bring justice for Garrett?

A Grisly Discovery


It was 5:37 p.m. on Oct. 24, 2011, when Potsdam police officer Shawn McCargar got a radio call from fellow officer Mark Wentworth requesting assistance.

McCargar could hear the urgency in Wentworth's voice, he later noted in his report, and he sped off on the rain-soaked roads, his siren blaring, to meet Wentworth at an apartment building at 100 Market St.

As McCargar walked into a second-floor apartment, he saw a boy lying motionless on the floor in the entryway to a bedroom. Wentworth was administering chest compressions.

The boy wore a blue, long-sleeved shirt pulled up to this chest, and gray shorts with blue and white stripes. There was swelling along his brow line and scrapes on his knees that looked like rug burn. His face was blue, and he wasn't responding.

McCargar recognized the child was Garrett Phillips, as his children played hockey and football with Garrett's younger brother, Aaron. Garrett lived in the 100 Market St. apartment with his mother and brother, though neither was home at the time.

Once the rescue squad took over with Garrett, the officers walked around the apartment, looking for evidence. In another bedroom, McCargar noticed the window blinds "were very bent," he said in his report. Wentworth noticed the window, too, reporting that the window was open and the screen was pushed out. McCargar also noted that the screen "bent in an outward direction as if someone had climbed out."

'I Have Never Heard a Noise Like That'


Editor's note: The research for this story is drawn from sworn statements to law enforcement, police interviews, and depositions in a civil suit brought by Oral "Nick" Hillary, plus his affidavit in that suit. Quotes in this story are drawn from the same sources and are cited accordingly.

Officer Wentworth went to 100 Market St. that evening to respond to a disturbance report from the neighbors.

Garrett's next-door neighbors, Marissa Vogel and her fiancé, Sean Hall, were watching "Dexter." Their account of that late afternoon is drawn from Vogel's statements to police at the time and Hall's sworn statement a week later.

"It sounded like something fell over — something big," Vogel told the Potsdam police.

"I have never heard a noise like that," Hall said. "It was like a heavy object falling onto the floor. About five to 10 seconds later I heard an 'ow' or a 'no' come from across the hall. It sounded like one of the kids. Immediately I heard the same voice yell 'help.' The 'help' sounded like a moan and I heard it more than once, maybe about three times."

"The 'no' may have been an 'ow' or 'ouch,'" said Vogel, "but we definitely made out the word 'help' after that. Both words were made by a young voice. After that there was some mumbling, but we could not make anything out. We could hear some moving, but it was faint."

A minute or two later, Vogel said she went next door to knock.

"I could hear a faint movement near the door, and then I heard a click on the door. My first thought was that someone just locked the door," she said.

"We decided to call the police," Hall said. "Something about this didn't feel right."

Vogel said she looked out the window as she called to see if "I could see anyone outside or a car that seemed weird. I spoke to the police dispatcher and told her what I heard."

As they waited, they said they didn't hear anything. "It was creepy quiet," Vogel said.

"After the noises I never heard anyone exit down the stairs," Hall said. "If they had, I would have heard it."

When Wentworth arrived and knocked on the door, he heard "what sounded like movement, but nobody was coming to the door," he said in his report. "I then heard what sounded like something falling … It was as if something was knocked off a table or fell off a shelf."

Wentworth and the building's landlord entered the apartment together and found Garrett on the floor. His "knee had blood on it as if he slid or dragged it on the ground," Wentworth noted, and "he had small marks on the front of his neck."

At the time the responders were working on Garrett, at about 5:30 p.m., his mother, Tandy Cyrus, had already picked up her younger son, Aaron, at day care and was at the school gym watching his 5:30 p.m. basketball practice, according to her sworn statement to police. Because Garrett's practice was at 6 p.m., Cyrus said, she planned to go watch the second half of his practice next. But while she was still at practice, her landlord found her in the gym and told her he had just been at her apartment. He said something was wrong with Garrett and she needed to get to the hospital.

The rescue workers took the young boy to Canton-Potsdam Hospital, a half-mile down the road, where he was pronounced dead later that night.
A Tumultuous Relationship?


Cyrus was 32 when she met Hillary in the fall of 2010 while tending bar at Ton's in Potsdam. She had two sons: Garrett, who was in fifth grade at the time, and Aaron, a few years younger.

Cyrus, who worked at a credit union and previously attended a police academy, had a series of relationships before meeting Hillary.

She split from Garrett's birth father, Robbie Phillips Jr., when Garrett was about 16 months old and began dating Casey Collins in 2001. Collins fathered Aaron.

Garrett's father died when Garrett was just 2 years old.

Collins said that Garrett called him Dad — even after he and Cyrus broke up. "I raised Garrett as my son just as Aaron," said Collins in a sworn statement to police.

After Cyrus' breakup with Collins in 2006 and before she met Hillary in 2010, Cyrus dated John Jones, a local sheriff's deputy, from 2007 to 2010.

Meanwhile, Hillary, a former college soccer star, was busy in 2010 as the head men's soccer coach at Clarkson University in Potsdam.
Hillary was born in Jamaica and moved to the U.S. as a teenager. He served in the Army and was honorably discharged in the 1990s.

He attended St. Lawrence University in Canton, New York, where he played soccer all four years. He was a captain, leading the team in 1999 to the program's first national championship. The team was also the first in NCAA Division III history to go undefeated and untied en route to the championship.

After graduating in 2000, he worked as a math teacher and as a college soccer coach.

He became Clarkson University's head soccer coach in 2009. While working at Clarkson, Hillary lived with his girlfriend, Stacia, and their three children.

St. Lawrence University soccer coach Robert Durocher, a friend of Hillary's who coached him on the national championship team, has described Hillary as a big family guy who was firm with his kids but fair.

"That's what made him such a great captain of the national championship team in 1999," Durocher said in a sworn statement to police.

After Hillary and Cyrus began dating in late 2010, Hillary and his teenage daughter, Shanna Kay, moved into Cyrus' two-bedroom apartment, where she lived with her two sons. In January 2011, the new family of five — Hillary, Cyrus, Shanna Kay, Garrett and Aaron — moved to a four-bedroom house in Potsdam.

But for fifth-grader Garrett, the transition wasn't seamless, according to his mother.

Garrett was "well-liked by everyone," his fifth-grade teacher, Lynn Tharrett, said in a sworn statement, adding that he was "funny and the class clown but very respectful." But he struggled in school, Cyrus told police, so she asked Hillary for his opinion, since he used to teach fifth-grade math: "Nick was going to help me come up with a structured study regimen for Garrett to get back on track," she said.

"Garrett didn't talk to me about personal issues," said Tharrett, "but he did tell me at least twice he did not like his mother's boyfriend, Nick Hillary."

Tharrett said she met Hillary at a parent-teacher conference. "He was polite when asking me questions, but I felt he was questioning my teaching methods," she said.

Cyrus said in a statement to police that she also noticed tension between her then-boyfriend and oldest son.

"Garrett had told me that Nick was very strict, and I have seen that," she explained. "Nick did not let Garrett or his younger kids watch TV during the school week and wanted them to do their homework.

"Garrett did not like Nick," Cyrus said. "Garrett just didn't like the discipline that Nick brought to our family."

Collins, the father of Garrett's younger brother, said in his statement that "Garrett always complained" about Hillary's rules, while Hillary "had problems with Garrett's grades and Garrett's lack of respect" for him. "Garrett asked all the time if he could move in with me because he hated Nick," Collins said.

Eventually problems developed between Cyrus and Hillary because of their different parenting techniques, said Cyrus.

In a statement, Cyrus told police Hillary expected her to change her parenting to be more like his, which she described as "stricter." For example, she said, Hillary wouldn't let his kids watch TV during the week, but she felt it was fine as long as everyone had finished homework.

"Nick would sit me down almost on a weekly basis, and he would tell me everything that was wrong with my kids and my parenting," she said. "He was a very structured person, and he would tell me about how I have to have a plan for this and that and everything had to be planned out. Nick was very meticulous. He had everything on planner and had his days planned out all the time. I am not like that, so that caused more stress in the house and in our relationship."
The household tension reached a boiling point a couple of months before Garrett's death, according to Cyrus. After about nine months together, Hillary and Cyrus broke up in July 2011 while Hillary was out of town recruiting soccer players, Cyrus told police.

"I had conversations with my boys about Nick while he was gone," she said. "Aaron and Garrett told me they were not happy with the living arrangements, as far as me and Nick living in the same house."

Hillary, Shanna Kay, Cyrus, Garrett and Aaron continued to live together after the breakup, until Cyrus and her boys moved to 100 Market St. in mid-August, Cyrus said.

"Nick did not move with me, but we were trying to work things out," Cyrus said, and she said he took a key for her new apartment.

"Nick had a key, because he made copies," she said. "He had one, Garrett had one, and I had one. And the original was kept as a spare."
The first week of September, Cyrus said in her statement, Hillary went to her new apartment. "I told him I needed some space, and Nick said OK and he was going to leave me alone," she said.

But later that night, Cyrus said, she heard her bedroom door open. "I woke up and saw Nick standing there," she said. "I asked him what he was doing, and he said he was just going to sleep."

After that, Cyrus said, she asked him to return the key she had given him.

Hillary said in his deposition that he did have a key but that he gave it back in September and never made any other copies. He said he never let himself into the apartment uninvited after the two broke up.

Cyrus' sister told police that Hillary went to see her in September. He "said he wanted me to help him get back together with Tandy because Tandy wasn't talking to him," Cyrus' sister said in her statement. "He said he was sorry that Garrett didn't like him and that he knew Garrett didn't like his rules.

"Nick was very persistent about trying to get back with Tandy," she added. "He showed signs of wanting to be in control of Tandy's life."

For her part, Cyrus told police Hillary "always blamed Garrett for our breakup."

But Hillary and his friends tell a different story. In the deposition for his civil suit, Hillary described his relationship with Garrett as "wonderful."

"All our interaction was positive," he said. He added that he and Garrett had no further communication after the breakup.

Hillary's friend Rance Davis said in a sworn statement that in a conversation in August — the month Cyrus moved out — "Nick said that he was feeling concerned" because Garrett "was feeling pressure from his friends because mom was dating a black man."

"Nick thought that he and Tandy should get separate apartments," Davis said, "so Garrett wouldn't have to deal with his friends teasing him."


What Happened the Afternoon of Oct. 24, 2011?


It was 5:10 p.m. when Officer Wentworth responded to 100 Market Street and found Garrett unresponsive, after the neighbors called police. But just 40 minutes earlier, Garrett was at school, where he stayed late that rainy afternoon to play basketball in the gym with his classmates, according to his mother and multiple witnesses.

Here's what has been said about that roughly 40-minute window.

The account of that time is drawn from witnesses' sworn statements to police, a police timeline of the events and Hillary's deposition in his civil suit.
By
4:30 p.m.
, Cyrus, who was at work, hadn't heard from Garrett, according to what she told police, so she called his cellphone.
"I told him to get home."
About
20 minutes later,
a school custodian, Dale Kingsley, saw Garrett near the ramp that connects the middle school to the elementary school, he told police. The boy was by himself and had a skateboard with him, he said.
Garrett's cousin Kayla Phillips told police she last saw Garrett outside Potsdam High School. She said Garrett was heading toward the high school parking lot when he skateboarded over to her and asked for some of the popcorn she was eating.
"I asked him where he was going, and he said he was going home," she said.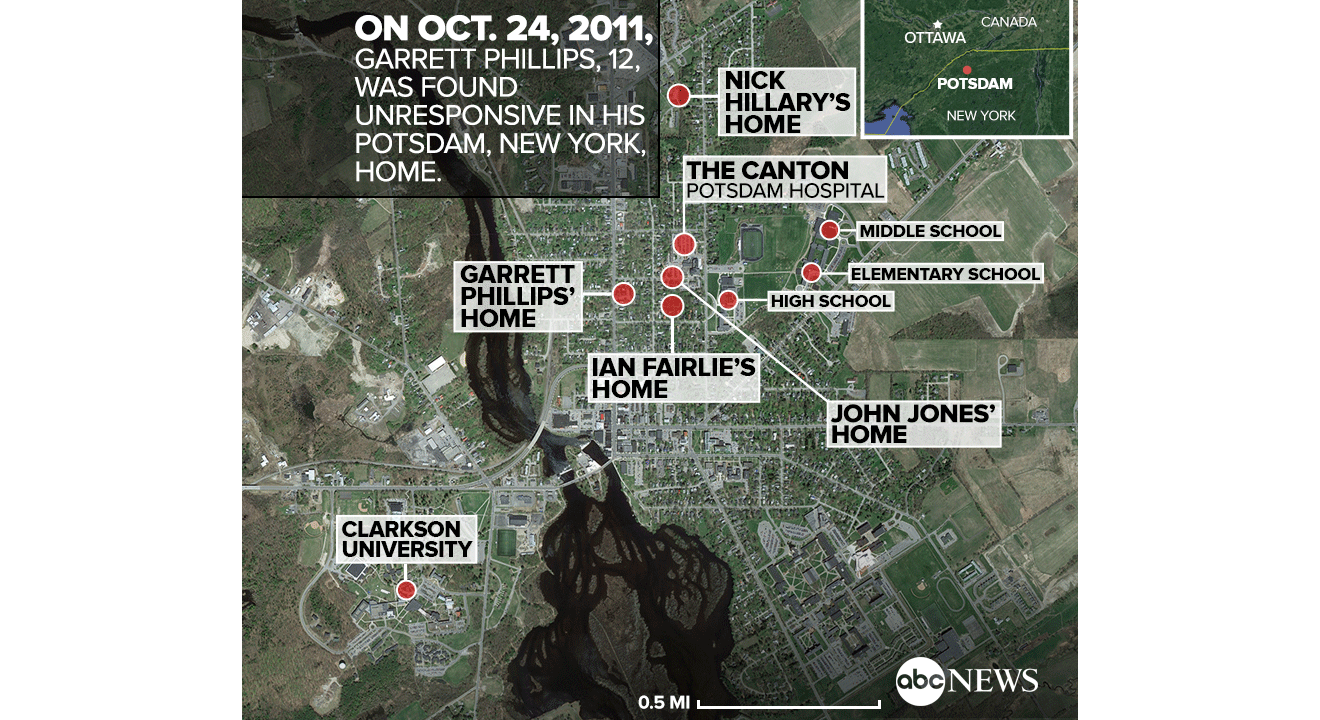 According to police, Garrett left the high school on his skateboard at
4:52 p.m.
Meanwhile, Hillary went to
Potsdam High School
to watch a soccer game that day, he said in the deposition for his civil suit. He did not say what time he was there, but according to police, video shows a car that looks like Hillary's pulling into the high school parking lot at
4:46 p.m.
Hillary said in the deposition he only stayed a few minutes and didn't get out of his car because of the rain, and then he left. He said he never saw Garrett at the school and didn't see Garrett heading home.
However, authorities say that surveillance video shows a car that they say looks like Hillary's leaving the high school parking lot at
4:52 p.m.
— the same time Garrett left the high school on his skateboard.
Hillary said when he arrived home just before 5 p.m., his daughter, Shanna Kay, was there.
Meanwhile, less than a mile away, at
5:07 p.m.
, the 100 Market St. neighbor called police reporting the strange noise, according to police.
Hillary said he left his house again between
5:10 and 5:15 p.m.
, stopping at fellow Clarkson University soccer coach Ian Fairlie's apartment before going to his Clarkson office to prepare for soccer practice. He said he arrived at his office 15 to 20 minutes after leaving his house.
Fairlie told police Hillary arrived at his place
5:21 p.m.
, which he said he remembered because he was on the phone and Hillary's arrival interrupted him. Fairlie then resumed the phone call at
5:23 p.m.
, when Hillary left. Fairlie said he immediately drove himself to school, just a few minutes after Hillary, where the two coaches say they were scheduled to meet with one of their soccer players before that evening's practice.
But "5:45 p.m. came and went with no player," Fairlie said in a statement to police. Hillary "called the player and had the meeting over the phone. It was about an injury over the weekend, and we wanted to know if he was going to be able to practice."

Fairlie said he and Hillary "hung out after that for a little while, then went to the locker room and then out to the field about 6:30 p.m. for a 7:00 p.m. practice."

"Nothing seemed out of the ordinary," Fairlie said.

Hillary said in the deposition for his civil suit that he had a meeting scheduled with that injured soccer player, Jacob Duff, for what he remembered as 6:30/6:45 p.m. Hillary said Duff didn't show up for the meeting but did show up for the 7 p.m. practice.

But in a sworn statement, Duff denied the meeting was ever scheduled.

Police point to this as curious. Lt. Mark Murray said in his deposition for the civil suit, "I can't bring myself to fathom why a collegiate person playing on a Division III soccer team with his entire future ahead of him would lie and perjure himself on a sworn written statement for no reason, for no benefit to him."

Because of the rain that night, Hillary ended the two-hour practice early, around 8 p.m., he said in his deposition.

Hillary said he learned of Garrett's death when Potsdam police officers went to his home at around 9:30 p.m. and told him.

"First I was numbed," Hillary said. "I mean, I just was at a loss for words."


The Aftermath
Hillary was taken in for questioning on Oct. 26, 2011, two days after Garrett's death, and was Mirandized, police said. Hillary said in an affidavit for his civil suit that when he was taken into police custody that day, he was strip-searched and his phone and clothing were confiscated. He claimed he was sent home in a hazmat suit rather than in his own clothing.

Hillary wasn't arrested, but he said he felt he was being treated as the prime suspect.
In response, Hillary filed a civil suit against the Potsdam Police Department and the village of Potsdam, claiming his civil rights were violated after what he calls his "false imprisonment" when police took him in for questioning two days after the murder. In the suit, which was first filed in 2012, Hillary alleged he suffered "physical and psychological trauma" because of the way he was treated. The suit is pending and will move to trial after the criminal trial is completed.

In his affidavit, Hillary said his "standing in the community dramatically changed" the day Garrett was killed. After being released from police questioning on Oct. 26, "my face became instantly associated" with Garrett's murder. "I went from a father, soccer coach and member of the community to, in the eyes of the public, a child murderer," he said. "My children were bullied in school," and "threats against my physical safety became part of my everyday life," he added.

"My home was egged, and people would openly scream 'murderer' at me in public," he said.

Some of Hillary's supporters have said racial bias can be blamed for what they say was the town zeroing in on him as a suspect. Potsdam's population of 9,400 was nearly 90 percent white and less than 3 percent black the year before Garrett's death. Billionaire heiress Sarah Johnson, who is backing Hillary's criminal case, paying his bail and legal fees, told ABC News, "The big elephant in the room is he's black living in an all-white community."

In their answer to Hillary's lawsuit, police have denied all his allegations.

By 2013, two years after Garrett's death and one year after Hillary's civil suit was first filed, no arrests had been made, though Hillary said in his affidavit he felt like a cloud of suspicion continued to plague him.

That's when local lawyer Mary Rain ran for St. Lawrence County district attorney, thrusting the case back into the spotlight. With Cyrus — who previously said she couldn't think of any other person than Hillary "who would want to hurt Garrett" — often by her side as she campaigned, Rain made justice for Cyrus' son one of her main platforms. Rain also criticized the incumbent district attorney, saying she wasn't proactively investigating Garrett's death and should have made an arrest, The Watertown Daily Times reported. Rain won the election and, as district attorney, appeared determined to make good on her campaign promise.
Just months later, in May 2014, Hillary was arrested for Garrett's murder. But the initial indictment was dismissed that October; St. Lawrence County Judge Jerome J. Richards cited in an opinion the prosecution's heavy reliance on circumstantial evidence and the absence of eyewitnesses placing Hillary at the crime scene. Richards also found Rain's grand jury questioning of Hillary's teenage daughter, Shanna Kay, his main alibi witness, to be "bullying" and "improper."

However, in January 2015, a St. Lawrence County grand jury handed up a new indictment against Hillary for second-degree murder, leading to this month's trial. But for Hillary supporters, the evidence the prosecution has presented so far is still being called into question.

Police have said Hillary's fingerprints and hairs did not match any recovered at the scene, including on the window and inside the apartment. Those prints, recovered from the window, remained unidentified as of 2014, though police said they tested every person with access to the apartment, including residents and maintenance staff. In his deposition for Hillary's civil suit, Lt. Murray said the perpetrator "was most likely wearing gloves."

But police continue to point to what they say connects Hillary to the murder.

Murray said Hillary showed "disdain" for Garrett, which he called the biggest factor connecting him to the murder. Murray also pointed to the security camera footage that police said shows a car that they say looks like Hillary's leaving the high school parking lot at 4:52 p.m. — which they say is the same time Garrett left. He called that especially damning, as he said it shows Hillary followed the victim "literally 10 minutes before his death."

"That's pretty compelling evidence to me," said Murray.

Potsdam Police Chief Ed Tischler insisted that Hillary was a strong suspect from the start because "we couldn't verify his story," he said in his deposition for Hillary's civil suit. "He had inconsistencies in his story."

Although Hillary was detained, he never voluntarily spoke to police after receiving the Miranda warnings. His only public statements are from court filings related to his lawsuit against the town and the police department.
In 2015, Hillary accused prosecutors of withholding evidence he said might clear him of the crime, and prosecutors were ordered to turn over videos, pictures and documents that could be used as possible evidence in the case.

Hillary's trial gets underway this week. He waived his right to a jury, and the case is proceeding as a bench trial.
Rain, the St. Lawrence district attorney, said a court order prevents the prosecution from discussing any evidence in the case against Hillary.

"However, as reported prior to the order, we are ready to proceed forward with the evidence we've had since the defendant was indicted," Rain said in a statement, "the same evidence previously reviewed by several outstanding homicide prosecutors from throughout New York state who have determined the strength of the case to be compelling."

Hillary, meanwhile, staunchly maintains his innocence.

His defense attorneys Norman Siegel and Earl Ward said in a statement, "We are ready for trial."


Photo Credits
Yard sign: Nathaniel Brooks/The New York Times via Redux
Canton-Potsdam Hospital: ABC News
A.A. Kingston Middle School: ABC News
Nick Hillary: Brit Hanson/NCPR
Potsdam High School: ABC News
Clarkson University Soccer Field: ABC News
Potsdam Police Department: ABC News
Nick Hillary: Brit Hanson/NCPR
Mary Rain campaigns: David Sommerstein/NCPR
Nick Hillary and defense team: Brit Hanson/NCPR
Courthouse: Brit Hanson/NCPR
District Attorney Mary Rain: Brit Hanson/NCPR

Additional Credits
Editor TARA FOWLER
Show Integration ERIC JOHNSON,LAUREN EFFRON
Video Editors BRIAN CANOVA,STEPHANIE RUTKOWSKI
Art Director ANDREW VANWICKLER
Graphic Designer SUZANNE DACUNTO
Senior Developer GREG ATRIA
Photo Editors PHAEDRA SINGELIS, JEFF COSTELLO, EMILIE RICHARDSON, HAYLEY BARTELS, JO ANN TOY
Supervising Producer RONNIE POLIDORO
Managing Editor XANA O'NEILL