The fallout from President Donald Trump's decision to skip a ceremony honoring fallen American World War I soldiers in France on Saturday because of the rain grew amid the images of other world leaders defying inclement weather to memorialize the sacrifices of military heroes as part of the 100th anniversary of Armistice Day.
The president and first lady Melania Trump braved a flurry of protesters Sunday, including a woman who charged their motorcade topless with the words "Fake Peacemaker" written across her chest, to attend a ceremony in Paris marking the centennial of the end of WWI at the Arc de Triomphe on the Champs-Elysees.
The president at the conclusion of his remarks awarded an American flag to Maj. Gen. William Matz, the secretary of the American Battle Monuments Commission who gave Trump a tour of the cemetery before he went up to the podium.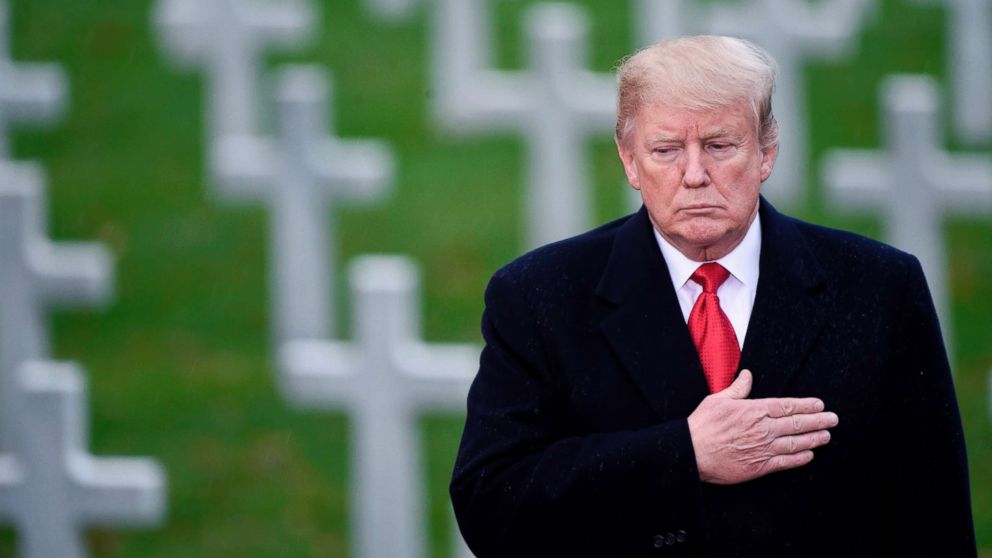 "Each of these marble crosses and Stars of David marks the life of an American warrior -- great, great warriors that they are who gave everything for family, country, God and freedom," Trump said in a speech at the cemetery. "Through rain, hail, snow, mud, poisonous gas, bullets and mortar they held the line and pushed onward to victory."
But even as he spoke, the president was still being widely mocked for calling off a planned trip Saturday to the Aisne-Marne American Cemetery and Memorial, about 60 miles northeast of Paris, due to rain.
On Saturday morning, the White House sent out a statement, saying, "The President and First Lady's trip to Aisne-Marne American Cemetery and Memorial has been canceled due to scheduling and logistical difficulties caused by the weather."
While the president and first lady did not attend due to rain, Trump sent an American delegation to the cemetery led by his chief of staff, retired Marine Corps Gen. John Kelly, and Marine Corps Gen. Joe Dunford, chairman of the Joint Chiefs of Staff.
"It's incredible that a president would travel to France for this significant anniversary -- and then remain in his hotel room watching TV rather than pay in person his respects to the Americans who gave their lives in France for the victory gained 100 years ago...," David Frum, a political commentator and former speechwriter for President George W. Bush, wrote on Twitter.
In a follow-up tweet, Frum wrote, "It's not even 60 miles from central Paris to the monument. If the weather is too wet & windy for helicopters, a presidential motorcade could drive the distance in an hour."
Kelly Magsamen, a high-ranking Pentagon official in the administrations of Barack Obama and George W. Bush, heaped on the criticism, tweeting, "Real low energy, @realDonaldTrump to not bother to honor the sacrifice of American soldiers in WWI due to some rain. Somehow everyone else was able to do so today. Obama never had this problem. He also visited our troops in war zones."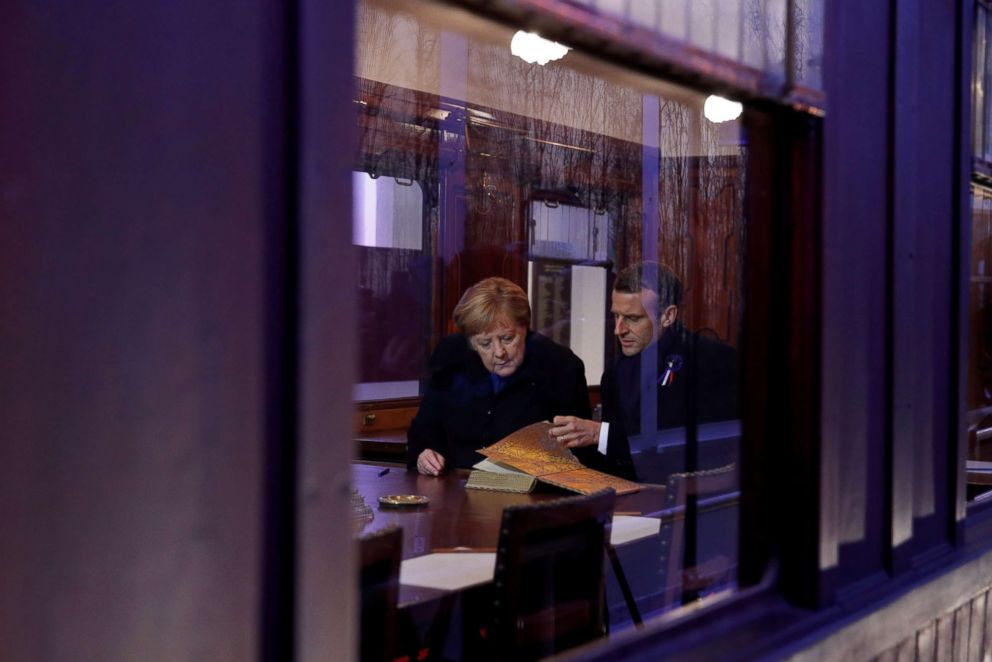 Trump scuttled the trip to Aisne-Marne American Cemetery, where many Americans are buried among the 2,288 graves and where the names of 1,060 American soldiers are engraved on a wall, even as other world leaders attended similar events Saturday at WWI cemeteries and memorials outside Paris.
Canadian Prime Minister Justin Trudeau traveled 118 miles outside Paris to attend a ceremony -- in the rain -- at a cemetery in Vimy, France.
In a speech at the cemetery, Trudeau honored Canadian soldiers who served in WWI, lauding them for "a history for which you bled and fought, a history built on your sacrifice."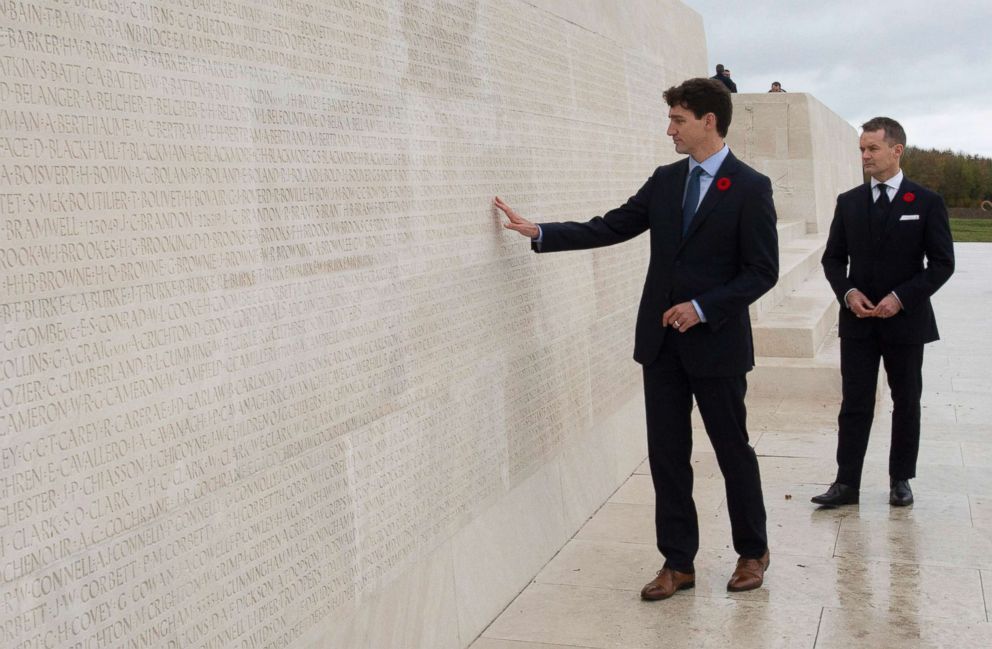 Meanwhile, German Chancellor Angela Merkel and French President Emmanuel Macron both attended a ceremony Saturday at the Clairiere of Rethondes in Compiegne memorial, also known as Glade of the Armistice memorial, about 40 miles north of Paris. The two leaders, representing countries that were once sworn enemies, held hands at the site where the Germans and the Allied forces signed an agreement ending the war that was fought from 1914 to 1918.
"The will is there, and I say this for Germany with full conviction, to do everything to achieve a more peaceful order in the world even though we know we have very, very much work still ahead of us," Merkel said at the ceremony.
Macron noted that "our Europe has been at peace for 73 years."
"There is no precedent for it, and it is at peace because we willed it and first and foremost, because Germany and France wanted it," Macron said.
Meanwhile, the criticism over Trump's rain check, continued.
Nicholas Soames, a member of British parliament and grandson of Winston Churchill, blasted Trump for letting rain stand in the way of honoring war heroes.
"They died with their face to the foe and that pathetic inadequate @realDonaldTrump couldn't even defy the weather to pay his respects to The Fallen," Soames tweeted.
Former Secretary of State John Kerry accused the president of insulting the memories of war veterans because of bad weather.
"President @realDonaldTrump a no-show because of raindrops? Those veterans the president didn't bother to honor fought in the rain, in the mud, in the snow - & many died in trenches for the cause of freedom. Rain didn't stop them & it shouldn't have stopped an American president," Kerry tweeted.