7-Eleven's Free Slurpee Day Goes Bigger Than Ever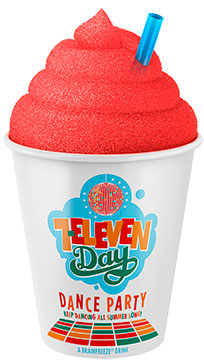 It's July 11, which means Free Slurpee Day for 7-Eleven customers. The popular convenience store is celebrating its 86 th birthday with a tradition it set in 2002: free Slurpee drinks! But this year, 7-Eleven says it's going even bigger with the festivities.
In past years, the store gave out special 7.11-ounce cups on its birthday. This year, they're handing out the icy drink in their regular 12-ounce cups, which nearly doubles the freebie.
"We're doing that because people wanted more Slurpee and we already have a lid for the small size," company spokeswoman Margaret Chabris said. "So it makes it much easier to pour the Slurpee, easier for the straw to hold up in, and easier for moms to avoid a mess."
This summer, the featured Slurpee flavors are Strawberry Lemonshade and Slurpee Lite™ Sugar-Free Mango Lemonade.
And after you get your drink, 7-Eleven encourages you to dance with it. In a news release, the convenience store says, "YouTube dancing phenom Nathan Barnatt has posted his own version of the Slurpee dance," and encourages fans to post clips of their own moves to 7-Eleven's Facebook page.
"7-Eleven Day, July 11, occurs at the approximate midpoint of summer and the Slurpee season when summer fun is in high gear," said Laura Gordon, 7-Eleven vice president of marketing and brand innovation. "It also marks a milestone for 7-Eleven when we raise a collective Slurpee toast and dance a crazy dance to celebrate our birthday and all things 7-Eleven."
This annual promotion apparently really works for 7-Eleven. Slurpee sales, as well as sales of other 7-Eleven items, spike July 11 each year, Time.com reports. The free slurpee draws customers into the store on a grand scale, and people tend to buy small snacks to go with their free drinks. And, in many cases, the small taste of Slurpee has them coming back for a larger size.
The festivities continue online, with free printable party favors and "Slurpee swag" including hats, sandals and sunglasses for purchase on the company website, according to the news release.
"We promised #Awesummer this year with more fun, more free stuff and more surprises, and summer is far from over," Gordon said. "There's lots more to come."
Free Slurpee drinks are available at participating 7-Eleven stores from 11 a.m. to 7 p.m. today.