Fast Food Chain Launches 'Star Wars'-Themed Vader Burger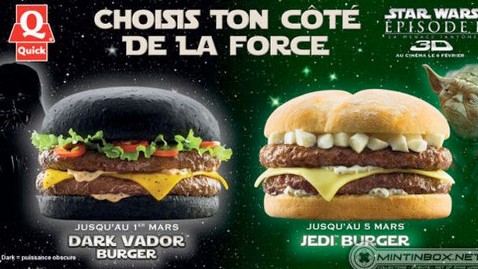 Star Wars fans rejoice. You will now be able to enjoy your favorite side of the force in a whole knew way, by eating it in burger form.
There's only one problem, you'll have to fly to France to do it.
French fast food chain Quick recently announced the introduction of two new burgers, the Jedi Burger and the Dark Vador Burger - the latter being named for the Sith lord Darth Vader, who is known as Dark Vador in France. The burger launch is timed to coincide with the re-release of "Star Wars: The Phantom Menace" in 3D.
The Jedi burger looks very much the same as a regular burger.
However, the odd-looking Vador burger is turning a few heads.  The buns of the burger are dark black, giving it a burnt, somewhat sinister appearance, much like Vader himself. But don't worry. Potential buyers should have no fear because, the Daily Mail is reporting, the buns are merely dyed, not burnt.
The burgers are on sale for a limited time only. Quick plans to stop selling them on March 1.