Live Updates: Arvind Mahankali W-I-N-S Scripps National Spelling Bee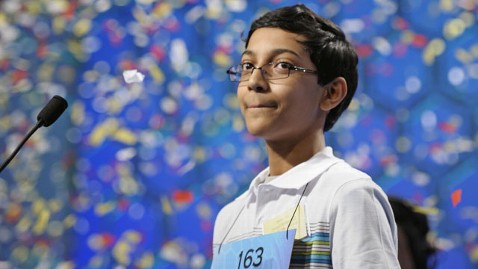 Arvind Mahankali, 13, of New York City, won the Scripps National Spelling Bee Thursday night. Mahankali barely cracked a smile after he correctly spelled "knaidel" to win more than $30,000 in cash and prizes and a huge trophy. Arvind finished third the two previous years, eliminated both times on German words.
In case you were wondering, "knaidel" is a German-derived Yiddish word for a matzo ball.
"I had begun to be a little wary of German words," Arvind said. "But this year I prepared German words and I studied them, so when I got German words this year, I wasn't worried."
Here is a recap:
10:26 p.m.: "The words were extremely hard," says Arvind, who announced his retirement from spelling and says he'll turn to studying physics.
10:24 p.m.: A shocked-looking Arvind Mahankal wins the 2013 Scripps National Spelling Bee. This is his fourth time returning to the bee and he was the odds-on favorite.
10:24 p.m.: W-I-N-N-E-R!!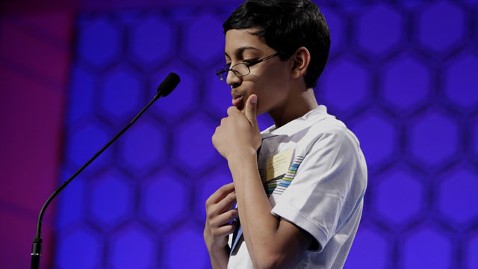 10:23 p.m.: Arvind lands "knaidel," a Yiddish and German-derived matzoh ball or dumpling. He has struggled with German words in the past.
10:22 p.m: Arvind gets "tokonoma." Needs one more to be crowned champion.
10:21 p.m.: Pranav Sivakumar gets his word wrong, "cyanophycean." Arvind has to spell two words right to win.
10:19 p.m.: Pranav Sivakumar and Arvind Mahankal. It's a slug fest. Twenty words remain on the list, a tie is possible.
10:17 p.m: And then there were two. Sriram Hathwar goes out on "ptyalagogue."
10:13 p.m.: It has been five years since a boy last won the spelling bee.
10:09 p.m.: Arvind, the odds-on favorite, who has twice lost in the finals on a word of German-origin lands the Germanic word "dehnstufe." The crowd goes wild when he gets it right.
10:07 pm: Three boys remain: Sriram Hathwar, Pranav Sivakumar and Arvind Mahankali. The championship words begin.
10:06 p.m.: "That's not right," Amber says just as the bell goes off. "Hallali."
10:05 p.m.: Amber Born is the last girl remaining.
10:02 p.m.: "Nooo," says Vanya Shivashankar when she hears the bell. Four remain.
9:55 p.m.: "That's cause for panic," says Amber Born when she hears the pronunciation of "lansquenet." Nails it.
9:54 p.m.: Five left. Vanya Shivashankar goes down on "zenaida."
9:51 p.m.: Does English really need a word for a chest with exactly seven drawers? Because we've got one. Semainier.
9:50 p.m.: Round 11. Six spellers remain, all of whom have attended a previous bee at least once.
9:44 p.m.: Two down in a row. It's getting tough. Syamantak Payra loses on "cipollino." Only six left.
9:42 p.m.: Huge ovation for Chetan Reddy, who lost it on "kaburi," a kind of crab. The origin of the word is unknown, making it especially difficult. Seven remain.
9:32 p.m.: The agony and the ecstasy. The faces of the spellers in pictures.
9:27 p.m: The schwa strikes again. Remmer goes down, but gets a standing ovation. Eight spellers remaining.
9:25 p.m.: Grace Remmer who has previously not asked any questions in the finals has many for Bailly about "melocton." Doesn't sound good.
9:24 p.m.: Round 9 ends with 9 spellers still alive.
9:15 p.m.: Arvind looks nervous. Strokes chin. Starts over. Nails it. "Galere."
9:08 p.m.: From a Scrabble-playing perspective, where's the line between foreign words and English words of foreign origin like "lebensraum?"
8:57 p.m.: Wait. They just had a word with an accent mark. I know plenty of English words are derived from foreign words. But diacritical marks!? Is this the national spelling bee of Belgium? Who's in charge here? Jacques Bailly!? The word was "envoutement," I won't sully it with an accent, neither did hoodie-wearing Chetan Reddy, who got it right.
8:52 p.m.: Amber Born, a crowd favorite says she wants to be a comedian. Keeps cracking jokes.
8:46 p.m.: It's not silent letters that seems to trip these kids up, but the schwa or "uh" sound, that could be an a, e, i, o, u or y, as in "doryline."
8:45 p.m.: And then there were 9. Christa Schermeister messes up "doryline."
8:33 p.m.: Syamantak Payra only contestant in the finals who has never before competed. Top 10 stays strong.
8:29 p.m.: Arvind kills it. "Glossophagine."
8:27 p.m.: Arvind Mahankali, the night's favorite, has twice been laid low by words with German origins in previous competitions. Will the curse continue? He takes the mic.
8:21 p.m.: OK. Just learned the best word ever, "singerie." A picture, decoration or design in which monkeys are depicted.
8:16 p.m.: Pranam appears to buy some time but then nails his word, "odontoloxia."
8:11 p.m.: And then there were 10. Nikitha goes down.
8:08 p.m.: Jeez. These words are tough. "Pathognomonic" for Nikitha Chandran.
8:07 p.m: Arvind Mahankali, the odds-on favorite, is wearing black pants and white shirt, a uniform this four-time participant says each of the recent previous winners has worn to the finals.
8:04 p.m.: A confident open. Grace Remmer spells "greffier," without asking any of the usual questions.
8:00 p.m.: We're back. The original 281 contestants now down to just 11.
7:50 p.m.: Coverage of the national spelling bee finals resume in 10 minutes at 8 p.m. ET.
5:12 p.m.: Six semifinalists look crestfallen as their names are not called to advance. Join us again at 8 p.m. for the finals.
5:08 p.m.: The finalists are: Pranav Sivakumar; Vanya Shivashankar; Christal Schermeister; Sriram Hathwar; Chetan Reddy; Arvind Mahankali; Amber Born; Grace Remmer; Nikitha Chandran; Vismaya Kharkar; and Syamantak Payra
5:02 p.m.: Semifinals conclude with 18 spellers, nine boys and nine girls, remaining. But six of the spellers will not advance to the finals. Only the 11 with the highest combined scores from an earlier vocabulary test will advance to the televised finals beginning at 8 p.m. Officials are calculating the scores now.
4:58 p.m.: Shobha Dasari marches off the stage after misspelling "bourree," which means small crossing ballet steps. 18 spellers remain in the competition.
4:57 p.m.: Another favorite, Chetan Reddy, who is competing for the fourth time, correctly spells "capitatim."
4:56 p.m: Jonathan Caldwell misspells "pergameneous." Fewer than 20 spellers remain.
4:50 p.m.: Apparently, a schwa sound in a Latin-derived word usually means it should be spelled with an "i," but not for the word "venenate." That middle "e" brought down Aditya Rao. 20 spellers left as we approach the finals.
4:36 p.m.: Gokul Venkatachalam is out, losing on "epichoric." 21 remain; 11 boys, 10 girls.
4:35 p.m.: Though she plays the French horn, Emma Greenlee misspelled "sarrusophone," a type of musical instrument . 22 remain.
4:33 p.m.: The mother of Kuvam Shahane keeps her head in her hands the entire time her son works his way through the word "minnelied." It's hard to say who looked happier when he got it right.
4:30 p.m.: With just a half an hour remaining in this round, you can see the relief on the faces of the kids who make it. Anyone who survives until 5 p.m. will be ready for prime time, appearing at the finals broadcast on ESPN at 8 p.m.
4:26 p.m.: "Oh, you've gotta be kidding me," says Caleb Miller as he salutes the crowd and leaves the stage. He lost it on "cyanop," a person with fair hair and dark eyes. 23 spellers remain in the competition.
4:10 p.m.: Two more fall victim to Jacques Bailly's word list. Rachael Cundey misspells "calotte" and Alia Abiad incorrectly puts an "a" in "'isopiestic." 26 remaining.
4:07 p.m.: Here's another question: Is there a direct correlation between increased reports of bullying and the spelling bee being broadcast on television? Coincidence? Almost absolutely.
4:05 p.m: With a big smile Grace easily advances.
4:04 p.m: Favorite Grace Remmer takes to the microphone. The word is "teneramente."
4:01 p.m.: Time To Get S-E-R-I-O-U-S, the faces of spelling bee contestants in pictures.
3:58 p.m: Nerves got to Eva; she founders on "cabitonage."
3:57 p.m.: A nervous Eva Kitlin is told to take a deep breath by moderator and pronouncer Jacques Bailly.
3:55 p.m.: Isabel Cholbi loses it on "ecphonesis" as does Audrey Bantug on "polytocous." 30 spellers remaining.
3:53 p.m.: This year's youngest speller is Tara Singh, 8. The youngest speller ever was Lori Anne Madison, 6.
3:51 p.m.: Round 6 begins. If spellers survive this round they still have to hope their combined scores from the earlier vocabulary tests carry them into the finals.
3:48 p.m.: Think you've got what it takes? Take the Scripps spelling sample test here.
3:45 p.m.: Has anyone made a study of who does better in competition, the kids who ask for word origins or those who finger spell?
3:41 p.m.: Ronan Howlett, of Vermont, misspells "parapsychical." 32 spellers remain.
3:17 p.m.: Favorite Arvind Mahankali, 13, nails "intravasation." Lives to spell another day.
3:15 p.m.: Every winning word, from 1925-s "gladiolus" to 2012-s "guetapens," can be found here.
3:08 p.m.: Darren Rovell, an ABC News and ESPN correspondent, who has correctly picked the past four winners, puts his money on favorites Arvind Mahankali and Grace Remmer, both previous finalists.
2:51 p.m.: Spelling Bee Fact: This is the fifth appearance for two spellers, Rachael Cundy and Emily Keaton. Five other kids have been to the bee four times, including favorite Arvind Mahankali.
3:00 p.m.: Matthew Donohue eats it harder than a "diplodocus," a large herbivorous dinosaur. And then there were 36.
Want to know every word spelled this year? Check out the bee's official twitter feed
2:51 p.m.: Spelling Bee Fact: This is the fifth appearance for two spellers, Rachael Cundy and Emily Keaton. Five other kids have been to bee four times, including favorite Arvind Mahankali.
If you think this year's competition is fierce, check out last year's winning word.
2:45 p.m.: Mary Skirvin bombs on "laureation."
2:43 p.m.: Down goes Joseph Kirkpatrick . Puts an "e" in ignimbrite. 38 remaining.
2:10 p.m.: The semifinals of the Scripps National Spelling Bee kick off with 40 contestants remaining.
ABC News will be covering the final rounds of the Scripps National Spelling Bee culminating in tonight's finals at 8 p.m. Spellers come from from all 50 states and eight foreign countries, and range in age from 8 to 14. Some 281 students are competing in this year's bee held in Washington, D.C. Fifty-two percent of the spellers are boys and 48 percent are girls. A new rule was added to this year's bee, in which contestants take a vocabulary test in the early rounds.