Are Nina Dobrev and Derek Hough Dating?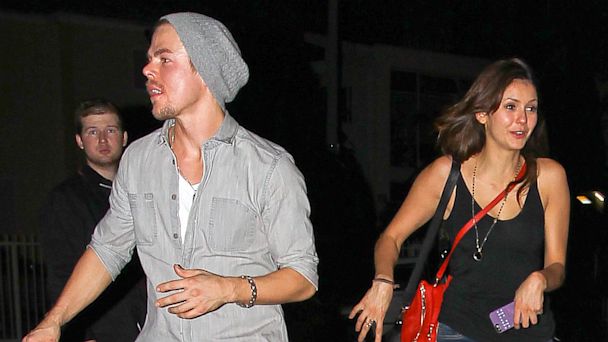 "Vampire Diaries" star Nina Dobrev was spotted out with her reported beau 28-year-old professional dancer Derek Hough this weekend. The pair dodged paparazzi as they headed into the Roosevelt Hotel in Hollywood Saturday night.
Dobrev and Hough apparently weren't keen on being photographed together as they arrived back from a night out at the Universal Studios Hollywood's Halloween Horror with friends Selena Gomez, Lily Collins and Julianne Hough.
Reports surfaced that the two were an item at the end of last month after Dobrev, 24, dedicated a heartfelt post to the "Dancing With the Stars" pro on Instagram.
"@Derekhough !!!!!!!! #EMMYWINNER," she captioned under a photo of Hough holding his Primetime Emmy Award for Outstanding Choreography. "I can't express in 140 characters how unbelievably excited+incredibly proud I am of you. You deserve this."
And the online flirting didn't stop there. Shortly after, Dobrev took to her WhoSay account to extend yet another congratulatory message. "Those of us touched by your light got to watch you brighten up the rest of the world," she wrote. "Keep shining!"
The pair reportedly met through Derek's sister, Julianne Hough and while they have yet to confirm their relationship status a source close to the couple tells Us Weekly that they are, in fact, dating.
"Derek is smitten with Nina," a source revealed. "He said he hasn't felt this way for a girl in a long time. …Everyone approves!"
What do you think? Are Nina Dobrev and Derek Hough an item?