Charlie Sheen Offers Rob Ford His 'Steady Hand'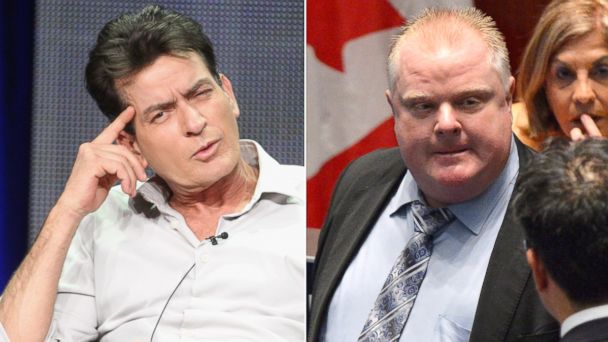 After a satirelike article ran in The Daily Currant yesterday, stating that actor Charlie Sheen called for Toronto Mayor Rob Ford's resignation," the actor took to Twitter to shoot down the false report.
Ford, 44, publicly acknowledged last week that he smoked crack cocaine while in a "drunken stupor" last year. He apologized but added he had no plans to step down as mayor.
"I hate to pass judgement on anybody, especially given my history," the site claimed Sheen said about Ford. "But I've been seeing those videos on the news, and I think it's fair to say that Rob Ford parties too much. I can honestly tell you I've never been that high … This guy needs help … But yeah I think he should at least resign and figure out what kind of help is right for him."
Read: Toronto Mayor Rob Ford Won't Step Down after Admitting Smoking Crack
Sheen, having not made these comments, felt the need to clear things up.
"dear Mayor Rob Ford, the only truth or correct reporting in today's repulsive story regarding my alleged comments about you, is the accurate spelling of your great city. your personal life is and never would be, any of my business," Sheen tweeted.
He added, "I'm sorry for any grief this may have caused. if I can be of any assistance in any capacity in this media cesspool, please accept the noble offer of my steady hand and compassionate heart. respectfully, charlie sheen."
After a history of substance abuse, Sheen was dismissed from his hit show "Two and a Half Men" in 2011 after going to rehab several times and verbally assaulting show creator Chuck Lorre. A series of bizarre videos and interviews would follow shortly after.
Related: Charlie Sheen Explains Selma Blair's Exit
Some other headlines from The Daily Currant include "Government Plans $2 Billion Bailout of Blockbuster," "Sarah Palin: 'I'll Go To Canada' for Health Care" and "De Blasio Announces Free Kindle for Every New York Resident."
The "About" page for the Currant states, "The Daily Currant is an English language online satirical newspaper … Our mission is to ridicule the timid ignorance which obstructs our progress, and promote intelligence - which presses forward."
It continues on to add that the site's stories are not real.