Kanye West's Best Quotes About Kim Kardashian
Kanye West has been outspoken about his fondness for fiancé Kim Kardashian. In a radio interview with Hot 97's Angie Martinez on Monday (Nov 25), the 36-year-old artist cited Kardashian as "the most beautiful woman" in human existence, arguing their romance is "a "love story for the ages." This is the latest in a series of West's over-the-top displays of affection for the reality starlet since the couple began dating in April 2012.
See: Kim Kardashian Through The Years
Whether it was in an interview or in a song, time and again the "Yeezus" rapper has professed his undying love for his wife to be. Check out some of Kanye's most outrageous quotes about Kim Kardashian below.
The Most Beautiful Woman of All Time!
"Okay, ladies and gentlemen," he announced during a visit to the Hot 97 radio station . "All barber shops, fashion designers, architects, corner stores, Wall Street, all over the world: Y'all acting like this ain't the most beautiful woman of all time! I'm talkin', like, arguably of human existence - the top 10 of human existence."
Love for the Ages
"I felt like our love story is like, a love story for the ages," West told Hot 97's Angie Martinez. "I felt like when we first got together, it was like a Romeo and Juliet kind of thing, where it's like … she's a reality star, and I'm a rapper."
The Real Marilyn Monroe
"Kate Upton ain't Marilyn Monroe," West said in an interview with New York's Power 105.1, referencing the model's recent cover with Vanity Fair. "Kim is Marilyn Monroe, you know that. She was controversial. She is controversial."
Move Over FLOTUS!
"There's no way Kim Kardashian shouldn't be on the cover of Vogue," West told "Keeping Up With the Kardashians" producer Ran Seacrest shortly after Kardashian shared a revealing swimsuit seflie via Instagram. "She's like the most intriguing woman right now. She's got Barbara Walters calling her like every day… Michelle Obama cannot Instagram a pic like what my girl Instagrammed the other day."
What Is She Talented At?
"In my industry, beauty is a talent," West said in defense of his "wifey for lifey" during a radio interview with Power 106 in Los Angeles. "You know, 'What is she talented at?' She's talented at being beautiful."
A Star on the Walk of Fame?
"People are so, so dated and not modern. It's like, there's no way Kim Kardashian shouldn't have a star on the Walk of Fame," West told late night host Jimmy Kimmel. "It's ridiculous, old concepts."
An Unfair Level of Awesomeness
"It's an unfair level of awesomeness in one person to be that smart, to be that nice to be . . . blatantly fine as hell. Like, one of the most beautiful people of all time," West gushed during a visit to "On Air With Ryan Seacrest."
Hey You, Barack Obama!
Regarding President Obama's criticism of Kardashian, West left this simple message."He shouldn't mention my baby mama name, 'cause we both from Chicago," he told radio hosts at Philadelphia's Hot 107.9.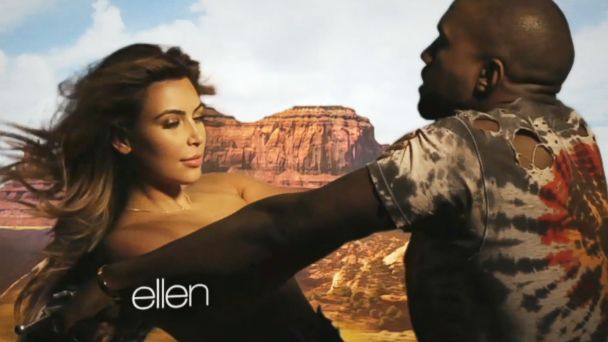 Lest We Forget, Kim is awesome!
"Stop everything you're doing now/ Because baby, you're awesome," West sang to an ecstatic Kardashian during a performance at the 2013 Met Gala. "Don't let nobody get you down/ Because you're awesome/ You don't need to listen to your manager/ You must be tired of running through my mind/ Can I come inside? … I'm also awesome …/ I'd rather do nothing with you/ than something with somebody new/ Because baby you're awesome."
Love at First Sight
"I loved her from the first day I saw her, which I said on 'Bound'…I remember seeing pictures of her and Paris Hilton in Australia, and I came to Don C., and I was like, 'Man, have you ever seen Kim Kardishawn? What's up with Kim Kardishawn?'" West shared, purposefully mispronouncing Kim's name in an interview with Hot 97.