Anna Wintour Says Kardashian/West Vogue Cover Was 'Entirely Our Idea'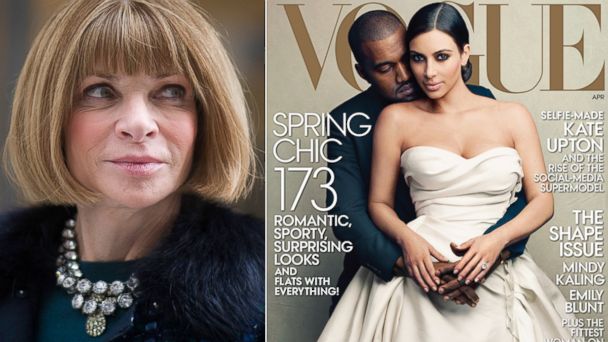 Getty Images | Annie Leibovitz/Vogue
Kim Kardashian, 33, and Kanye West, 36 have taken their love to the cover of 'Vogue's' April 2014 issue.
Twitter immediately erupted with comments regarding the engaged couple landing the coveted cover, but Anna Wintour, editor-in-chief of 'Vogue,' already knew that would happen. To combat any rumors about the collaboration, Wintour wrote her editor's letter in the issue all about the idea to put the celeb duo on the front of the magazine.
"Part of the pleasure of editing 'Vogue,' one that lies in a long tradition of this magazine, is being able to feature those who define the culture at any given moment, who stir things up, whose presence in the world shapes the way it looks and influences the way we see it," wrote Wintour. "I think we can all agree on the fact that that role is currently being played by Kim and Kanye to a T. (Or perhaps that should be to a K?)"
Kardashian and West are constantly in the media for one reason or another, whether it's for music, fashion or about some new gossip floating around.
The two got engaged in October 2013 and have been busy planning their wedding. This is, perhaps, the inspiration for the two's cover photo shot by photographer Annie Leibovitz in which West and the his reality star fiancé look like bride and groom.
Wintour didn't feel obligated to get the couple for her magazine, but she wanted to and really liked how it turned out.
READ: Kim Kardashian Admits, 'I Gained Some Weight Back'
"As for the cover, my opinion is that it is both charming and touching, and it was, I should add, entirely our idea to do it; you may have read that Kanye begged me to put his fiancee on Vogue's cover," Wintour went on to write. "He did nothing of the sort. The gossip might make better reading, but the simple fact of the matter is that it isn't true."
Wintour continued: "There's barely a strand of the modern media that the Kardashian Wests haven't been able to master, and for good reason: Kanye is an amazing performer and cultural provocateur, while Kim, through her strength of character, has created a place for herself in the glare of the world's spotlight, and it takes real guts to do that."