Matthew McConaughey Reveals Rebranding Secrets
Accepting his Oscar for best actor, Matthew McConaughey thanked the Academy, his fellow nominees, his director and co-stars, his father, mother, God, even his future self, but it was while thanking his wife and three children, that his voice cracked.
The 44-year-old actor told People that his so-called career "McConaissance," which led to his Oscar win Sunday, would not have been possible without the support of his wife, Camila, 31, and their children, Levi, 5½, Vida, 4, and 15-month-old Livingston.
How Matthew McConaughey's Gratitude Won Him an Oscar
"My life outside my career is extremely enriching," the "Dallas Buyers Club" star told the magazine. "So I am letting that feed my work, and letting my work feed my life."
McConaughey choked back tears as he thanked his family Sunday. "To my wife, Camila, and my kids, the courage and significance you give me every day I go out the door is unparalleled. You are the four people in my life that I want to make the most proud of me. Thank you," he said as his wife watched with tears in her eyes from the audience.
Director Richard Linklater, who cast the then 23-year-old star in his breakout role in 1993's "Dazed and Confused," in which he first spoke those famous words, "All right, all right, all right," credits Camila for helping her husband move away from romantic comedies to more nuanced character-driven roles.
PHOTOS: Oscars 2014 Hottest Couples
"You'll have people around you who want other things [for you]," Linklater told People, "but she (Camila) will approach it as, 'What does Matthew want?' That's the direction she pushes him."
Being thankful is not just something McConaughey pays attention to during awards season, it's a way of life, he told ABC News' Josh Elliott backstage at the Oscars.
"I just find that the more I wake up and find things to be appreciative about, they do reciprocate somehow," McConaughey told Elliott. "Gratitude is a scientific fact."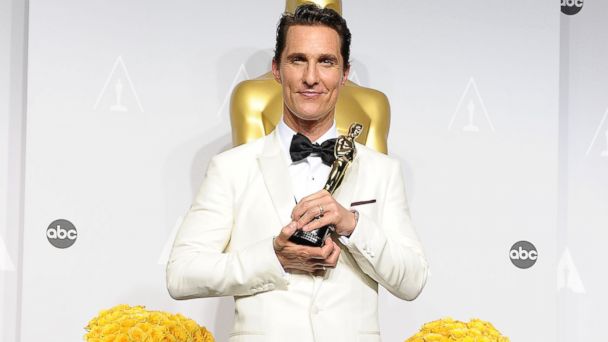 Jason LaVeris/Getty Images